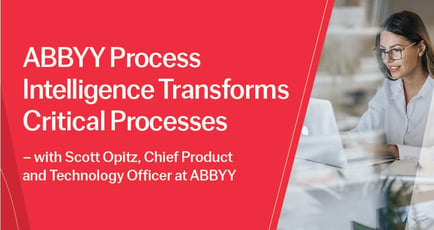 TL; DR: ABBYY is an intelligent automation company that helps organizations better manage their documents and gain actionable insights from their data. ABBYY software processes and classifies information, reducing errors and saving time — which is exactly why corporations in major industries, such as healthcare and finance, rely on it for accuracy. We talked to Scott Opitz, the Chief Technology and Product Officer at ABBYY, who told us all about how ABBYY can help reduce errors, boost productivity, and analyze data.
According to research done by Gartner and IBM, organizations believe poor data quality and bad data are responsible for an average of $15 million per year in losses. Another study by IBM found that poor data quality stripped the US economy of an additional $3 trillion every year in lower productivity, system outages and higher maintenance costs, among other negative effects.
"Poor data quality" and "bad data" sound like buzzwords at first glance. But if you've ever worked in a high-security industry — such as education, government, or finance — you already know inaccurate and incomplete data can make or break a company's bottom line and productivity.
It can also affect an organization's reputation. For example, in healthcare, it can lead to serious consequences like misdiagnoses, potentially causing deaths due to human errors when entering patient information in electronic health record (EHR) systems. Widespread cyberattacks are another significant concern. For instance, the 2017 Equifax data breach exposed the personal information of 143 million people, resulting in $700 million in settlements and public criticism due to the company's weak security measures and slow response.
Data breaches, misdiagnoses, human error, and poor data quality happen daily across all sectors that don't have room for risk like misinformation. But imagine a technology that could minimize these errors by automatically translating and analyzing information — all without lifting a finger.

Enter ABBYY, a provider of SaaS and cloud-environment software that can reshape how industries perceive and analyze data. ABBYY uses intelligent technology to enhance operations, boost data accuracy, and empower industry leaders in making better, action-led decisions.
"Certain industries, like healthcare, insurance, and financial services, tend to take on a greater complexity," said Scott Opitz, Chief Technology and Product Officer of ABBYY. "In those cases, we felt they needed to be supported, which meant going beyond just looking at the information but using smart tools like automated process monitoring and analysis to figure out what might happen next."
ABBYY welcomes you to pass on manual data entry and documentation to its system instead. In turn, it will read, translate, and analyze that information into actionable insights.
ABBYY's Solutions for Information, Logistics, and Service Sectors
We're all human, so we're bound to make mistakes while on the job. The problem is that human error accounts for more than 80% of cyberattacks, but experts theorize AI tools, like ABBYY, can help.
ABBYY works in various industries, including finance, healthcare, legal, government, transportation, and education. But to better understand how ABBYY works, let's zero in on how it can be used in some of the most widely used sectors.
Healthcare
When patients check into a healthcare center, their information (ID cards, insurance information, and consent forms) must be entered into the EHR system to ensure proper care.
But if a patient misspelled something or is unsure of their policy number, a single mistake can lead to delays, misdiagnoses, or wrong payment. Unfortunately, already more than 600,000 wrong-patient orders occur yearly in the US due to patient misinformation.

ABBYY uses its Optical Character Recognition (OCR) and data capture technologies to document all that critical information, record it accurately within the EHR system, and validate it against existing records to ensure accuracy. And if there are any inconsistencies, ABBYY will flag them for review.
Financial Services
Americans reported losing more than $8.8 billion due to financial fraud in 2022, up 30% from 2021, primarily due to investors, imposters, and online scams. Financial services, such as banks, credit unions, and investment firms, are taking action to mitigate these attacks.
Some of those actions include implementing Know Your Customer (KYC) strategies. ABBYY helps reinforce the KYC regulations in financial sectors via its advanced AI and OCR technologies, automatically extracting essential and relevant data from documents, including names, addresses, social security numbers, and consumer histories.

After extraction, ABBYY automatically analyzes the data to assess potential risks and identify any inconsistencies or anomalies by comparing them to known profiles. So, within minutes, ABBYY can tell you if a customer's documents meet compliance standards.
Government
Every 10 years, the US government performs a nationwide census. Local government agencies are responsible for collecting and processing massive census forms from households within their communities.
The methods the census uses to capture data include manual entry from paper or an image. If this sounds time-consuming, that's because it is. But even worse, there's almost always a chance for error, so the Census Bureau implements optical scanning methods, including Optical Mark Recognition (OMR), OCR, and Intelligent Character Recognition (ICR).

ABBYY can help speed up the census collection process by training extraction models via ABBYY's natural language processing (NLP) capabilities.
More impressively, ABBYY can analyze all this data and look for demographic trends in population distribution, which can help better inform policy decisions and resource allocation. And next time, the census agencies can easily retrieve and reference the historical data.
Reshaping How Major Industries Perceive and Analyze Data
ABBYY is an excellent resource for eliminating insufficient manually inputted data and picking up on errors an employee might miss, like writing in the margins, misspelled words, flagging misinformation, and categorizing extracted data into your system's database to automate data entry and organization.
More specifically, ABBYY's solution, ABBYY Timeline, uses process mining to help organizations gain clarity and insights into their business processes. Process mining involves analyzing data to discover patterns, monitor behaviors, and improve actual processes rather than assumed processes.
So, for example, an organization leader may believe something is happening based on a specific process — like lower sales after trying a new marketing strategy. But this is an assumed process because they don't know for sure if this is the cause of the lower sales. This is where the ABBYY Timeline can be implemented to uncover actual processes.
ABBYY can dig deeper and see if other factors are at play, like changes in consumer behavior or external market trends, allowing organization leaders to make more informed decisions and take actionable steps to improve their model.
"Process mining is a term that's been around for 15 years, but the traditional process doesn't offer any actionable insights," Scott explained. "That's why we talk about process intelligence."
With ABBYY, process intelligence incorporates AI, machine learning, process monitoring, predictive analytics, and simulation to provide actionable insights better.
Scott added that ABBYY's technologies are embedded into other products as well. "If you're using a product that allows you to upload or scan documents for processing, there's a reasonable chance that they might be using the same technology as ABBYY," he said.
The mission behind ABBYY is to use its intelligent automation to revolutionize the way data is processed, insights are derived, and decisions are made. Aside from its Timeline solution, here are more of ABBYY's intelligent automation solutions:
ABBYY also has unique developer tools, which devs can input into their existing or internal software to enhance their system's functionality, including data capture, document conversion, mobile web capture, and NeoML.
Upcoming Plans to Unlock the Potential of LLMs
As technology progresses, so does ABBYY.
"Like most everybody else, we're looking at ways we can exploit the advances around large language models (LLMs)," Scott said. "Now adding even the ability to use LLM to give us context or additional insights as to what the data represents. It just can make the analysis that much richer and more successful."
Think of OpenAI's ChatGPT, for example. ChatGPT leverages LLMs to incorporate contextual awareness, enabling it to consider the context and pertinent data when responding. This is why you can engage in comprehensive conversations with ChatGPT: It processes human language and provides better text generation, comprehension, and data analysis.

But Scott emphasized that there's a difference between LLMs like ChatGPT and applying their fullest potential to real-life situations. "ChatGPT and things like it are generating a lot of excitement, and for good reason," he said. "But ABBYY began with text recognition abilities — one of the earliest ways AI and ML were used in a practical, everyday product."
Scott also pointed out that companies today are under pressure to figure out how to do more with less. So ABBYY's goal is to provide interoperability between its products and other solutions to be integrated anywhere, no matter what other platform a company may use.
"As we continue with other products, we're always looking for ways to take advantage of that kind of brain trust. So we're striving for the best possible compatibility between our products and other tools companies use," he said. "This way, our clients can easily mix and match different tech solutions without needing a whole team of integration experts and coders to make it all come together."
With a commitment to taking data recognition and analysis a step further, it's time to discover more about ABBYY and how it can transform your place in your industry.