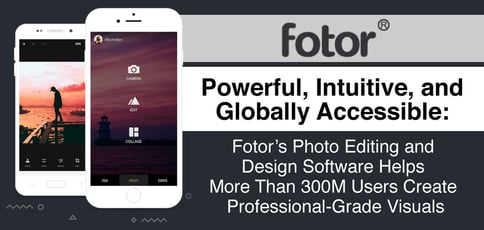 TL; DR: Fotor, a cross-platform photo editing and design suite, combines cutting-edge technology with a great breadth of features to help more than 300 million users create professional-grade visuals. The company's editing tools, special effects, and portfolio of stunning templates make it easier than ever to design something beautiful. Through ongoing development based on customer feedback, Fotor's passionate team is committed to ensuring the suite is as user-friendly as possible.
By now, most of us have had our smartphones for a decade or so. And in that time, we've accumulated a lot of apps. Consider this: If you have a 4-inch iPhone running iOS 7, you can swipe through a maximum of 15 screens of apps.
You're allowed 20 folders per screen and four folders in the dock, with 135 apps per folder. That means it's possible to store 41,040 apps on a 4-inch iPhone. And the numbers only increase with larger screen sizes.
Browse through the App Store, and it's easy to become overwhelmed with the number of photo editors, design tools, image filters, and collage makers available. Instead of adding five or six new apps to your already overpopulated collection, wouldn't you prefer an all-in-one solution?
Enter Fotor. Founded in 2012, the company is committed to offering a professional-grade photo editing and graphic design app featuring a robust set of tools that users can pick up without a steep learning curve.
"We strive to provide a powerful, yet easy-to-use tool to all users who want to create great graphics," said Coral Guo, Marketing Director at Fotor. "Photo editing, portrait retouching, collages, birthday cards, Facebook posts, banner ads, posters — everything you need for creating great graphics, you can find at Fotor."
Since its inception, Fotor has helped more than 300 million users from 230 countries across the globe to process billions of photos and graphics. The company's comprehensive software, also available on desktop, allows users to design beautiful visuals using cutting-edge editing tools, special effects, and an extensive collection of stunning templates. With a focus on ongoing development based on customer feedback, Fotor's energetic team is committed to making it as easy as possible to create something beautiful.
Experiment with Collages, Editing Tools, and Special Effects
Tony Duan, CEO of Everimaging, Ltd., founded Fotor to empower customers to accomplish their editing and design goals with no prior training. Tony, an Honorary Professor of Computer Science at the University of Nottingham, holds advanced degrees in image processing and color science — and he leveraged that experience to create the cross-platform app.
"Fotor was first launched in 2012 as an all-in-one photo editing suite," Coral said. "Before we started as a new brand in the photography industry, we already had four years of experience developing professional photo-editing software for PC and Mac, such as HDR Darkroom 3, and Beantune."
That background helped the company develop a powerful yet intuitive online photo editing platform that allows users to apply photo effects, retouch portraits, crop and rotate images, adjust curves, and resize images, among a range of other capabilities. It's comparable to Photoshop, minus the high price and steep learning curve.
"Nearly everyone can master Fotor within a few minutes, yet we still offer a broad range of features," Coral said.
At its inception, Fotor was one of few competitors in the market. Around 2014, Coral said that changed due to rapid advancements in technology. As vendor options skyrocketed, so did customer expectations. At the same time, Fotor's user base became increasingly diverse.
"We are constantly adapting to meet user demand as customers begin to use Fotor in new ways," Coral said. "To that end, the boundary between photo editing and graphic design is becoming vague compared to our earlier days," Coral said.
That's one of the reasons Fotor launched its graphic design suite in 2015. The platform makes it easy for users to design popular graphics, including social media posts, headers, banner ads, invitations, and icons. In addition, the company's collage tool enables users to quickly and easily create fully customizable collages complete with text and digital stickers.
Design Something Beautiful with a Collection of Stunning Templates
Fotor facilitates an effortless design experience through multiple preset templates and images. Using the design module, the customer can simply select a template, insert photos through drag-and-drop technology, modify the design as needed to maximize visual impact, and preview and save the final image.
The company's new pattern resources offer users a collection of high-resolution shapes and patterns that can be used as stunning backdrops for social media graphics, email headers, cards, certificates, fliers, and even magazine covers.
To make sure your subjects look incredible in these templates, Fotor's beauty features allow for wrinkle removal, photo reshaping, blemish removal, teeth whitening, and red-eye correction.
Many resources like this are free, but users who join Fotor Pro enjoy guaranteed access to all premium content with no watermarks, as well as an ad-free editing experience, greater storage capacity, and advanced features. For less than a cup of coffee a month, Fotor Pro members can unlock seemingly endless design and photo editing assets.
Coral said it's easy to see how Fotor helps businesses that use the technology maximize ROI. "With all the features we provide and weekly updated content, Fotor Pro costs as low as $3.33 per month, billed annually," she said. "Invest a little, and you can easily get amazing returns while saving time and energy finding the right tools and learning how to use them."
To ensure fast performance, Fotor made the leap from Flash to HTML 5 in 2017.
"Fotor is the world's first online photo editor and graphic design application powered by HTML 5 technology for a superior experience," Coral said. "It took us about one year to make this shift. To stay ahead, you have to ensure always provide users with good experience, no matter what the cost is."
Cutting-Edge Tools, Including the Fotor Cloud and Automatic Resizing
Coral told us that graphic design is no longer reserved for professionals with years of experience in Photoshop and Adobe Illustrator. "We all need good photos and graphics for lots of occasions and events, and we should have the capability to create them," she said.
The Fotor team is on a mission to provide the features everyday people need to do just that. As a Fotor devotee, Coral said it's hard to identify her favorite feature, but she's partial to Fotor Cloud, which allows Fotor Pro members to store images for access on any device.
"It connects everything together," she said. "Just upload your photo into our cloud, modify it using our Edit module, sync it to the Fotor Cloud, and you can directly use the photo you just edited for cool collages and designs."
When the process is complete, designs can be accessed and modified anywhere with an internet connection at any time, eliminating the hassles inherent in file transfers.
Coral also recommends users take advantage of the platform's automatic resizing feature, also available through Fotor Pro, which allows them to adapt existing designs to new dimensions. For example, a design originally intended for use as a Twitter cover can be easily resized into a poster, Facebook post, or email header in just a few clicks. The feature is convenient for users who have to create consistent brand messaging across a variety of platforms.
"As a digital marketer, it's quite common that I will need to upload my designs to multiple platforms with different size requirements; it's quite painful," she said. "With Fotor, this can be done automatically. it's a life saver!"
A Passionate Team Focused on Ongoing, User-Centric Development
Fotor places great emphasis on listening to and implementing user feedback. "Our users made us who we are now," Coral said. "When updating Fotor, I believe at least half of our time is spent learning about the genuine needs of our users."
The company's goal is to make changes incrementally, in a series of updates, rather than overwhelming users with an onslaught of changes. "We divide their requirements into a smaller scale, and make them happen step by step," Coral said. "That way, Fotor gradually becomes much stronger."
Fotor's dedicated team of tech experts with more than nine years of experience in large-scale project development, photography, and graphic design are the backbone of the company. Coral said the team's key characteristic is diligence.
"We work hard in the face of fierce competition, holding seminars on various topics on a monthly and sometimes weekly basis," she said. "But I think diligence is not only about being hardworking; it's also a great quality that drives you to learn more."
And the more the Fotor staff learns, the more robust the platform becomes — surpassing the functionality of multiple apps combined.