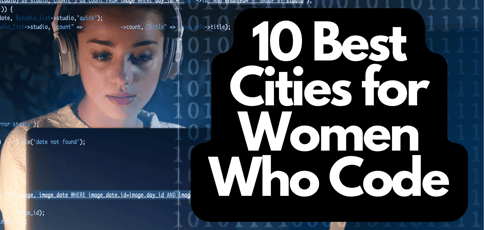 Software development is not only one of the most lucrative professions in the US, boasting an average salary of nearly $121,000, but it also consistently earns top rankings in best jobs, best STEM jobs, and best technology jobs.
And yet, there's a massive lack of diversity within the programming field. Only 5% of developers are female, which is shockingly low but even more frightening considering more women were in the computer science field in the 1990s than they are today.
There are a few theories on why so few women are in programming. Some say it's because there is a lack of role models and support. Others believe it's due to gender stereotypes and unconscious bias in the male-dominated field.
So, as more women enter the world of coding and development, there's a higher demand for acceptance and support within the field. And what better place to start than in a city perfect for women and women who code? (And no — New York City, Boston, and San Francisco are not on this list!)
1. Springfield, Illinois
Springfield sits about six hours south of The Windy City of Chicago and is a bustling city with a below-average cost of living, inexpensive rent, and plenty of educational and support opportunities for women who code. The nonprofit organization Women Who Code has a chapter in Chicago, providing resources, support, and meetups to women in the programming field. Chicago also has several highly rated companies for women, including RSM, Baker Tilly, Hyatt Hotels, and West Monroe Partners.

Several other technical schools, such as the Capital Area Career Center, provide hands-on training in programming, cybersecurity, and graphic arts. Springfield also made it onto our other list, Cities With the Best Wifi for Remote Workers, thanks to the state's Connect Illinois initiative, which will guarantee fiber-optic speeds.
If you're looking for something to do on the weekends, there's plenty to choose from. As President Lincoln's final resting place, Springfield is a historical town with a dedicated Abraham Lincoln Library and Museum. You can also sign up for various walking tours at some of the city's oldest buildings, including Frank Lloyd Wright's Dana-Thomas House. The local botanical gardens and zoo are also great options for when the family comes to visit.
More About Springfield
Cost of Living Score: 87.8
Average Developer Salary: $80,000
Average 1-Bed Rental Cost: $775
Crime Rate: 47 per 1,000 people
Unemployment Rate: 4.90%
Close Major Cities: St. Louis, Indianapolis, and Chicago
2. Buffalo, New York
Buffalo, situated just a stone's throw away from the Canadian border, is a haven for those who love snowy weather and crave a lower cost of living and above-average city safety. Walk anywhere downtown and you'll be met with colorful murals on the sides of buildings or niche bookshops like Burning Books. There's also no shortage of weekend activities, from exploring botanical gardens to captivating performances by the Buffalo Philharmonic Orchestra.

Buffalo earns its place on our list thanks to the opportunities it offers women in the coding field. The Buffalo Center for Arts and Technology (BCAT) is an excellent educational and career-focused resource for support, offering a wide array of web development and coding courses for local adults.
Girls Who Code also has a Buffalo chapter, which is a fantastic resource for those looking to get involved in their local communities. And, if you're a coder looking to start your own business, check out The Women's Business Center for funding opportunities.
More About Buffalo
Cost of Living Score: 88.5
Average Developer Salary: $85,000
Average 1-Bed Rental Cost: $1,050
Crime Rate: 8 per 1,000 people
Unemployment Rate: 3.3%
Close Major Cities: Rochester and Toronto
3. Natick, Massachusetts
Although Natick isn't the first Massachusetts city you probably think of, Natick is a suburb in the Greater Boston Area that has its own personality. Complete with tree-lined streets, historic brownstones, and easy access to the heart of Boston's technology sector, Natick is rightfully our third choice for women who code.

Boston is home to a Women Who Code chapter, a nonprofit resource for women in tech. There's also the Women in Tech Boston chapter, a community for local women in tech for networking, learning, and events. The Boston Women Connect organization, which sometimes meets in Natick, is another excellent resource for coders interested in starting their own business, but who don't yet have access to the proper support or information.
The cost of living score is higher than average, but its high salary, low crime, and low unemployment rates make it worth it. Boston is also home to three top workplaces for women, including Bain & Company, Toast, and Vertex Pharmaceuticals. When you're not coding, take a weekend to attend a Red Sox game at Fenway Park, visit the Leader Bank Pavilion for a summer concert, or make a short getaway to the Dug Pond or Fisk Pond beaches. There's also no shortage of shops, ranging from cafes to bookstores, such as Sweetwaters and the Natick Mall.
More About Natick
Cost of Living Score: 170.2
Average Developer Salary: $105,000
Average 1-Bed Rental Cost: $2,608
Crime Rate: 9 per 1,000 people
Unemployment Rate: 2.50%
Close Major Cities: Boston and Providence
4. St. Paul, Minnesota
St. Paul may sound familiar if you've read our Cities With the Best Wifi for Remote Workers list. The Twin Cities metro area is quickly becoming a tech hub thanks to the Border-to-Border program that aims to bring fiber optics throughout the North Star State. The area is also home to one of the top-rated workplaces for women, Arctic Wolf, an IT company located in Eden Prairie just a few miles south of Minneapolis.

The St. Paul area is growing rapidly and is well on its way to becoming yet another tech hub. As a response to the rapid growth of tech jobs, the regional government teamed up with local employers to create MSP TechHire. Since 2015, the program has placed around 85% of graduates into new careers across 500 employer partners.
You can also choose from other groups, including the university's Women in Technology (WIT) group, which aims to help women advance in technology. Additionally, the Minnesota Women in Tech is a monthly support group that offers professional women educational sessions, career mentoring, and networking opportunities.
Spend your weekends visiting the Minneapolis Museum of Art, the Cathedral of Saint Paul, or the Wabasha Street Caves. Or if you prefer to sit back and relax, there's no shortage of bars, restaurants, and shows, with some of our favorites being the historic St. Paul Hotel restaurant or Mancini's Char House, an upscale '70s Vegas-style lounge.
More About St. Paul
Cost of Living Score: 97.5
Average Developer Salary: $85,000
Average 1-Bed Rental Cost: $1,287
Crime Rate: 45 per 1,000 people
Unemployment Rate: 4.4%
Close Major Cities: Minneapolis and Rochester
5. Charlottesville, Virginia
Charlottesville is on our list because studies say it could be the next potential tech hub. It's also the headquarters of the US's largest independent digital product agency, WillowTree (and they're hiring!). You can also check out the Charlottesville Women in Tech (CWIT) organization, which provides a welcoming environment for women and girls interested in tech with like-minded individuals. There's also Charlottesville Technologists, a Meetup group that is the hub for C'ville tech events.

Tech job growth also looks promising: As of 2023, the tech center currently has more than 11,000 jobs across 640 firms in the regional area, with nearly 300 available in C'ville itself.
This growing city shows no signs of slowing down, with a University of Virginia campus, small businesses, startups, and a healthy job market with an unemployment rate lower than the national average.
On your time off, hike up the Saunders-Monticello Trail, visit the University of Virginia's observatory, be brave and try a ghost tour, or find your new favorite restaurant downtown.
More About Charlottesville
Cost of Living Score: 107.3
Average Developer Salary: $91,455
Average 1-Bed Rental Cost: $1,598
Crime Rate: 28 per 1,000 people
Unemployment Rate: 2.7%
Close Major Cities: Washington, D.C., and Richmond
6. Trenton, New Jersey
Smack dab in the middle of Philadelphia and New York City — two of the most popular cities for women in tech — is the state capital of Trenton. Trenton has several networking and educational opportunities for women who code, including Women Who Code's Philadelphia chapter, Women in Tech Leadership (WITL), WomenTech Network, and Network for Women With Careers in Technology (NWCT). These organizations aim to create collaborative environments for women in tech with career opportunities at local companies and events.

On your days off, get out of the house and into the city and explore some of Trenton's incredible outdoor attractions, including the Grounds For Sculpture art park, the Princeton Battlefield State Park, the Trenton Farmers Market, and tons of museums and galleries. There are also plenty of historic restaurants in Trenton, such as Trattoria Rose Bianca and The Stone Terrace by John Henry's.
Train rides are only an hour long to New York City and 30 minutes to Philadelphia, so you can spend a day watching Broadway in the Big Apple or embarking on historic tours in the City of Brotherly Love.
More About Trenton
Cost of Living Score: 97
Average Developer Salary: $100,633
Average 1-Bed Rental Cost: $1,250
Crime Rate: 33 per 1,000 people
Unemployment Rate: 3.1%
Close Major Cities: New York and Philadelphia
7. Newark, Delaware
The small city of Newark is situated just miles from the Delaware River and south of Wilmington, a hub for banking and tech innovation. Newark also sits on the border of Maryland and is just an hour north of Baltimore, another city known for its innovative solid industries (and crabcakes!).

Newark is home to Newark Tech Week, which hosts a series of meetups, discussions, town halls, expos, and networking mixers with small businesses, startups, and major corporations within the tech industry. The 10th annual Inspiring Women in STEM (IWSTEM) conference is set to be held in Newark in mid-October — but don't worry if you can't make it because you can always go next year since it's held at the university's Clayton Hall.
Be sure to visit some of Newark's most historical landmarks, including the Hale-Byrnes House. Or spend a Saturday hike outside at the White Clay Creek State Park and finish your evening with a tour at the Midnight Oil Brewing Co. Or visit the Resident Ensemble Players, where you can watch shows ranging from musical classics to comedic plays.
More About Newark
Cost of Living Score: 102.9
Average Developer Salary: $98,000
Average 1-Bed Rental Cost: $1,375
Crime Rate: 35 per 1,000 people
Unemployment Rate: 4.1%
Close Major Cities: Philadelphia, Baltimore, and Washington DC
8. Bellingham, Washington
Less than two hours from the heart of downtown Seattle is Bellingham. This gorgeous waterside city is situated on Bellingham Bay and is surrounded by Lummi Island, Portage Island, and the Strait of Georgia. You can look out your window anytime from April to October and see a pod of orcas swimming in the bay — but if you want to get even closer, you can rent a catamaran from Gato Verde Adventure Sailing or book a tour with Outer Island Expeditions.

Bellingham's location on the West Coast makes it a fantastic place for any nature-lover, but it's also great for women in tech.
The NW Tech Women is a Meetup group that gathers women and other marginalized genders in northwest Washington to join in on technical talks, social gatherings, career development, and coding trends and new approaches. The Technology Alliance Group for Northwest Washington (TAGNW) hosts and supports several peer groups for current and aspiring professionals, technologists, entrepreneurs, programmers, and innovators, focusing on cybersecurity, IT, robotics, and women in tech.
If you're craving a visit to Seattle, there are also plenty of support and educational groups, including the Seattle Women in Tech Consortium. This community aims to collaborate with other Seattle groups to connect women and allies in the tech industry for support, jobs, and connection opportunities.
More About Bellingham
Cost of Living Score: 123.2
Average Developer Salary: $97,000
Average 1-Bed Rental Cost: $1,500
Crime Rate: 29 per 1,000 people
Unemployment Rate: 3.10%
Close Major Cities: Seattle and Vancouver
9. Salem, Oregon
Salem is another beautiful northwestern city that is a great place to live for women who code. With no shortage of outdoor activities, Salem is known for its peaceful views yet bustling community. Check out the Enchanted Forest, an amusement park with lush rolling hills and unique sculptures, the weekly Salem Saturday Market, or the Adelman Peony Gardens.

Salem is on our list because of its proximity to Portland, known for its tech industry. Portland's tech industry is one of the nation's largest and most successful hubs, with the most patents per capita in the US!
With that said, there's no shortage of networking opportunities for women in tech, including PDXWIT (PDX Women in Tech), an organization empowering tech professionals in the Portland area by offering skill-building events, mentorships, scholarships, and job opportunities. There is also a Women Who Code Portland chapter for those seeking a national organization that offers workshops and events locally and across the US.
More About Salem
Cost of Living Score: 102
Average Developer Salary: $103,103
Average 1-Bed Rental Cost: $1,150
Crime Rate: 42 per 1,000 people
Unemployment Rate: 3.8%
Close Major Cities: Portland and Seattle
10. Concord, California
Everybody knows the birth and home of technology is in California — but not everybody has the budget (or desire!) to live in the major tech hubs of Silicon Valley or the Bay Area. Situated less than an hour from both San Francisco and San Jose, Concord serves as an ideal middle ground for women in tech who wish to stay close to the thriving tech scene of Southern California without paying Silicon Valley rental prices.

Join local networking groups such as the Bay Area Women in Tech MeetUp group, Women Who Code (San Francisco chapter), and Women of Silicon Valley, all of which aim to organize events, workshops, and networking sessions within the Bay Area.
The San Francisco Bay Area is also home to several top-rated workplaces for women, including information and technology companies such as Asana, Atlassian, Twilio, Salesforce, Splunk, HashiCorp, and Cisco. And the best part? They're almost always hiring!
More About Concord
Cost of Living Score: 159
Average Developer Salary: $116,000
Average 1-Bed Rental Cost: $1,995
Crime Rate: 41 per 1,000 people
Unemployment Rate: 2.4%
Close Major Cities: San Francisco, San Jose, and Sacramento
Methodology
We identified the most relevant pain points: Which cities were safest for women, and which cities had the most significant developer salaries, outlook, and opportunities?
First, we started with the best states for women, gathered from WalletHub's Best & Worst States for Women, whose methodology measured median earnings, job security, healthcare affordability, and job security. Then, we moved on to determine the top states for software developers with help from Zippia.
These two lists were cross-referenced, and we narrowed it down to 10 final states. We also decided to avoid major metropolitan cities for affordability's sake and because there are plenty of lists featuring big names like New York City and San Francisco. Within each state, we narrowed the list to the "best" cities from Best Places, including general quality of life scores, crime rates, education opportunities, and access to services.
After finalizing the overlapping cities from these two lists, we had our final 10 cities arranged based on the best combination of cost of living, salaries, crime rates, and resources for women who code. Scores below 100 indicate cheaper living costs than the US average, while scores above 100 are above average.
We also used the following resources to get more information on the cost of living, average rental costs, crime rates, unemployment rates, and average salaries: Areavibes, Glassdoor, Indeed, US News, Newsweek, and Neighborhood Scout.