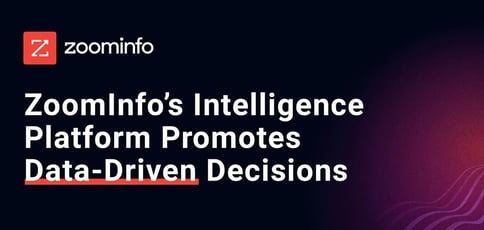 TL; DR: ZoomInfo offers a comprehensive suite of products that delivers powerful data intelligence to improve go-to-market strategies and decision-making. Beyond its core sales functionality, ZoomInfo's MarketingOS and OperationsOS platforms allow users to easily target B2B contact leads and cut operational costs with accurate data definitions and management. Recently, ZoomInfo announced a partnership with AWS to help mutual customers increase data enrichment capabilities across departments.
If you've ever watched the TV show "Shark Tank", you would be privy to how grossly prepared most contestants are. Flashy and unique products are only the first step. But to win over a "shark" — as the panel of investors is called — contestants need to know their stuff and research to secure the deal. What value does their product propose to their specific market? How competitive is the demand in the market? What is the potential success bracket? These questions and others are exactly what the sharks need answers to before they think about investing.
Data analysis is the starting point for budding entrepreneurs. Without it, aspiring entrepreneurs can't identify their market, determine marginal profit, or uncover market and selling opportunities. That is why many "Shark Tank" contestants often begin their sales pitches with total addressable market and operational statistics. This information is a critical buffer to avoid the road to rejection and failure.

The ZoomInfo team understands the role data plays in business growth and offers a market solution that goes beyond the benefits of typical statistical databases. Its intelligence platform maximizes research potential by providing users with accurate B2B contact data. Hussam AlMukhtar, Senior Director of Strategic Growth and Partnerships at ZoomInfo, explained the importance of having expanded intelligence tools to close in on target markets and how ZoomInfo's platform differs from its competitors.
"The differentiator now becomes the intelligence, the breadth of the data we bring in. So it's not only the massive volume of 100 million-plus company profiles that we have, but it's also the breadth of these profiles. We organically provide 300-plus data points on each of these profiles, with the potential to deliver thousands more from other data sources with our Multi-vendor Enrich solutions" said Hussam.
ZoomInfo allows users to access data that delivers in quantity and quality. With its solutions, teams can do in-depth research on specific markets and identify new prospects and opportunities for better engagement and conversions. By tailoring its platforms to specific company departments, including sales, marketing, human resources/recruiting, and operations, ZoomInfo can effectively meet user needs and provide them with accurate intelligence figures to achieve their objectives.
Improving Marketing and Operations Workflows With Tailored Platform Add-Ons
Since 2007, ZoomInfo, originally called DiscoverOrg, has helped professionals hit their goals with accurate data and analysis. In 2020, the company went public, and its success has only increased. Hussam told us that ZoomInfo has seen tremendous growth in multiple areas, including employee headcount, the acquisition of more than a half-dozen companies, and its overall market share. Before 2020, ZoomInfo primarily served sales teams but now offers solutions to various business departments.
"We have added a number of product suites that help these different business units achieve their work in the way that their objectives are set up," said Hussam. "We've launched MarketingOS, a marketing platform that helps marketers execute mutli-channel campaigns; TalentOS, a platform that helps talent acquisition leaders find the right candidates; and OperationsOS, a data orchestration layer that spans across all the different go-to-market business intelligence teams."
These additions help teams uncover more market opportunities while streamlining unified workflows. For instance, Hussam told us that MarketingOS enables marketing and sales teams to work in tandem. The marketing department's role is to provide coverage to prospects for sales teams to target, but often, marketing campaigns reach the wrong audiences. ZoomInfo solves this issue by allowing marketers to target the same contacts and accounts that would be profitable for sales teams.

"Using that same exact definition and data layer across the sales and marketing teams cuts marketing waste and makes a much more impactful and efficient dollar spend for marketing teams," said Hussam.
OperationsOS opens up the experience of ZoomInfo's highly-efficient data intelligence platform to multiple organizational departments, including business and product operations. Teams can use this solution to integrate ZoomInfo's data into any of their own systems or workflows and to enrich their engagement-ready data. It also allows them to reduce operational costs by managing data allocation and eliminating data decay without duplicating.
"The more data you store, the more you pay for it. But we know that data decays at a high rate. So how do I keep my decay out of where I'm spending money? And that's what OperationsOS enables people to do: to clean, to not dupe, and to enrich by keeping records up to date," said Hussam.
Partnering With AWS to Accelerate Accurate Intelligence and Data Deployment
ZoomInfo joined the AWS Partner Network in July 2022, further solidifying the growth it has seen over the last two years. Its AWS collaboration adds to a growing list of partnerships, including those with Snowflake and Google Cloud. The software company bases its strategic alliances on the value it can provide their mutual customers.
"The relationship we have with these three companies is almost similar in serving our mutual customers, a way for their data teams to consume and build models inside their deployments, intelligence center, and data warehousing," Hussam said.
Its partnership with AWS allows users to optimize their operational workflows for enhanced data delivery. By combining ZoomInfo's OperationsOS with AWS's cloud environment, joint customers can cut transferring and data prep time to accelerate and increase the quality of their data delivery. The ZoomInfo integration also directs customers to frequently enriched data. Because the data enrichment is automated, users won't have to lift a finger, eliminating several operational burdens.
"The joint software improves the way that teams work and models their intelligence by a significant portion, which leads to more accurate intelligence and, as a result, faster intelligence than before," said Hussam.
And the big moments keep rolling for ZoomInfo. In 2021, the company acquired Chorus, a conversation intelligence company that leverages proprietary machine-learning technology. Chorus allows sales teams to capture and analyze customer interactions to improve performance. This move further expands the customer view and data value ZoomInfo has to offer.
"Our acquisition of Chorus opened up a different kind of door for us in looking at conversational intelligence. It helps customers feed sales intelligence as it goes through its pipeline periods, provides coaching opportunities, and better understanding of how decisions are being made," said Hussam.
Uncovering Market Opportunities and a Breadth of Data Nuances
Finding data points that can transform into go-to-market opportunities can feel like striking gold. With the right information, business teams can reach target customers and achieve competitive advantage. The ZoomInfo platform enables users to narrow their total addressable market research to the most specific data definitions for optimal usage and TAM analysis.
Hussam told us that ZoomInfo customers can leverage its partnerships with Google Cloud, AWS, and Snowflake to boost their data research and allocation. Through these partners, mutual customers can match the magnitude of data points ZoomInfo delivers inside their robust processing systems and ML engines.
"It allows them to map out the state of points, give users what is important, and uncover a lot of unknown data from a simplistic industry description, including the number of employees, revenue bands, and location. You understand all of these different data nuances and start uncovering a new total addressable market that you otherwise didn't know existed," said Hussam.
The ZoomInfo platform is also customizable. Users can define and calculate their TAM based on their specific needs, giving them the flexibility to add details that are significant to their business. Another perk is that the platform constantly updates and refreshes. Hussam said ZoomInfo updates billions of records every month, and that breadth is what differentiates the company from other data vendors.
As for what's next, Hussam told us the goal is to continue to provide value.
"Data is a goldmine. So it's one thing that sales teams can utilize intelligence to understand what their prospects will look like, and where and when to reach them is important. But how can we use these foundational data structures to serve other purposes within any organization? That's probably where our areas of focus will be," said Hussam.