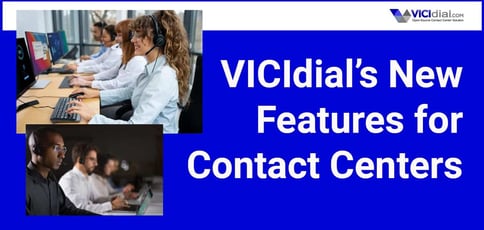 TL; DR: Matt Florell, President of VICIdial, chats again with HostingAdvice about how its latest open-source call-handling software prioritizes customer satisfaction. VICIdial has introduced various new features, such as targeted surveys with demographic quotas, streamlined reporting featuring enhanced data visualization tools, and proactive issue identification through agent network and latency logging.
When nearly 96% of contact center professionals say customer satisfaction is the top metric companies should focus on, it may be time to consider making it a central part of your call center operations.
But where do you start? Enter VICIdial. VICIdial is an open-source call-handling software application built on the Asterisk PBX System that has thousands of features to help streamline communication between agents and customers in contact centers.

The open-source aspect is what makes VICIdial stand out from the competition. Instead of facing vendor lock-in, businesses can modify, extend, and integrate the software to align with their operations, ensuring a seamless fit within their existing technology stack.
"The cool thing about VICIdial is that it's vendor-agnostic. Clients can host their solutions in the cloud or on-premises with any provider," said Matt Florell, President of VICIdial.
As VICIdial continues to evolve, it has actively addressed customer requests over the past few years, focusing on better demographic analysis, enhanced agent reporting, and latency logging.
Transforming Customer Connections with VICIdial
Keeping up with the ever-changing consumer needs is crucial.
Nowadays, consumers demand immediate satisfaction and enjoy the convenience of online services, including instant customer service. VICIdial offers a comprehensive solution for businesses that need to keep up with their volume, especially since COVID-19 has pushed even more consumers toward digital channels for shopping and support.
And customer care leaders say it's a trend that won't be slowing down anytime soon.
Here's how VICIdial works: VICIdial provides two interfaces, one for agents and one for managers. The agent interface is accessible through web browsers so agents can work without specific computer resources or hardware. It gives agents real-time information to help them engage with their clients. On the management side, VICIdial offers a web-based interface that lets them access real-time reports with the ability to fine-tune campaign and agent configurations.
VICIdial recently released a few new features to help enhance both the agents' and management's experience. Through qualitative research, streamlined reporting, and proactive issue identification, VICIdial allows companies to meet and anticipate evolving customer expectations — which sets the stage for success in today's digital age.
What's New? VICIdial Enhances Contact Centers with New Features
VICIdial is no stranger to the team at HostingAdvice. The first feature we wrote about the company was back in 2021. And we continue to be impressed with how VICIdial's added features for better data visualization and customer experience keep the company a step ahead of the curve.
"In the last two years, we've been pretty stable. We've gotten a couple of new members on the code contribution side, which has helped bring new features and developments," said Matt.
Speaking of further developments, let's dial into what VICIdial has been working on.
Feature #1: Targeted Surveys with Demographic Quotas
One of VICIdial's newest features is Demographic Quotas, a survey-polling software that helps organizations better target and meet specific demographic quotas.
"We've always had a few survey and polling companies use our software, but some of our clients wanted to better target and meet specific quotas for their surveys," Matt explained.
For example, say you needed to conduct a political survey and get 1,000 total responses with an even mix of Republicans, Democrats, and Independent voters. The demographic tool can help you determine the ratio with ease.
Plus, you can sort up to 10 vectors, or attributes, within a demographic to further classify the respondents, such as:
Age
Location
Race
Gender
Occupation
Education
"Since you can have up to 10 vectors, you can take into account who's in what party, what age they are, and where they live, among anything else you want to know," Matt said. "It's improved in figuring out how to get a hold of each aspect of these demographics."
VICIdial has also improved its dialing accuracy for clients using its software for SMS and email campaigns. This way, companies can better target their live calls and texts more effectively with better targeting algorithms and personalization.
Matt emphasized this change is about valuing quality over quantity. "It's not just about placing as many phone calls as possible anymore," he said. "It's more about targeting to get a human response."
Feature #2: Streamlined Reporting with Enhanced Reporting Module
In today's fast-paced business environment, real-time insights are crucial. The VICIdial Enhanced Reporting Module (VERM) offers comprehensive data visualization tools to gain deep insights into your call center's performance.
You can easily create visually appealing charts, graphs, and reports to represent data points such as agent activity, average call times, and call volumes.

VICIdial spent more than a year refining this module. Surprisingly, it was initially built for one client, but since open-source is the name of VICIdial's game, it's available and adaptable for just about everybody.
"It's a great tool because it offers a different way of visualizing agent activity, call receipts, incoming and outgoing calls, and everything else you might want to keep track of," Matt explained.
Feature #3: Proactive Issue Identification with Agent Screen Logging
Another feature VICIdial has officially released is Agent Screen Logging, designed to proactively identify and address network-related issues, ultimately improving the reliability and performance of your contact center.
For instance, if a user is connected and having problems, a manager gets an alert or an email within two minutes, which allows for swift intervention and issue resolution.
"We went live earlier in 2023 with a whole set of features around network logging latency for reporting and proactive alerts," Matt said. "It's helped our clients with a challenging network infrastructure better respond and pinpoint these issues."
The primary issue was enhancing the customer experience by reducing escalations and downtime. Providing real-time monitoring, reporting, and alerts empowers company leaders to identify and address network issues promptly, ultimately improving the quality of customer interactions and the efficiency of your call center operations.

"We've added a lot of tools mainly for tracking and finding problems in clients' networks. Before, when issues cropped up, it was easy to blame the phone system without really knowing the cause," Matt explained. "Now, we can pinpoint specific issues with these network reporting and logging tools. For instance, we can see that most users are fine, but a few on the same network segment are experiencing problems."
But Matt also emphasized VICIdial's software isn't just for call centers. Some clients use it for monitoring phone connections, including situations where a manager is speaking on the phone without using a computer-based call center system.
"Even when a manager is using a phone without a computer screen, it's important to keep an eye on the connection to see what's happening," he added.
Upcoming Security Add-Ons and Exploring AI/ML Features
VICIdial has a few things on the horizon. It recently added security features, including failed login tracking, which allows you to view the logs and see when people unsuccessfully attempt to log in, and two-factor authentication for data protection.
"We've been getting more requests for how to turn it on and configure it," Matt said. "We've been connecting with clients to show them how to configure it to be secure, so we're also working on it."
But there's an elephant in the room of almost every software service: artificial intelligence and machine learning (AI/ML). VICIdial currently uses AI to generate response suggestions when agents type in questions.

Beyond that, VICIdial hasn't implemented AI into its platform because the team wants to be realistic about the integration and cost concerns. One of VICIdial's clients said that it would cost them 10 to 50 cents per answer to implement something like ChatGPT for their website, so Matt said his team doesn't yet see a need for AI/ML like this.
But that doesn't mean it's off the table.
"I see a lot of promise in AI," Matt said. "So, like many others, we're looking into its potential."
Whatever the future holds, VICIdial has already proved its value to companies that rely on call centers to stay connected to their customers' problems, wants, and needs.