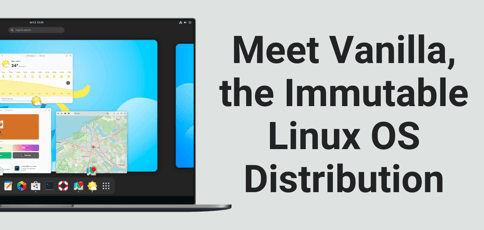 TL; DR: Calling all Linux users: Are you ready for a distribution that combines customization with immutability? Vanilla OS is a Linux distribution tailored for work, play, and development with immutability capabilities, so you never have to worry about messing up your configurations. We chatted with Mirko Brombin, Founder of Vanilla OS, who gave us a sneak peek into the team's innovative approach to file system integrity.
Anyone who's ever been on the internet is probably aware of the age-old flame war between Windows aficionados and macOS enthusiasts. Apple fans praise their OS for its interface and security, while Microsoft users argue for its cost-effectiveness and versatility.
But there's a group of people who don't care to blink twice at this argument. They're using an operating system (OS) that combines heightened security with unparalleled customization, all without the burden of licensing fees or proprietary software: Linux.

Linux provides a range of distributions (distros), including Nitrux, Zorin OS, and Pop!_OS. But for those who want a simple, immutable, and customizable experience, Vanilla OS steps into the spotlight.
Mirko Brombin, the Founder of Vanilla OS, created this distro, which is backed by the internally made ABRoot utility, to provide accessibility and versatility.
The Quiet Demand for Immutable Linux Distros
While Linux may claim a modest 3% share of the desktop OS market, it is a favored choice among individuals seeking a highly customizable experience and an increased demand for datacenters, cloud deployments, and global servers, particularly in gaming and professional work.

Mirko knows his way around the Linux world and has dabbled in nearly every distribution available. But he's no stranger to the issues that tend to crop up, such as problems with proprietary codecs, video card compatibility, and the constraints of immutable distributions.
"We started thinking about immutability because that's a big problem in Linux where the user always touches the core file system. So I just thought we could make the system immutable and make the distribution work for the user," Mirko explained.
Immutability refers to the inability to modify or update preexisting data or configurations within a computer system. This is helpful to ensure stability and security in open-source software because nothing set as immutable can be accidentally or maliciously changed.

But there wasn't immutability software out there, so Mirko developed a utility tool called ABRoot, which makes the system immutable to partition specific configurations. It uses Open Container Initiative (OCI) images — a stack of tarballs with a configuration file — to ensure the system is always consistent.
That said, Vanilla OS is not recommended for beginner Linux distro users. But that doesn't mean it isn't worth trying.
Work, Play, and Develop with Vanilla OS
If learning about features is your favorite part, you're in for a treat. Vanilla OS is a stunningly clean and beautiful operating system that empowers you to work, play, and develop to your heart's content.
I watched several Vanilla OS walkthroughs and tutorials and can confidently say it's a super simple installation process. It also boasts a clean and simple interface reminiscent of macOS and provides a high level of customization similar to what you'd find on Windows.

Here's Vanilla OS at a glance:
Experience optimal performance with NVIDIA driver support for gaming, machine learning, and 3D rendering
Enjoy seamless multimedia and gaming with built-in restricted codecs, enabling playback of various formats
Navigate your system effortlessly with the familiar and widely used GNOME desktop environment
Customize your work environments with the Apx tool, whether it's for personal use or collaborative projects
Enhance your system's versatility with the Vib tool, allowing you to create OCI images for use with Vanilla OS or other Linux distributions
Ensure the immutability and atomicity of your system with the ABRoot utility
ABRoot ensures that when you install other applications, drivers, or software, it doesn't interfere with the core of your system. It handles updates automatically and lets you tweak your system's kernel parameters — just be careful you know what you're doing so you don't end up with a non-bootable system.
It starts with two sides, A and B, which act as the present and future state of your system. When you do something with ABRoot, it affects the future state (B). If nothing interferes with your configurations, the changes become part of your system after a reboot. But if something goes wrong, your system stays as it is.
Or, better yet, you can do transactions on demand with the ABRoot command.
What's Next for Vanilla OS?
Vanilla OS recently announced it's working on Vanilla 2.0, codenamed Orchid. Mirko said security is one of the priorities in Orchid, which is currently in alpha testing mode, although this version is available for download right now.
"In our first release, we were more about making things work smoothly for users, so we didn't focus heavily on security. Our main goal was to provide a great user experience," Mirko told us. "In the 2.0 version, we're prioritizing security. We're introducing new features such as a more secure ABRoot and utilizing OCI images, which will help us provide updates and patches for security and new capabilities."

Vanilla OS is also testing and developing a system for file system integrity. ABRoot can provide an exact system image, but issues may arise when other operating systems are on the computer.
"There could be some problem like if you have another CS operating system in the same computer, you can still edit those files because they are immutable only during the runtime only during downtime," Mirko explained.
To tackle this issue, the team is creating a system similar to Android's dm-verity. The end goal is that it will seamlessly integrate with ABRoot.
Download Vanilla OS today to experience a secure, customizable, and immutable Linux distribution.