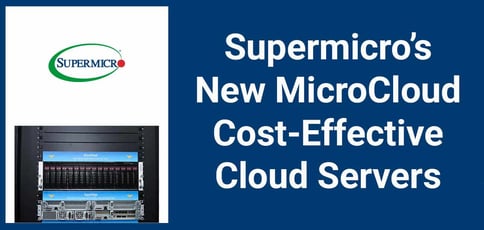 TL; DR: As hosting demands skyrocket, Supermicro's MicroCloud offers a cost-effective alternative to handle massive amounts of data by maximizing computing power while minimizing costs, making it ideal for businesses of all sizes. Paul Mcleod, Director of System Storage at Supermicro, shared how MicroCloud's user-friendly features, including compact design, efficient memory, and powerful processors, ensure seamless operation.
By 2025, the cloud will store about 200 zettabytes (ZB) of data. To put this amount in perspective, the average file is around five megabytes each, and 200 ZB amounts to about 439.8 sextillion files.
These are the videos, photos, documents, and audio files you've created, downloaded, and shared — similar to the ones you have stored on your computer from LimeWire in 2006 and the thousands of unused images you have on your iPhone today.
But today, the world of data storage has evolved. Large cloud providers offer a rich array of services and libraries and libraries, but sometimes, it's easy to overlook the potential for waste when resources are underutilized.
With MicroCloud by Supermicro, you get the best of both worlds. It's all about making simple, cost-effective computing nodes. Think of it as a way to get high-performance computing without breaking the bank.

To put it in perspective, major cloud providers charge a lot for their resources, but Supermicro offers similar power at a much lower cost. It's like getting a high-end service for a budget price.
"Microcloud is a friendlier place — especially for a smaller cloud without those complexities, but it can scale up to 12 nodes too," said Paul Mcleod, Director of System Storage at Supermicro. "So you could run your whole organization using the Supermicro MicroCloud."
Supermicro's MicroCloud servers offer a solution bridging the gap between cost-effective scalability and seamless infrastructure management, allowing organizations with a growing platform to navigate the evolving landscape of data management.
Unpacking MicroCloud's Scalability and Cost-Efficiency in Compact 3D Space
MicroCloud is Supermicro's scalable and cost-effective server solution of multinode servers in a compact 3D space suitable for small businesses, datacenters, and even large enterprises. The MicroCloud allows up to 12 nodes to be clustered together, aggregating ports, CPUs, and cores in a small footprint.
Here's how it works: MicroCloud systems can maximize the number of computing nodes in a single enclosure, allowing datacenters to get more computing power with a smaller footprint. Plus, you can quickly scale according to your needs. Start with fewer nodes and expand as you grow so you spend less money upfront and avoid investing in unused resources.

"We have everything from blades to twins with every kind of twin you can think of, from Microcloud, Blade Servers, GrandTwin, FatTwin, and BigTwin to TwinPro," Paul explained. "These give the ability to do clustering at the size you have available, so with MicroCloud, you can go up to 12 computers."
Twin servers include two individual server nodes within a single physical chassis or enclosure. These two nodes (also called "twins") share resources, such as power supplies, cooling, and physical space, designed to maximize computing density and efficiency while minimizing the physical footprint in datacenters.
For some, it may sound too good to be true. Using more resources usually means much higher costs, so there's no question the cloud plays a pivotal role in reshaping how businesses manage their IT resources.
MicroCloud Answers the Growing Demand for Cloud Infrastructure
Everywhere you look, you're hearing about the cloud. Paul said there's a good reason for this.
"The cloud model makes you realize, 'How do I consume this thing that used to be where I had to buy a server, storage, rate controller, and figure out where these nuts and bolts go?'" he said.
Clearly, the more data is born into cyberspace, the greater the need for inexpensive, efficient, and simple storage. Paul explained this is the cause of moving toward a DevOps model — where software development (Dev) and IT operations (Ops) teams work together to create scalable, automatic, and efficient software applications and services.
"Moving from an appliance model to a DevOps model is a big picture," Paul said. "And Supermicro's company history has been about taking control of your destiny and providing the hardware to do it now, where you can partner with software vendors or build your own."
Here are some of the main features from MicroCloud:
Form Factor is compact and space-saving. This server is designed to be small and efficient to save valuable space in your setup.
Memory offers between 128GB to 1TB of memory per part, meaning the server operates quickly and effortlessly handles tasks to boost performance.
Power is all about energy efficiency. It operates at a 96% Platinum and Titanium efficiency level, saving power and being more cost-efficient.
Management is user-friendly. You can easily control and manage it using standard tools and options.
Processors are lightning-fast. MicroCloud is equipped with powerful processors from AMD and Intel, delivering reliable performance and low latency.
Drives offer NVMe U.2. and M.2. Choose from options for different types and numbers of drives to have ample room for your data.
Input/Output allows for versatile connectivity. It can connect to other devices and networks seamlessly, providing versatile connectivity options.
Paul said that, although the MicroCloud platform is ideal for small cloud deployments and remote branch offices, it can handle workloads like hyper-converged infrastructure and Kubernetes. MicroCloud's compact, high-density design with AMD Ryzen processors makes for efficient solutions that can adapt to various computing demands.
"I like using MicroCloud because it allows me to easily update my network without needing a physical switch," Paul added. "I can switch to a new network setup, maybe using blade servers, and this creates opportunities for upgrades."
Users can also flexibly add or change networking options and upgrade components, such as storage devices, as new technologies become available. For example, MicroCloud's lastest generation of servers support PCIe Gen5, GPU and next-generation accelerator.
MicroCloud Helps Democratize AI/ML For Businesses of All Sizes
The rise of artificial intelligence and machine learning is a trend that's hard to miss in today's tech landscape. For service providers, this trend is driven by the growing customer desire to access the resources they need on demand.
MicroCloud offers robust AI/ML workload support as organizations integrate AI into their products, platforms, and everyday operations.
"I think the initial surge of ChatGPT and large language models led a lot of people to adapt to cloud-based solutions quickly, but you can't sustain it in terms of economics," Paul said. "Building your infrastructure is necessary, but toolkits are available to simplify this process with a minimal footprint."
AI processing in the cloud can get expensive, so MicroCloud and other Supermicro solutions provide an accessible point to deploy AI applications as organization scalability needs increase.
Paul said many organizations are shifting to workstation-level processing to manage production budgets.
"We don't make it prohibitively expensive to get there, and we give you a portfolio that gives you that reach," Paul said. "So really, that's the bottom line with something like a MicroCloud: We're solving many problems for folks with big data problems."
With Supermicro's focus on advanced hardware, including cutting-edge NVMe technology, customers can be confident they have the infrastructure to run AI and ML workloads efficiently. Scalability is another key feature, allowing businesses to start small and expand their AI/ML capabilities as their needs evolve.
Whether you're a startup or a growing enterprise, Supermicro has a server that can scale with you without breaking the bank based on the features you choose like multinode systems or CPU types. Learn more about the MicroCloud models here.