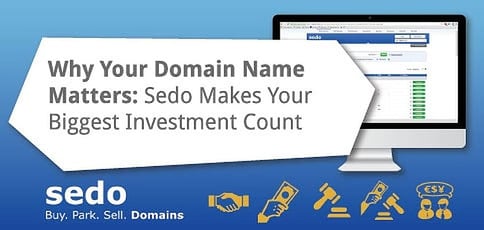 TL; DR: The Guinness Book of World Records isn't a place you'd expect to find a domain name marketplace, but that's where you'll see Sedo. The global company went into the record books for brokering the sale of sex.com for $13 million. Though Sedo boasts 14 transactions breaking the million-dollar threshold, their employees take the time to explain the value of a domain name — and the impact it can have on click-through rates and conversations — by coaching customers through the search for one that is memorable, trustworthy, and keyword-driven. When you find the domain that you simply must have, Sedo brokers will take care of the rest by negotiating and enforcing the sales terms while protecting your money and identity.
Russian entrepreneur Roustam Tariko painstakingly built Russian Standard Vodka into a premium brand and top-shelf product in his home country. He turned his sights on the US market but struggled with the advertising restrictions on alcohol.
Along came Sedo, the leading online marketplace for buying and selling domain names. Their domain name brokers had been contacted about an opportunity that sounded like a perfect solution for Russian Standard.
Not long after, Russian Standard became the proud owners of vodka.com — for a cool $3 million. Even though the hefty price tag puts the transaction among the most expensive for domain names, Sedo taught Roustam the immense value the simple domain would have for his company.
"Generic domain names like vodka.com help define a company as a global leader in a market category, and that's just how we planned to be viewed in the US and abroad," he said in Sedo's press release announcing the sale. "Sedo did a great job of articulating the value of the domain and how investing in it would help us achieve our business goals."
Even though Sedo's Marketing and Public Relations Manager Christoph Holler wasn't part of the negotiations, he elaborated to us on why a domain name matters so much to people and organizations — and why educating people about the factors to consider is so important. He also told us how Sedo provides a domain transfer service to help buyers and sellers complete their transaction, as well as how the ability to converse in 25 languages means they can negotiate with just about anyone. To Christoph, Russian Standard made a stellar investment.
"Instead of investing heavily in radio ads or TV spots, which would actually eat up a budget of $3 million in a few weeks, he invested that money into the domain name," he said. "He automatically got the authority and the trust that his brand is the best there is."
Sedo offers all the tools you need to buy, sell, and monetize domain names, from appraisals to transfers. Even though they sell 3,500 domains a month, the global domain marketplace still takes the time to educate beginners on the value and importance of finding the perfect domain.
Why a Domain Name Might Be One of Your Most Important Investments
Instead of the basic economics principle of supply and demand, the value of domain names is entirely based on demand — each domain name exists only once.
Getting a .COM Builds Automatic Trust
One of Christoph's strongest suggestions is to find a domain name that evokes confidence and trust. In most cases, that could be as simple as securing the .com domain extension instead of .org, .net, .biz, and so on.
"People are so used to using .com domain names, and it'll take a lot of time for all of these new domain extensions, like .club, .bike, or whatever, to really reach the regular or average users," Christoph said. "You want to be a trusted company, and you want to make your mark. This heavily depends on the first impression your potential customers get."
Memorable Names Include Keywords and Boost Advertising Impact
Domain names should be catchy enough to pass what Christoph calls the radio test — will people remember the domain when you mention it quickly at the end of a radio ad?
"We always say you can save money on advertising or pay-per-click advertising when you have a great domain name," he said. "You have advantages when you have a trusted domain, and you've got some keywords in your domain name right from the start."
Although Google doesn't favor domains with the keywords, users tend to click on the results that already contain the word or phrase for which they were searching.
5 Factors Behind a Strong Domain
While you might be desperate to secure a domain name with your name, it's only truly valuable to you and any of your namesakes. However, if the domain is for a business looking to generate revenue, the right domain name can make a major impact and be worth millions. Here are some of the facets that Christoph said makes for a good domain name:
Trustworthy: A domain should include keywords relevant to your mission.
Easy to Spell: Your domain name shouldn't include hyphens or be prone to typos.
Ends In a .COM or Country Code: A .com domain is king, especially in the US. Conversely, your country code informs visitors that you are a local company.
Doesn't Violate Trademarks: Appear natural, but don't try to steal someone else's idea.
Memorable: Will visitors remember where to go if they hear your domain name?
"We always recommend thinking hard about buying your first domain name," Christoph said. "That is the online business card for you. You should get the domain names you really want right from the start."
Team Sedo Plays Middle Man to Protect Buyers and Sellers
Sedo's brokers do all the leg work to help you buy or sell your domain name. With them in the middle, you can remain anonymous and let Sedo handle the nitty-gritty work of contacting the other party, negotiating terms, and making sure the money and the domain name are transferred as planned.
Negotiating for You in 25 Languages
Ever wanted to know how to say "domain name" in 25 languages? Sedo does (Here's a sampling: domeinnaam (Dutch), domenenavn (Norwegian), nazwa domeny (Polish), nombre de dominio (Spanish). Here's more, because who doesn't love playing around with Google Translate: verkkotunnus in Finnish and jina la uwanja in Swahili).
Sedo's sales department has about 20 dedicated country managers who speak a total of 25 languages, according to Christoph. If the domain name you want to buy is owned by someone in China, Sedo can negotiate in the owner's language.
"Whenever someone wants to buy a domain name, we can make sure there's nothing lost in translation when we deal with the sellers or buyers," Christoph said. "We speak so many languages in house that we can contact, talk, discuss, and negotiate with everybody on the globe, no matter where they live."
Ensuring Buyers and Sellers Play By the Rules
Christoph likens Sedo's brokers to experienced and trustworthy advisors of sorts — with the added bonus of Sedo's domain transfer service to help the seller and buyer comply with the terms of the deal.
"You never know when dealing with someone over the Internet: 'Is that a real person? Does the guy really exist? Can I trust him?'" he said. "We, as a company, have a great reputation for making this a secure transaction. You can't always expect things to go as easily as they should, so that is one of our advantages."
Global Domain Industry Means Global Workforce and Audience
After working for Sedo for more than 10 years, Christoph says he's still excited about how the domain name industry is continually growing in general, and the vibrancy of Sedo in particular.
Like the stock market, the prices of domain names can fluctuate based on trends and news events.
Sedo has seen a huge upswing, for example, in the number of Chinese buyers and sellers — more than half of their transactions last year involved a party from China.
"More recently, it will be interesting to see what happens with Brexit and .co.uk domains," Christoph said. "It's always exciting, and there's always something happening."
Employees Tailor Service to the Customer's Expertise
Sedo's customer base includes more than two million member accounts, so it's no surprise that their audience runs the gamut in terms of skills and knowledge in the domain name arena. Types of Sedo customers typically include:
Domainers, as Sedo employees call them, are the relatively small group of people who make a living off trading and parking domain names.
Brands such as Hubspotore and getaroom.com (and Russian Standard Vodka) need domain names for marketing campaigns, promotions, or new products, and Sedo has worked with some of the world's largest, maintaining their confidentiality while assisting them with buying and selling domains.
Beginners are new to the game and need a little help figuring out the process.
No matter a customer's experience, Sedo's support team will walk them through the process. Their online support center includes more than 500 FAQs, as well as live chat and ticket features.
International Cultures Thrive at Sedo Headquarters
Roughly 120 employees, including Christoph, work out of Sedo's headquarters in Cologne, Germany. The offices include a sales department, human resources, and an IT support team.
"It's a great atmosphere," he said. "Everybody is relaxed and friendly, and you hear so many laughs on our floors. I like the international feel, with so many country managers coming from different countries.
"You can learn so much from all your coworkers who are from different cultures," Christoph continued. "Knowing that you need to tackle a deal with a seller from China differently than one with a seller from the US is something you can only learn by actually experiencing it."
Opening a US Office and Exchanging Employees
Sedo opened an office in Cambridge, Massachusetts, in 2005 to better support American clients. About 25 employees are there to handle sales, transfers, and customer support.
"Some of our most important clients are in the US, and we want to be there for customers no matter what the time zone is," Christoph said.
Thanks to an employee exchange program, one in which Christoph has already participated, Sedo employees can cross the Atlantic Ocean and work in the other office for three months.
"That is something that makes for really interesting and always exciting interactions," said Christoph. "That drives our work here and was a lot of fun for me, personally."
Sedo Educates Beginners By Inserting Domain Extensions Into Real Life
Even though they land million-dollar domain sales, Sedo spends a lot of time going to non-tech people and teaching them about the opportunities available online.
Early in 2016, Sedo visited the SXSW music festival to spread awareness of specialty domain extensions such as .rocks, .music, or .live.
"We had a little stage there at night with some bands playing and actually connecting the real world with domain names," Christoph said. "For everything where there is a real-life counterpart, we try to address this with the right domain name."
That mindset even spawned a booth sponsored by .tattoo that gave out — you guessed it — free tattoos to those who came by.
Sedo's booth is always among the most popular at Europe's largest digital marketing conference, mdexco: "What better way to educate people than with free frozen yogurt?" Christoph asked.
The yogurt is free, but all the toppings are named after different domain extensions. Chocolate sauce could be .sexy, or strawberry syrup might be .ninja.
"We're trying to make this connection in people's heads that there are domain extensions that have a meaning and a secondary market," Christoph said. "We're the place to go if you want to find the domain you really want."
Don't Have the Domain of Your Dreams? Sedo Knows the Feeling
When Sedo started planning to open their US office, they found themselves in a similar position as Russian Standard Vodka — missing the most important domain name for their business.
For the six years after their founding, Sedo thrived with their .de address — the country code top-level domain for Germany.
"The Founders didn't really do what they were preaching," Christoph said. "We didn't own sedo.com and experienced firsthand not having the domain name that you really need."
Sedo.com had been created a year before the company was founded, according to the domain's WHOIS record. After lengthy negotiations with a person named Sedo, the company acquired the .com address in February 2004 for $80,000.
"The domain name had a rather huge personal value for the previous owner," Christoph said. "Every domain only exists once. If it's gone, it's probably gone for good. Your only option is to hire a broker and see if we're good enough to get the domain name you really want."
Luckily for Sedo, they were.
Advertiser Disclosure
HostingAdvice.com is a free online resource that offers valuable content and comparison services to users. To keep this resource 100% free, we receive compensation from many of the offers listed on the site. Along with key review factors, this compensation may impact how and where products appear across the site (including, for example, the order in which they appear). HostingAdvice.com does not include the entire universe of available offers. Editorial opinions expressed on the site are strictly our own and are not provided, endorsed, or approved by advertisers.
Our Editorial Review Policy
Our site is committed to publishing independent, accurate content guided by strict editorial guidelines. Before articles and reviews are published on our site, they undergo a thorough review process performed by a team of independent editors and subject-matter experts to ensure the content's accuracy, timeliness, and impartiality. Our editorial team is separate and independent of our site's advertisers, and the opinions they express on our site are their own. To read more about our team members and their editorial backgrounds, please visit our site's About page.