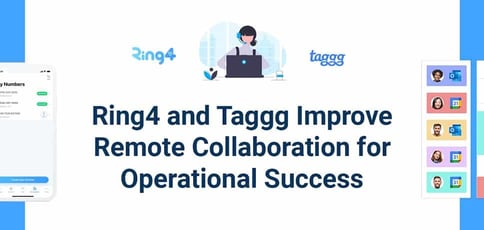 TL; DR: Ring4 and Taggg are remote working tools developed to support team communication and collaboration for improved operational efficiency. Ring4 is a simple phone system that allows users to have multiple business numbers within a single device. Taggg simplifies meeting scheduling by connecting calendars and cross-checking availability for faster bookings. Small businesses can leverage both solutions to help their team members remain connected with clients and each other without the costly expenses of traditional infrastructure.
At the start of the COVID-19 pandemic, the remote workforce had grown to new heights. Companies that were reluctant to move to digital operations had to dive into setting up remote workplaces for their employees.Before the pandemic, businesses reported that only 30% of their employees would occasionally work from home, according to Gartner. By April 2020, businesses reported that 81% of their employees were working remotely.
While many workers have since returned to the office, other companies have permanently adopted remote working or hybrid workplaces. Some worry that employees will be less productive and inefficient without traditional workplaces and one-on-one supervision. These are valid concerns, but staying connected has been the key to successful and proactive distributed and remote workforces.
The lack of technological infrastructure and collaboration tools can negatively impact any company, but even more so in remote workforces. Without the right tools, employees will have more difficulty connecting, which can hinder expectations and productivity.


"Some of the greatest challenges are around collaboration and how to be effective at being a successful team and business when you're not sitting next to each other in the office. Just scheduling a meeting with multiple people can get very complex," said Trevor Hatfield, CEO of Ring4 and Taggg.
Trevor created remote working tools, Ring4 and Taggg, to streamline communication across remote offices. These solutions were developed to solve pain points regarding scheduling and complex communication channels for professionals working remotely. Using Ring4 and Taggg allows users to eliminate hurdles and save time while scheduling meetings and using the telephone.
"Many companies no longer have the need for the office phone sitting on their desk and need a new solution to accommodate communicating with the team, customer, and clients more effectively," said Trevor.
Eliminating the Need for Separate Business Phones
More than 700,000 people worldwide leverage Ring4 to make and manage business calls. The communication tool allows users to text, call, record, and transcribe calls automatically, all in a private and secure landscape. Trevor told us Ring4 was born out of the need to consolidate business lines into one point of communication.
"Ring4 started by solving the problem of needing a second phone and SIM card in order to have another phone number. It allows you to have an entire remote phone system with multiple numbers on a single device," said Trevor.
Ring4 is an easy-to-use phone system that business professionals can begin using in no time. It only takes 30 seconds to set up a business account by following a couple of simple steps. All users have to do is sign up with a business email and choose a phone number. Users can also text and call directly from their contact lists and share their contacts with their teams.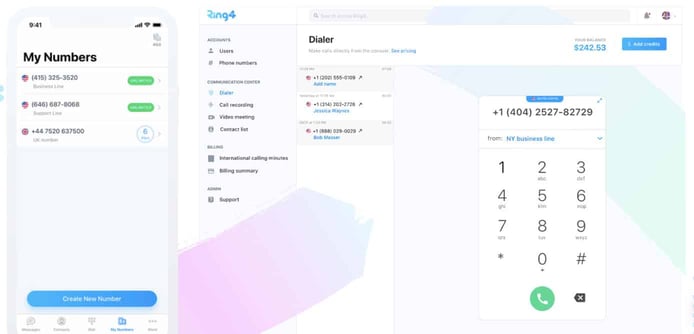 Any area code in the US, France, UK, and Canada is accessible for use. Users also don't have to worry about extra fees since Ring4 is local and toll-free.
"We have a direct relationship with telecom providers that allows us to provide a very simple phone solution at an affordable cost that just works as you expect. There are no fancy bells and whistles," said Trevor.
Ring4 is an affordable option for small businesses that want to do away with expensive and meter-priced office landlines. It is also more reliable and effective than most "free" solutions that often don't have the best sound and are not tailored to business needs.
"In the end, it is more convenient for everyone. You have your business phone with you at all times, and it drastically reduces the cost of having to buy and repair physical phones," said Trevor.
Streamlining Meetings and Aligning Schedules
Taggg enables teams to schedule group meetings instantly without the hassle of emailing group members back and forth. Taggg was first developed as an in-house solution for Trevor's company, Inturact. His team needed something that would streamline scheduling within the company and its external network. Taggg allowed the team to eliminate the guesswork around scheduling meetings by connecting their calendars.
"It's a huge time saver in scheduling meetings if you have a remote team and even people in different parts of the world. You no longer have to wait an entire day just to hear back if that time works for someone," Trevor said.
Emailing or messaging back and forth for meeting setups takes quality time away from an employee's work day. Sometimes, it takes hours to get a response; other times, there is no response. Taggg solves this problem by cross-checking availability among connected calendars. Within seven seconds, users can have a booked meeting waiting for confirmation on their calendars, leading to fewer missed business opportunities due to scheduling conflicts.
"Taggg is the only tool right now that allows you to privately connect calendars with multiple people to find a time to meet. It doesn't matter if you work in the same company or not or if you use Google Calendar or Microsoft Outlook," said Trevor.
Trevor also told us that Tagg's ideal audience are remote teams that often meet with people outside their company. Agencies and small businesses can use this tool to match their scheduling needs with those of their clients and outside parties in a more simplified manner.
Connecting Remote Teams Through Simple Solutions
Simplicity is at the heart of Ring4 and Taggg. Remote work can be difficult to navigate, and communication can be the most muddled part. Ring4 and Taggg help lessen the burden of remote communication and simplify workflows for many employees by providing easy-to-use collaboration tools.
Trevor said the most essential tools in remote working are those that support communication and collaboration, then come tools for project management, tasking, and so on. "Once you have these down, then you can start to optimize and automate tedious and repetitive tasks where possible with integration tools," Trevor continued.
Collaboration and connection are integral to business success and operational efficiency, so it's no surprise that Trevor has focused on these two categories. Teams can further enhance cohesiveness by integrating Ring4 with Taggg. The Taggg integration allows users to track and schedule meetings for Ring4's video conferencing solution.
Ring4 and Taggg have helped multiple companies and business professionals stay connected and streamline their scheduling. And it looks like they're making a stamp on the market.
"Both Ring4 and Taggg are bootstrapped companies growing organically by listening to their customers. Taggg just started in 2022 but now has over 400 companies using it, and Ring4 is now a high performer in VoIP space in G2, and it's great to see the positive reviews," said Trevor.