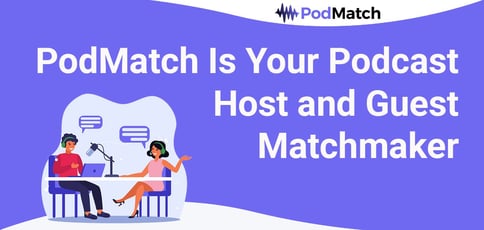 TL; DR: Calling all podcast hosts and expert guests! It's time to say goodbye to the long days of cold-calling potential guests or popular shows and say hello to automatic matchmaking. Like your favorite dating app, PodMatch uses the information on your profile to pair you with a show or guest speaker that aligns perfectly with your expertise or show topic. Alex Sanfilippo, CEO and Founder of PodMatch, told us about how this matchmaking app provides a seamless solution through automatic AI/ML analysis.
In a world where there's an app, software, or service for almost everything, it's never been easier to find exactly what you're looking for.
For example: Want to find love? Swipe on Bumble or Tinder. Are you job hunting? Check out LinkedIn or Indeed. Need someone to walk your dog? Rover and Care.com have you covered. Even if you're searching for something specific — like an enthusiastic local hiking group — apps like MeetUp or Facebook Groups are the places to go.
But in the world of podcasting, I've always wondered how hosts find the perfect guests and how guests find them. I imagine there must be endless hours of outreach, uncomfortable negotiations, and curated scripts with plenty of rewrites behind each episode.
Whatever the process, there's no question that the invention of podcasts has changed millions of lives. It provides a passive yet effective way to keep my brain turning as I listen to stories narrated by entertaining showrunners and incredible guest storytellers. In fact, statistics show that the average podcast listener prefers shows that provide social engagement, edutainment, and storytelling.
But let's be honest: More often than not, the heart of a good episode comes down to the guest. There have been times I've abandoned an episode halfway through because the guest didn't quite click with the host or the storyline lacked the relevance I was hoping for.

This is where PodMatch steps in. PodMatch is a young yet established platform for podcast hosts and guests seeking their perfect podcasting match. As Alex Sanfilippo, the CEO and Founder of PodMatch, put it, it's like online dating — but for podcasts. At work is an internal algorithm that seamlessly matches hosts and guests based on their expertise, preferences, and relevance.
How PodMatch Created a Solution For a Podcaster's Most Common Problem
Although COVID-19 is in the rearview mirror, its effects still linger: Thousands of businesses shut down, millions of Americans were out of work, and life as we knew it changed drastically.
Even so, it's not unheard of for some good to come out of the bad — which was precisely the case for Alex and what soon came to be known as PodMatch.
A week before the country shut down in March 2020, Alex attended a Podfest expo in Orlando. As a guest speaker, Alex wanted to discover the biggest pain points other fellow podcasters faced. More than 100 people told him the same thing: Finding the right guests for their podcasts was tough.
"It made me ask myself, 'What industry is good at connecting people?' and I immediately thought of dating apps and websites," said Alex. "So I wondered what could happen if we created a software that automatically matched podcast guests and hosts together for interviews. Soon enough, we just went to work on it."

Alex reached out to those same 100 people after creating an early beta version of PodMatch. "It was slow at first — we didn't have a logo or intuitive software," he recalled. "The point of sharing it with these people early on was to see if we had a solution to a real problem."
Since its inception in June 2020, PodMatch has welcomed thousands of hosts and guests onto its platform. It featured inspiring guests like award-winning media advisor Vinnie Potestivo, and empowering business podcasts like "The Aligned Success Show with Kelly Mosser" and "Hacks & Hobbies." PodMatch has even earned recognition from renowned media outlets, including Business Insider, Yahoo! Finance, and Forbes.
Here's how it works: On the homepage, you can choose between registering as a host or guest. Within three minutes of signing up, PodMatch works its magic by recommending six matches its algorithm believes would be a good fit. If you're a host and a guest, you can sign up for a hybrid membership that lets you access both sides through seamless account switching.

If you're unhappy with your initial six matches, PodMatch will work with you directly to find what you're looking for. "The system learns and improves over time, but if you're on the hunt for a specific match, our dedicated team is ready to help," Alex reassured us.
You may be surprised at how easy it is to find the perfect fit for an episode thanks to PodMatch's internal artificial intelligence and machine learning (AI/ML) algorithms. This internal software pores over your profile, intaking your tags, experience, relevance, and bio to pair you with individuals or shows that perfectly align with your goals.
The Art and Science of Matching Hosts and Guests
Behind the scenes, PodMatch employs a sophisticated algorithm that takes into consideration approximately 39 distinct criteria to pair profiles. It dives into tags, bios, preferred topics, and even the questions users are willing to answer, all of which act as matching variables. As users interact with these suggested matches, the AI learns from their experiences, refining its recommendations.
This method is ultimately the time-saving labor that podcasters or guests must do. Alex also emphasized that it isn't just about finding any guest — it's about finding the right guest.
"We found that the best guests are the ones with a real story that will resonate with listeners," he said. "The value for finding the right matches is all about getting those raw, authentic stories; for the guests, it's finding a platform to share that story because, sometimes, it's hard to be heard through all the noise."
But PodMatch goes beyond being just a matchmaking system. The platform rewards podcasters when they feature matched guests found through PodMatch. This perk is called the PodValue initiative.
"In an industry where podcasters often receive no cut, we wanted to make a difference," Alex explained to us. "So, whenever a podcast host discovers a guest through our platform, they earn a commission when that episode goes live."
PodMatch offers flexible pricing plans, starting at just $6 per month for podcast hosts, approximately $23 per month for guests, and $29 a month for hybrid memberships, with a Pro Membership option available for $54 per month. Alex emphasized that these prices were carefully considered: "We want to work with independent podcasters operating on a realistic budget."
As if that's not enough, the PodValue Initiative is just one aspect of PodMatch's commitment to serving its members in the podcasting community.
PodMatch Elevates Accessibility within the Podcast Space
PodMatch released its 2.0 version in September 2023, marking a significant improvement in its accessibility. PodMatch's components and infrastructure are entirely managed in-house as a self-contained system, meaning the platform no longer has to rely on the uptime or policies of third-party providers.
"We've built everything from the ground up, entirely custom code. And moving forward, updates will roll out much faster than before," Alex said. "It all comes back to our core value to remain agile, as we like to say. And I think our agility went through the roof with this new update."
This update brings a host of improvements, including:
Speed enhancements for a smoother experience
A revamped message action panel
New message filtering options to stay organized
Better accessibility and readability
Alex emphasized the last feature was an especially essential box to check off. PodMatch worked with organizations that conducted testing with screen readers to ensure each page on the site was completely accessible.
"Less than 1% of our member base is visually impaired, but we want to ensure we're serving them like the other 99%," he said.
In addition to greater turnaround times and accessibility, PodMatch recently released PodScore. PodScore serves as a personality test for podcasters, providing insights into your show's persona, including your likelihood of success or areas where improvement is needed.

But instead of bombarding you with a laundry list of things to do, PodScore makes it simple by identifying specific challenges you can zero in on improving.
Alex said this all comes down to how users perceive information now. "I think the Information Age is over, and we're moving into the Transformation Age," he said. "People want hands-on assistance for specific problems, and I think PodMatch and PodScore are solving that in the podcasting industry."
Whether you're an independent podcast host or part of a small company handling most of your outreach, PodMatch can save you precious time, energy, and resources.
If you're a guest with a unique perspective, experience, or expertise, PodMatch lets you discover the perfect podcasts that align with your niche, providing a platform to amplify your voice.
Join PodMatch today and unlock the next level of podcasting possibilities.