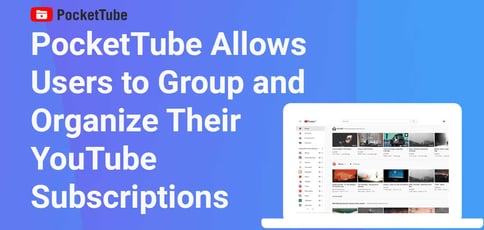 TL; DR: According to Shopify, YouTube is the second most popular social media platform in 2023. About 2.5 billion people use YouTube to get their fill of cute cat videos, sports, gaming, foodie shorts, and everything else under the sun. But that doesn't mean YouTube's UI experience works for everyone. With so much to watch, getting a handle of your subscriptions can be difficult on YouTube's current layout. PocketTube helps users manage their subscriptions by allowing them to group and sort their channels the way they want. We spoke with Dima Nabok, Founder of PocketTube, about the YouTube extension and how it makes watching your favorite channels easier.
In 2005, YouTube came onto the scene and completely changed the way we interact with video. It wasn't like anything we had seen before – and we had seen plenty of new mediums, from VHS and DVD players to cable networks and satellite TV. But YouTube shifted our viewing experience to the web and made video shareable and viewable from anywhere.
Since its first video launched on April 24, 2005, YouTube has evolved to become a primary outlet for people to watch content for education and entertainment. As the video platform grew more popular, the number of content creators increased. Now users can access a sea of videos, ranging from vlogging, beauty, gaming, music, and sports, among other categories.

But YouTube isn't without its faults. Although YouTube has changed its interface several times to meet requests, it isn't easy to personalize the platform to your liking. It's mostly the algorithm doing it for you. Thankfully, high-tech tools can help users customize their YouTube experience.
PocketTube is a YouTube browser extension that allows users to manage and view their subscriptions how they want. Developed by Dima Nabok in 2017, PocketTube has grown to serve 300,000 users and is available on every major browsing platform, including Chrome, Firefox, and Edge.
The Subscription Manager Enhances the YouTube Experience
If you're a YouTube viewer with tons of subscriptions across various genres, PocketTube can be an excellent addition to your YouTube experience. As a frequent YouTube user myself, I know how browsing the recommendations feed can take time away from my subscriptions. Most of the time, browsing the subscription tab feels more like a hassle than a benefit.
PocketTube changes all that by putting the control in the user's hands. It allows users to customize their subscription tabs and make the discovery process much more streamlined. PocketTube includes functionality for sorting, filtering, and grouping channels and videos. For example, users can sort their videos by duration, date, and popularity. On top of that, they can create custom tags and groups to organize their channels by topic.
PocketTube is all about making the YouTube experience your own. The browser extension adds a group sidebar to your YouTube interface to make video tracking simpler. Once you open YouTube in a browser, you can see all of your different groups and choose the one you are most interested in right off the bat.

Dima said he's currently working on a playlist expansion for his next feature release. "This extension includes some features like multiselect and the ability to sort by duration. It's an important feature because my users want more ways to organize their sub playlists," said Dima.
Playlists are usually organized in random order or by creation status, and that means viewers have to repeatedly use the skip button to find the videos they want. PocketTube's new feature will provide users with more sorting options so they won't have to settle for current functionality.
One PocketTube user, Alexander McKeever, summed up PocketTube's best qualities in his review.
"Very helpful plugin for sorting YouTube channels. Allows you to create folders which you can add channels to (don't even need to subscribe). List shows up on the YT left sidebar. Clicking the play button brings up a feed of that specific folder. Great for saving old channels etc," Alexander wrote in a testimonial.
Creating Simple Solutions for Everyday Users
Dima created PocketTube as a solo project in 2017, and it has since blown up to meet the needs of more than 300,000 users. Its simplicity has been key to PocketTube's success. Not only does the browser extension make managing YouTube subscriptions simpler, but even setting up the tool itself is simple.
"I prefer simple solutions and don't want to make it more complicated mainly because every feature available won't be useful for every user. It's hard to make several features which will be useful for almost every user. So I like to keep it simple," said Dima.
PocketTube doesn't bog down the user experience with a complex interface filled with ineffective features. Dima provides users with the most essential features for a good YouTube experience. The new solutions he does add usually come at the request of PocketTube users. Patreon plays a huge role in his communication with users.
"I have a community on Patreon. Last month, Patreon introduced community chat. So every Patreon member can have direct access to me through this chat. So if they do have a feature request or an improvement, I can start fixing as soon as I can," said Dima.
PocketTube is already simple to use. Almost everything on PocketTube can be done with one click, and the extension fits perfectly into any YouTube layout. But Dima has chosen to take it one step further by adding AI integration to the plugin. PocketTube leverages AI to create tags and allow users to group subscriptions into specific categories with one click.
"YouTube has updated its UI and made it better, but it's still missing some important features. PocketTube empowers users who want more than the usual features," said Dima.
What's Next: A Note-Taking Tool for Videos
PocketTube helps users with various steps of their YouTube journey. It provides users with easy channel management so they can detect dead channels and unsubscribe from several channels at once. PocketTube serves a select audience with massive subscription collections, and it has proven to be a solid solution for these users.
But Dima isn't done creating tools tailored to specific audiences. He is currently developing a product called Snipo.io that will help developers with note taking. Snipo.io will be a split between the popular developer productivity tool Notion and YouTube.
"It's an AI tool, which will help you to take notes on your video. So this tool is specific and will be useful when you use Notion," said Dima.
Users will also be able to use Snipo.io on YouTube to take notes for lectures and other videos. Snipo.io is currently available for Chrome, Microsoft Edge, and Firefox.