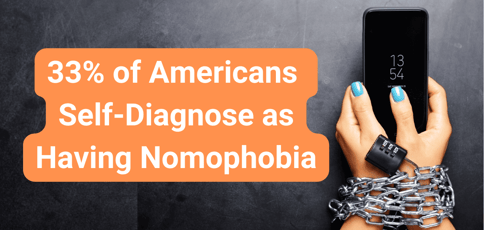 HostingAdvice survey reports 9 in 10 Americans will shop for holiday gifts online this year, and half do more online shopping on their phones during the holidays than at any other time of year.
Gainesville, FL – October 26, 2023 – The term "nomophobia" (no mobile phone phobia) has recently found some traction in the mental health world, with concerns that there's an overreliance on having our smart devices with us at all times, which can lead to severe stress if we have to go without them.

A new consumer survey from HostingAdvice reports that only 30% of respondents said they had heard of the term Nomophobia. But once it was described to them, 44% said they know at least a few nomophobes, and 14% said they know hundreds of people who have nomophobia.
Nomophobia is Reportedly Higher Among Males than Females
Perhaps more revealing, one-third of Americans (33%) surveyed considered themselves as someone who suffers from nomophobia. That number is higher among males (39%) than among females (28%). Of those, 23% reported that they spend a minimum of 4 hours each day on their phones, and another 22% said they spend between 2 and 4 hours each day on their phones.
Additionally, when asked what they would trade to never use a mobile phone again, 1 in 5 self-described nomophobes said they could not survive without a mobile phone (24% females vs. 17% males), but others would give up their phones if:
50% — They won the lotto
26% — They could find the perfect mate
23% — They never had to work again
22% — They could find the perfect job
16% — They could live abroad
50% Shop More On Their Mobile Phones During the Holidays Than Any Other Time
The survey found that a whopping 90% of Americans surveyed said they will do their holiday shopping online this year, with a quarter (25%) doing all of their holiday shopping online (30% male vs. 20% female).
Additionally, the survey found that half of Americans (50%) surveyed said they do more online shopping on their mobile phones during the holidays than at any other time of year. Other activities that ramp up mobile phone use during the holidays include:
41% — Social media
29% — Online banking
28% — Streaming TV/movies
18% — Streaming gaming
13% — Online gambling
Best Holiday Gift Ideas For Nomophobes
For people constantly on their smartphones, there are several products that any nomophobe would certainly covet as a holiday gift. The web hosting experts at HostingAdvice have curated a short list of 10 holiday gift suggestions for friends and family with nomophobic tendencies. Gift ideas range from products that help people be more efficient users of their phones or help them put their phones down every once in a while:
Wireless mobile photo printer
Smartwatch from Samsung and Apple
UV phone sanitizer kit
Smartphone gaming gontroller
Portable USB charger/power bank
Wireless earphones/earbuds/AirPods
Subscription to streaming apps for TV/movies
Phone holder for driving/biking/running
Selfie phone tripod w/ring light
Bluetooth portable speaker
Methodology: A national online survey of 1,036 US consumers, ages 18 and over, was conducted by Propeller Insights on behalf of HostingAdvice in October 2023. Survey responses were nationally representative of the US population for age, gender, region, and ethnicity. The maximum margin of sampling error was +/- 3 percentage points with a 95% level of confidence.
Media Contact
Gordon Evans
gordon@bospar.com