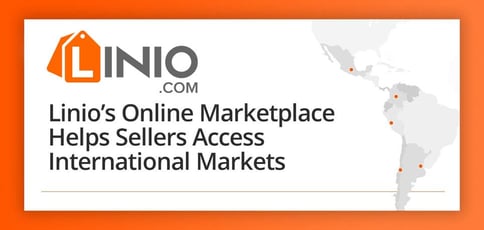 TL; DR: Linio, an innovative international online marketplace, is helping sellers tap into the Latin American market, where ecommerce is booming. The platform offers a risk-free way to go global without navigating the complexities of designing and hosting an ecommerce site. For many retailers — particularly those wanting simple, affordable access to international markets — Linio offers the most convenient route to selling products online.
If you're a regular reader, you know there's a dizzying amount of decision-making involved in choosing a host for your ecommerce site — including performance and support considerations, infrastructure choices, and various site-building and payment gateway options. And, when it makes sense, we're all about guiding you through choosing a hosting solution based on your unique business goals.
But what if, as a business or individual seller, your goal is to sidestep the entire process — and go global while doing it? Linio, a Latin American ecommerce marketplace designed to help users boost sales while avoiding the complexities of building an online presence, is now making that fantasy a reality.
"Linio is an attractive platform built to help companies sell online efficiently, conveniently and securely, without having to deal with the logistical, systemic, commercial, or marketing aspects of managing their sales via their own site," said Rafael Mardones, CCO at Linio.
Today, more than 6,000 sellers use Linio's mobile-friendly solutions to reach over 300 million consumers in Latin America — the fastest growing ecommerce region in the world. The platform makes international sales more accessible than ever, with automated product uploads, preferential shipping rates, borderless payments via Payoneer, and local customer service and operation teams.
What's more, Linio is relatively risk-free, with no fees issued prior to a user's first sale and competitive commission rates. Whatever goods you're selling — electronics, clothing, children's items, home goods, or health and beauty products — Linio offers international merchants a no-fuss way to break into Latin America's retail market, no hosting needed!
Boost Sales in the Latin American Ecommerce Market
Since its inception in 2012, Linio has been on a mission to establish and grow the ecommerce market in Latin America, one country at a time. According to a 2019 report by Endeavor entitled "The Linio Mafia," Linio was one of the earliest participants in Mexico's online sales market. As such, the company took on herculean tasks, including training a workforce, encouraging cultural adoption, and supporting logistics and payment solutions.
"From its birth, Linio helped build the ecommerce ecosystem as we know it today," Rafael said. "In 2012, the market for online sales in Mexico did not exist, and general opinion affirmed that Mexicans did not like to buy online. Linio came to change that vision and boost Latin American ecommerce so it would enjoy highest growth rates worldwide."
The title of Endeavor's "Linio Mafia" report is meant to echo the term PayPal Mafia, a nickname that refers to a group of former PayPal founders and employees who went on to develop successful tech companies, including Tesla, LinkedIn, Square, Slide, Kiva, YouTube, and Yelp. (Linio's founders — Antonio Nunes, Armando Baquero Ponte, Bernardo Cordero, Fernando D'Alessio, Pedro Freire, Ulrick Noel, and Wilson Cimino — are also high-impact entrepreneurs in their respective markets.)
Back in 2012, their first goal was to verify that the only thing consumers needed was a portal with enough supply to encourage purchases.
"After some unsuccessful attempts and economic losses, the combined retail and marketplace model took shape and began to flourish. Linio expanded in Latin America and grew its regional team to more than 2,300 people," Rafael said. "The next stage would be focused on improving profitability and strategies focused on clients and partners."
A Forward-Thinking Way to Cut Complexity and Costs
The Linio team recognized that the sector needed investment in the systems that compose it — from logistics processes to connectivity factors. The industry also needed a push to encourage users to make their first purchase online.
"The challenge of charging customers forced entrepreneurs to work on an online payment system, external to financial institutions, which had less than 10% of the current system's capacity," Rafael said. "In addition, anti-fraud processes and cash payments were devised, which would open the eyes of Latin American banks for electronic commerce."
Today, Linio serves a growing market of over 300 million people in Argentina, Mexico, Colombia, Chile, and Peru. Rafael told us the biggest shift the team has had to adjust to over the years was mobile services. The company has invested significant time and effort researching and understanding mobile purchasing habits. And it clearly paid off.
"In 2017, the work we accomplished in the mobile space while innovating and improving the shopping experience of our users was recognized on the App Store's Best of 2017 list," Rafael said.
In terms of trends, the ongoing pandemic also continues to make its mark on the ecommerce industry. Worldwide, the internet's share of total retail sales increased from 16% to 27% in the first eight weeks of quarantine. Pre-pandemic, it took 10 years to achieve that amount of growth.
Linio also witnessed exponential growth internally.
"Linio's users increased threefold, and although the average ticket had a more modest increase, users are purchasing essential products and delaying large purchases until discount seasons," Rafael said. "In addition, there is a special interest from generations that previously did not make purchases online, such as centennials (18 to 24 years), baby boomers (55 to 65), and even people over 65 years.
An Experienced Team With an Eye for Global Market Trends
Linio operates based on a philosophy of trust, formality, and close cooperation with brands. In this sense, Rafael told us that Linio is not just a marketplace — but a digital mall based on strong alliances.
"The main benefit is the model that goes beyond a simple online store because it offers the possibility of reaching a wide audience without the need to invest in the development of its own platform and all the complexities and costs that this represents," he said. "In addition, products are available to thousands of buyers in an accessible and orderly manner."
Linio not only offers brands and distributors the opportunity to sell their products on Linio.com.mx, but also on the various allied sales sites managed, and often created, by Linio. This allows brands to have access to a variety of sales channels segmented by product type or socio-economic level.
As for the future, Rafael said the team is constantly updating Linio based on both the global and local market trends, as well as the specific needs of our clients and the target we want to reach.
"Offering the best experience possible is one of the pillars of service we always want to deliver," he said. "In addition, Linio's organizational environment allows for a constant exchange of new ideas and innovative proposals designed to improve all aspects of our processes. There is a constant flow of communication between areas to examine in-depth what we do from all fronts and discover how we can continue to improve."
Remember: Many businesses will need to choose a hosting company for their ecommerce sites, but those who are pursuing a quick, risk-free route to online sales in international markets should surely give Linio a try.