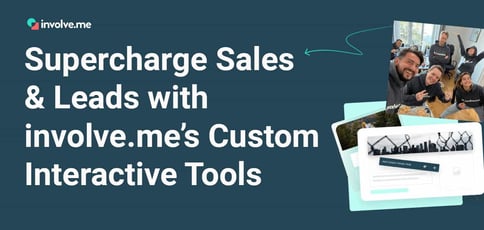 TL; DR: More than ever before, consumers are intrigued by personalized shopping experiences. Not only do personalized shopping experiences help create trust within the brand and invite consumers to be part of the conversation, but more importantly, it leads to conversion. Studies show that customized surveys, quizzes, and calculators on eCommerce sites drive more leads and sales, and it all comes down to more engaged customers. Aviad Zilbershatz, SEO & Growth Manager of involve.me, tells us how this platform can help boost sales with custom templates, integrations, and features you can't find anywhere else.
You've probably seen all the commercials for those online prescription glasses retailers. It's effortless to get your prescription done online, input your insurance, and you can even use discounts or coupon codes. But the true appeal is that you can save a trip to the eyeglass store and, instead, virtually try on thousands of frames. And all you need is a selfie with the proper lighting.
These online retailers are geniuses, at least according to a study conducted by the Internet Marketing Company. Zenni, one of GlassesUSA's top competitors, generated $1 million in revenue and nearly 30,000 lead conversions with their consumer quiz, a nine-step questionnaire that matched consumers with the perfect pair of glasses.


Why? Because consumers like to be part of the dialogue. They want to feel they're catered to and that their experience is customized. And the truth is not too far off: These quizzes and surveys are personalized for each user and even have different conditional paths and outcomes depending on the response and behaviors.
That's where involve.me comes in. involve.me is a no-code builder platform that allows businesses to create interactive forms, quizzes, calculators, and surveys to engage better with their audience and invite them to interact. SEO & Growth Manager Aviad Zilbershatz tells us all about how involve.me changes the game for everyone, from small businesses to major corporations, with tools and features you won't find with its competitors.
How involve.me Got Involved
If there's anything to learn from involve.me, it's to never underestimate the power of bringing consumers into the dialogue. We know customers want to feel like they're seen, and when they are, it translates to higher satisfaction rates, sales conversion rates, and employee engagement. involve.me's custom forms, extra tools, and features are just another step in the right direction when personifying the buyer's journey.
involve.me started as a content management system (CMS) for virtual reality content (VR). In parallel, to have the income to fund the VR project, the founders were doing agency work for big brands and created customized landing pages, mostly with quiz functionalities. The founders quickly realized that every quiz was more or less the same in the backend, as Aviad put it. The team launched a minimum viable product (MVP) in 2018 focused on quizzes, called Brandquiz. By 2019, the company also introduced interactive forms, surveys, and calculators, and eventually, involve.me was born.
"When the 2019 involve.me officially launched, we realized we had a full package for customer engagement," said Aviad. "Now, it's our mission to enable marketing and sales teams to engage better with their audience and ultimately gather valuable data."
In its young life, involve.me has already worked with prominent brand names, including Universal Pictures, Bloomberg, and Salesforce, to create interactive content for their sales funnels and generate more leads, sales, and customer satisfaction. It's also received awards from G2, SoftwareAdvice, and ToolTester, with five-star ratings spread across major review sites, including Crozdesk and Capterra.
The Beauty of No-Code Building
involve.me doesn't just talk the talk, it walks the walk. On its homepage, you can find where it proudly compares itself with other leading form software companies, including Google Forms, SurveyMonkey, and Jotform. Its major USP is that involve.me provides the simplicity and utmost flexibility to create interactive content with individual user journeys that actually looks beautiful and engaging — whereas many other providers let you create the template and…well, that's it.
So what do its interactive content elements entail? If you're not as tech-savvy as the next person, then you're in luck because involve.me is a no-code drag-and-drop form builder allowing anybody to create interactive, colorful, engaging elements or funnels.
"There aren't many limitations to it because we tried to remove any barriers that come with creating content for online websites," explained Aviad. "You don't have to use code; instead, it's a straightforward drag-and-drop builder."


Perhaps most importantly, the no-code builder saves businesses from hiring developers.
As Aviad says, having developers can be costly. But with involve.me, you can create the same things without coding. "Whether it comes to custom content, integrations, and sending data, you can create as many things as you want that might otherwise require a developer."
involve.me lets you create interactive funnels based on the user's selections. So unlike traditional form-building platforms that merely capture information, involve.me empowers you to craft a narrative that resonates with your audience. This is all a part of involve.me's lead generation solution that lets you identify personas, grow your email list, and segment leads earlier with a landing page, widget, or pop-up quiz.
When creating your quiz, you can choose from nearly 250 templates that are 100% customizable to fit your branding requirements. (Remember we talked about Zenni's glasses quiz? You, too, can make your own with involve.me's Glasses Recommendation Quiz template.) Easily sort by application type, industry, or use case, from subscription templates for products to discount calculator templates and everything in between.
involve.me Does More Than Generate Leads
involve.me can help generate leads and increase your conversion rates — but it does much more than that. With its user-friendly interface, data collection, segmentation, and integration capabilities, you can collect customer feedback, offer custom quotes, create customer profiles, and even get custom product recommendations.
"We've started playing with AI-powered features so people can make better sense of the data," said Aviad. Yes, AI is everywhere, and it's something Aviad and the involve.me team is well aware of. "You can't ignore the AI hype, which is really more like a race," he commented.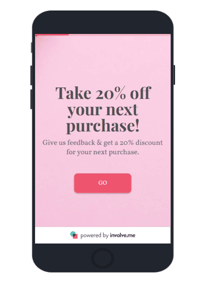 But there's a reason AI is so popular now. Personalized journeys can be calculated on the backend and appear within milliseconds on the frontend. Some of the current features include automated buying assistance, customized recommendations, and helping customers find what they're looking for on the site.
One popular template is the discount template. We've all been there: You're checking out on a website and are offered a discount if you add one more item to your cart. The beauty is that most of the time, it works. As Shopify puts it, it helps increase product perceived value in your customer's eyes.
Aviad also shared some brand-new information that's upcoming for the platform: expanding its content element library. Right now, you can drag and drop several different elements within the editor, but involve.me team plans to revamp the whole layout and add new features that make funnels more customizable and exciting to engage with.
So the next time you visit an online store and see "What Glasses Fit You Best?" or "Sign Up Now and Get 10% Off," know there's a genius angle behind these surveys, quizzes, and calculators. It's a carefully-constructed combination of marketing and consumer psychology, intending to spark a connection that resonates even after your customer closes their browser.
Explore the power of involve.me and reshape the way you engage with your audience today. Learn more about involve.me today.