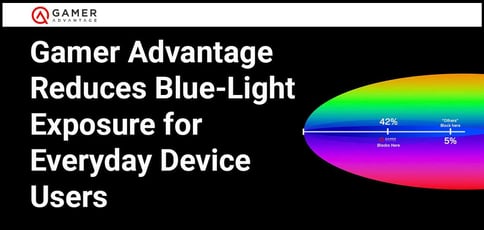 TL; DR: There's nothing more stressful than when your character falls incapacitated in a game with time running out. If you have a teammate, you may shout out the word "rezme" so they can run to the rescue and save you from impending death. But what if you could have a similar pick-me-up in real life? Gamer Advantage uses proprietary REZME technology to help gamers and other users protect their eyes from blue light to achieve increased focus and better sleep. We spoke with the Founder and CEO of Gamer Advantage, Bryan Reedy, about the company's eyewear, its benefits, and how he developed blue-light blocking lenses that work.
You've probably heard of the term blue light by now. It is found in nearly every light source on our planet, including the sun and all our devices. Increased device and computer usage has raised awareness about the risks surrounding this light form. Too much blue-light exposure can lead to some harmful side effects. Among them: eye strain, insomnia, and headaches.
This is why many people have turned to blue-light blocking eyewear — glasses with the ability to shield your eyes from blue light rays. People can wear them for any activity with artificial light, including watching TV, late-night social media scrolling, or PC gaming. But there has been some pushback on blue light glasses, with many people doubting its benefits.
Founder and CEO of Gamer Advantage Bryan Reedy was also skeptical of blue light technology until he did some research. An avid gamer who also happened to be a VP of Business Development at an eyewear distribution company, Bryan understood the symptoms brought on by exposure to blue light and knew about the demand for blue-light blocking glasses. But he wasn't sure if these glasses could do what they advertised.

While at a vision trade show, he tried on about 100 pairs of blue-light glasses before discovering the right one. "What I realized was that not only were the glasses helping me sleep better, but when I wore them as I gamed, playing felt even better than I remember it being before I wore them," said Bryan.
From there, he entered a partnership agreement with the manufacturer and created Gamer Advantage. The eyewear company offers a variety of lenses and frames to help gamers and other device users protect their eyes from blue light. Its lenses are clinically tested to filter out blue light, reduce eye strain, help users focus, and boost overall wellness.
Finding the Right Lens That Performs
Bryan Reedy has been a gamer for most of his life. His love started when he was 10 years old and has continued into his professional career. When Bryan launched Gamer Advantage, he said he felt he could give back to the gamer community. By combining his experience in eyewear with his gaming background, he could create a solution that would meet the needs of gamers.
That was why he said he needed to experience the benefits of blue-light blocking technology firsthand before handing it over to the community. He went through a lot of testing with different lenses until he found one with a physical difference. After wearing them for about a year, he said he could effectively attest to their viability because they enhanced his sleep quality and gaming experience. Then he reached out to the manufacturer.
"We started this company as a great partnership between all these things, and then it just took off. We later separated and went off on our own, outside the distribution company and the lens company, to make Gamer Advantage into its own living, breathing brand," said Bryan.

Now Gamer Advantage has three different types of lenses in its lineup: REZME Dream, REZME Sleep, and REZME Focus. REZME, a popular slang term within the gamer community meaning resurrect or restore me, is the inspiration behind the name for the company's proprietary blue-light blocking technology.
"Anybody who's down, we're never going to leave you at your lowest point. We want to bring you back up and get you back in the game at the best possible level," said Bryan.
Its lenses act as a reset for gamers and other users, helping them increase their productivity and fight fatigue brought on by blue light exposure. And the company has recorded tons of positive feedback, with 98.2% of users surveyed claiming significant sleep improvement. Also, 65% of people who use blue-light blocking gaming glasses have reported a reduction in migraine headaches.
Creating Functional But Fashionable Glasses
Gaming has expanded to almost every audience. Anyone can be a gamer, and gamers don't look alike or have the same tastes. The Gamer Advantage Team understands this, and it shows in its designs. Users can comfortably wear its frames throughout their days.
"Gaming doesn't have physical or emotional parameters. You don't have to be this stereotype that people assume you are. I didn't design this eyewear to be identified as gaming eyewear," said Bryan.
Bryan said he wanted to create eyewear that was clean, premium, and fashionable for the everyday user but at the same time functional. So, Gamer Advantage made glasses that are flexible and comfortable. Users can try on frames online with Gamer Advantage's convenient Virtual Try-On experience. Gamer Advantage also recently added a new frame named Diablo with the same look and feel as a classic aviator.

"If we expect you to wear this in places besides behind the screen of your computer, we have to broaden our horizons with the design. We offer so many choices that are lightweight, flexible, and driven to be under a headset for these intense moments. So we wanted to take Diablo in a different direction," said Bryan.
Diablo was released alongside the Dream lens. The Dream lens was the first lens Bryan ever tested, but he pulled back on it because the coloring was too dark. So he developed the Sleep and Focus lenses instead, which are near-clear and completely clear, respectively. These two lenses have a smaller impact in some areas and are best for people who spend less than either four or eight hours in front of a device.
On the other hand, the Dream lenses have a potent feel and are suitable for high-intensity use. The manufacturer thought the lenses had to be dark red to achieve positive metrics. But Gamer Advantage was able to get the lenses to a light green color so users can wear the glasses anywhere. "It is the most impactful lens we've ever launched," said Bryan.
Unlocking the Synergy Between Wellness and Performance
Bryan said anyone looking at a computer screen, smartphone, or tablet for any amount of time can benefit from blue-light blocking glasses. Bryan said he switches between multiple devices during the day, so he wears his glasses all day to protect his eyes from the artificial light. But he thinks the medical benefits are the most important part of this conversation.
"At the end of the day, these are medical devices. If you're going to try something to improve sleep, focus, and overall feeling of wellness, the right eyewear is important," said Bryan.

Although Gamer Advantage primarily focuses on eyewear, it is much more than that. It also looks to improve performance, gaming experience, and wellness for users. It already offers sleep products, including sleep masks, supplements, and aromatherapy, and looks to expand its product line soon.
"Post 18 months, you will see more non-eyewear products that are rooted in improving physical and mental wellness for not only a better gaming experience but just a better life. We want to help people unlock that synergy between wellness and performance," said Bryan.
Bryan said he will share more content about his wellness journey to help people better understand the cause and effects of health-based decisions, so they can modify their efforts for higher performance. The Gamer Advantage team will also release a new product based on color psychology.
"Different colors influence different feelings. So, it will focus on the color psychology of anxiety-reducing and mood-enhancing feelings. But the lenses will still have the same or at least similar blue light absorption properties," said Bryan.