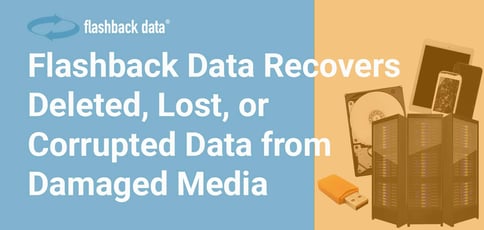 TL; DR: Losing your data can be a frustrating and painful ordeal. And if you have a business, you can lose a lot of money in downtime every year. Thankfully, business owners can turn to Flashback Data to recover their deleted, lost, or corrupted data from their damaged hardware devices. We spoke with Olivia Clark, Channel Manager at Flashback Data, about the data service provider's data recovery process and tips for facing the ever-evolving tech landscape.
Our brains hold limitless files of memories and information, allowing us to recall our past experiences, whether we want to forget them or not. Using its memory, you can converge past and present to tell people about the time you went to your favorite concert. Or you may even be struck by that really embarrassing fall you took in front of classmates in sixth grade. I know, it's shudder-worthy.
Although some of our memories are more accessible than others, they are very much present and filed somewhere in the endless catalog of our brain's memory. But imagine if you were to lose some of those memories. Unlike our brains, our hardware devices also have memory but can permanently lose their data.

Businesses face the risk of losing their data all the time, whether from hacking attempts or natural disasters. When that happens, companies can call Flashback Data. The data service provider specializes in data recovery, incident response, and digital forensics. Before you know it, Flashback Data will have restored the data you need to run that marketing campaign.
After starting a few companies for other people, Flashback Data founders decided to create their own data recovery company in 2004 and is now coming up on its 20th anniversary. Flashback Data works with various institutions, including law firms, MSPs, and small businesses.
"We work with people all over the country for data recovery and all over the world for digital forensics. We're the only non-government-owned computer forensics lab in the world with the same accreditation as the FBI and the DEA," said Olivia Clark, Channel Manager at Flashback Data.
Recovering Data to Keep Businesses Up and Running
Data loss is a significant threat for small businesses, costing them up to $75 billion annually in downtime. And these incidents can spawn from various places. The top data loss causes include human error, natural disasters, hardware failure, and ransomware, among others.
"In today's day and age, you can't run your business without your data. So it's necessary to get your data back and get it back fast when businesses go down," said Olivia.
Data loss can be unforgiving. But data recovery can help remedy the consequences that come with it. Flashback Data offers emergency data recovery to help users recover their valuable data from damaged, corrupted, and infected devices. Its services cover deleted, lost, and corrupted data.

"We work directly with the consumer on the managed service provider side. With corporate, we work with their IT or contracted-out IT departments. But we pretty much do everything," said Olivia.
Flashback Data is the users' ultimate backup plan. The data service provider can recover the most critical files and has advanced solutions to help its team do so. Flashback Data can recover and repair data from hard drives, SSDs, mobile devices, and RAID servers.
Meeting the Expectations of Ever-Evolving Tech
Flashback Data has quite a few differentiators. But what truly sets it apart is its ability to keep up with the ever-evolving tech landscape. Hardware is constantly changing and updating. Companies release new tech versions every year, which means data recovery has to evolve to address those hardware updates.
But repairing new devices isn't always so simple. Companies are making it more challenging to repair products by withholding the information and parts people need to do so. This way, they can prevent consumers from doing their own repairs. Thankfully, there is a group that works tirelessly to identify patches for emerging technology, and Flashback Data has one of its members on its team.

"Our lead engineer, luckily, is one of them. He's been doing this for 25 years. So he has the access to figure out exactly when updates are coming out and what they can do," said Olivia.
Flashback Data has the extensive knowledge and skills to answer data recovery needs, even for the most challenging cases. Olivia said technology continues to get smaller and harder to repair. But through constant training, Flashback Data has maintained its efficiency.
"As far as tech changing, it's just constant training. That's one of those things that keeps us at the top," said Olivia.
Advising Customers to Adopt the Cloud
Headquartered in Austin, Texas, the Flashback Data team understands that its business isn't something users want to seek out, but do so out of necessity. No one wants to lose their data. But with the rise of cyberattacks and the risks of other failures, companies should have a data recovery plan at the forefront of their minds.
"Ideally, we aren't who you want to use. People don't love seeing us. But if you need us, we are really important to know and have," said Olivia.
Olivia also said the Flashback Data team makes a conscious effort to help users avoid these situations in the future by encouraging them to set up a cloud-based system.
Flashback Data sees moving to the cloud as an opportunity for users to protect their data from hardware failures and risks even though it may take some time to fully transition. And this care and counseling only magnifies the customer-centric approach that makes Flashback Data great.
"We pride ourselves on our constantly changing, updated expertise and knowledge and on our customer service. We're a midsize company. So customer service is the number one thing that keeps us in business. And we hold that pretty high on the mission statement," said Olivia.