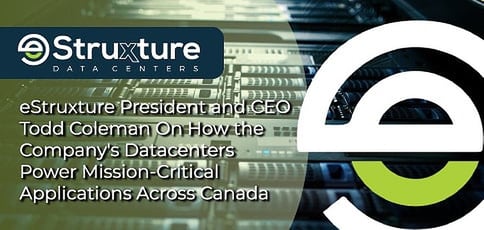 TL; DR: With a fleet of supremely powerful and flexible datacenters across Montreal, eStruxture expertly supports the rapid growth and unpredictable change many businesses encounter. The young company has made an impressive entry into the Canadian datacenter market by providing hyperscaled carrier- and cloud-neutral infrastructure designed to the capacity and computing needs of modern enterprises and applications. Serving more than 850 customers, eStruxture offers colocation, private cloud, and dedicated hosting options — along with managed services, disaster recovery, remote backups, and several other products.
Within the eStruxture management team, there's a bit of a running joke about the level at which modern datacenters need to operate. CEO and President Todd Coleman, who also co-founded the Cologix chain of datacenters, remembers just a few years ago when five to seven kilowatts was considered high density.
"Now, we have deployments of 30 kilowatts per rack," he said. "What we used to consider high density is hardly close, now."
Not only does eStruxture meet the industry's rapidly growing capacity, power, and cooling requirements, but the company delivers carrier-neutral flexibility and value to hundreds of enterprise customers who seek out eStruxture's colocation, cloud, and dedicated hosting options.
"We can handle the bookends of high density to low density, and everything in between," Todd said. "We just want to give our customers choices and the ability to grow within our facilities, such that everything they need or want from an IT perspective is available within our ecosystem."
Offering Flexible and Scalable Datacenter Solutions to a Weak Market
Founded on the premise of delivering mission-critical services across Canada, eStruxture launched in early 2017 to address the country's shortage of high-density, carrier-neutral datacenters. According to Todd, a five- or six-year period of market consolidation left the region with a lack of competition and lack of strong datacenter options.
"Our primary offering was on the belief that hyperscaled datacenters offering significant amounts of space and power across Canada were a significant need and gap in the marketplace," he said. "As we looked out across each of the primary Canadian markets, there was a lack of maturity in the operational models of the existing competitive base."
In less than a year, eStruxture can boast roughly 200,000 square feet of datacenter space, spread among three facilities in Montreal. The company provides on-demand capacity, coupled with managed services, security tools, disaster recovery, and a choice of more than 20 carriers and networks.
"We saw a clear need for customers to be able to come in and have a pan-Canadian datacenter they can know and trust, that has been there, done that, and offers flexible and scalable solutions," Todd said.
By concentrating on modern business requirements, supporting mission-critical applications, and customizing solutions to meet specific needs, Todd said eStruxture's datacenters give enterprise customers the ability to quickly adapt and rapidly scale as needed.
"As long as they're growing within our ecosystem, that's the most important thing for us," he said. "They can't forecast their growth requirements any better than we can, but we will provide the infrastructure, expertise, and choices to support whatever happens."
Cloud Neutrality That Encourages Business Growth
Among eStruxture's greatest success factors — as well as competitive distinctions — is its flexibility, Todd said, which is made possible by the company's carrier- and cloud-neutral policies. While many hosts work with only one or two carriers, eStruxture offers an open-ended marketplace for customers to build the cloud or dedicated environment that's just right for them.
With cloud neutrality, customers can have everything they want in their cloud platform and nothing they don't. Servers are customizable at every level — from hardware to operating system to carrier — allowing clients to get the most powerful infrastructure to fit their budget.
The company offers both distributed and dedicated clouds, both of which can be tweaked to strike the balance between high-end power and budget friendliness. Powered by Xen hypervisors, each cloud VPS features automatic failsafe capabilities, including hardware redundancy, backups, and firewalls. Configuration options include CPU size and speed, RAM, storage type and size, desired operating system, and management level — all easily upgraded for growing and scaling businesses.
With Direct Connect, clients can directly access the Console platform and connect with customers, SaaS providers, and the likes of Google Cloud Platform, Microsoft Azure, and Amazon Web Services with a single click, completely bypassing the public internet.
"For us, it's all about cloud neutrality, which no one talks about," he said. "Customers can come take advantage of our platform or the numerous third-party cloud providers that are in our datacenter. It doesn't have to be us."
Providing Peace of Mind With Tailor-Made Solutions
As a supplement to its cloud-based offerings, eStruxture's server management plans include port monitoring, 24/7/365 support, and 30 minutes of consultation. On-demand services include free monthly re-installs, service monitoring, vulnerability scans, and additional consultation. Additionally, eStruxture's support team guarantees a four-hour window on hardware replacement via onsite staff.
"We see more and more customers coming to us with a la carte requests," Todd said. "They want a little bit of this and a little bit of that. That's where we've found a niche for ourselves."
Businesses may consult with eStruxture teams to design and manage their architecture for optimal load balancing, equipped with MLAG or stack switches and custom firewalls. Clients can also customize their cabinets with several cooling methods, involving water and containment pods.
"The sales process starts with understanding the customer's requirements and then interjecting, on a trusted advisor basis, thoughts and ideas for them to consider," Todd said. "Much of these may not have anything to do with our available product set, but they can get the services and solutions they need."
For example, he said some businesses may need a dark fiber setup for faster network connections. Although eStruxture does not offer dark fiber nor accept compensation for referrals, the sales team might suggest dark fiber as part of that customer's network strategy and make the necessary introductions to network providers.
Maintaining Consistent Infrastructure Quality and Reliability
With a desire to facilitate business growth, eStruxture works much closer with its customers than typical hosting providers. The level of customization eStruxture offers — together with hands-on management and consultation— provides impressive value for any business size and industry.
Looking to maintain that value, Todd said one of the company's greatest priorities is implementing the highest quality hardware components and virtualization technologies as they become available.
"We believe in running quality infrastructure," he said. "It lets us scale with our partners, it gives us consistency from an operational perspective, and it gives us the ability to maintain consistent replacement parts."
Aside from using the Xen Project's microkernel hypervisor, eStruxture's datacenters are Tier 3, meaning they are operated concurrently so that power distribution and cooling systems can be maintained without interruptions. Tier 3 datacenters are among the most fault-tolerant and resilient, Todd said, providing peace of mind to business customers. Reliable infrastructure ensures optimal performance, consistent uptime, and data protection.
"Understanding customer needs and wrapping a solution around them is becoming more and more critical," Todd said. "At the end of the day, mission-critical datacenters have to run with very consistent processes. But within that, we can work with the customers to meet and scale their requirements."