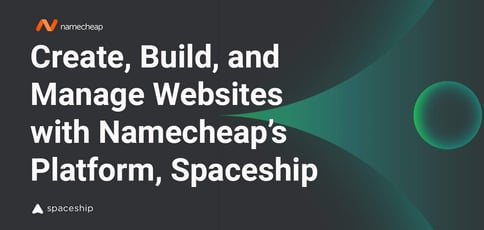 TL; DR: If you're tired of being bogged down by confusing technicalities when creating or managing a website, say hello to Spaceship. Spaceship, owned by Namecheap, streamlines website creation and management, offering an all-in-one platform to eliminate technical hurdles. Perfect for the average person or tech-savvy folk who crave something simple, Derek Musso, Namecheap and Spaceship Head of PR, told us Spaceship aims to answer the most common problems users encounter when building a website.
A friend of mine recently decided to create a website for her art portfolio. She bought a domain from a registrar, thinking she could link it to her free Wix site. She could, of course, but hit a problem when she learned Wix requires you to upgrade to Premium just to make the connection.
Stuck with the domain purchase, she grappled with questions about transferring domains while scouring for a more affordable web builder that came without surprise price hikes. Her frustration finally hit a breaking point when she asked me, "Why can't this be easier? All I want is a simple website with my own domain."
My friend's journey is just one of many that sheds light on the common challenges people encounter when creating a website — and yet, having a website is foundational for establishing an online presence.

Derek Musso, head of Namecheap and Spaceship's PR, understands this issue all too well, which is exactly what prompted Spaceship's creation. He knows the problem with building a website is often dealing with the typical hurdles that come with it, like having a business idea but no design experience or the budget to hire a developer.
"Our goal is to minimize any technical expertise needed so people can focus on their business instead of the backend details of creating a website," Derek explained.
Spaceship, a product owned by Namecheap, aims to address these challenges by being an all-in-one solution for domain purchasing, hosting, web building, and management. It's designed to sidestep complexities like transfers and compatibility, making it accessible to those who may not be familiar with the technicalities that go into website creation.
Namecheap's Solution, Spaceship, Makes Web Building Simpler Than Ever Before
Namecheap has been a pillar in the web industry for 23 years, managing more than 17 million domains and bringing millions of people the power of easy website creation."
In 2000, Namecheap started as a domain registrar. Over the years, its services have evolved to provide web hosting, email, apps, and extra security features. In August 2023, Namecheap announced its newest product, Spaceship.
Spaceship is a comprehensive platform for all aspects of website creation, including purchasing domain names, setting up web hosting, and managing websites. Unlike Namecheap, where you can buy these services separately, Spaceship is an all-in-one platform that combines everything on a single dashboard.

"The initial mission for Namecheap was to make purchasing a domain name accessible and affordable for everyone. Over time, we added services like web and email hosting, SSL, and other services geared towards online customers," said Derek. "The main idea of Spaceship is to build a next-generation web services platform where users can do everything – purchase a domain, build a website, and scale their businesses all in one place."
Spaceship will operate as a "smart system," where in-depth technical issues like DNS setup, subscription management, and product switching are quickly resolved within the platform to simplify web building and eliminate the complexities associated with digital products.
Spaceship Plans to Redefine What "Seamless" Truly Means
Spaceship is a believer in a free and open internet philosophy with an emphasis on user empowerment. Apps and products should work seamlessly together without complicated transferring, wait periods, or fine print with hidden disclaimers.
Spaceship is centralized around a single dashboard where you can control every aspect of your domain, including the registration, web hosting, apps, and subscriptions.
"Our developers are working hard to constantly add key features, and to figure out the things that are the biggest hurdles for most people when it comes to getting online quickly and easily," said Derek.
I tried Spaceship and loved how simple the domain and host-buying process was. All you have to do is bundle what you need to get a straightforward price. It also offers a whole avenue of features to make your web-building experience actually seamless:
Unbox: Seamless product setup that eliminates the need for any technical expertise
Spaceship Library: Searchable product database that allows users to search and connect valuable features to their websites
Launchpad: A customizable dashboard to manage product and service apps
Connection Manager: Monitor connections between user products and domains
Subscription Management: Centralized management so you can cancel, pause, or upgrade subscriptions
Notification Center: Communication hub to keep web owners informed
Anytime, anywhere payments: Easily upgrade or renew without having to visit a separate payments page
Derek explained that Unbox is the heart of Spaceship's simplicity. "With just a few clicks, you can link your products, removing the complex settings that often baffle those less tech-savvy during website creation," he said.
Here's how to use Unbox on your Spaceship account: Browse the Spaceship Library and find apps and products you can integrate and connect, such as domain names, web hosting, or email services. Once you've selected what to add, initiate Unbox's connection process. There's no need to worry about compatibility or manual installation: Unbox handles everything from here on out.
"The main idea of Spaceship is to build a next-generation web services platform where users can do everything – purchase a domain, build a website, and scale their businesses all in one place." — Derek Musso of PR & Communications for Namecheap and Spaceship
Spaceship's Open Beta Phase Is One Small Step
Despite how in-depth the platform is, Spaceship is in its early stages and plans to incorporate even more features after its open beta phase is complete.
"It's by no means a finished product — yet," said Derek. "At this stage of its open beta, we want our early adopters to be partners with us in identifying roadblocks, requesting useful features, breaking down technical hurdles, and eventually helping us build the ultimate web services platform."
Spaceship unveiled a Public Roadmap to foster this collaboration. Users can see a direct line for everything the Spaceship team is working on and even participate in the discussion.

In fact, participation is encouraged.
Spaceship was previously tested in an early open beta period, working with more than 100,000 domain registrations. As the platform steps into an even more developed version, its developers depend on honest user feedback.
Whether it's a suggestion, an issue, or a proposed solution, the Spaceship team wants to hear about it.
Derek explained it best: "Our users can offer some new problems or perspectives that need solutions, so we hope those trying out Spaceship this early on can give us real feedback to help improve this platform as we grow."
So whether you're new to building websites or want an easy experience, Spaceship has you covered. But you don't have to wait for its official launch to join: Join Spaceship today and contribute to shaping a platform tailored to your needs.
And who knows? Your experience may help shape something amazing.