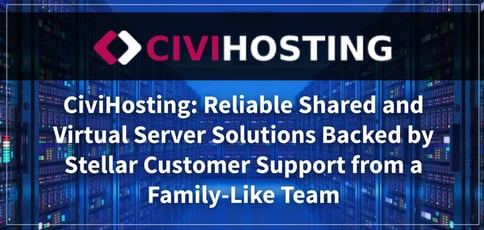 TL; DR: CiviHosting, founded in 2006, delivers shared and VPS hosting solutions built to keep sites secure and running quickly. The company specializes in hosting open-source systems, such as CiviCRM, MediaWiki and Nextcloud, with ease. With a focus on delivering peace of mind through exemplary customer support, CiviHosting aims to further its reputation as a trusted and experienced host.
Changes in the political climate over the past few years have spurred civil engagement by organizations looking to address issues of social concern. But managing these groups isn't always an easy task, especially when it comes to tracking and engaging with donors, volunteers, members, and subscribers.
Since 2005, many nonprofits, advocates, and non-governmental organizations have turned to CiviCRM, an open-source customer relationship management (CRM) tool, for a solution. The affordable and robust CRM, explicitly built for civic groups, helps streamline event management, email marketing, and fundraising, among other complex tasks.
There's one caveat: The software is notoriously difficult to host due to resource requirements, particularly on shared servers.
"That's where we come in," said David Feldman, Account Manager at CiviHosting. "In 2006, we developed a unique hosting system that provided more resources in the backend than most other shared hosts so we could handle CiviCRM flawlessly. Our goal was to provide a turnkey hosting solution for CiviCRM, and that's exactly what we did."
Today, CiviHosting leverages more than 13 years of experience to provide specialized shared and virtual hosting solutions that are ideal for sites running unique tools, such as CiviCRM, MediaWiki, and Nextcloud, as well as popular packages like Drupal and WordPress. The company's 100% satisfaction guarantee pledges that all CiviCRM features will work well on its servers, both now and in the future.
"Not every host can provide a turnkey solution for software like Nextcloud and MediaWiki, but with CiviHosting, that's what we do," David said. "We have experience and expertise with these more difficult-to-host packages, and our services include installation of any package our client needs."
A Premier Host for CiviCRM, MediaWiki, and Nextcloud
CiviHosting has optimized its shared and virtual solutions over the years to provide a top-notch CiviCRM experience. The open-source CRM can be run within WordPress, Drupal, and Joomla, as CiviHosting supports all three. The company can host all of the CRM's core features, and it tests each newly released version to confirm compatibility with its shared and virtual accounts.
Customers who wish to host CiviCRM may choose from three plans — a regular shared plan with 10GB disk space for European users or 1GB for those in the U.S., an extended shared plan with 100GB disk space, or a mini VPS plan with 4GB memory and 50GB of SSD-based disk space.
David told us that, while CiviHosting has quite the expertise in hosting software such as CiviCRM, MediaWiki, and Nextcloud, the company can host nearly any PHP or MySQL-based package.
"We are the number one host in the CiviCRM space," he said. "Over the years, we have grown to meet changing demands, and we now specialize in other unique spaces such as Nextcloud and MediaWiki. We, of course, also host more popular packages such as Drupal and WordPress."
All CiviHosting servers run on Linux and are proactively monitored by quality assurance and admin teams 24 hours a day, seven days a week, and 365 days a year. These groups regularly perform security tests, with physical security achieved via advanced smoke detection and fire suppression systems, around-the-clock secured access with motion sensors, video surveillance, and security breach alarms.
In the case of an emergency, the servers are supported by redundant power, a redundant network of fiber trunks from multiple sources, and several backup generators. All plans also include daily backups and SSL protection.
Through these measures, the company has maintained 99.9% server uptime since 2007 and is not aware of even one security breach in its existence.
Delivering Peace of Mind Through Reliable Service and Support
Over the years, David told us he's seen a significant market shift when it comes to sacrificing quality for price.
"Today, you can find today hosting for literal pennies with promises of 'unlimited' resources," he said. "Of course, people fail to read the small print, which often states that the second year of hosting will be charged at full price and that 'unlimited' is actually quite limited in reality."
In this new and highly competitive environment, David said many hosts resort to selling packages at such low prices that they're seldom able to invest in infrastructure and support services.
"Our approach has always been and will always be just the opposite — we charge a fair price up front that doesn't change at renewal time," he said. "In exchange for that, we provide only the most powerful servers with the latest hardware, and our support team responds to all questions within 10 minutes."
Every member of the company's incredibly professional support team boasts at least six years of experience, meaning the team is prepared with a solution to nearly any problem that may arise. And, as a full-service provider, CiviHosting takes full responsibility for the performance of all its servers, whether shared or virtual.
"We have migrated clients away from other firms due to horror stories of lost backups, server crashes, and three-day waiting periods for a support response informing them that the host can't help," David said. "With CiviHosting, nothing is left to chance or passed off on our clients to handle by themselves."
The company often receives praise from clients regarding their peace of mind — they don't have to worry that their sites will go down suddenly or that they'll have to wait days for a response if something goes wrong.
"We take care of hosting your site, and you are free to take care of your business without having to worry about anything," David said.
Ongoing Development Based on Customer Feedback
When it comes to product development, CiviHosting favors a more cautious approach to the industry trends that often come and go.
"If you latch onto a trend when it's on an upswing, you can indeed succeed, but it's often at the cost of stability and quality," David said. "Feedback is our biggest drive — when our clients need services that we don't have, we try to develop them."
Customers were the inspiration behind the company's recent expansion of its VPS offerings as well as plans for reseller options. "We are presently working on a reseller-style VPS," David said. "Our VPS accounts have always been single-site only, but our clients want a VPS that can support multiple sites."
David describes the CiviHosting team as a small and close-knit family who treat each other with care. That spirit also extends to the company's clients, who he said appreciate personalized support.
"When something goes wrong with one of our clients' sites, even if it's due to a botched software upgrade that the client himself did, we get nervous right along with our client and drop everything until we can get that site back up," he said. "Our clients' uptime is our badge of honor."