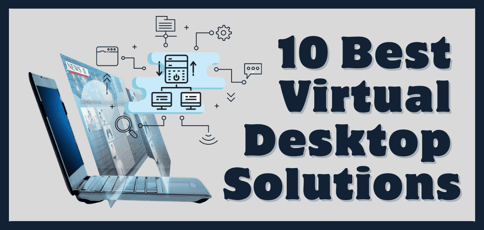 As Americans continue embracing the dawn of remote and hybrid work, the need for virtual desktop solutions is (unsurprisingly) growing. In fact, the virtual desktop infrastructure (VDI) market is projected to grow with a compound annual growth rate (CAGR) of 21.2% over the next seven years. What's driving this growth is that more people want to use virtualization and cloud computing, according to research.
But virtual desktops (VDs) aren't just for remote workers. They're also for hybrid professionals, creative studios, software developers, and anyone transitioning into this new way of life. VDs are reshaping how we access computers and collaborate on projects — and the beauty is that it doesn't matter where we live.
Whether you're a busy student, a creative, a software developer, or part of a large enterprise, the right VD can revolutionize your work from home or on the go. The good news is we've compiled a list of the 10 best virtual desktop solutions for whatever project you've got on your horizon, so let's dive in.
Best for Students and Professionals: Shells
When it comes to convenience, Shells takes the lead. Designed with simplicity in mind, you can code on your tablet or create on your TV with the performance of a desktop, offering an accessible and easy-to-use virtual desktop solution perfect for students and young professionals. Even better, you can seamlessly transition between laptops and smartphones to tablets and smart TVs in addition to working from any device.
Shells offers four budget-friendly plans without any hidden charges. Starting at just a few dollars per month, you can choose from four plans based on your storage, memory, and time needs. For example, the Shells Lite plan allows 10 hours per month, ideal for hybrid workers who spend most of their time in the office. You can also create a custom Shells plan, making it a perfect option for students and young professionals who don't want to spend an arm and a leg.
Best for Video & Animation Studios: Flaneer
Creatives, rejoice: Flaneer is your go-to solution for graphics-intensive tasks. Whether you're an audio engineer, game designer, or visual artist, Flaneer offers high computing power for lifelike graphics and seamless animations. The best part? You can set up Flaneer in minutes via your browser and access top-tier performance for any visually creative project, whether you're working on a song, a video, or a game.
Flaneer is all about high performance, reliability, and incredible graphics that offer the ability to collaborate with anyone on anything. The standard plan costs around $100/mo, but you can upgrade to its Designer or Artist tiers for the utmost speed, storage, and graphics. Creators get access to Flaneer's incredible tools, including online rendering, 3D modeling and sculpting, and playtesting.
More About Flaneer
Flaneer was founded in 2021
Headquartered in La Celle-saint-cloud, Ile-de-France, France
Used by major studios, including Nightscape, Space Runners, and Darewise
5.0 average rating
Best for Software Coders & Testers: VirtualBox
VirtualBox is a coder's paradise. Coders and devs can easily tailor environments to any testing requirements, simulate setups without dedicated hardware, and isolate unfinished software for secure testing. Easily manage multiple virtual environments on a single host and enjoy a user-friendly interface for quick setup.
VirtualBox is free and open-source software, making it a go-to choice for coders, testers, and developers craving collaborative ways to create and test various scenarios at no cost. So whether you're working on software development or running simulations, VirtualBox provides the flexibility and security you need for your coding endeavors.
More About VirtualBox
VirtualBox was founded in 2007
Headquartered in Washington, US
Used by major companies, including North Face, NetSuite, and California State University
4.5 average rating
Best for Small-to-Medium Businesses: Cameyo
Cameyo is the cost-effective solution SMBs have been waiting for. It provides essential features without that complex infrastructure. With a Zero Trust security model, you can secure your data and operations without VPNs or open server ports. Choose between fully hosted or self-hosted options on various cloud environments or on-premises.
What's especially interesting about Cameyo is that there is no set pricing; you have to contact the team and discuss your specific requirements to get an exact price. But fret not because Cameyo prides itself on providing results: According to its findings, 45% of Cameyo customers achieve ROI in less than one month, and 91% achieve it in less than one year. But if you're still unsure, check out Cameyo's case studies, which highlight businesses and major corporations that use its services.
More About Cameyo
Cameyo was founded in 2010
Headquartered in Cary, North Carolina
Partners include 5S Technologies, ARJ Distribution, and ASG Africa
4.8 average rating
Best for DaaS: Citrix
There are three types of virtual desktops: cloud, hybrid, and desktop as a service (DaaS). Citrix is at the forefront for DaaS virtual desktops — but it also has hybrid solutions for those who want more control. It also streamlines management, encrypts data (so it's never stored on devices), and enhances user experiences through HDX technology. HDX technology is a set of technologies created by Citrix designed around three pillars: intelligent redirection, adaptive compression, and data deduplication.
Citrix DaaS plans start around $10/mo per user per device for Microsoft Azure or Google Cloud. You can also choose from four plans that might better meet your growing business's needs — like if your organization requires more IT flexibility or better security analytics to detect potential threats. (This is crucial since small businesses are at high risk for cyberattacks.) All in all, Citrix makes it simple: It's for teams that want to simplify management, increase agility, and enhance security, especially if your user base is expanding and you need to stay within budget.
More About Citrix
Citrix was founded in 1989
Headquartered in Fort Lauderdale, Florida
Partners include Amazon Web Services (AWS), Samsung, Microsoft, and Nutanix
4.1 average rating
Best for Enterprises: Red Hat
Red Hat's solution, Enterprise Linux (RHEL), has been around for more than 30 years. It empowers businesses to meet the demands of a changing market through cloud computing and application deployment. Red Hat also operates under a hybrid cloud model, which means your business can deploy and run applications on physical servers, virtual machines, and the cloud.
Red Hat's high-performance computing (HPC) workloads make this solution perfect for large enterprises with intensive needs. Those include financial institutions, energy companies, manufacturing, government, healthcare, and entertainment companies. Pricing is not set and depends on your organization's needs, but you can try out Red Hat with a 60-day free trial on AWS, Microsoft Azure, Google Cloud, IBM Cloud, or Oracle Cloud.
More About Red Hat
Red Hat was founded in 1993
Headquartered in Raleigh, North Carolina
Partners include HP, Salesforce, and AWS
4.5 average rating
Best for Cloud Hosting: Ace Cloud Hosting
Ace Cloud Hosting provides cloud-based solutions that let businesses access their applications and data from anywhere, anytime, using any device. Ace Cloud Hosting allows organizations to run their software with multiuser collaboration, security and data protection, and scalability options for any industry whether it's to draw up building plans for construction jobs or enable app integration for virtual teaching and learning.
Ace's DaaS product line offers three main plans, ranging from $25/user/mo to $50/user/mo depending on your user count, RAM, and storage needs. No matter your plan, you'll get unlimited bandwidth, CrowdStrike® Falcon Complete™ Antivirus, real-time usage reports, 24/7 support, multilayered US-based datacenters, and single-session and multi-session desktop options. Plus, Ace Cloud Hosting is a Citrix-certified end-to-end DaaS partner.
More About Ace Cloud Hosting
Founded in 2004
Headquartered in Pompano Beach, Florida
Partners include Citrix, Vmware, Microsoft, Veeam, and Crowdstrike
4.0 average rating
Best for Security & Privacy: Venn
When security and privacy are your number one priority, Venn is the solution. Venn creates a secure enclave on users' computers by offering a unique approach that doesn't require VDI setups. Access is tightly managed within the enclave, and any work-related data is encrypted. (Here's how: The Blue Border™ isolates work applications and data from personal activities for strong separation.)
By running work applications locally on employees' computers, Venn simplifies remote work for teams across the board, guaranteeing it can save up to 63% on VDI costs. Venn's focus on cutting-edge security means its software is trusted by more than 700 companies. Venn is a great choice for organizations prioritizing their data safety and their teams' productivity.
More About Venn
Founded in 2016
Headquartered in New York, New York
Partners include Cambridge, JFS Wealth Advisors, Douglass Winthrop
4.5 average rating
Best for Remote Workers: Dizzion
Dizzion's cloud desktops provide a consistent and intuitive user experience while safeguarding sensitive company data. Dizzion is designed for call centers, outsourcing, finance, insurance, legal, education, and healthcare. It offers users more than 100 methods to ensure data stays safe, especially while it moves between VDs. This feature makes it the ideal companion for remote workers who need to rely on their company's software.
One of the major perks Dizzion offers is that you can choose from two service levels: a regular digital workspace or a compliant digital workspace — so you can decide how hands-on you want to be or let Dizzion handle the nitty-gritty details. Dizzion also encourages the Bring Your Own Device (BYOD) model, which means you can save money using your own hardware. If you don't have your own, you can opt for Dizzion's secure and managed endpoint solutions (zLink).
More About Dizzion
Founded in 2011
Headquartered in Denver, Colorado
Partners include NVIDIA, PureStorage, and AlienVault
4.0 average rating
Best for Scalable IT Infrastructure: Nutanix
Nutanix is a pioneer in hyper-converged infrastructure (HCI) solutions. Their software stack unifies various facets of hybrid cloud infrastructure, including computing, storage, networking, hypervisors, and security. But above all, Nutanix supports scalable infrastructure through its simple features: enhanced security, simplified operations, and faster deployments, which means you can easily allocate resources and trust Nutanix will grow with you.
Nutanix also makes budgeting and allocation simple. It offers flexible per-user subscription pricing so organizations can match resources per user. Say your HR team works with a third-party program (like QuickBooks); you can allocate fewer resources to them and instead budget more for your other employees who would use Nutanix. You can also combine it with Citrix, delivering a 164% ROI in less than six months.
More About Nutanix
Founded in 2009
Headquartered in San Jose, California
Partners include Sanity Solutions, Redington Gulf FZE, and Softcat PLC
4.5 average rating
Virtual desktops are more than just tools: they're game-changers that can redefine how businesses and their employees operate in today's digital age. And solutions like this mean you're not only ensuring security, scalability, and flexibility, but also embracing a new way of working that better adapts to the changing workforce.
Embrace the changes in today's culture and how they can improve the way you and your team work. As leaders, you can ensure your employees stay productive and have everything they need at their fingertips. As employees, never veer off track with your projects, whether traveling, at a coffee shop, or working between the office and home.
So whether you're looking for high-performing graphics, reliable software testing, or you want a simple space from which to collaborate, there's a solution for you. All you have to do is start looking, and you're halfway there.