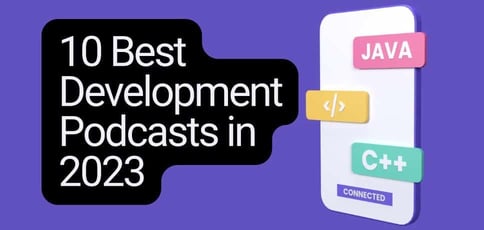 I love listening to podcasts. Whether I'm cleaning, driving, cooking, or even working (sorry, boss!), they keep me company, challenge my thinking, and provide endless entertainment. Podcasts are like exercise for my brain: In a single day, I can jump from captivating true crime stories to thought-provoking self-reflection.
And I'm not alone in this podcast obsession. Unless you've somehow managed to evade the internet in recent years, you're probably aware that podcasts are gradually taking the world by storm — in the best possible way. In 2023, a staggering 465 million people will tune in to podcasts, a number projected to rise to 505 million by 2024.
So what's driving this surge in podcast listeners? It boils down to three primary reasons: entertainment, education, and escapism. Regardless of your preference, we're calling all software engineers, developers, and website creators because we've compiled a list of the best 10 development podcasts you should tune in to this year.
Possibly taking inspiration from the bestseller "Girl, Interrupted," Dev Interrupted is a software development podcast that delves into relevant topics to help you become your best. What sets this podcast apart is its emphasis on the impact of mental health on developers' lives and everyday struggles. Hosts Dan Lines and Conor Bronsdon take each day in stride while also tackling what's important in today's landscape.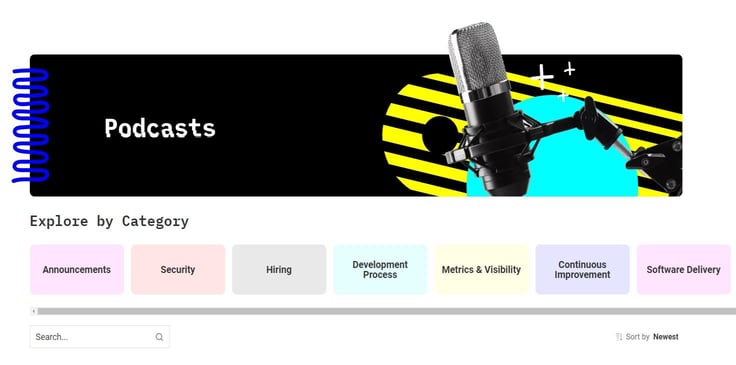 Here's Dev Interrupted at a glance:
Topics: Best practices, productivity, team dynamics, career growth
Episode count: 130+
Episode length: ~45 minutes
Episode frequency: Weekly
Average rating: 4.8/5
Dev Interrupted is described as "the only podcast dedicated to dev leaders," and each episode provides valuable insights and advice to improve skills and navigate career paths for current and aspiring developers. We highly recommend checking out the episode with Hywell Carter of Skiller Whale, which breaks down how engineers learn, why old techniques don't work anymore, and the difference between hard skills and power skills.
Hosted by the dynamic duo Adam Stacoviak and Jerod Santo, The Changelog is a weekly news brief that is an entertaining exploration of everything related to the dev world. Buckle up as they take you through motivations, challenges, news briefs, and the latest updates, all presented with a captivating talk show vibe. From groundbreaking technologies to fascinating insights, The Changelog leaves no stone unturned — making it one of the best options for those craving to stay up-to-date.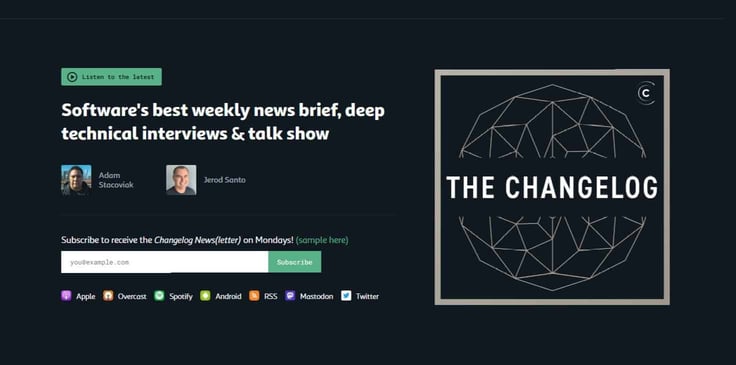 Here's The Changelog at a glance:
Topics: News, community projects, dev news, developer stories
Episode count: 600+
Episode length: ~90 minutes
Episode frequency: Every Monday, Wednesday, and Friday
Average rating: 4.7/5
The Changelog is divided into three exciting segments labeled Interviews, News, and Friends. Dive into any episode to listen to engaging conversations with up-and-coming developers and seasoned entrepreneurs. Stay in the know with the latest, most relevant tech news about AI advancements or programming language updates. And don't miss out on staying connected with Changelog's latest developments, all accompanied by some friendly banter to keep things lively. With Adam, Jerod, and the heart that is The Changelog, there's never a dull moment.
Developer Tea is perfect for those looking for a bite-sized peek into all things development in a quick format. Just as the British enjoy their afternoon tea time, Developer Tea offers a refreshing audio version that serves as a delightful break, aiming to inspire and educate engineers and developers alike.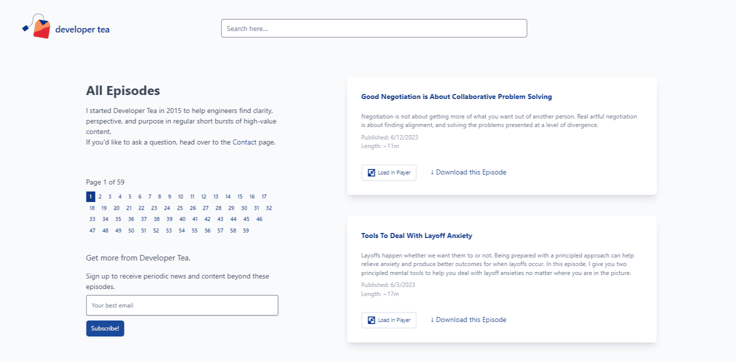 Here's Developer Tea at a glance:
Topics: Personal growth development tips for software devs
Episode count: 600+
Episode length: ~10 to 15 minutes
Episode frequency: Weekly
Average rating: 4.8/5
Hosted by the brilliant Jonathan Cutrell, a seasoned programmer passionate about sharing knowledge, Developer Tea is here to equip you with easy-to-remember tips and tricks that you can take with you on your current and future coding adventures. Jonathan also has more than a decade of experience working with engineers, so it's no surprise that he started a podcast to help other devs find clarity and meaningful purpose in their work. Developer Tea has more than 15 million downloads and is excellent for developers at all levels, especially those starting who may experience the all-too-frequent burnout blues.
There's nothing better than a welcoming community when embarking on something new. CodeNewbie Podcast was born from CodeNewbie, an organization that fosters a supportive, international community of people learning to code. When CodeNewbie's community gained momentum, founder Saron Yitbarek saw a need for another medium to reach even more people, so CodeNewbie Podcast was born.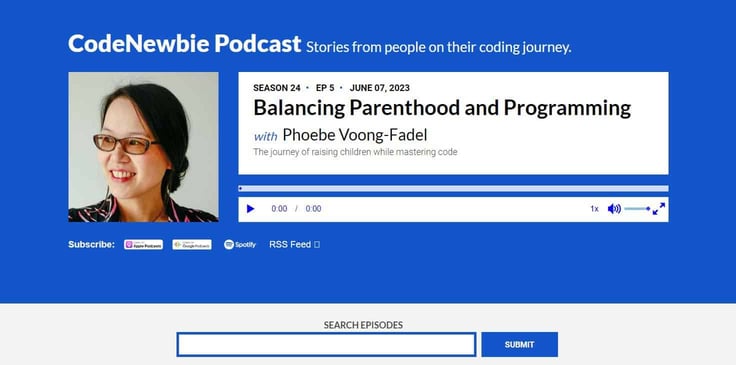 Here's CodeNewbie Podcast at a glance:
Topics: Learning to code, transitioning into tech careers, personal stories
Episode count: 340+
Episode length: ~30 to 45 minutes
Episode frequency: Weekly
Average rating: 4.7/5
CodeNewbie is perfect for beginners and even seasoned developers who want to learn another programming language. CodeNewbie Podcast is a warm introduction to the coding world, where listeners can learn resources, tips, and tricks while listening to personal stories from others in the community or successful business owners who also once started as a newbie.
Talk Python To Me is a podcast dedicated to Python programming. Host Michael Kennedy features interviews and in-depth (and sometimes hot-take) discussions covering everything within Python development. A big bonus? Talk Python To Me also has a dedicated training website that offers online video courses and tutorials on writing clean and accurate code.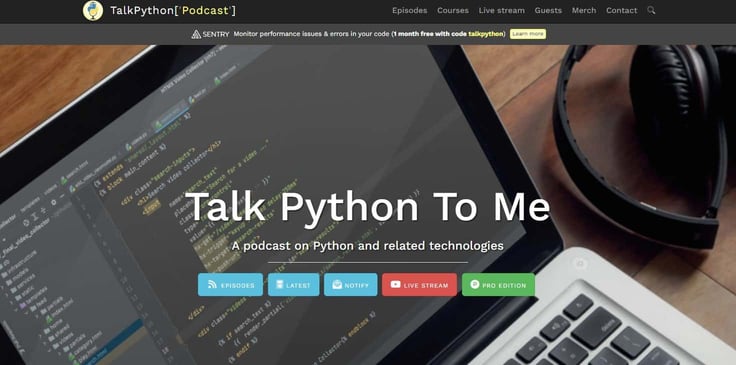 Here's Talk Python To Me at a glance:
Topics: Python, libraries, frameworks, news, interviews, advancing career paths
Episode count: 400+
Episode length: ~60 minutes
Episode frequency: Weekly
Average rating: 4.9/5
Through features, interviews, and discussions on Python development, Talk Python To Me is tailored for Python developers and enthusiasts who want to deepen their knowledge and stay up-to-date with the latest trends and developments in the Python community. Whether you're seeking to expand your Python expertise, explore new libraries, or gain insights from industry experts, Talk Python To Me is a must-listen podcast that offers valuable information and inspiration.
Syntax is an aptly named podcast that provides practical insights, tutorials, industry updates for web development, and coding best practices with interviews sprinkled in. Hosted by friends Wes Bos and Scott Tolinski, Syntax also has "tasty treats" CSS and JavaScript tips, plus minute-by-minute show notes, so you can see what's up ahead or skip to a topic you want to hear the most.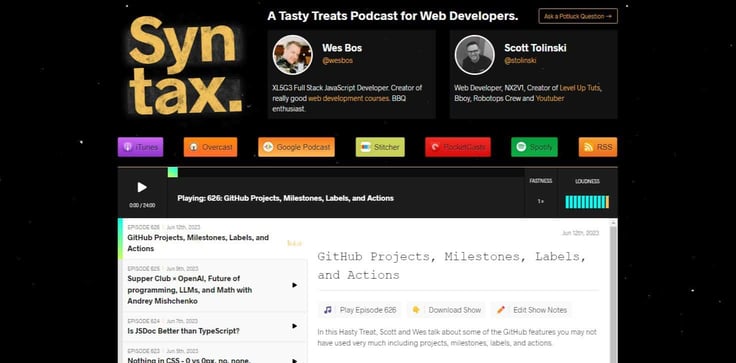 Here's Syntax at a glance:
Topics: Web development, frontend and backend tools, PL frameworks, best practices
Episode count: 600+
Episode length: ~30 to 60 minutes
Episode frequency: Every Monday, Wednesday, and Friday
Average rating: 4.9/5
Syntax is a great podcast that ensures you stay connected to the world of web development, even while you work on your own projects or day job. It doesn't matter which episode you join: Dive into a treasure trove of valuable tips, current news, and fascinating discussions presented by entertaining hosts whose camaraderie adds an extra layer of enjoyment to every episode.
JS Party is a captivating podcast designed to cater to JavaScript and web developers. With a broad range of topics spanning JavaScript, web development, frameworks, libraries, and the JavaScript ecosystem, this podcast offers valuable insights, news, and engaging discussions that keep you informed about the ever-evolving landscape of JavaScript development. And, as its name promises, every episode is like a party.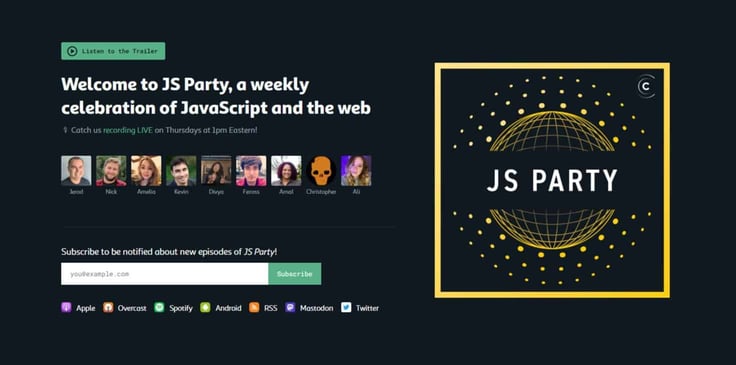 Here's JS Party at a glance:
Topics: JavaScript, web development, frameworks, libraries, JavaScript ecosystem
Episode count: ~300
Episode length: ~60 minutes
Episode frequency: Live every Thursday (1 PM Eastern time)
Average rating: 4.6/5
The show features a rotating panel of hosts, which we love. It adds diverse perspectives and expertise to each episode, keeping the show fresh, engaging, and constantly evolving. JS Party also regularly invites renowned experts, industry leaders, influential developers, and prominent figures in the JavaScript ecosystem to participate as guests — making it an invaluable resource for listeners seeking well-rounded perspectives in JavaScript development.
PodRocket is the go-to podcast for JavaScript developers and web developers who want to dive deep into JavaScript and user-friendly web development. PodRocket is hosted by Ben Edelstein, co-founder of LogRocket, a SaaS tool that provides session replay, error tracking, and product analytics for better UX. This podcast gives you the inside scoop on writing codes with frontend users first in mind.

Here's PodRocket at a glance:
Topics: JavaScript and frontend web development best practices
Episode count: 300+
Episode length: ~45 minutes
Episode frequency: Several per week
Average rating: 4.9/5
PodRocket not only delves into the technical aspects but also explores the human side of being a developer. Prepare to explore such topics as burnout and mental health, and gain a holistic understanding of what it means to thrive in the development world. This educational yet entertaining podcast is your one-stop destination to fuel your JavaScript technical skills and create clean, accurate, and honest code.
HTML All The Things is a refreshing podcast that brings a human touch to web development, web design, and small businesses. Hosted by the dynamic duo of Matt Lawrence and Mike Karan, this podcast creates a friendly and approachable atmosphere where listeners can delve into HTML-related topics, explore web design trends, stay up-to-date with frontend technologies, and even engage in lively discussions about thought-provoking subjects — such as whether HTML qualifies as a programming language!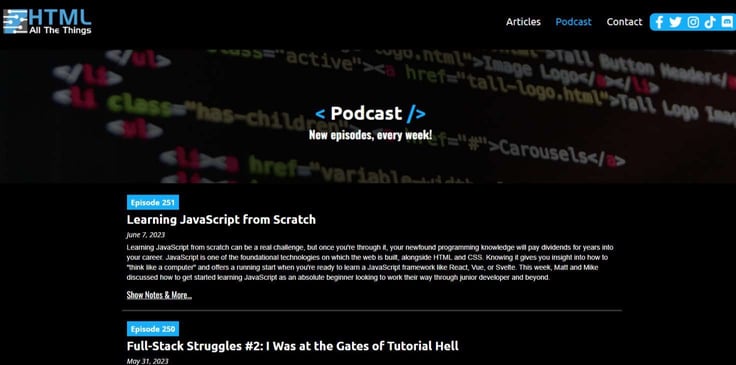 Here's HTML All The Things at a glance:
Topics: HTML, web development, frontend technologies, web design
Episode count: ~300
Episode length: ~60 minutes
Episode frequency: Weekly
Average rating: 4.9/5
Matt and Mike's down-to-earth approach and relatable personalities make listeners feel like they're chatting with friends — which, let's be honest, is part of why so many of us love podcasts. Whether you're a web developer, web designer, or a small business owner, this podcast has something for everyone.
Glowing in Tech shines a spotlight on voices often unheard in the software development industry. Hosted by Amber Shand and Jessie Auguste, two talented Black software engineers who are part of the underrepresented minority in tech, this podcast brings a fresh and vital perspective to the table.
Amber and Jessie came from non-technical backgrounds and didn't have the resources, support, or representation to dive in head-first. So their goal is to create a welcoming, empowering, and enjoyable environment that fosters inclusivity and accessibility in the tech industry. Their official website also has resources and a community forum for those facing similar experiences.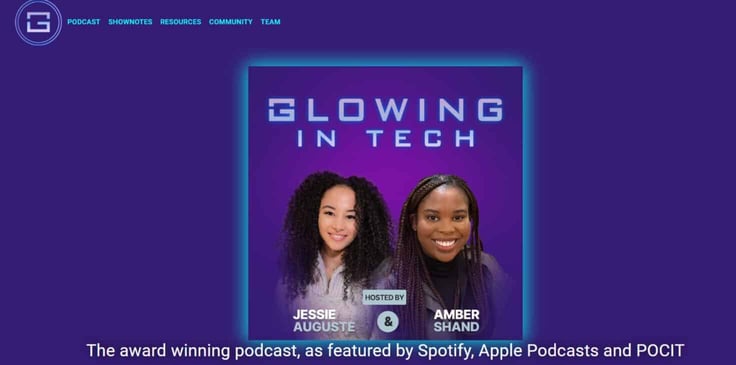 Here's Glowing in Tech at a glance:
Topics: Data science, cybersecurity, robotics, software development
Episode count: ~40
Episode length: ~30 minutes
Episode frequency: Weekly
Average rating: 4.9/5
Episodes zero in on tackling news and social issues within the tech industry, including being a woman in tech and the ever-so-dreaded burnout blues. A great episode we think you should check out is the interview with Dr. Anne-Marie Imafidon, the University of Oxford's youngest female to pass A-level computing and the author of "She's in CTRL," a guidebook for women in tech.
Unleash Your Development Superpowers
It's safe to say podcasts are here to stay — so no matter your role in the tech industry, these 10 best development podcasts are worth considering if you're looking for news, updates, features, or chats with experts and startups about how they got their feet off the ground. We can't wait to see who makes it onto our list next year, and we have a feeling we'll see a few familiar faces.