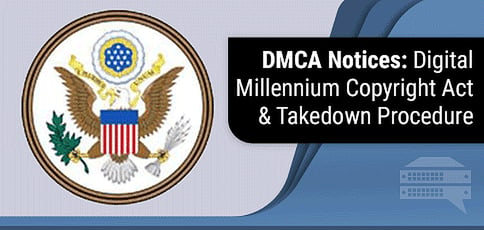 Content creators are regularly faced with the issue of defending their copyrights and protected material from theft and plagiarism. Perhaps you are a visual artist and you see that someone has published your artwork without your permission. How do you proceed? As a musician, you may have noticed that another entity is taking credit for your music or has used it in a work for profit without properly compensating you. Do you have any recourse? Corporations and SMBs may find that an individual has stolen their trademark, potentially tarnishing their brand. Are they within their legal rights to demand that the offending party cease and desist?
In this article, we will review the ins and outs of the Digital Millennium Copyright Act and your options as an intellectual property (IP) owner to control how your IP is used across the web. We'll also review your rights and obligations as a publisher of content as we outline the steps necessary to comply with the DMCA.
DMCA Overview: Digital Millennium Copyright Act
The Digital Millennium Copyright Act of 1998 was designed to define the rules of copyright infringement as it pertains to the digital age. It outlines both the protections and consequences for internet service providers (ISPs), users, and copyright owners in the digital landscape.
The act was established at a time when existing copyright laws had not caught up with technology, making it easy for online users to download music, art, and text with no legal consequence. The DMCA, an amendment to US copyright laws, protects authors and artists and their works from digital piracy.
The DMCA makes it illegal to use digital technologies to circumvent measures intended to protect a copyrighted work. It also protects ISPs from prosecution so long as they block access to or remove infringing material from their networks once they are notified of its existence.
The DMCA does not protect users who knowingly violate copyright law. Other forms of intellectual property, such as patents or trademarks, are not protected under the DMCA.
Additionally, the US government signed two treaties to further protect copyright holders in other countries. The WIPO Copyright Treaty and the WIPO Performances and Phonograms Treaty were ratified by Congress in 1996. They serve to extend the rights of copyright holders around the world and to protect copyrights from other countries.
What is a DMCA "Takedown" Notice?
A DMCA takedown notice is a document or message sent to an online service provider (OSP) notifying them that a user is utilizing their service to host or transmit copyrighted works. It serves as an order to the OSP to review and remove any infringing material.
This notice, if founded, must be acted upon expeditiously by the OSP for the OSP to benefit from the protections provided them by the DMCA. Further, once the offending material has been removed, an OSP must notify the copyright holder that this has been done and may potentially also be required to identify the offending user. There are, however, conditions in which a DMCA takedown notice is not appropriate, and, if anyone makes false claims, they may be liable for damages and associated legal fees.
As noted above, OSPs are protected under the DMCA so long as they act to remove offending works. OSPs cannot "receive financial benefit from the infringing activity," have knowledge that they are hosting infringing material, or be aware of facts that might indicate a user is using their service to share copyrighted material. Lastly, to benefit from the immunity, an OSP must designate an agent to receive notices of copyright infringement.
How to File a DMCA Notice
Filing a DMCA takedown notice requires that you first verify a few things:
You own the copyright or have the right to assert infringement of a copyright you license.
The alleged infringement isn't covered by an exception such as Fair Use or free speech laws.
The content can be infringed on in digital form (e.g., text, image, video, or audio).
Once you have verified these conditions, you must comply with exact provisions of the DMCA. Otherwise, the receiving agent may ignore your request. We'll go over these steps below.
1. Locate the Correct OSP
First, you must locate the correct recipient. You can use a whois lookup to find the host of the culpable website or service and send them your DMCA takedown notice. Some websites, such as Flickr, Facebook, or YouTube, have easy-to-locate links with forms you can fill out to inform them of copyright infringement. Others may have mail, phone, fax, or email addresses published.
If you are unable to locate the DMCA agent for the organization in question, search the US Copyright Office list of DMCA agents. It is important to note that you must submit your DMCA request in the manner requested by the recipient. For example, if they demand you contact them via fax, then you must use this method to contact them, regardless of your preferred method.
2. Crafting and Submitting your Takedown Notice
If the OSP (be it an ISP, search engine, or specific website) does not provide an online form for submitting a takedown notice, you will need to include very specific information in your request. Freeform takedown notices must:
Be in writing (this includes both hardcopy or digital);
Be signed (whether in writing of via electronic signature) by the copyright owner or agent;
Identify the original copyrighted work (or works) you claim has been infringed;
Identify the material that is infringing your copyrighted work;
Include contact information so the designated agent can reach you, if necessary;
Include a statement your complaint is in "good faith;"
Include a statement the information in the notification is accurate; and
Include a statement that under penalty of perjury you are authorized to act on behalf of the owner of an exclusive right that is allegedly infringed.
You'll find DMCA takedown letter examples and templates all over the web — including here.
3. Legal Options in Case of Counter Notice
The DMCA also allows alleged infringers to file counter notices so if the OSP notifies an infringing party of the notice and they claim to "in good faith believe that the material was removed or disabled as a result of mistake or misidentification of the material to be removed or disabled" then the OSP must, by law, repost the infringing material to the original location.
At this point, you would resort to a lawsuit asking a court to order an injunction forcing an infringer to cease their use of copyrighted material. Most infringers do not take the time to file a counter notice, but you should be prepared in case they do.
How to Follow the Takedown Procedure
If you receive a DMCA takedown notice, you should first investigate and verify the validity of the allegations. If they are valid, you are required to act expeditiously to comply with copyright law. Let's review these steps below.
1. Verify and Remove Infringing Content
If you are using another OSP to host your content, you may not have time to confirm whether the DMCA notice is making a valid claim or not. Often, providers will simply remove the content identified in a complaint and you are left to either accept the takedown or file a counter notice.
If you are in violation, you should remove the offending content immediately. There is no specific time limit for responding, but you should not delay unreasonably in doing so. Acting immediately to verify that the content is infringing, as claimed, is the first step to complying.
2. Notify the Copyright Holder of Compliance
Once you have complied with a takedown notice, it is important to notify the copyright holder. The law requires the copyright holder be informed once necessary action(s) has/have been taken. As a result, you should not delay in responding.
3. Fair Use and Counter Notices
If you believe the notice was filed in error, you may file a counter notice, but it might be wise to seek assistance from a lawyer before considering further action. Some factors a lawyer may consider in advising you may be the purpose and character of the use.
As mentioned earlier, content used for criticism, comment, news reporting, teaching, and scholarly research may be protected under Fair Use. Material that has been transformed through the addition of new expression, meaning, or insight may also be protected. Misidentified content may also be immune so an original work mistaken for something else may rightfully be reinstated to its original place online.
Final Tips to Avoid a DMCA Notice or Copyright Infringement
As you can see, copyrighted materials are protected under the DMCA, and copyright holders can follow specific steps to work with OSPs to prevent their property rights from being infringed upon. OSPs and users have rights as well. It is important to understand which materials are protected and the steps you must take to notify offenders when they use your material without your permission.
As a user or an OSP, you should be prepared to act quickly if you are notified that you are in violation of the DMCA and be prepared to respond once you have complied. Make sure you understand Fair Use laws so you recognize those times when a derivative work may not be subject to copyright laws and therefore to DMCA takedown notices.
Don't forget: You should consider reaching out to a lawyer for help if you are confused or have additional concerns when dealing with legal matters to avoid potential consequences. Best of luck!
Advertiser Disclosure
HostingAdvice.com is a free online resource that offers valuable content and comparison services to users. To keep this resource 100% free, we receive compensation from many of the offers listed on the site. Along with key review factors, this compensation may impact how and where products appear across the site (including, for example, the order in which they appear). HostingAdvice.com does not include the entire universe of available offers. Editorial opinions expressed on the site are strictly our own and are not provided, endorsed, or approved by advertisers.
Our Editorial Review Policy
Our site is committed to publishing independent, accurate content guided by strict editorial guidelines. Before articles and reviews are published on our site, they undergo a thorough review process performed by a team of independent editors and subject-matter experts to ensure the content's accuracy, timeliness, and impartiality. Our editorial team is separate and independent of our site's advertisers, and the opinions they express on our site are their own. To read more about our team members and their editorial backgrounds, please visit our site's About page.