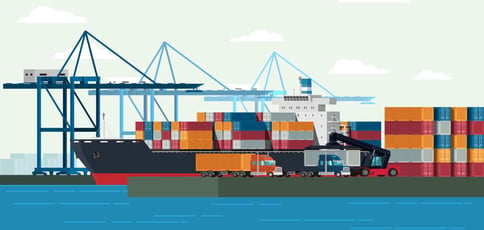 Being a tech journalist means getting your feet wet in all sorts of hardware and software, whether it's directly trying stuff or by proxy via friends and colleagues. The latter is how I first came in contact with Docker — a buddy showed me how someone containerized the seminal first-person shooter Doom and made it playable in a web browser (I've explained how Docker works at the bottom of this post).
I'm not much of a developer, so I never paid attention to that side of the tech spectrum. But I'm fairly well-versed in hosting (or well enough, depending on who you ask) to know that Docker deserves a finely-tuned hosting provider to shine in all its glory.
Hence, here are some of the best Docker container hosting options available today.
1. Kamatera: Best Cloud-Based Docker Hosting
You'll be hard-pressed to find a better hosting provider for your Docker apps than the tremendously customizable and scalable Kamatera and its Express offering.
The company labels it as "quick and easy deployment of enterprise-class server infrastructures," and I agree. It took less than a minute to deploy a server with a nifty one-click operation. You also won't break a sweat configuring everything to your liking, from VMs to hardware resources.
Ultimate scalability with limitless customizations
Create and deploy servers in 60 seconds
Easily add load balancers and firewalls
Stellar 99.95% uptime guarantee
Sign up today for a 30-day FREE trial
CLOUD
RATING 4.9 ★★★★★ Our Review
Kamatera: Our Expert's Review
Laura Bernheim (HostingAdvice.com): Starting with more than 60 operating system images to choose from, Kamatera is a strong option for developers who know exactly what environment works best for their project. Customize your cloud server as needed and deploy in less than a minute. Go to full review »
| Setup Time | Disk Space | CPU | RAM |
| --- | --- | --- | --- |
| 5 minutes | 20 GB SSD – 4 TB SSD | 1 – 104 cores | 1 GB – 525 GB |
Among notable features is the load balancer that maximizes performance and boosts stability by routing incoming traffic to the machines available for the quickest response.
In addition, you can scale up or down to mimic the growth of your applications. To that end, there are Docker-specific perks that allow the creation of an optimal environment for your Docker apps sans any restrictions:
Five different Ubuntu-based versions of Docker Engine that come pre-installed
Customizable plans in terms of vCPU, RAM, and SSD storage starting for as little as $4
Root admin access to the server in case you want to go deep into the command line
If you're still on the fence about Kamatera, the first 30 days are completely free with no commitment whatsoever and no setup fee of any kind (as is sometimes the case). It's more than enough time to give the cloud service a thorough test drive before opting for a specific cloud package.
2. Hostinger: Best VPS Docker Hosting
Due to its lightweight nature, easier deployment, and generally better performance than a virtual machine, Docker is a great fit for various VPS projects. In that web hosting segment, Hostinger reigns supreme as one of the best Docker container hosting providers for web owners and developers who need more than a shared hosting plan but don't require a dedicated server.
With Intel Xeon processors, terabytes of NVMe SSD storage, and 512 GB RAM, each VPS hosting provides ample processing power and storage to handle any medium or large-scale online project.
Cloud-based SSD storage for speed and reliability
Double your RAM with burst periods
FREE dedicated IPv4 and IPv6 addresses
Custom control panel for reboots and OS installs
HostingAdvice readers enjoy more than 50% off
VPS
RATING 4.6 ★★★★★ Our Review
Hostinger: Our Expert's Review
Laura Bernheim (HostingAdvice.com): Hostinger's laser focus on providing affordable hosting solutions shines brightest with the company's VPS packages. The company provides six different virtual server plans, including one that costs less than $5. Go to full review »
| Setup Time | Disk Space | CPU | RAM |
| --- | --- | --- | --- |
| 6 minutes | 20 GB SSD – 250 GB SSD | 1 – 8 cores | 1 GB – 16 GB |
On paper, it's a match made in hosting heaven. The reality is every bit the same, if not better, because there are more perks Docker fans will appreciate. I am talking about:
Option to use KVM VPS hosting that offers unrestricted compatibility with Docker without any limitations
Choice of three operating systems between CentOS, Ubuntu, or Debian
Up to 400 GB storage limit for containers
You can always rely on Hostinger to have your back when setting up and configuring its services. I'm happy to report that Docker support is no exception.
The hosting provider's repository of tutorials covers a variety of Docker-related topics like Docker image and Docker Compose, including a cheat sheet with essential commands for those who aren't afraid to get their hands a bit dirty in the command line.
3. A2 Hosting: Best Dedicated Server Docker Hosting
For those who run more demanding Docker apps that require fast speeds and reliable performance, A2 Hosting will be a godsend. The company's top-of-the-line Turbo servers promise significantly faster page load times, CPU performance, NVMe storage, and more RAM.
Docker is currently only supported on unmanaged dedicated servers, which means you have six hosting plans with specific performance enhancements. It's all there, and then some.
Root access and 3 levels of server management
Expertly managed servers deployed instantly
Choose from 4 datacenters across 3 continents
FREE redundant SSD storage in RAID-1 arrays
Choice of 13 Linux operating systems
DEDICATED
RATING 4.4 ★★★★★ Our Review
A2 Hosting: Our Expert's Review
Alexandra Anderson (HostingAdvice.com): Whether you're looking for managed or self-managed hosting, A2 Hosting offers three extremely reliable dedicated server plans to meet your needs, depending on your levels of comfort and experience. With A2 Hosting's Unmanaged Flex Dedicated Server plan, users get administrator-level control with root access and their choice of Linux operating system. Go to full review »
| Setup Time | Disk Space | CPU | RAM |
| --- | --- | --- | --- |
| 7 minutes | 1 TB SSD (Mirrored) | 4 – 10 cores, 4-20 threads | 16 GB – 128 GB |
A2 Hosting plans include a host of speed-oriented and Docker-centric features that even the most demanding users will appreciate. For starters, dedicated servers feature a proprietary SwiftServer platform that ensures you get the best performance possible on a regular basis.
Here's what A2 Hosting brings to the Docker table:
Choice of three operating systems between CentOS, Ubuntu, or Debian
Root access that provides ultimate control of the server
Ability to add custom applications or script installs
To top it all off, the provider offers a 99.9% uptime guarantee, along with the round-the-clock available support staff. Free redundant SSD storage in RAID-1 arrays make sure everything stays up and running in the event of a single point of failure. Talk about being reliable.
Other Docker Hosting Services
Those would be our top three best Docker container hosting providers, but there's more to the story in case they have left you wanting.
Do note that certain providers only support Docker with specific server types so you may have limited options at your disposal.
Auto scaling with premium Intel processors
Customized operating systems (Linux or Windows)
Deploy Linux instances in less than 1 minute
SSD infrastrucutre optimized for your software
Transparent costs and by-the-minute billing
CLOUD
RATING 4.8 ★★★★★ Our Review
1&1 IONOS: Our Expert's Review
Alexandra Anderson (HostingAdvice.com): Boasting 99. 998% platform availability, the popular cloud hosting services from 1&1 IONOS deploy more than 2,500 virtual machines each week. Go to full review »
| Setup Time | Disk Space | CPU | RAM |
| --- | --- | --- | --- |
| 6 minutes | 80 GB SSD – 240 GB SSD | 1 – 24 cores | 512 MB.- 48 GB |
Just like Docker aims to make shipping code to servers easier, IONOS tries to simplify how the software framework works and how you can get the most bang for your buck. It comes pre-installed on the IONOS Cloud Server, with version 20.10.9-2 supported on AlmaLinux 8.
What makes IONOS great is that it offers an equally satisfying experience for newbie site owners and small businesses to fast-growing startups and large companies needing powerful performance. There are more than a dozen cloud servers to choose from, so you're bound to find one that suits your needs.
Managed or unmanaged, in Windows or Linux
Cloud hosting with hourly or monthly billing
Instant upgrades without downtime
FREE around-the-clock monitoring
Automatic nightly backups available
VPS
RATING 4.8 ★★★★★ Our Review
Hostwinds: Our Expert's Review
Laura Bernheim (HostingAdvice.com): Does any hosting provider have more virtual private server packages than Hostwinds. The company offers 10 configurations — and that's just for managed Linux server partitions. Go to full review »
| Setup Time | Disk Space | CPU | RAM |
| --- | --- | --- | --- |
| 6 minutes | 30 GB SSD – 750 GB SSD | 1 – 16 cores | 1 – 96 GB |
Like to have choices? Then Hostwinds will be right up your alley, with 40 VPS plans evenly distributed across managed and unmanaged Linux and Windows hosting. Docker is available to install on CentOS, Ubuntu, Debian, and Fedora.
Regardless of the operating system or hosting plan you use, you get a 99.9999% uptime guarantee, 1 Gbps ports, SSDs for better performance, multiple locations, custom ISO's, and other features that virtually guarantee to make your Docker hosting experience hassle-free.
Linux or Windows with choice of 3 control panels
100% network and power uptime guarantees
Custom configurations and instant provisioning
Auto-migrations, backups, and real-time monitoring
Block/object storage and load balancer add-ons
DEDICATED
RATING 4.8 ★★★★★ Our Review
Liquid Web: Our Expert's Review
Alexandra Anderson (HostingAdvice.com): Liquid Web's strong suit is managed dedicated server hosting. The company owns and operates five state-of-the-art datacenters in the US and Europe works tirelessly to build and maintain custom solutions for added performance and security. Go to full review »
| Setup Time | Disk Space | CPU | RAM |
| --- | --- | --- | --- |
| 8 minutes | 250 GB – 500 GB SSD (+ 1 TB HDD) | 4 – 12 cores | 16 GB – 32 GB |
Arguably best known for its strong managed service offerings, Liquid Web is an excellent choice for those who want cloud-level flexibility with matching performance at affordable rates. A host of Intel Xeon-powered plans gradually get more powerful in processing power, SSD storage, RAM, bandwidth, and the usual shtick.
You can run Docker on CentOS, Ubuntu, CloudLinux, and Windows server. The provider also offers root access, regular backups, and numerous security features to keep your site and server safe from cyber threats. Throw in the promise of 100% power and network uptime, and you get one compelling hosting proposition.
7. Vultr
With its one-click Docker app available on CentOS and Ubuntu, Vultr allows almost instant deployment of your containers. The company updates the application frequently, thus making certain you always have the latest platform to tinker with.

There's more good news for developers as the hosting provider includes support for Docker API and various dev tools, as well as integration with GitLab CI/CD pipelines. With 32 worldwide locations under its belt, Vultr has plenty of datacenters to routinely deliver Docker containers with lower latency and faster load times to your target audience.
8. StackPath
What makes StackPath a worthy consideration for best Docker container hosting is its edge computing. It provides distributed computing by placing storage and computation close to the user's location. As a result, this will save bandwidth and significantly enhance the response time in some cases.

Furthermore, Docker hosting is billed per hour, and you are charged based on the number of containers deployed. A simple interface and a decent number of features, including cloud-based security and CDN, mean you can easily manage your container host deployments.
9. Amazon ECS
The main selling point of Amazon ECS (Elastic Container Service) is the ability to launch, store, and scale your Docker application with automatic integrations to other supporting AWS services (e.g. AWS ELB for load balancing). Deep integration with the AWS environment means you get an easy-to-use solution complete with advanced security features and a wide array of monitoring and configuration possibilities.

Plus, the pay-as-you-go pricing model ensures you only pay for the resources you use. For those on a tight budget, Amazon ECS is a cost-effective option thanks to its inherent low operating costs like storage and computing power.
What Is Docker?
Docker is an open-source platform that uses OS-level virtualization to develop, ship, and run applications, as well as separate them from your infrastructure for faster delivery.

The idea behind Docker is to eliminate monotonous and recurring configuration tasks by streamlining the development life cycle so developers can work in standardized and loosely isolated environments called containers.
Because these containers are run by a single operating system kernel, they are more lightweight than virtual machines and contain everything needed to run the application. The software that hosts the containers is called Docker Engine.
What Is the Best Docker Hosting Platform?
You want a hosting platform that knows how the Docker software framework operates. This means it should have experience hosting Docker containers and can deliver consistently speedy performance you can rely on.

Ideally, you want an easy Docker installation (preferably the one-click variant), a stable OS version, SSD storage, root access for each containerized application you're using, and the option to scale up or down as your needs evolve.
Kamatera is our top choice for a lot of the reasons just mentioned. But you'll also fare well if you opt for other hosting providers on this list, depending on your unique demands.
How Do I Host Docker for Free?
There are a few ways you can host Docker without charge:
Free hosting: Several hosting platforms (cloud providers such as Google Cloud Run and Microsoft Azure) offer free plans that allow you to deploy Docker containers. The drawback is that you'll have limitations in terms of compute resources, storage, and number of containers you are allowed to run, among other restrictions.
Container-as-a-Service (CaaS) providers: Companies like Docker itself and other CaaS providers offer free tiers specifically designed for hosting Docker apps.
Local development: Tools such as Docker Desktop allow the creation and management of containers on your local computer for development and testing purposes.
Open-Source Platform-as-a-Service (PaaS) platforms: Solutions like Dokku can be installed on your infrastructure, enabling you to host Docker apps at no cost.
Be sure to familiarize yourself with the terms and restrictions of the free plans. This is important if you want your choice of hosting to both meet your requirements and not charge you for exceeding resource usage.
Deploy Your Docker Apps with Confidence
Launching web apps can be challenging for many reasons, especially if you try to launch via a virtual machine. Problems with performance, portability, and scaling, among others, can rear their head.
The advent of Docker ushered in a new era of seamless deployment that effectively eliminated (or at the very least, minimized) many of these problems through the use of containers. Moreover, Docker went the extra mile and improved the app performance while streamlining portability between multiple servers. A lot of it rides on the choice of Docker host — and that's what this list is for.
Further Reading: "9 Best: Docker Container Hosting (Oct. 2023)"
Hopefully, our recommendation of Kamatera fulfills all your web hosting needs. Starting at just $4.00 per month and rated 4.9 overall, Kamatera gives users plenty of bang for the buck. Among our favorite features:
Ultimate scalability with limitless customizations
Create and deploy servers in 60 seconds
Easily add load balancers and firewalls
Stellar 99.95% uptime guarantee
Sign up today for a 30-day FREE trial
If you'd like recommendations similar to Kamatera and others in 9 Best: Docker Container Hosting (Oct. 2023), check out these popular guides. You'll find comparisons of Kamatera to other hosts on pricing, features, support and more:
And of course, if Kamatera is your top choice, you can get started now at just $4.00/month. Kamatera is easy to set up and scale, no matter the size of your next project.
Advertiser Disclosure
HostingAdvice.com is a free online resource that offers valuable content and comparison services to users. To keep this resource 100% free, we receive compensation from many of the offers listed on the site. Along with key review factors, this compensation may impact how and where products appear across the site (including, for example, the order in which they appear). HostingAdvice.com does not include the entire universe of available offers. Editorial opinions expressed on the site are strictly our own and are not provided, endorsed, or approved by advertisers.
Our Editorial Review Policy
Our site is committed to publishing independent, accurate content guided by strict editorial guidelines. Before articles and reviews are published on our site, they undergo a thorough review process performed by a team of independent editors and subject-matter experts to ensure the content's accuracy, timeliness, and impartiality. Our editorial team is separate and independent of our site's advertisers, and the opinions they express on our site are their own. To read more about our team members and their editorial backgrounds, please visit our site's About page.