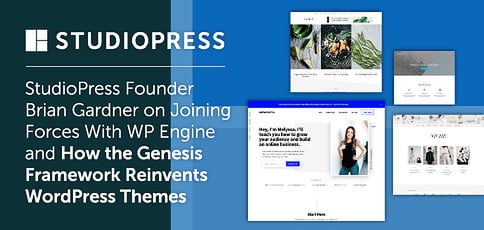 TL; DR: Behind the ultra-popular Genesis Framework, StudioPress provides developers with everything needed to build a secure, SEO-friendly, performance-minded WordPress website. The rock-solid codebase has spawned thousands of premium child themes — a market that Founder Brian Gardner essentially invented roughly 10 years ago. Now, having been acquired by WP Engine, Brian sat down with us to share how the vibrant WordPress and Genesis communities are adapting to change and anticipating the release of the Gutenberg editor.
The premium WordPress theme marketplace, a vibrant, bustling realm featuring tens of thousands of website designs, is frequently taken for granted. Aspiring site owners often expect to invest in a WordPress theme to help bring their visions to reality — and they're often overwhelmed with the options.
However, little of that would exist without Brian Gardner, who took some of the first steps beyond free, blog-oriented themes in 2007. Then working as a project manager at an architectural firm, he dabbled in theme creation, customization, and client work. One such customer asked Brian to create a blog theme, and Brian may have gone a bit overboard.
"He actually rejected the design because he was looking for something simpler," he said. "I was left with the design, wondering what to do."
Brian had built a modest audience by blogging about his WordPress experiences and themes and posed his readers a question: Would anybody ever consider buying a theme?
The positive response fueled Brian to be the first to market, with WooThemes and iThemes quickly following suit. Three or four months in, StudioPress was doing roughly $80,000 in sales per month.
"We just pioneered and paved the way to what's now the premium theme marketplace in WordPress, which of course is now littered with options," he said. "The initial goal was to just free myself from the day job I had. It was an interesting time, for sure, and I've always put design at the forefront of what we do."
Getting Started With Genesis: How the Framework Speeds Up Dev
When StudioPress started, mobile and responsive design didn't exist. In the never-ending effort to stay ahead of the latest design trends, however, the then-burgeoning design movement represents one of the company's first opportunities. StudioPress created its signature product, the Genesis Framework, a year or so later.
"Once I realized that I was updating all this repetitive code, I reached out to a developer I knew and asked him his thoughts on building something like Genesis," Brian said. "I ultimately hired him, and he's still working with us to this day."
The framework provides lightweight, SEO-optimized code and design architecture users can customize by creating child themes. Developers using Genesis child themes can use CSS to customize a site's design without affecting the framework's functionality or benefits — meaning updates are much safer.
"It allows you to change the look of your website very quickly and easily while maintaining the core functionalities of the framework itself," Brian said.
Developers can choose to start with just the framework or purchase child themes that StudioPress and approved partners have created. Themes, paired with Genesis, typically cost around $130, while the company's Pro Plus package costs $500 and includes all current and future Genesis themes.
"People can buy access to all our themes and make that back quickly on not even one client's worth of work," Brian said. "Genesis gives the ability for people to build sites quickly, which, of course, brings down their build time while still enabling them to charge higher amounts for high-quality work."
Genesis Growth Spurs Community of Users & Developers
More than 500,000 WordPress sites currently rely on Genesis, making it arguably the content management system's most popular framework. Many core developers and prominent WordPress experts use Genesis for personal and professional projects and frequently recommend the framework to others. Beyond the WordPress elite, roughly 214,000 customers have downloaded Genesis.
"What Genesis ultimately created, aside from the huge user base, is a software or technology community," Brian said. "It's people who use Genesis to build businesses, whether they're selling themes, agencies that exclusively use Genesis, folks who build plugins, and so on. That was an unexpected result of Genesis — that there's a huge community that comes along with it."
In addition to the StudioPress-generated blog, documentation, FAQs, and code snippets, the Genesis community helps customers find developers and connect with other users in forums, a Facebook group, and using the #GenesisWP hashtag.
In fact, Brian credits the passionate and involved developer community — more than 10,000 active members strong — as being a key component of WP Engine acquiring StudioPress in June 2018.
"Could WP Engine have built something similar to Genesis? Maybe," he said. "I think it was the community that really sealed the deal. They got the technology and the best design framework in WordPress, but the community and the opportunity the community provides is what sold us."
Design Meets Hosting: The Premium Pairing of WP Engine & StudioPress
In the days leading up to the announcement that premium managed WordPress hosting experts WP Engine had acquired StudioPress, Brian said he steeled himself for a wave of hate mail.
"Of course you expect some naysayers to come in and say corporate people are coming to kill the product and the community, but we know that's not the case," he said. "Nor would I let that be the case. On the launch day and up to a week after the news broke, however, I was overwhelmed with how positive the response was. I was expecting a little more negativity, but I didn't really see it."
WP Engine, one of the highest-rated WordPress hosts in the industry, specializes in agile, high-powered environments perfectly tailored to the content management system's particular quirks and demands.
Sign up for WP Engine hosting »
Many StudioPress customers have already made the switch to WP Engine's hosting services (StudioPress offered managed hosting through its Synthesis brand), but Brian said both teams are working hard to make the transition as easy as possible with free migrations and other incentives.
"People have to change their hosting," he said. "That's a bigger deal than just switching out a theme or something minor."
According to Brian, the acquisition has been an overwhelmingly positive experience and one that represents a much brighter future for StudioPress and Genesis. WP Engine provides the investment and leadership required for StudioPress to meet the visions Brian has in his mind.
"They've made it really easy for us to join the family," he said. "They have a huge pool of resources over there; there's a lot that they offer and can bring to the table."
New WordPress Editor Gutenberg Looms on the Design Horizon
As the dust continues to settle on the WP Engine acquisition, Brian already has his sights set on the next big thing: the new Gutenberg editor for WordPress. The updated interface, expected to launch in fall 2018, features more flexibility and movable content blocks that further remove the need for users to know HTML and CSS.
"With the Gutenberg editor coming down the pipeline and now being part of the WP Engine digital experience, there are a lot of opportunities here," he said. "I feel like Gutenberg will allow people to build not just blog posts or single pages, but entire websites a lot easier."
While many WordPress users look at Gutenberg with apprehension — specifically at how existing themes and plugins will interact with the new editor — Brian said he sees tremendous chances for growth and engagement. Partnering with WP Engine enables StudioPress to fully capitalize on Gutenberg's momentum.
"Gutenberg helps support our perspective to design and develop themes that allow people to create sites in easier and easier ways," he said. "That's the thing I'm most excited about, is breaking into Gutenberg and seeing what that means to the publishing world."