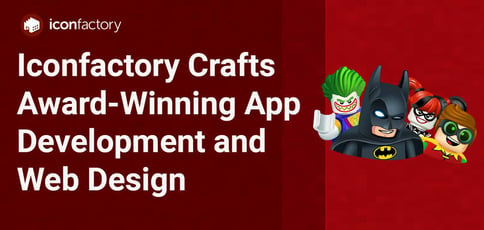 TL; DR: Iconfactory offers undeniable value with its expansive skill set, experience, and holistic web design approach. Boasting more than 25 years of experience, the Iconfactory team understands what it takes to move a design from the strategy stage to the finished product. Clients can leverage its design services to bring their ideas to life, test out prototypes, and build out the branding for their applications on the App Store and beyond. Iconfactory continues to build award-winning icons, user interfaces, and developments that have received accolades from Apple and other outlets.
In 1996, Iconfactory founders Corey Marion, Gedeon Maheux, and Talos Tsui launched a website to showcase and provide a place for users to access downloads of their freeware icons. These icons started as a passion project for the trio, and their love of graphic design shines through each pixel. But the history behind Iconfactory began way before the website even launched.
The Iconfactory founders' story goes back to the days of graduate school, where most of the current team met. At the time, drawing icons was just a hobby for the group of friends. Things changed when their hobby began to gain attention from larger companies that wanted personalized icons for their brands drawn by the team.
Sadly, Corey Marion, one of the original founders, passed away in 2022 after battling with cancer for several years. But his legacy and vision continue.
Today, the tight-knit, small-by-design Iconfactory team is a well-oiled machine that has spent the last 25 years developing everything from icons to applications for a wide variety of use cases. Over the years, Iconfactory has gained a valuable and deep understanding of the ins and outs of the App Store and designing successful digital products, helping it distinguish itself from competitors.

"Another differentiator is that not only are we a services company, but unlike other creative agencies, we create and build our own products. So we design and develop everything from strategy through launch and implementation," said Cheryl Cicha, Director of Business Development at Iconfactory.
Iconfactory offers a comprehensive approach to web design and development that takes clients from strategy and testing to the finish line. Its commitment to web development is evident through its storied history and many accolades. In the past, Iconfactory has won an Apple Design Award for its application, Twitterific, and several of its clients have also won awards and Editor's Choice from Apple.
Creating Applications Built With Go-To-Market Strategy
Before Iconfactory began its journey to award-winning application development, it was focused on creating icons. The team started with designing massive icon sets for complex software, including Microsoft Outlook, where the designs had to be a symbolic language that expanded as the scope of the software itself expanded. Cheryl told us a natural lead into user interface design came shortly after, as the group wanted to exercise their passion for graphic design. Then the progression continued to app development.
"As requirements became more technical over the years, our developers started to come on board, initially developing Candy Bar, which was a container for icons. Then we started branching off into our own products more out of need than out of a desire to enter the App Store," said Cheryl.
Developing applications for itself helped the Iconfactory team understand what it takes to launch an application, including the behind-the-scenes processes that go beyond development. Iconfactory developed many of its early apps to solve pain points and fill gaps within its operational workflows.

"For us to take notes, sketch, and do it quickly without having a lot of complexity were the reasons we developed Linea Sketch. And it usually starts with the spark of an idea, something we need but can't find," said Cheryl.
Soon after creating those apps, Iconfactory began leveraging its experiences to help clients applications. Cheryl told us that their previous projects allowed them to understand the risks that go along with product development and master the elements of budgeting, timing, strategy, and other related aspects.
"Other agencies who only serve clients are learning by working on client projects, whereas we learned by making our own products. We then transfer that knowledge to customers and can better advise because we understand what it means to take a product to market," said Cheryl.
Guiding Customers with Consultation and Design Services
The Iconfactory team is small by design. Because of its size and many years of working together, the team has created a trust factor that extends beyond the company and benefits the clients. Every project has a lead designer, but everyone at Iconfactory provides input and brainstorming to help build smooth digital experiences for clients.
"We share our experience with clients. And we've worked with companies of all sizes, from indie developers to huge companies like Microsoft and Adobe, and everybody in between," said Cheryl.
Iconfactory works on development projects of all sizes. Clients can leverage Iconfactory services to design products that meet their needs, whether it's a testing prototype or a go-to-market design.

"Sometimes, somebody has a spark of an idea and wants to develop it further, so we can walk them through that process. But it doesn't have to be a long end-to-end solution. They might want a prototype so that they gain funding for this. So we're super flexible in how we work," said Cheryl.
From the start, Iconfactory assesses client goals and technical requirements so it can come to an agreement on engagement. And the design team is there every step of the way, contacting the client daily with updates on the project's progression. Iconfactory also ensures clients receive everything needed for product success, including user experience design, a functional user interface, and all the branding required to go to market.
"We think about the product as a whole. And because we do our own products, we think about how we are going to market those products. What does this look like? What's the face of the brand? So it's also logos, landing pages, promotional art for the App Store, et cetera," said Cheryl.
Providing Best-in-Class Application Design With More on the Horizon
Leading with design has helped Iconfactory reach the heights of the award-winning stature that it has now. By doing so, Iconfactory could iterate ideas and try various prototypes to determine and establish what works from a customer usability perspective. This design intelligence and testing gives the company a leg up on its competitors and allows it to provide best-in-class development that meets client expectations. And that does not go unnoticed by the public.
"We get a lot of mentions in the press, which is fantastic. We have a lot of supportive fans who love the work we've done over the years, and that speaks volumes. And we're certainly proud of our apps and our clients' apps," said Cheryl.

Iconfactory currently has about 15 applications — in categories that vary from productivity to entertainment — available in the App Store. Iconfactory also has products that Cheryl and the team called "little apps for little jobs." These smaller apps are free on the App Store, and the team built them to respond to gaps within the tools market.
Iconfactory also has new releases. It recently launched Wallaroo, a wallpaper app. Users can now access it on Mac and have beautiful designs for their desktops and phone. Iconfactory also has another launch on the way.
"We have an upcoming new release of Frenzic Overtime, which is on Apple Arcade for anybody who's a gamer. It's a fun, fast-paced puzzler, and that's all Iconfactory designs, music, story, the whole nine yards," said Cheryl.