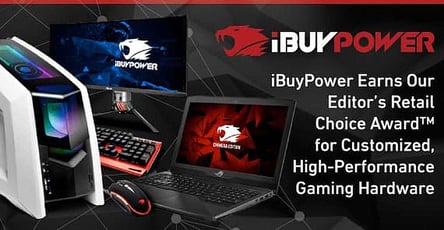 TL; DR: Everyone from an e-sports professional to a casual gamer wants a computer that runs seamlessly and reflects their own style. As a leader in custom-built hardware, iBuyPower helps both gamers and everyday consumers build PCs to their exact specifications — no matter what they need the system to do. Gamers can also easily customize their machine to reflect their personal style, such as with an LCD-video side panel. By hosting e-sports tournaments, fielding teams, and heeding feedback, iBuyPower designs hardware for the most demanding e-sports gamer which, in turn, benefits all of the company's customers. For its dedication and commitment to innovation, iBuyPower has earned our Editor's Choice Award™ for customized, high-performance gaming hardware.
In the world's most popular spectator sports, the right equipment is vital to success. The players move with such precision and speed that a slowdown of a fraction of a second could mean the difference between winning and losing.
That holds especially true in e-sports, which are one of the fastest growing competitive entertainment markets in the world. E-sports are so popular that the 2016 world championship for the game League of Legends drew more viewers (43 million) than Game 7 of the 2016 NBA Finals (31 million) between LeBron James' Cleveland Cavaliers and Steph Curry's Golden State Warriors.
Professional gamers are on their way to becoming household names, already playing in sold-out arenas worldwide. And the hardware they use is perhaps the most critical equipment in the sporting world because of the high demands placed on it by increasingly complex virtual worlds.
As a company that custom builds hardware for many professional gamers, iBuyPower knows exactly the precision and performance expectations its machines must meet, and it works to exceed those demands with every computer sold.
"A lot of our customers either watch competitive gaming or are competitive gamers themselves, so our products are designed for e-sports," said Jason Maryne, Marketing Supervisor at iBuyPower. "We focus on competitive gamers and performance, which is also what consumers want."
To make sure it keeps pace with gaming needs and trends, iBuyPower, founded in 1999, has established both e-sports teams and the iBuyPower Masters tournament. The company uses feedback from those events to innovate products for users of all ability levels and provide more customization options — including aesthetics like futuristic LCD video panels.
It is that dedication to producing quality, professional-grade machines and making them available to everyone that has earned iBuyPower our Editor's Retail Choice Award™ for customized, high-performance gaming hardware.
Beginner to Pro: iBuyPower Products are Personalized for Gamers
The iBuyPower experience is as personalized as its products, and gamers can easily build the perfect machine to suit their needs — even if they don't know much about the inner workings of a computer.
"As the industry grows, newer gamers aren't as familiar with what components they need, so we designed the Easy Builder with them in mind," Jason told us. "You can input the games you play, tell us your price point, and we recommend a few builds for you."
From there, users can upgrade the machines even further, including the case, memory, graphics cards, and more. Beyond the Easy Builder, iBuyPower offers a plethora of products aimed at the most experienced gamers — and those who want to play in style.
"We have a product called the Revolt 2, which is designed to make it easy for competitive gamers to swap out their SSDs at tournaments, which makes getting on and off the stage faster while keeping their settings," Jason said.
But the Revolt 2 packs quite a visual punch, as well, with a graphics card housed behind a see-through window and a unique smart lighting system to make it shine. The machines iBuyPower produces often look like works of art, and many have clear side panels to show off the top-of-the-line computing hardware contained inside the box. And the company continues to design new ways to showcase what's under the hood.
"Our Snowblind Element is another step in that direction, letting people choose a graphic or video to put on their side panel," Jason said. "And we are working on the next phase of that, which takes it much further."
The Snowblind case, powered by Intel, has a transparent LCD side panel that displays images, video, and even CPU stats, and users can add any visuals they want. The technology has turned heads at trade shows, earned rave reviews, and makes the hardware an extension of the user and a focal point of the computing experience.
"Personalization is what the industry is moving toward, and not that many people talk about it, but we are on the forefront," Jason said. "Our LCD panel allows you to display any graphic you want that reflects who you are, whether it is an individual, game team, or a tournament organizer."
And iBuyPower has gained plenty of insight into what gamers, teams, and organizers want through its involvement in the community.
An E-Sports Pioneer that Learns by Connecting with the Community
Since 2014, iBuyPower has been heavily involved in e-sports, from fielding teams to hosting its own tournaments — including the IBP Masters, which draws some of the top e-sports teams from around the world. The company uses its teams and events not only to highlight and reward talented gamers but also to learn from experience and improve its products accordingly.
"We have done everything from owning teams to hosting our own tournaments so we could understand what the organizers go through, what competitive players go through, their performance needs, and what features they want," Jason said. "All of that culminates in improving our products so our consumers can have that same experience."
High-level gamers are often able to detect even the slightest performance issues during their sessions, such as lag time or other processing nuances that can have a significant effect on gameplay. That kind of feedback is invaluable for iBuyPower, and it builds its products to cater to the highest expectations.
That attention to detail benefits the company's customers across the spectrum.
"We troubleshoot all of the hardware we sell, and if a customer feels something isn't right, they can send it back," Jason said.
Part of that commitment comes from the fact that gaming is ingrained into iBuyPower's company culture.
Passionate Gaming Culture Helps iBuyPower Stay Ahead of Trends
"We're all gamers," Jason said. "We watch a lot of Twitch streams, attend tournaments, collegiate events, and enforce our passion by being on the front lines of it all."
And because of that passion, the team at iBuyPower is always playing the latest video games in many different genres to see how they are going to affect customer needs. One such popular game is PlayerUnknown's Battlegrounds, a multiplayer online battle royale game.\
"We love the game ourselves, and a lot of our team members play it frequently," Jason said. "So we thought that this game might lead to more upgrades and we might get more questions about builds. That is something we can know by playing ourselves and seeing what kind of toll the game takes on our own computers."
And that invested, responsive culture will serve iBuyPower well as the future of gaming seems to be on a collision course with two technologies that are gearing up for widespread adoption: Virtual reality.
"VR is hitting more adoption of late, and it is all about performance," Jason told us. "People are buying more expensive graphics cards, higher spec PCs with the latest processors, RAM, GP, all that, and it is pushing the boundaries. You see that in laptops that can power VR."
The iBuyPower team is prepared to offer customers VR-ready machines and any other hardware they need because it always keeps an ear to the ground for the next technology — or game — that will require more resources. And the company stands ready to provide those capabilities.
On a Mission to Provide Customers with More Hardware Choices
E-sports' meteoric rise has drawn comparisons to soccer's escalation because of the passionate fan base and truly global reach. Even popular US sporting events like the NBA Finals can fall short of the interest in a single e-sports tournament.
And as games become more advanced, with bigger worlds and better graphics, iBuyPower is innovating the hardware professional gamers will need for the future. The company is also ushering in a new era of choice and personalization with its custom-built computers — and plans to further that mission at CES.
"Our whole theme is customization, and at CES we will introduce products to build on that," Jason said. "Giving customers more choices in what they can do, customizing aesthetics more, that way it is a reflection of who they are and what they want out of their PC."
While e-sports gamers get most of the attention, iBuyPower is making hardware that not only turns out champions but also turns heads. That is why iBuyPower has earned our Editor's Retail Choice Award™ for Customized, High-Performance Gaming Hardware.