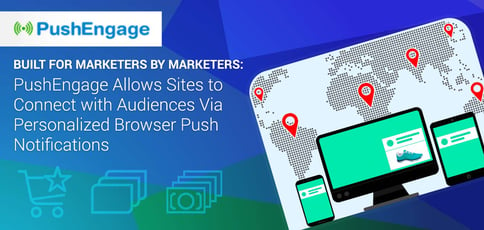 TL; DR: PushEngage helps businesses reach customers through personalized browser notifications even after they've left a website. The JavaScript-based installation process is a cinch, and integrations with WordPress, PrestaShop, and Shopify allow users to go live in just a few clicks. With funnel analytics for improved segmentation of subscribers plus machine learning innovations on the way, PushEngage is helping businesses connect with customers more effectively.
Few email marketers have fond memories of 2013, the year when Google rolled out a restructured Gmail inbox that confined email advertisements within a separate Promotions tab. Some claimed the move would be the "death of email marketing," while others preferred the term "marketing apocalypse."
Either way, the outlook was grim. According to Ravi Trivedi, Founder of PushEngage, the new format caused already-low click-through rates to plummet — and panicked marketers to seek other channels of engagement.
An opportunity arose in April 2015 when Chrome 42 launched with support for push notifications. Invigorated by the change, Ravi and his existing marketing company built out a push notification platform for internal use. Click-through and subscription rates immediately soared, producing results 10 to 20 times better than email campaigns.
"We saw a tremendous outcome and realized web push notifications could replace emails to some extent," Ravi said. "To make the platform available for everyone, we decided to launch it as a SaaS product known as PushEngage in January 2016."
While email click-through rates, depending on the industry, can range from 1% to 5% at best, Ravi said up to 15% of users will agree to enable push notifications when they are optimized correctly. These results have helped PushEngage experience rapid growth over the last few years.
Today, the company remains focused on helping businesses boost click-through, open, and conversion rates through site-based push notifications. Setup is easy, with simple app integrations, custom designs, and quick JavaScript-based installation, allowing users to get up and running immediately.
Now, as PushEngage looks to introduce new machine learning and automation capabilities into its platform, the company is furthering its commitment to helping businesses make meaningful connections with their customers.
Boost Your Click-Through, Open, and Conversion Rates
PushEngage makes it easy to send notifications that individual consumers will actually want to read by using dynamic segmentation that boosts ROI and can result in up to 218% higher click rates. Once customers agree to accept notifications, businesses can send them alerts on breaking news, flash sales, and personalized pricing.
By default, PushEngage's automatic segmentation capabilities include six metrics to sort push subscribers, including device and browser type, geographical location, the URL from which the user subscribed, time of registration, subscription date, and advanced segmentation using an API.
Once a marketing team defines its desired parameters, the system will automatically place subscribers in different segments for personalized push notifications. Ravi said this approach is far more successful than blanket campaigns that send out the same content to everyone at the same time.
Without personalization, customers often feel they are receiving too many notices and are more inclined to unsubscribe. "When personalization is done well, we've seen phenomenal results," he said. "Best of all, segmentation can be run on autopilot with PushEngage, as we take care of the full personalization and context."
To improve conversion rates of ecommerce sites, PushEngage recommends e-commerce sites send a series of personalized abandoned cart notifications. These notifications may be customized with personalized messages, product images, and prices in less than 10 minutes. "For e-commerce sites, we repeatedly see between 5% to 15% extra revenue driven through this channel," Ravi said.
In addition, PushEngage's frequency capping feature limits the number of notifications subscribers will receive in a day, making it more likely that they won't unsubscribe.
Ravi said that PushEngage's biggest differentiator is its ability to automatically send these personalized notifications at scale. "We have helped send over 50 billion notifications in our lifetime, including those for super large customers with more than 2 million subscribers," he said.
Simple App Integrations, Custom Design, and Easy Installation
As a bootstrapped company that depends on customer-generated revenue as its primary source of capital, it goes without saying that customer feedback is a priceless commodity.
"We always had a varied set of customers who give us feedback, which has definitely helped us, especially in the first one or two years when we did a lot of heavy lifting while building the product," Ravi said.
This approach helped the company attract more customers through word-of-mouth marketing, ensuring a steady stream of signups. PushEngage has also explored the email marketing world to gather additional ideas, which led to the development of the company's drip campaign and autoresponder features. These tools allow marketers to use web-based push notifications to nurture leads through drip campaigns, which are essentially a series of promotional, automated messages.
Considering PushEngage's focus on customer feedback, it's no wonder the platform includes so many user-oriented features. To start using the web push notification service, simply copy and paste the provided JavaScript code into the header section of the web site, enter simple site details, and configure intuitive settings in a subscription and opt-in dialog box.
Integrations with WordPress, PrestaShop, and Shopify also make it possible for users to go live quickly and easily. The subscription boxes themselves are also fully customizable, allowing users to specify the content, design, color, placement, and delay time, among other variables.
In addition, PushEngage's multisite and multiuser support allows organizations to manage multiple sites and add team members with specified access rights within a single account.
Take Advantage of Funnel Analytics for Opt-In Optimization
PushEngage's advanced analytical capabilities allow users to determine which opt-in notification types are most effective and make adjustments accordingly. Ravi told us this insight can boost subscription rates to as high as 20%. The platform enables users to choose between seven different opt-in formats, depending on site type, with various configuration options.
Because all sites are different in their purpose and mission, one format may work well for one site and perform poorly on another. Users may analyze subscriptions in a variety of ways to determine what works best. The results can be sorted by day, week, or month; geographical location; style; impression; subscribers; and subscription rate.
PushEngage uses funnel analytics to produce a Push Notification Opt-In Analytics report that users can leverage to gain insight into the performance of various opt-in formats and configurations. These statistics will paint a complete picture of how each opt-in performs. Thanks to a handy analytics dashboard, users can view that information within a single window.
The dashboard displays vital weekly statistics, including the total number of notifications sent, the number of subscribers acquired, total views and clicks, and click-through rates.
A wide range of options ensures that PushEngage can serve a diverse user base in many countries, from online publishers to e-commerce businesses. On the content side, Ravi said the platform can increase page views, resulting in between 8% to 20% more traffic, based on the company's research. E-commerce sites can expect a boost in revenue between 5% and 15%.
Up Next: Incorporating Machine Learning and Automation
As for what the future holds, Ravi told us the company intends on incorporating more machine learning and automation into its existing platform. The idea is to automatically create dynamic segments using algorithms for artificial intelligence.
"We could mine the data by looking at what the user is doing and, based on that information, automatically create the dynamic segments," he said.
Of course, the company won't move forward unless its customers are interested in such a feature.
"We always adhere to what our customers would like to see from us," Ravi said. "If companies are open to the idea, we will do it."