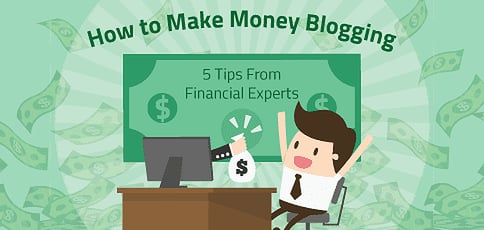 Learning how to make money blogging is easier than you may think — making it actually happen, however, is a different animal. It's all about execution, patience, and passion. Andrew Schrage had a clear reason to start blogging and a solid topic in mind: He studied economics and wanted to help others.
Despite his initial enthusiasm, Andrew discovered blogging success doesn't come overnight. His blog, MoneyCrashers, was slow to gain traction. With time and the right approach, though, MoneyCrashers eventually took off. "Starting an online business does require a lot of patience before any sort of significant money starts to roll in," Andrew said.
Andrew's experience reflects that of many bloggers – even the most successful ones. For most people who want to start a blog, the eventual goal is to get regular readers and build up some cash flow. Getting there is a matter of dedication and strategy.
How to Start a Blog for Free and Make Money
Are you ready to start a blog, but not sure how to make money doing it? There are certain things you can do from the get-go to set yourself up for eventual profitability. Even if you're green when it comes to blogging, following these steps can bring you closer to making green in your bank.
Tip 1: Use a Free Blog Platform or High-Value Host
One advantage to blogging as a business is that it doesn't have to have a lot of up-front investment. Anyone can start a blog for free using a platform like Wix. It's as simple as entering your signup information. Other free blog software options include WordPress.com, Blogger, and Medium. These platforms are set up for even the novice to be able to quickly start blogging without worrying about the hardware or software behind their web operation.
FREE signup with email or Facebook
Drag-and-drop designing is super easy
1-year domain free with most plans
Up to $300-worth of ad credits
Access to 1,000s of templates and additional tools in the App Market
Wix: Our Expert's Review
Setup time: 4 minutes
Go to full review

»
As a web builder, Wix is an industry leader when it comes to ease of use, setup time, and available features. The browser-based, WYSIWYG (What You See Is What You Get) site-building service is hands down one of the foremost brands in this industry niche, and...
| Money Back Guarantee | Disk Space | Domain Name | Best Overall Hosting Plans |
| --- | --- | --- | --- |
| 14 days | 500 MB - 20 GB | Transfer | www.wix.com |
Ideally, however, you should invest less than $3 per month in an affordable web hosting plan that comes with dozens of free blogging software options, ranging from Weebly to WordPress and beyond. These companies invest much more money in modern technologies and larger support teams that are available 24/7 to help you with any issues. You'll likely get your blog online just as quickly and just as easily — but have an immensely higher ceiling.
Known for performance at a low price
Endorsed by WordPress.org team
FREE Weebly site builder
FREE Cloudflare CDN
Get 63% off today (was $7.99/month)
Bluehost: Our Expert's Review
Setup time: 4 minutes
Go to full review

»
If you're looking for an affordable host, Bluehost is a solid, reputable choice; The company's low costs, coupled with its supremacy in the shared hosting arena, is what makes this provider such a valuable deal. The Bluehost name is listed toward the top of...
| Money Back Guarantee | Disk Space | Domain Name | Cheap Hosting Plans |
| --- | --- | --- | --- |
| 30 days | 50 GB - Unlimited | FREE (1 year) | www.bluehost.com/shared |
Unlimited everything, from bandwidth to databases
FREE site builder & WordPress performance upgrades
FREE daily or weekly backups
90+ auto-installation scripts and custom control panel
SSH access & SSL certificates
Hostinger: Our Expert's Review
Setup time: 3 minutes
Go to full review

»
As the shared hosting market becomes increasingly saturated, unlimited storage, bandwidth, and email accounts have become surprisingly average. Hostinger, however, extends the routine, expected metrics to greater lengths — the number of websites, databases,...
| Money Back Guarantee | Disk Space | Domain Name | Cheap Hosting Plans |
| --- | --- | --- | --- |
| 30 days | 10 GB SSD - 30 GB SSD | FREE (1 year) | www.hostinger.com/shared |
$0.01 for the first month, then $5 monthly after
NO annual contracts and NO sudden price increases
Unlimited storage space, data transfers, and email
New domain is $11 with 1-month plan ($1.99 otherwise)
99.9% uptime and price-lock guarantee
InterServer: Our Expert's Review
Setup time: 4 minutes
Go to full review

»
It's hard to argue with a shared hosting plan that includes unlimited storage, bandwidth, websites, and email — but shared hosting is a crowded industry that turns on name recognition, reputation, and bargain-basement prices. InterServer outperforms some of...
See 2020's top affordable hosts »
Tip 2: Blog What You Know (and Are Passionate About)
If you're going to commit to writing a blog, you should be in it for the long haul. That means the topics you blog about should be ones you care about and know very well – enough to keep up with for many years to come. Posting regularly, especially when a blog is new, helps develop a continued, loyal readership as well as attract new readers.
"The realm we chose is rather general, which helps, because we can write about anything from the best credit cards to have, ways to save money on monthly bills, how to save for retirement, and a variety of other topics related to personal finance," Andrew says of MoneyCrashers.com. Make sure you have the drive and knowledge to write continuously and passionately about your chosen topic.
Tip 3: Develop Social Media Skills
When it comes to marketing your blog, social media has the potential to make a big impact. Using Twitter, Facebook, Instagram, and other social media outlets to promote your posts and complement your blog will diversify and expand your following.
Social media works for gaining new followers but is also a great place to add value for those who are already reading your blog. Using social media for marketing is a bit different than using it for personal communication. There are many free online resources to help you get started, including Moz's Beginner's Guide to Social Media and Michael Stelzner's Social Media Marketing podcast.
Tip 4: Connect with the Blogging Community
A blog is not an island. Many people who start a business may feel like they're alone in their efforts. However, bloggers are a different bunch who are not only generally good communicators but also value relationships with other bloggers where they can join forces to mutually support one another. Work your network by offering to share content and cross-promote posts with other bloggers in similar and related niches. The blogging community is strong; you may be surprised who is willing to help you out.
Tip 5: Choose an Income Stream (or Several)
Content alone doesn't make money. A blog needs a stream of income to generate a profit. Income sources on a blog can be sorted into three categories:
Advertising: money from paid ads and clicks from ads on the blog
Affiliate earnings: commissions received for referring visitors to certain companies
Products & services: money from products and services offered by the blogger
Bloggers who make money have at least one of these sources of income embedded in their site, and the biggest earners incorporate all three. Content's role in making money relates to its ability to bring visitors to the site. The more people who view your content, the more people click on ads and buy products and services marketed on your site.
How Much Money Can You Make Blogging?
The amount of money a blog can make ranges from zero to millions of dollars (which is very rare, but finance blog Smart Passive Income made $1.8 million in 12 months, so it's possible!). This number depends on a broad spectrum of factors, from blog topic and audience to networking and marketing efforts to sources of income.
Many blogs don't make any money, but that shouldn't dissuade you if you're determined. It's possible to make a good living with a blog. Many blogs make several hundred to several thousand dollars per month. It's rare to make more than that, but it's been done and can be done again.
Check Out The Top Money-Making Blogs to Get Inspired
Andrew is optimistic about the future of blogging. "The opportunities for bloggers should continue to grow over the next few years, provided they can create interesting, creative, and useful content," he said. This list includes sites that are some of the top moneymakers in the blogging world, and some who are starting to grow their earnings after small beginnings. Use them as inspiration as you start to plan your own blog.
As you can see, a variety of content niches hold the potential for blogging prosperity. To move toward making it happen for your own site, you'll need a blog host, a topic you're passionate about, and great content. Go forth, blog, and prosper!