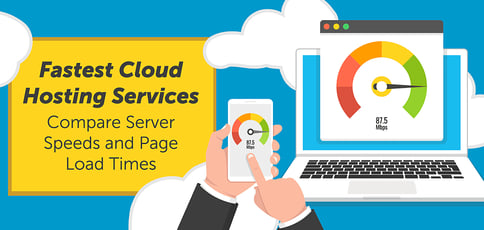 The importance of finding the fastest cloud hosting is similar to determining which local pizza joint can deliver food to your door the quickest. You want results, and you need them now!
Performance has long been an important factor in hosting. By nature, cloud hosting offers tons of scalability and reliability — but which service can deliver your site to visitors the quickest?
A difference of less than 250 milliseconds can send your visitors to a competitor. We tested the world's top cloud hosting providers by analyzing server response times compiled from Bitcatcha, Pingdom, Google PageSpeed, Dotcom-Monitor, and WebPageTest. Take a look at the top 12 cloud hosting providers below.
1. InterServer Cloud Hosting — 434 ms
Ekeing out the narrowest of victories, InterServer barely edged out another of our favorite cloud hosting companies in our battery of tests. The New Jersey-based company's cloud network is backed by high-speed solid-state hard drives that produce page load speeds of up to 20 times faster than traditional hard disk drives. Site owners' files are arranged in a RAID-10 configuration, where data striping means visitors can access data from more than one location — boosting performance without losing the safety of redundancy.
InterServer allocates tons of memory and bandwidth toward each building block, or slice, of cloud computing resources. Because the team takes a heavily nuanced approach to building and maintaining its own datacenter, InterServer opts to power its network with a mesh of 10Gbps ethernet connections and multiple Tier 1 IP backbone providers.
Choose Linux or Windows cloud hosting
Up to 16 cores and 16TB of data transfer
Plenty of RAM and redundant cloud storage
FREE control panel and several OS options
Pay $.01 the first month with HOSTINGADV coupon code
CLOUD
RATING 4.3 ★★★★★ Our Review
InterServer: Our Expert's Review
Laura Bernheim (HostingAdvice.com): InterServer's on-site datacenter and hands-on involvement with configuring and provisioning cloud servers give customers a level of flexibility not seen with many other hosting providers. InterServer rations its VPS and cloud resources through slices. Go to full review »
| Setup Time | Disk Space | CPU | RAM |
| --- | --- | --- | --- |
| 6 minutes | 30 GB SSD - 480 GB SSD | 1 - 16 CPUs | 2 - 32 GB |
2. Hostwinds Cloud Hosting — 435 ms
Our tests came down to a photo finish, but just one millisecond separated Hostwinds and InterServer. We have no hesitation in recommending the Hostwinds cloud, as the provider puts speed at the forefront of every hosting package. From LiteSpeed web servers and NGINX load balancers to a top-notch content delivery network and route-optimization protocols, Hostwinds promises modern, enterprise-grade services and minimal load times.
Mirroring its cloud server performance, Hostwinds also streamlines the customer onboarding experience by promising to get customers up and running in 30 seconds or less. We especially appreciate that site owners can choose from a variety of pre-configured server templates, ensuring their computing resources are tuned for specific applications.
Choose your OS or application configuration
Hourly or monthly billing for convenience
Optional upgrades for cPanel, backups, and more
Managed services, SSDs, and HDDs available
Block and object storage, plus enterprise firewall
CLOUD
RATING 4.6 ★★★★★ Our Review
Hostwinds: Our Expert's Review
Laura Bernheim (HostingAdvice.com): Hostwinds provides supremely scalable and customizable options for the savvy developer or site owner. Customers can customize their cloud environment or choose pre-built configurations optimized to run apps like WordPress, Drupal, and others. Go to full review »
| Setup Time | Disk Space | CPU | RAM |
| --- | --- | --- | --- |
| 6 minutes | 30 GB SSD - 750 GB SSD | 1 - 16 cores | 1 - 96 GB |
3. Cloudways Cloud Hosting — 469 ms
As the Swiss army knife of cloud hosting providers, speed freaks will be sure to find the perfect solution with Cloudways. The all-star host makes cloud services more accessible to business owners and those who don't want to spend a significant amount of time managing servers.
Cloudways compiles top infrastructure configurations from cloud hosting titans, including Linode, Digital Ocean, Vultr, AWS, and Google Cloud (more on them later), and provides the managed services, technical support, and security tools to ensure everything runs smoothly. All plans come with multiple caching layers, the Cloudways CDN, and a stack optimized for PHP, Apache, and NGINX. Even better, Cloudways gives users a three-day free trial to start.
Managed cloud hosting with 24/7/365 monitoring
Choose from 5 popular cloud providers
Auto-healing cloud servers with FREE backups
3-day free trial with no credit card required
Host unlimited apps with no contract lock-in
CLOUD
RATING 4.6 ★★★★★ Our Review
Cloudways: Our Expert's Review
Alexandra Anderson (HostingAdvice.com): If you can't beat the cloud provider behemoths, offer their infrastructure as a service. Cloudways gives customers their choice of cloud platform: AWS, Google, Linode, Digital Ocean, or Vultr. Go to full review »
| Setup Time | Disk Space | CPU | RAM |
| --- | --- | --- | --- |
| 8 minutes | 20 GB SSD - 4 TB SSD | 1 - 96 cores | 1 GB - 384 GB |
4. DigitalOcean Cloud Hosting — 474 ms
Expanding beyond virtualized hosting to provide a scalable and performant cloud hosting experience, DigitalOcean is a go-to option complete with add-on storage, security, monitoring, and load balancing capabilities to optimize your cloud website or application. The revered cloud hosting provider serves more than 1 million developers from 12 global datacenters, ensuring customers' data is as close as possible to website visitors.
Even though DigitalOcean promises an above-average 99.99% uptime, 40Gb ethernet connections, and enterprise-grade KVM hypervisors to optimize performance and reliability, the sheer breadth of options may make the company's platform a little daunting for first-time cloud hosting customers. Because any speed boosts gained through DigitalOcean may be offset by your inexperience, novice customers may want to look for a simpler solution.
5. DreamHost Cloud Hosting — 502 ms
Behind a friendly open-source approach to cloud hosting, DreamHost engineers its cloud platform around OpenStack and Ceph to remove any threats of vendor lock-in. DreamHost provides Amazon S3-compatible cloud computing and object storage at an attractive rate and performance-optimized service. Featuring hourly billing, DreamHost only charges customers for a maximum of 600 hours, or 25 days, for each month.
DreamHost's all-SSD cloud servers are ready for secure shell (SSH) access in less than 30 seconds and come with unmetered bandwidth. Customers can instantly upgrade RAM and other computing resources from the company's proprietary dashboard, and DreamHost's stellar 100% uptime guarantee and reputation for customer support combine unrivaled power with the tools needed to succeed.
Options for cloud computing & object storage
Launch cloud servers in 30 seconds or less
Servers engineered around OpenStack & Ceph
S3-compatible and redundant object storage
Support for MongoDB, Redis, Ruby & Node.js
CLOUD
RATING 4.7 ★★★★★ Our Review
DreamHost: Our Expert's Review
Laura Bernheim (HostingAdvice.com): For cloud storage needs, DreamObjects offers a fully scalable solution for app developers and anyone with big data. DreamObjects is compatible with Amazon S3 and OpenStack Swift APIs and integrates with WordPress to automate several functions. Go to full review »
| Money Back Guarantee | Disk Space | Domain Name | Setup Time |
| --- | --- | --- | --- |
| N/A | 30 GB - 240 GB SSD | New or Transfer | 6 minutes |
6. Vultr Cloud Hosting — 512 ms
Another developer-friendly cloud platform built on modern, high-performance infrastructure, Vultr is a relative newcomer to the industry. Founded in 2014, the company has already established points of presence in 16 cities around the world and spun up more than 21 million cloud servers. As with many of the fastest cloud hosting providers, Vultr relies on 100% SSD storage along with a redundant, low-latency network.
In addition to giving customers full root access and the option to choose any operating system, Vultr continually reinvests in its architecture. For instance, implementing the latest-generation Intel Skylake processors has made its cloud network perform at least 48% faster. Like DigitalOcean, Vultr excels in cost-effective cloud hosting — but beginners should proceed with caution when considering the more complex platform.
7. A2 Hosting Cloud VPS — 586 ms
No discussion about web hosting performance is complete without A2 Hosting. The Ann Arbor, Michigan-based provider enters our list in the middle of the pack, but A2 Hosting has built a reputation on supercharged SSD architectures. A2 Hosting's proprietary SwiftServer platform features page loads up to 300% faster than standard configurations, and customers can put the pedal to the metal by opting for the upgraded Turbo servers that boost performance by 20 times.
Powered by CloudLinux, CloudFlare, and a three-pronged site optimization and caching system, A2 Hosting makes it extraordinarily easy to identify and deploy the specific configurations that will make your cloud environment soar. Further upgrading your hosting package will automatically double your CPU cores and add 1GB of RAM.
Ultra-fast SwiftServer platform with FREE SSDs
Quick Start Cloud configures servers in minutes
Root access and on-demand server controls
Optional Cloudflare web application firewall for added speed and security
Softaculous and cPanel upgrades available
CLOUD
RATING 4.6 ★★★★★ Our Review
A2 Hosting: Our Expert's Review
Alexandra Anderson (HostingAdvice.com): Champions of blazing-fast web performance, A2 Hosting pairs its high-powered infrastructure with cloud-based redundancy and scalability. Although computing resources are a bit less than competitors, each component is fine-tuned and optimized to the nth degree. Go to full review »
| Setup Time | Disk Space | CPU | RAM |
| --- | --- | --- | --- |
| 7 minutes | 150 GB SSD - 450 GB SSD | 1 - 8 cores | 1 GB - 32 GB |
8. InMotion Hosting Cloud VPS — 593 ms
Empowering site owners to build and deploy cloud websites and applications with speed and efficiency, InMotion Hosting is another well-known provider of high-speed SSD cloud hosting. The company emphasizes high availability and security, as well as enterprise-grade Intel CPUs, a low-latency network, and a streamlined management portal.
Upgrading its architecture to modern SSDs means InMotion Hosting's hardware can push out 95% more data than its already fast SAS 15K drives. What's more, we appreciate that all cloud hosting plans receive ample storage allotments — often more than twice the capacities of competitors. Combined with optional managed services, InMotion Hosting offers site owners a simplified yet speedy cloud environment.
Fault-tolerant SSD storage and up to 8GB of RAM
FREE control panel with choice of Linux OS
Full root access or managed servers available
FREE live-state or scheduled snapshots
FREE Ansible control mode for automation
CLOUD
RATING 4.5 ★★★★★ Our Review
InMotion: Our Expert's Review
PJ Fancher (HostingAdvice.com): With leading-edge cloud technology, InMotion offers free site transfer, setup, and SSD drives for the ultimate cloud solution offerings. They include free data backups and offer unmanaged or fully managed servers to help you scale your site with cloud-based hosting. Go to full review »
| Setup Time | Disk Space | CPU | RAM |
| --- | --- | --- | --- |
| 6 minutes | 90 GB SSD - 360 GB NVMe SSD | 2 - 8 cores | 4 GB - 16 GB |
9. HostGator Cloud Hosting — 654 ms
As the first hosting provider on our list to not rely on SSDs for a speed boost, HostGator touts a revamped cloud hosting platform that emphasizes low-density servers, multiple caching layers, and tons of extra CPU cores. HostGator starts cloud hosting customers with at least two cores and quickly scales upward. The company's cloud platform is twice as fast as its regular shared hosting offering, plus four times more scalable.
Site owners can quickly add computing resources without having to deal with the hassles of data migrations, downtime, or reboots. HostGator gives customers an intuitive resource management dashboard that provides insights into usage trends, download speed, uptime, and other metrics. Beginners looking for shared hosting simplicity in the cloud will particularly appreciate HostGator's services.
2x as fast and 4x the computing resources
Tons of storage with the scalability of the cloud
Low-density servers and multiple caching layers
Unlimited domains and MySQL databases
Upgrades available for security, backups, productivity, and domain privacy
CLOUD
RATING 4.8 ★★★★★ Our Review
HostGator: Our Expert's Review
Ryan Frankel (HostingAdvice.com): For those ready to expand beyond shared hosting, HostGator offers a fully featured step into the cloud. With scalable, high-powered resources, customers can easily monitor resources and caching from an intuitive dashboard. Go to full review »
| Setup Time | Disk Space | CPU | RAM |
| --- | --- | --- | --- |
| 7 minutes | 120 GB SSD - 240 GB SSD | 2 - 4 cores | 2 - 8 GB |
10. AccuWebHosting Cloud — 659 ms
Masters of flexibility, AccuWebHosting offers perhaps the most complete suite of cloud hosting products we've ever seen. Customers start by choosing between cloud-powered shared hosting or virtual server packages, depending on the resources required and management needed. Perhaps most eye-opening is the company's Windows cloud hosting, which guarantees 100% uptime and supports multiple versions of ASP and ASP.NET.
AccuWebHosting's performance optimizations largely derive from fine-tuned CloudLinux and KVM virtualization, and the company's helpful auto-scaling feature easily handles any abrupt traffic increases. No matter the configuration, the company's cloud servers feature Intel Dual Xeon E5 CPUs and high-speed distributed SAN storage within a RAID-10 array. AccuWebHosting provides three control panel options, each of which is extraordinarily easy to use.
High redundancy means 100% uptime guarantee
Powered by Intel Dual Xeon E5 and E7 servers
Auto-scaling easily handles abrupt traffic increases
24/7/365 support available via email and live chat
FREE account transfer, emails, and daily backups
CLOUD
RATING 4.1 ★★★★★ Our Review
AccuWebHosting: Our Expert's Review
Laura Bernheim (HostingAdvice.com): AccuWebHosting seamlessly combines the performance and stability of cloud hosting with the affordability of shared servers. Site owners can take their online presence to the next level by auto-scaling…. Go to full review »
| Money Back Guarantee | Disk Space | Domain Name | Setup Time |
| --- | --- | --- | --- |
| 7 days | 40 GB - 125 GB | New or Transfer | 6 minutes |
11. Bluehost Cloud Hosting — 682 ms
Even though Bluehost is one of the most recognizable and respected brands in the web hosting industry, the company's virtualized hosting offerings don't quite keep pace with those of its competitors. We appreciate the company's introduction of SSD storage, along with dedicated, around-the-clock customer support.
Bluehost is known for reliability, and we found the ample allotments of memory and bandwidth to quickly serve up websites without any issue. By using state-of-the-art hardware that is built and maintained in-house, along with fine-tuned versions of OpenStack and KVM, Bluehost delivers instant provisioning and dynamic resources to customers taking their first steps into virtualized hosting. The company doesn't highlight its cloud infrastructure much, but we promise Bluehost VPS plans feature the same high-powered scalability and performance.
Top hardware powered by OpenStack and KVM
Instant provisioning and guaranteed resources
Options for 2-4 CPU cores and up to 8GB of RAM
Quickly manage and scale resources
Dedicated IP and domain privacy available
CLOUD
RATING 4.5 ★★★★★ Our Review
Bluehost: Our Expert's Review
Ryan Frankel (HostingAdvice.com): If you've outgrown shared hosting, Bluehost's platform is a great option. The company makes the transition from its own shared plans seamless. Go to full review »
| Setup Time | Disk Space | CPU | RAM |
| --- | --- | --- | --- |
| 6 minutes | 30 GB SSD - 120 GB SSD | 2 - 4 cores | 2 GB - 8 GB |
12. Liquid Web Cloud Hosting — 749 ms
The standard-bearer for high-quality infrastructure and customer support, Liquid Web appears surprisingly low on our list of the 12 fastest cloud hosting providers. Although we list them down here, the company is quick to point out that performance analyst firm Cloud Spectator has deemed Liquid Web servers to be faster than Amazon Web Services, Rackspace, and Digital Ocean.
The premium host spares no expense when outfitting its architecture with modern technologies and configurations that maximize performance. Liquid Web starts cloud VPS customers with an incredible two vCPUs, 3TB of bandwidth, and 30GB of SSD storage. In addition to the built-in backups, integrated firewalls, and stringent DDoS protection, Liquid Web delivers Gigabit data transfers and the CloudFlare content delivery network. Available upgrades for load balancers and block or object storage further round out the company's product portfolio.
HostingAdvice fans get 75% OFF
Cloudflare CDN, DDoS protection, and backups
Performance-boosting SSDs and cloud flexibility
Rock-solid reliability with 100% uptime guarantees
24/7 Heroic Support

®

via phone, chat, and email
CLOUD
RATING 4.1 ★★★★★ Our Review
Liquid Web: Our Expert's Review
Alexandra Anderson (HostingAdvice.com): Liquid Web balances managed services and hardware power with cloud flexibility — a brilliant solution in cloud hosting. The company's packages include instant provisioning, CloudFlare CDN, built-in backups, and, of course, the reliability of the Heroic Support team. Go to full review »
| Setup Time | Disk Space | CPU | RAM |
| --- | --- | --- | --- |
| 7 minutes | 40 GB SSD - 200 GB SSD | 2 - 8 cores | 2 GB - 16 GB |
13. SiteGround Cloud Hosting — 788 ms
We close our list with another surprise entry. SiteGround matches Liquid Web in terms of modern hosting solutions and a stellar reputation for performance and customer support. The company's professional-grade cloud hosting packages feature on-demand scalability, dedicated resources, and a wide variety of software and configuration options.
In addition to all-SSD storage and one-click additions of CPU and RAM power, SiteGround also offers an intriguing auto-scaling option that adds more resources when facing unexpected traffic spikes — keeping your site up and running, no matter what. The company's cloud platform is fully managed by the highly qualified DevOps specialists and comes with a free CDN, private DNS, and a dedicated IP address.
Scalable, speedy, and fully managed
FREE Cloudflare CDN and choice of 3 datacenters
Google Cloud partners for top-tier performance
cPanel/WHM, SSH access, and private DNS
24/7 VIP support and a dedicated IP
CLOUD
RATING 4.4 ★★★★★ Our Review
SiteGround: Our Expert's Review
Alexandra Anderson (HostingAdvice.com): SiteGround brings industry-leading performance and security to the cloud hosting space. The company offers supreme scalability and a fully managed support system, including an expert technical support staff and three datacenter locations for the enterprise client that demands the utmost reliability. Go to full review »
| Setup Time | Disk Space | CPU | RAM |
| --- | --- | --- | --- |
| 6 minutes | 40 GB SSD - 160 GB SSD | 4 - 16 cores | 8 - 20 GB |
Why You Should Find the Fastest Cloud Hosting and Storage Services
And there you have it. You know the fastest cloud hosting services on the market today — but do you really understand why that's so important? In web hosting, particularly in the realm of ecommerce, website performance greatly impacts vistor perceptions and the brand's ability to convert visitors to paying customers. To quote the great Ricky Bobby of Talladega Nights fame, "If you're not first, you're last."
As technology (and especially people's expectations) becomes faster and faster, the margin for delay is getting shorter and shorter. In 2012, retail giant Amazon calculated that a one-second slowdown could cost the company $1.6 billion in sales each year. Similarly, Google determined that slowing its search results by just four-tenths of a second would mean the search engine would see 8 million fewer queries per day.
Beyond sales conversions and customer loyalty, performance is a key indicator for where your website appears in search results. Google has said page load speed has been a ranking factor since 2010, but now the company looks at load times on mobile devices. Just 300 milliseconds separate the average page load time of a website on the first page of search results as compared to sites on the 10th page.
So, what have we learned today? Speed sells, performance is pivotal, and milliseconds matter. With redundant hardware and tons of scalable computing firepower, cloud hosting represents a promising chance to accelerate your online presence. The dozen cloud hosting providers we've tested and ranked above are easily up to the task of delivering your site to the masses.
See Our Full Review of InterServer
Whatever type of hosting plan you're looking for, InterServer is a solid choice no matter the scale. Our reviewer Laura Bernheim recently took InterServer for a spin, and rated the popular host a 4.3 in the Cloud Hosting category out of a perfect score of 5.0. Here's what Laura had to say about InterServer:
Built by web hosting geeks for web hosting geeks, InterServer is great for slightly more experienced hosting customers who don't mind paying a little more for premium services and support. The independently owned company runs its own datacenter, offers a bevy of unlimited features, and takes a hands-on approach to 24/7 support.
Before signing up for InterServer, it's a good idea to read through Laura's full review to learn about all the features InterServer offers. You can also compare it to other web hosts to ensure you're getting the best deal possible:
If you decide InterServer is the right choice, keep in mind that it takes just minutes to deploy your InterServer server space. And at $6.00 per month, it's a bargain considering the many great features that come in any InterServer plan.
Advertiser Disclosure
HostingAdvice.com is a free online resource that offers valuable content and comparison services to users. To keep this resource 100% free, we receive compensation from many of the offers listed on the site. Along with key review factors, this compensation may impact how and where products appear across the site (including, for example, the order in which they appear). HostingAdvice.com does not include the entire universe of available offers. Editorial opinions expressed on the site are strictly our own and are not provided, endorsed, or approved by advertisers.
Our Editorial Review Policy
Our site is committed to publishing independent, accurate content guided by strict editorial guidelines. Before articles and reviews are published on our site, they undergo a thorough review process performed by a team of independent editors and subject-matter experts to ensure the content's accuracy, timeliness, and impartiality. Our editorial team is separate and independent of our site's advertisers, and the opinions they express on our site are their own. To read more about our team members and their editorial backgrounds, please visit our site's About page.