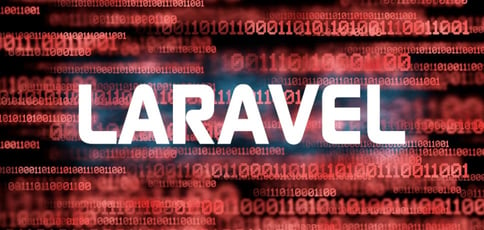 Web hosting doesn't have to be pricey; even the cheapest Laravel hosting services will give your Laravel application the support and reliability akin to that of a sturdy foundation of a home. While the success of your Laravel application may not be as high-stakes as building the bones of a house, we understand selecting the right companion for your hosting journey can make or break your venture.
Known as the PHP framework for web artisans, Laravel is an open-source coding framework that helps developers build applications quickly and painlessly. Using a framework to code helps developers speed up deployment by laying the foundation to add more complex functionalities. The less time you spend on the small stuff, the more you have to focus on creating your site.
Selecting the right hosting provider will help your Laravel app thrive. You have many web hosts and hosting plans to choose from, but the best providers have some critical features in common, including
Free SSL certificate
SSH access
Ample server space
Performance-packed servers
You'll want to keep an eye out for the specific features Laravel web hosting provides that improve operational efficiency and performance of your site. Our favorite cheapest Laravel hosting services will offer premium features such as one-click updates and installs, the latest version of PHP, and SSH access to the server to deploy code from your remote repository — all for a low monthly price.
So if you're unsure about which Laravel web hosting provider is right for you, check out some of our favorite picks.
Best Cheap Hosting for Laravel
A shared hosting service is perfect for websites with less than 10,000 monthly visitors. Customers on a shared plan must decide where they want to sit between cost and value for their hosting package. You can find hosting for your Laravel app for just a few dollars per month, and thanks to industry competition, the best providers toss in plenty of add-ons to entice potential customers.
We've teased out some of our favorite choices for the best Laravel hosting service. But, as a word of caution, if you plan to grow your site soon, you may be better off selecting a higher-powered plan from the get-go. Otherwise, you may find yourself outgrowing a shared server and needing to upgrade to a cloud or VPS hosting plan.
Multiple versions of PHP 5 and PHP 7 available
Code in PHP, with support for MySQL and Ruby
Customize your PHP version with PHP handlers
Easily configure the PHP environment with php.ini
Generate faster responses with FastCGI for PHP
PHP
RATING 4.9 ★★★★★ Our Review
Bluehost: Our Expert's Review
Ryan Frankel (HostingAdvice.com): Bluehost is a great option if you're looking for a PHP-friendly hosting environment. You get your choice of PHP version, which can also be customized and configured to meet your site-building needs. Go to full review »
| Money Back Guarantee | Disk Space | Domain Name | Setup Time |
| --- | --- | --- | --- |
| 30 days | 10 GB SSD – 100 GB SSD | FREE (1 year) | 5 minutes |
Choose your PHP version, from 4.4 to 8.1+
Easy-to-use PHP version switcher in cPanel
Support for MySQL, MariaDB, and phpMyAdmin
Advanced security features and FREE HackScan
FREE SSL security and SSH access
PHP
RATING 4.9 ★★★★★ Our Review
A2 Hosting: Our Expert's Review
Alexandra Anderson (HostingAdvice.com): Always at the front of the line when it comes to integrating updated versions of popular programming languages and technologies, A2 Hosting is always a strong pick for developers. The hosting company's ultra-fast SSD servers excel at every level. Go to full review »
| Money Back Guarantee | Disk Space | Domain Name | Setup Time |
| --- | --- | --- | --- |
| 30 days | 100 GB SSD – Unlimited SSD | New or Transfer | 4 minutes |
Support for Laravel, Symfony, and CodeIgniter
Easy PHP version control makes updating simple
Access manager lets you work with other devs
Deploy applications directly from Git repository
High-performance servers with 99.9% uptime
PHP
RATING 4.7 ★★★★★ Our Review
Hostinger: Our Expert's Review
Laura Bernheim (HostingAdvice.com): Don't underestimate Hostinger because of the insanely low price tag. The web host has a surprisingly (and refreshingly) thorough list of modern features and technologies, extending all the way to a robust PHP hosting experience. Go to full review »
| Money Back Guarantee | Disk Space | Domain Name | Setup Time |
| --- | --- | --- | --- |
| 30 days | 50 GB SSD – 200 GB SSD | FREE (1 year) | 3 minutes |
Best Cheap WordPress Hosting for Laravel
WordPress and Laravel go together like hammers and nails. Given that Laravel is a PHP framework, and PHP is the coding language behind WordPress, it's no surprise the two form a great team. The only thing that makes this dynamic duo even better is pairing it with the perfect WordPress hosting provider.
A2 Hosting is one of our favorite choices if you're planning on pairing Laravel with WordPress in the backend. This web host offers shared or managed plans with cPanel, where users can access Softaculous auto-installer for seamless Laravel installation.
A2 Hosting gives users turbo server speeds and a proprietary Site Accelerator that boasts 20 times faster page loads. You'll also benefit from its top-notch security, featuring virus scanning, firewalls, and brute-force attack protection. A2 Hosting is a top choice for WordPress hosting to power your Laravel site with maximum speed, performance, and security.
FREE Cloudflare CDN and 1-click WP installs
Turbo Server, SSD speed, and optimized caching
A2-optimized plugins for performance and security
FREE SSL certificates and 24/7 support
FREE HackScan and KernelCare
WORDPRESS
RATING 4.9 ★★★★★ Our Review
A2 Hosting: Our Expert's Review
Alexandra Anderson (HostingAdvice.com): As experts in performance optimization, A2 Hosting is a top choice for powering resource-heavy WordPress websites. The company offers shared or managed plans for the ultra-popular content management system, with the benefits extending to Joomla, Drupal, and other platforms. Go to full review »
| Money Back Guarantee | Disk Space | Domain Name | Setup Time |
| --- | --- | --- | --- |
| 30 days | 50 GB NVMe SSD – Unlimited NVMe SSD | New or Transfer | 4 minutes |
Best Cheap VPS Hosting for Laravel
Kamatera touts nearly 30 years of experience in the hosting industry. The experts at Kamatera back their VPS plans with cutting-edge cloud technology to give your Laravel website limitless scalability. Customers who purchase a virtual private server plan from this Laravel hosting provider can enjoy lightning-fast SSD storage and Intel Xeon Platinum CPUs. Plus, you won't have to worry about downtime because Kamatera's solid infrastructure pays off with an uptime of nearly 100%.
Kamatera also offers variety to its VPS hosting plan customers. Site owners have many customizations, including how much disk space, memory, and bandwidth they need. And if this doesn't offer enough variety, users can select from one of roughly 60 operating system versions. Kamatera's flexibility, scalability, and support make this web host one of our top virtual private server hosting choices.
Cloud VPS that's more flexible and affordable
Load balancer, firewall, and managed services
Premium Intel CPUs with 300% more power
Choose between monthly or hourly billing
Sign up today for a 30-day FREE trial
VPS
RATING 4.8 ★★★★★ Our Review
Kamatera: Our Expert's Review
Laura Bernheim (HostingAdvice.com): Backed by cutting-edge cloud computing technology, Kamatera adds instant and limitless scalability to the VPS hosting marketplace. Each cloud or virtual server is equipped with blazing-fast SSD storage and Intel Xeon Platinum CPUs. Go to full review »
| Setup Time | Disk Space | CPU | RAM |
| --- | --- | --- | --- |
| 5 minutes | 20 GB SSD – 4 TB SSD | 1 – 104 cores | 1 GB – 525 GB |
Other Cheap Laravel Hosts
Some of our other favorite web hosts provide quality service for a slightly higher — yet still affordable — monthly price. We like DigitalOcean for its cloud hosting services, which prioritize business-critical infrastructure and fully managed services that are perfect for organizations that are too large for a shared hosting plan.
Cloudways, now a part of DigitalOcean, provides various options for owners of eCommerce sites, WordPress sites, blogs, and business websites. You can access DigitalOcean's cloud servers through the Cloudways platform with a convenient pay-as-you-go pricing model.
Some of our favorite features include ample storage space, quick setup time, and the money-back guarantee listed below.
Choose your cloud provider, application, and server location
Easily scale server size, bandwidth, and storage
Launch WordPress or Magento with a single click
FREE CDN, managed backups, and staging areas
Get 25% OFF first 3 months with promo code HOSTINGADVICE
BEST OVERALL
RATING 4.8 ★★★★★ Our Review
Cloudways: Our Expert's Review
Alexandra Anderson (HostingAdvice.com): We appreciate providers that serve cost-competitive, customizable packages to simplify the too-many-choices nature of cloud hosting. Cloudways puts the power of choice in the customer's hands. Go to full review »
| Money Back Guarantee | Disk Space | Domain Name | Setup Time |
| --- | --- | --- | --- |
| 3-day FREE trial | 20 GB SSD – 4 TB SSD | New or Transfer | 8 minutes |
What is Laravel?
The last thing you want to do as a busy developer is spend time laying the basic foundation of your website. The Laravel framework helps dev teams skip the heavy legwork of coding simple functions repeatedly by providing a template of code to start. You can think of this as home builders who use pre-fabricated supplies. If you could purchase a pre-assembled frame for your home from a box, you probably would.
But instead of providing the foundation, basic electric, and wood framing for a house, Laravel provides help with authentication, routing, and HTML templates. Plus, the framework's modular setup makes adding functionality on top of the basics easy, providing maximum scalability. More key benefits to this framework include:
Security features such as email verification and authentication
Built-in cache drivers for speed
Easy integrations for applications such as email
We're not surprised that Laravel backs more than 20 million sites worldwide, including popular sites Invoice Ninja, Alison, and BarChart.
Which Server is Best for Laravel Projects?
Your web hosting provider doesn't have a particular Laravel server it uses to host your website. Instead, it has various types of servers and hosting add-ons that make for a better hosting experience than others do. When looking at hosting solutions for your Laravel web application, you'll see web servers come in many shapes and sizes, including cloud, VPS, dedicated, and shared hosting.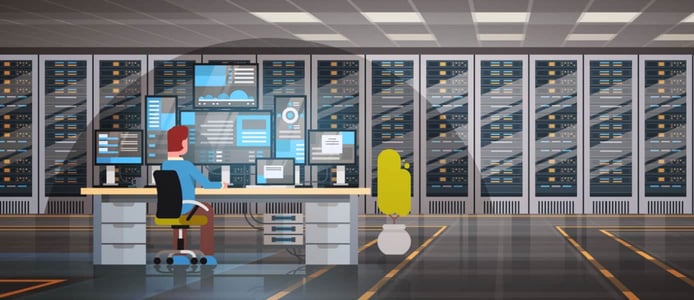 Choosing a provider is overwhelming when you're presented with many server types and enticing add-ons. Features such as unlimited bandwidth, free domain names, and a free SSL certificate may grab your attention. Plus, it can become overwhelming when you must choose between managed or unmanaged plans.
But don't stress; we've listed some of our favorite server feature combos to help you make the most of your Laravel web application. The hosting plan features that impress us the most include a free domain name, SSH access, a free SSL certificate, and turbo server access.
Cloud Hosting
Cloud web hosting uses multiple virtual servers, often located in different geographical regions, to host your website. The benefit of this infrastructure is that, if one of your cloud servers goes down, the other servers in your network seamlessly step in to prevent downtime.
Cloud hosting is the best choice when it comes to reliability and uptime — two reasons we recommend using a cloud server for your Laravel website. If that's not reason enough, due to the cloud's flexible infrastructure, it's easy to draw resources from the cloud's network to power your website as it grows.
VPS Hosting
A virtual private server (VPS) gives you performance similar to a dedicated server without the higher cost. On a VPS hosting plan, your web hosting service will allocate a dedicated amount of resources on a server, separated from other sites using virtualization software.
This setup provides greater security and customization than a shared hosting plan does. Plus, the virtualization software gives users full root access to customize the software configuration as they see fit. Many hosts will offer unmanaged and managed VPS plans to suit a range of technical expertise. Our favorite VPS hosting providers offer features that include:
One-click Laravel installation with Softaculous
Hardware and software configured for speed
Supreme redundancy and reliability
Budget-friendly plans
Live chat support
The downside to VPS hosting is that you can't guarantee privacy and security because you're still sharing a server. But with modern security features, your virtual private server is very secure.
Dedicated Hosting
Dedicated server hosting can take your Laravel website to the next level if you expect roughly 100,000 monthly visitors. Dedicated servers pack a powerful punch by providing unmatched speed and storage just for your website. While you will pay a premium for the resources of a dedicated server, large organizations may find the investment worthwhile. The best hosting with dedicated servers will have features that include:
DDoS protection
Server Secure Advanced Security
Integrated firewalls
Daily backups
Professional support
When you opt for dedicated server hosting, you can choose managed or unmanaged plans. Unless you have technical or administrative experience, we suggest selecting a managed plan. This allows you to focus on your website while your Laravel hosting provider takes care of the server's setup, hardware, security, and maintenance.
Shared Hosting
Shared web hosting is typically the least expensive option because you share server space and costs with other websites. For new website owners or sites with less than 10,000 monthly visitors, Laravel shared hosting is a decent choice to get your project up and running.
But be thoughtful when you select a shared plan for your Laravel application. If you're expecting your website to scale soon, you may have to upgrade your package, which negates the value of a super cheap plan.
If you go with a shared host for your Laravel website, you'll want to ensure it offers the right features and performance to help your site succeed. Keep an eye out for the following:
Easy one-click Laravel installation with Softaculous
Support for PHP 7.0
SSH access
Fast and secure service
Budget-friendly plans
Live chat support
If you have a smaller website and you think shared hosting is right for you, keep our recommendations in mind, and you're sure to make the right choice.
Can I Use Shared Hosting for Laravel?
A shared host offers many benefits such as beginner-friendly features and a low monthly price. But you may find that Laravel shared hosting doesn't provide the bandwidth and speed you require. Unless you plan to use the Laravel framework for a personal website or a small blog with less than 10,000 monthly visitors, you may be better off selecting a higher-powered VPS, cloud, or dedicated hosting plan.
If you're set on a shared hosting plan, you'll need to ensure your package offers enough storage, bandwidth, and speed for optimal site performance. You should also look for providers that offer features such as one-click Laravel installations with Softaculous and support for the latest version of PHP.
How Do I Install Laravel?
Your hosting platform may make Laravel installation surprisingly easy for those with limited technical skills. You can install Laravel in two ways:
1. If your hosting provider offers the Softaculous Auto Installer, log into your cPanel, open the Softaculous installer, and search for "Laravel." Click the Install button and follow the prompts to complete your installation.
2. If your hosting provider does not offer the Softaculous Auto Installer, you will need to begin the manual installation. This method requires technical know-how, so we recommend leaving this to the experts.
No matter your chosen method, you'll be glad to know you can install Laravel in as little as five minutes.
Can I Host Laravel Projects for Free?
At HostingAdvice, we love a free trial. Hosting solutions with no upfront costs appeal to customers because they allow them to test a hosting platform's performance in a no-risk setting. But, we advise you to use your best judgment when it comes to always-free hosting services.
The truth is web hosting costs money. The server maintenance, upkeep, and customer support require payment to operate, whether generated through advertisements or compensated by other hosting services the provider offers. So when you choose an entirely free provider, the free services may not be the most robust. Plus, you may quickly outgrow the limitations of a free plan and find yourself looking for a new provider before you even settle in.
When it comes to choosing a web host, think carefully about the size and traffic of your website. You can always go with an inexpensive hosting provider to stay within your hosting budget. If you select the best hosting provider for you, your Laravel application will thrive.
See Our Full Review of Bluehost
Whatever type of hosting plan you're looking for, Bluehost is a solid choice no matter the scale. Our reviewer Ryan Frankel recently took Bluehost for a spin, and rated the popular host a 4.9 in the PHP Hosting category out of a perfect score of 5.0. Here's what Ryan had to say about Bluehost:
Bluehost has a rock-solid reputation in the shared and WordPress hosting communities, and the host is a long-time favorite of mine. Today, Bluehost powers more than 2 million websites, and the team touts years of experience. With well-maintained servers, competitive pricing, and excellent customer support, Bluehost is hardly a pick you'll regret.
Before signing up for Bluehost, it's a good idea to read through Ryan's full review to learn about all the features Bluehost offers. You can also compare it to other web hosts to ensure you're getting the best deal possible:
If you decide Bluehost is the right choice, keep in mind that it takes just minutes to deploy your Bluehost server space. And at $2.95 per month, it's a bargain considering the many great features that come in any Bluehost plan.
Advertiser Disclosure
HostingAdvice.com is a free online resource that offers valuable content and comparison services to users. To keep this resource 100% free, we receive compensation from many of the offers listed on the site. Along with key review factors, this compensation may impact how and where products appear across the site (including, for example, the order in which they appear). HostingAdvice.com does not include the entire universe of available offers. Editorial opinions expressed on the site are strictly our own and are not provided, endorsed, or approved by advertisers.
Our Editorial Review Policy
Our site is committed to publishing independent, accurate content guided by strict editorial guidelines. Before articles and reviews are published on our site, they undergo a thorough review process performed by a team of independent editors and subject-matter experts to ensure the content's accuracy, timeliness, and impartiality. Our editorial team is separate and independent of our site's advertisers, and the opinions they express on our site are their own. To read more about our team members and their editorial backgrounds, please visit our site's About page.