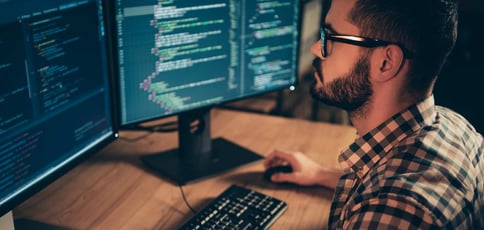 When tracing the history of the best Unix web hosting, developers credit the popular operating system as the impetus for affordable and user-friendly hosting services — much like how the Big Bang kicked off the start of the universe.
While the universe likely started with a massive explosion, web hosting traces its roots to Bell Labs and AT&T in the 1960s and '70s. Unix, which provides the groundwork for everything from Linux and FreeBSD to macOS, now powers more than 71% of all websites. Thanks to Linux and its many distributions, the software is often a free and open-source component of many successful hosting stacks.
Given the widespread popularity of Unix-based systems, identifying the best environments is a daunting endeavor. That's why we've sifted through the cream of the crop to give you the hosts that showcase all the wonderful features Unix pioneered.
Best Value Unix Web Hosting
Despite being created in a commercial environment, Unix revolutionized early computing by prioritizing affordability and accessibility. Developers charged only a nominal fee for the educational use of Unix, which ran on inexpensive hardware and was easy to adapt and migrate to different machines.
Now, dozens of Unix, Linux, and BSD variants and distributions are free and maintained by open-source communities of programmers around the world. In addition to commercial Unix operating systems, the platform is especially popular via the BSD brand — particularly FreeBSD and OpenBSD. Linux-based operating systems are the base layer of the ultra-popular LAMP stack powering most hosting environments: Linux, Apache, MySQL, and PHP.
Given the cost-effectiveness of running Linux on servers hosting thousands of websites, it's no surprise that the world's largest hosting companies all promote Unix-based packages. Here are a handful of companies we think rise above the crowd when it comes to high-value Linux hosting:
Best VPS Unix Web Hosting
For those looking for more computing resources or control over their hosting environment, virtual private servers open up a treasure chest of more Unix-based operating systems you can choose from. Thanks to server virtualization, each VPS tenant can install his or her own operating system independently of the hosting provider and other customers on the same physical machine.
Even better, Unix VPS hosting doesn't have to break the bank. Our list of the top cheap Linux VPS hosting plans show that you can get started for roughly $5 per month, with site owners still able to find a ton of value by spending up to $20 per month. Because of the added technical pressure placed on VPS customers (with great power comes great responsibility) to properly customize, secure, and optimize their environments, you'll want to be sure to sign up with a host that offers always-there support alongside the powerful infrastructure and technologies.
Here, we're highlighting the VPS hosting providers we trust the most to find that sweet spot of managed services, affordability, flexible environments, and superb operating system options. These hosts represent the best of the best when it comes to Unix-based virtual private servers.
See other top Unix VPS hosts »
What is Unix Hosting?
Now that we've run through the top features and price points to look for, let's take a step back and talk about Unix hosting more broadly. Site owners will more commonly see plans marketed as using a Linux-based operating system, but there are slight differences between Linux and Unix you should know about.
As we alluded to earlier, Unix is specifically a largely commercial product with closed, vendor-specific costs and development. In addition to the work done by AT&T (that continues today), Unix has been popularized through distributions from Oracle (Solaris), IBM (AIX), Hewlett-Packard (HP-UX), and Apple (macOS). Unix is typically used on servers, mainframes, and other complex computing systems, while Linux distributions tend to be more prevalent on consumer-oriented devices. A third option, BSD-based operating systems like FreeBSD and OpenBSD, resides between the two extremes as a developer-friendly open platform.
In response to the 1980s launch of the GNU Project, an ambitious undertaking to create a free and open Unix-like system, Linus Torvalds released the Linux kernel as free software under the GNU General Public License in 1991. The Linux kernel, along with collections of compatible software packages, combines to form dozens of Linux distributions popular with PC users, developers, and website owners:
Thanks to the global communities of developers, Linux has been adapted to serve a wide variety of requirements, technologies, and tech-savviness. Cost-effective Linux and BSD operating systems cover most hosting needs and are expanding into new markets like consumer-grade desktop, mobile, and embedded devices.
Unix vs. Windows Web Hosting: Which is Best?
Before you even get to the point of choosing which Unix or Linux operating system to use, you'll first probably want to rule out one other option: Windows. Despite the familiar name, the Windows Server operating system is vastly different than what you're used to seeing on your PC.
At the most basic level, the Linux hosting vs. Windows hosting debate boils down to the programming language and software components you wish to use to build and operate your website. Linux hosting is the natural choice for most hosting customers. Unless you have a specific reason to use Windows, such as running a website or application through the ASP.NET or the .NET frameworks, chances are that a Unix-based hosting environment will be best for you.
For comparison's sake, however, take a look at our highest-recommended Windows shared hosting plans. You can get a sense of the important features, technologies, and prices you should look out for when shopping for Unix alternatives:
Strong hosting to launch your ASP.NET site
Install apps with a single click via Plesk
FREE domain and unlimited bandwidth included
Award-winning support from the HostGator team
Support for ASP.NET, PHP, Python, and MVC
WINDOWS
RATING 4.7 ★★★★★ Our Review
HostGator: Our Expert's Review
Ryan Frankel (HostingAdvice.com): HostGator is a legacy host in just about every niche of the shared hosting space. The company's powerhouse Windows hosting solutions bring everything you need to quickly launch a Windows application or ASP. Go to full review »
| Money Back Guarantee | Disk Space | Domain Name | Setup Time |
| --- | --- | --- | --- |
| 30 days | Unlimited | FREE (1 year) | 4 minutes |
ASP.NET, ASP, MSSQL, Silverlight, and MVC6
FREE RAID-10 storage and SSD caching servers
Unlimited storage, websites, transfer, and email
Automated weekly backups and FREE CDN
NO contracts and price is guaranteed for life
WINDOWS
RATING 4.7 ★★★★★ Our Review
InterServer: Our Expert's Review
Laura Bernheim (HostingAdvice.com): Built for speed, InterServer is a perfect solution for developer-friendly Windows shared hosting. In addition to offering a free site migration, the company uses only 50% of its server capacity to guarantee resources are available as your site grows. Go to full review »
| Money Back Guarantee | Disk Space | Domain Name | Setup Time |
| --- | --- | --- | --- |
| 30 days | Unlimited SSD | New or Transfer | 4 minutes |
Because of Microsoft's reputation in the business world and the popularity of the company's Azure cloud platform, Windows represents a secure and scalable option for established organizations with more demanding computing workloads. Here are our rankings of the best Windows VPS hosting plans to compare with the Unix and Linux options above.
Cloud-powered SSD VPS with Intel Xeon vCPUs
Run any Linux or Windows operating system edition
Superb 99.95% uptime rate and 24/7 support
Up to unlimited Plesk licenses available
30-day FREE trial with no hidden fees
WINDOWS VPS
RATING 4.8 ★★★★★ Our Review
Kamatera: Our Expert's Review
Laura Bernheim (HostingAdvice.com): Featuring tons of scalability and operating system choices, Kamatera represents an affordable VPS hosting provider for Windows users. The web host's global presence and optional managed services ensure your site is performing optimally. Go to full review »
| Setup Time | Disk Space | CPU | RAM |
| --- | --- | --- | --- |
| 5 minutes | 20 GB SSD - 4 TB SSD | 1 - 104 cores | 1 GB - 525 GB |
Powerful Windows VPS for $12/month
100% SSD storage and 99.99% uptime guarantee
Full root access and optional Plesk control panel
Unlimited bandwidth and instant scalability
30-day money-back guarantee
WINDOWS VPS
RATING 4.8 ★★★★★ Our Review
1&1 IONOS: Our Expert's Review
Alexandra Anderson (HostingAdvice.com): A long-time internet industry innovator, 1&1 IONOS maintains competitive pricing and robust in-house technologies. The host's virtual cloud servers accommodate unlimited site traffic, and you're given the power to choose your operating system, datacenter location, RAM, and storage configurations. Go to full review »
| Setup Time | Disk Space | CPU | RAM |
| --- | --- | --- | --- |
| 6 minutes | 80 GB SSD - 240 GB SSD | 2 - 6 cores | 2 GB - 12 GB |
See other top Windows VPS hosts »
What are the Advantages of Unix?
Although Windows and macOS dominate the personal computer operating system landscape, Unix and Linux are the major forces when it comes to servers and web hosting environments. Why, you may ask? And we're glad you did, as here are some of the top benefits to using Unix hosting:
Cost: Thanks to Windows' high licensing fees, price-conscious hosting consumers will find better bargains with Unix and Linux hosting. Many of the programs and associated technologies, including MySQL databases, are free and developed in open-source communities.
Compatibility: Sure, you can run databases, PHP, and other applications like WordPress through Windows environments, but you may notice some subtle differences or jump through a few extra hoops.
Performance and stability: Unix-based operating systems are designed to handle high traffic loads without as many reboots and updates as those Windows requires. That means more efficient page load speeds and less downtime.
Naturally, Unix and Linux hosting is not always sunshine and rainbows. Some potential drawbacks to Unix include not being able to run Windows-friendly technologies like Microsoft SQL databases or the .NET family of languages and frameworks.
Perhaps a larger sticking point is the operating system's reliance on secure shell commands in a terminal or other command line interface. This can be especially intimidating for newbies getting started with their first VPS because you can royally mess up your environment with the wrong commands. Fortunately, most users won't have to go down that rabbit hole with user-friendly Unix plans.
Unix vs. Windows Hosting: Which is the Best Hosting for WordPress?
Given the power and popularity of the LAMP stack (remember, that's Linux-Apache-MySQL-PHP), Unix is generally considered the supreme option for WordPress and other content management systems. However, Windows users can still run and optimize WordPress in much the same way— it just may not be as smooth a process.
Site owners will notice a few subtle differences in certain components and functions, depending on which operating system they're on. For instance, Windows users will likely need to update the web.config file in the ASP.NET framework to allow for pretty permalinks. Additionally, PHP operates differently on the two operating systems when it comes to mail — meaning that contact forms on your WordPress site may transmit messages a little slower if you use Windows.
The Linux speed benefits especially shine through with WordPress hosting. The content management system can be a heavy consumer of server resources at times, but an estimated 20% edge in performance for Linux offsets any potential slowdowns nicely.
That being said, keep in mind that content management systems (including Joomla, Drupal, and others) have web-based administrative portals, making your interactions with writing posts, adding media, and updating your theme exactly the same across operating systems.
What to Look for in a Professional Unix Web Hosting Provider
Because Unix, BSD, and Linux-based systems are so popular in web hosting, the attributes for a strong host are pretty common. Obviously, the price is always one of the first characteristics that hosting shoppers look at, but it's not necessarily a good descriptor of the quality of services you can expect to receive.
You can find stellar Unix hosting for just a few dollars per month, but those willing to spend even more can discover upgraded features and add-on tools.
In this case, uptime guarantees are a good indicator of the attention a hosting provider pays to effectively running, maintaining, and supporting Unix systems. Because the family of operating systems is known for stability to start with, any extra promised uptime is icing on the cake. Don't settle for anything less than 99.9%.
Naturally, you may prefer a specific Unix flavor for your hosting stack. CentOS and other Linux-based distros are generally the most common, but you can uncover plenty of Ubuntu, Debian, and FreeBSD options with a little more digging.
Because of the benefits to performance and email, look for a plan that capitalizes on those Unix-based advantages. Click here to check out our favorite email hosting providers, along with those with high-powered solid-state drives that promise up to 20-times-faster page loads.
See Our Full Review of A2 Hosting
Whatever type of hosting plan you're looking for, A2 Hosting is a solid choice no matter the scale. Our reviewer Alexandra Anderson recently took A2 Hosting for a spin, and rated the popular host a 4.9 in the Linux Hosting category out of a perfect score of 5.0. Here's what Alexandra had to say about A2 Hosting:
With an emphasis on performance and an eye for detail, A2 Hosting largely avoids the typical shortcomings of many web hosts out there. The independently owned company balances high-powered infrastructure and developer tools with equally responsive customer support teams, giving experienced customers a highly optimized hosting experience.
Before signing up for A2 Hosting, it's a good idea to read through Alexandra's full review to learn about all the features A2 Hosting offers. You can also compare it to other web hosts to ensure you're getting the best deal possible:
If you decide A2 Hosting is the right choice, keep in mind that it takes just minutes to deploy your A2 Hosting server space. And at $2.99 per month, it's a bargain considering the many great features that come in any A2 Hosting plan.
Advertiser Disclosure
HostingAdvice.com is a free online resource that offers valuable content and comparison services to users. To keep this resource 100% free, we receive compensation from many of the offers listed on the site. Along with key review factors, this compensation may impact how and where products appear across the site (including, for example, the order in which they appear). HostingAdvice.com does not include the entire universe of available offers. Editorial opinions expressed on the site are strictly our own and are not provided, endorsed, or approved by advertisers.
Our Editorial Review Policy
Our site is committed to publishing independent, accurate content guided by strict editorial guidelines. Before articles and reviews are published on our site, they undergo a thorough review process performed by a team of independent editors and subject-matter experts to ensure the content's accuracy, timeliness, and impartiality. Our editorial team is separate and independent of our site's advertisers, and the opinions they express on our site are their own. To read more about our team members and their editorial backgrounds, please visit our site's About page.