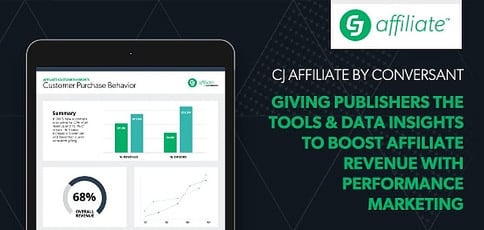 TL; DR: Affiliate marketing is top of mind for many site owners — or at least it should be. The practice enables web publishers to monetize content without bombarding visitors with advertisements they don't want to see. And thousands of site owners are turning to CJ Affiliate to get these revenue streams flowing. Powered by ad tech giant, Conversant, CJ Affiliate gives publishers access to a network of top advertisers looking to get in front of relevant audiences to drive conversions. The goal is to unite advertisers, site owners, and consumers under a performance marketing umbrella that benefits all parties.
Jo-Lynne Shane had a weakness for skinny jeans, white wine, and good food. So she did what many who are passionate about fashion and contemporary living do — she started a blog.
However, unlike the millions of blogs that start strong only to evaporate into the ether, Jo-Lynne's project proved to be wildly successful. Her beauty tips and recipes were attracting visitors in droves, and she knew she had something big on her hands. That's when she turned to CJ Affiliate to monetize her content.
The company's affiliate marketing program was an immediate hit, and, when Jo-Lynne signed on for a CJ Content-Certified designation, profits skyrocketed. By partnering with CJ Affiliate, Jo-Lynne gained access to a vast network of advertisers looking to get in front of her audience. While her story is impressive, thousands of web entrepreneurs have found similar success.
Affiliate marketing is a widely popular method to earn money online. The practice brings advertisers and publishers together to drive revenue for both parties by presenting site visitors with ads and offers relevant to their interests.
Conversant, the digital media company behind CJ Affiliate, delivers personalized advertising powered by a wealth of insightful customer data. With more than 4,000 clients, Conversant's ability to make a consumer's every interaction with a brand unique and relevant helps drive revenue for some 400-plus blue-chip brands. Affiliates can earn money through a variety of payment models, including pay-per-click, revenue share, and — the most common method used by CJ Affiliate — PPA, or pay-per-action.
PPA is a performance-based revenue model wherein publishers are paid an incentive to drive traffic to specific action-based leads, which often involve sign-ups and submitting information. With performance-based models, merchants are guaranteed cost-effective results, as payouts are only given when a specific action is completed.
"Unlike other channels, like pay-per-click or pay-per-view marketing, pay-per-action guarantees advertisers can reward publishers for leading customers to specific actions," said Aruna Bhagtani, CJ Affiliate's Director of Product Management. "This performance-based pricing model typically motivates a lot of website owners to drive those actions."
Built to Get Advertisers in Front of Audiences Relevant to Their Brands
Common actions involved in the PPA model include email and form submissions, as well as coupon prints. These actions can suit a broad range of niches, as many websites already feature email newsletters, feedback forms, and eCommerce capabilities — visitors are likely to be very familiar and comfortable with these actions, without feeling bombarded by sales tactics.
"Because a lot of these site owners have their own extremely loyal customer base, affiliate marketing relationships give our advertisers access to a wider target audience," Aruna said. "This enables them to extend their footprint on a much more global scale."
To make leads and advertisements more appealing to customers requires personalization — uncovering what interests users and what will motivate them toward that signup or sale. Relevant offers, such as cash back or discounts on specified hotel reservations, for example, are an excellent fit for travel blogs or retailers who specialize in related niches.
"We have a variety of enterprise publishers that operate within different business models, such as coupon and deals and loyalty deals, which essentially provide deals and cash back for customers," Aruna said.
CJ Affiliate works with a broad range of niches and business types, from major enterprise-level retailers to online magazines and blogs.
"We also work closely with content publishers who tend to have a more engaged audience, where people visit the site mainly to consume the content," Aruna said. "They are often looking for more recommendations on brands to purchase from or products to buy from those specific publishers."
For SMBs in virtually any market, offers and ads can be tailored to audiences using Conversant's advanced insights.
Leveraging the Conversant Platform For Actionable Marketing Insights
As the world's largest affiliate marketing network, CJ Affiliate fosters connections between advertisers and publishers, enabling them to build mutually beneficial partnerships. The platform's interface provides tools for versatile account management, consumer insight measurement with cross-device tracking, and integrates powerful personalization data from Conversant.
"We generate a lot of transactional data, which gets utilized when we're assigning credit to affiliates," Aruna said.
Customer data provides valuable information regarding what brands, demographics, and campaigns perform well together. Leveraging such a mass of data places Conversant at the center of more than 1 trillion real-time transactional decisions daily.
Conversant's expansive database contains upward of 160 million consumer profiles and details a number of profile attributes, including browsing habits and perceived demographics.
"We can use those attributes for the purpose of trying to identify a specific individual across multiple devices," Aruna said.
For example, when a user researches a brand on numerous platforms, advertisers can now connect the dots across different devices and know its the same user, allowing for more accurate statistics and publisher credits.
"We can also use a variety of profile information to help publishers create a more personalized experience for when that individual lands on their site," Aruna said.
Conversant boasts an impressive 96% accuracy rate when matching users across devices.
Shaping Affiliate Partnerships With Performance Marketing
A personalized user experience leads to higher conversion rates, as well as greater brand engagement, as site visitors are only exposed to ads and campaigns that interest them.
"We serve as an intermediary between the advertiser and publisher," Aruna said.
Conversant allows advertisers to be more efficient with spending; targeting only specific, narrow audiences that publishers help connect to the client.
"Omni-channel marketing, the rise of influencer marketing, device interaction, and data availability are some of the major things shaping modern affiliate partnerships, as well as really pushing performance marketing to the forefront," Aruna said.
Influencer marketing refers to the process of influencing leads through the trust and expertise of niche-authoritative figures such as bloggers, authors, and analysts.
By studying performance indicators, CJ Affiliate has proven just how effective the affiliate channel has been in not only raising leads and profits, but in strengthening the bond between clients, customers, and affiliate partners. To achieve the highest data quality, CJ Affiliate uses a number of proprietary data points, including recording which affiliates drive new and loyal customers.
"We leverage the data that we have to try and help clients understand the types of customers who are using the affiliate channel," Aruna said. "They can also use those data points to see how much revenue, as well as the percentage of new customers being acquired, through affiliate."
While CJ Affiliate and Conversant have been in the market for a number of years, the explosive popularity of mobile devices has made offer tracking more difficult. To combat this, Conversant has developed technology that recognizes individual customers across all their devices. The personalization process takes into account numerous factors, such as loyalty, life stage data, and location — considering the relevancy of localized ads, as well. Conversant's ability to accurately identify cross-platform users, combined with its proprietary data, means advertisers and publishers obtain the most precise and actionable data possible.
Uniting 4,000 Retailers With 160 Million Consumer Profiles
Performance-based pricing models like PPA are the most common in the industry — and for good reason. They save advertisers money and are easy for publishers to implement within their website structures. In addition, many customers find a quick submission form an easy task, especially if it's related to an offer or niche that piques their interest.
"What attracts a lot of publishers to our network is the variety of brands that operate within CJ Affiliate's network," Aruna said. "We also have the technology stack and the data insights required to create more transparency surrounding those affiliate partnerships."
CJ Affiliate, together with the power of actionable data provided by Conversant, helps thousands of site owners worldwide open up new revenue streams for highly specific niche audiences.
"One of the main things we're focused on is giving more flexibility to advertisers in terms of how they commission publishers," Aruna said.
CJ Affiliate strengthens the relationship between consumer, advertiser, and publisher by marrying advertiser insights with the knowledge that publishers have regarding niche audiences interested in everything from skinny jeans to white wine and beyond.
Uniting publishers with thousands of retailers and a customer data pool in the hundreds of millions enables them to work with a variety of offers and niches to find the most suitable campaigns. In turn, customers are served relevant ads that lead to higher rates of engagement and conversion.
Advertiser Disclosure
HostingAdvice.com is a free online resource that offers valuable content and comparison services to users. To keep this resource 100% free, we receive compensation from many of the offers listed on the site. Along with key review factors, this compensation may impact how and where products appear across the site (including, for example, the order in which they appear). HostingAdvice.com does not include the entire universe of available offers. Editorial opinions expressed on the site are strictly our own and are not provided, endorsed, or approved by advertisers.
Our Editorial Review Policy
Our site is committed to publishing independent, accurate content guided by strict editorial guidelines. Before articles and reviews are published on our site, they undergo a thorough review process performed by a team of independent editors and subject-matter experts to ensure the content's accuracy, timeliness, and impartiality. Our editorial team is separate and independent of our site's advertisers, and the opinions they express on our site are their own. To read more about our team members and their editorial backgrounds, please visit our site's About page.