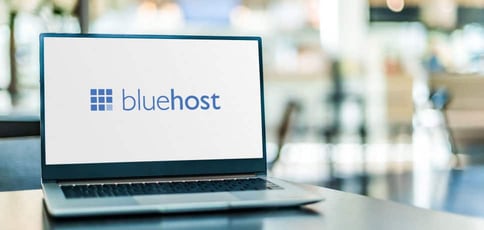 Bluehost offers simple, WordPress-backed hosting packages, but we have five Bluehost alternatives that may rival its services. Before we name our favorites, let's dive into the background of Bluehost. Since 2003, Bluehost has delivered all-in-one hosting solutions built to make the web accessible for everyone. And it has done so with easy-to-use dashboards, one-click WordPress installations, and seamless hosting management while landing a glowing recommendation from WordPress.org itself.
Web hosts have different value propositions, hosting environments, and feature combinations. That's what makes the hosting world turn, after all. These differences help hosting companies find their niche audiences. While Bluehost may work for one user, its drawbacks can be glaring for another. It is more limited in performance and security than other budget hosts that have lower price tags. Although Bluehost makes for a fantastic starting point for beginners in their hosting journey, more experienced website owners may want more value and features for their web goals.
Below, we will review our top five Bluehost alternatives for different categories, including WordPress, pricing, performance, cloud services, and site-building. Read on for more information about each host's features and how they fare against Bluehost hosting layout.
SiteGround: Best for WordPress (Starting at $2.99)
Our first Bluehost alternative is a WordPress hosting competitor, SiteGround. Although SiteGround offers multiple server packages, let's look at its WordPress hosting and how it shapes up against Bluehost. SiteGround simplifies the hosting experience by providing managed WordPress hosting plans that come with all the bells and whistles. Users don't have to worry about maintenance tasks, as it delivers automatic WordPress and plugin updates, expert support, daily backups, and a WP Migrator that makes site migration simple. SiteGround also goes a step further in the security department by setting users up with a custom web application firewall and monitoring to block emerging application vulnerabilities.
Some of our favorite SiteGround features include:
Enhanced security
Free CDN and an email account migrator
Out-of-the-box caching
Unmetered traffic
SiteGround also goes above and beyond by enlisting a 100% renewable energy match for all its plans. Another highlight of its hosting package is that users can add collaborators to their sites who can access individualized SiteGround accounts to help build or maintain sites.
Officially endorsed by WordPress.org
FREE migration plugin or automated installation
Pre-installed Git, 3 caching levels, and FREE CDN
FREE WP setup wizard, staging, and auto-updates
Fast, 24/7 support via custom chat system
WORDPRESS
RATING 4.9 ★★★★★ Our Review
SiteGround: Our Expert's Review
Alexandra Anderson (HostingAdvice.com): Want a hassle-free, WordPress-optimized hosting service. SiteGround has thought of everything you need to get your site up and running. Go to full review »
| Money Back Guarantee | Disk Space | Domain Name | Setup Time |
| --- | --- | --- | --- |
| 30 days | 10 GB SSD – 40 GB SSD | FREE (1 year) | 6 minutes |
Hostinger: Best Price (Starting at $1.99)
Hostinger's prices are so low, you would think it wouldn't fully deliver on the hosting side. But Hostinger proves that notion wrong with its fantastic performance and feature set that optimizes the hosting journey from setup to end-user experience. Hostinger is committed to providing top-notch hosting while at the same time beating Bluehost pricing.
Its all-in-one solution equips users with the essentials to start a website, including domain name registration, email account solutions, a website builder, a DNS firewall, and weekly backups. Hostinger is also ideal for beginners. The hosting company offers an easy-to-use control panel, hPanel, to help your website build in an instant with streamlined navigation.
Some of our favorite Hostinger features include:
Unlimited free SSL certificates
WordPress acceleration
99.9% uptime guarantee
24/7 live support
Hostinger is also global, owning datacenters around the world in Europe, Asia, the US, and Brazil. As for performance, Hostinger can handle a fair share of traffic on fast speeds powered by LiteSpeed servers, allowing users to deliver a pleasant user experience for visitors. Hostinger is truly the affordable Bluehost alternative with the most bang for your buck.
Unlimited everything, from storage to databases
FREE site builder & WP performance upgrades
FREE daily or weekly backups
Custom control panel and auto-installation scripts
SSH access & unlimited FREE SSL certificates
CHEAP
RATING 4.8 ★★★★★ Our Review
Hostinger: Our Expert's Review
Laura Bernheim (HostingAdvice.com): As the shared hosting market becomes increasingly saturated, unlimited storage, bandwidth, and email accounts have become surprisingly average. Hostinger, however, extends the routine, expected metrics to greater lengths — the number of websites, databases, FTP users, subdomains, and parked domains are all unrestricted for most customers. Go to full review »
| Money Back Guarantee | Disk Space | Domain Name | Setup Time |
| --- | --- | --- | --- |
| 30 days | 50 GB SSD – 200 GB SSD | FREE (1 year) | 3 minutes |
InMotion Hosting: Best Uptime (Starting at $2.29)
Uptime is essential to the success of a website. It's the measurement web hosts use to communicate the amount of time your website is up and running and available to users. Although the standard in the hosting industry is a 99.9% uptime guarantee, other factors can also be assessed to assure server performance, including load balancing, security measures, and high-performing infrastructure.
InMotion Hosting excels in uptime by providing a complete suite of tools to boost server performance. Its security tools, combined with two times faster speeds and performance, guarantee users an efficient hosting environment to build their websites.
Some of our favorite InMotion Hosting features include:
Unlimited NVMe SSD storage on higher-tier plans
Developer-friendly shared hosting
24/7/365 live chat support
Unlimited bandwidth
InMotion also offers cPanel integration for simple server management and feature navigation. It's hard to overlook the benefits of InMotion's hosting plans. With InMotion, you can take your website performance to the next level while giving end-users a quick and secure experience.
FREE BoldGrid site builder and templates
FREE website, domain, and cPanel migrations
SSD storage makes your site load up to 20x faster
Security suite includes SSL and hack protection
Unlimited bandwidth and email accounts
CHEAP
RATING 4.6 ★★★★★ Our Review
InMotion: Our Expert's Review
PJ Fancher (HostingAdvice.com): InMotion Hosting offers an excellent business-class shared hosting plan — with a price tag lower than several other budget hosts. For the IT crowd in the audience, you'll appreciate SSH access, as well as support for PHP, Ruby, Perl, Python, WP-CLI, and other popular languages. Go to full review »
| Money Back Guarantee | Disk Space | Domain Name | Setup Time |
| --- | --- | --- | --- |
| 90 days | 100 GB SSD – Unlimited | FREE (1 year) | 5 minutes |
Liquid Web: Best Cloud Services (Starting at $15.00)
Liquid Web offers a tailored cloud platform for flexible and secure hosting solutions. Users looking for more power and technical capabilities can leverage the flexibility of cloud hosting with Liquid Web.
Although Liquid Web's platform requires technical expertise, the hosting company also provides managed services to help users navigate their cloud network with hands-free management and incredible SLAs. Liquid Web's server resources are ideal for users with larger projects in mind, as it offers high performance and customizability.
Some of our favorite Liquid Web features include:
24/7/365 Human Support with live chat
10 global datacenters
FREE backups, CDN, and DDoS protection
Liquid Web's reliable cloud hosting services and exceptional customer support could help power any project, from a company website to a next-level web application. If you're looking for a web host with powerful yet dedicated hosting, Liquid Web should be on your shortlist.
High-speed hosting that's faster than AWS, Rackspace, and Digital Ocean
FREE backups, CDN, and DDoS protection
Up to 16 processors with all-SSD storage
Choice between cPanel, Plesk, or InterWorx
Real-time monitoring and 100% uptime guarantee
VPS
RATING 4.6 ★★★★★ Our Review
Liquid Web: Our Expert's Review
Alexandra Anderson (HostingAdvice.com): It's no secret by now that Liquid Web is known for best-in-class technology and reliability that exceeds expectations. The company's cloud VPS environments embody that reputation to its fullest — including managed WordPress and WooCommerce products. Go to full review »
| Setup Time | Disk Space | CPU | RAM |
| --- | --- | --- | --- |
| 7 minutes | 40 GB SSD – 200 GB SSD | 2 – 8 cores | 2 GB – 16 GB |
Wix: Best Site Builder with Hosting (Starting at $0.00)
Website builders have helped democratize the web in more ways than one. Users no longer need technical expertise to build a website or rely on expensive web agencies to create a web presence. With no-code site builders, users can get their website up and running within minutes.
Wix, a giant in the site-building industry, offers a no-code website builder along with hosting plans to assist users with their web hosting journey. Wix's drag-and-drop design editor includes tons of functionality, templates, and customizable themes for personalization. Another highlight is that users can get started with Wix for free.
Some of our favorite Wix features include:
Thousands of template designs
eCommerce functionality
Budget-friendly starter plan
Easy-to-use interface
No coding skills needed with drag-and-drop builder
100s of templates with niche-specific designs
Add features via the App Market and Wix Events
Easily create ecommerce functionality easily
Great way to build small sites on a budget
WEBSITE BUILDER
RATING 4.9 ★★★★★ Our Review
Alexandra Anderson (HostingAdvice.com): Website building is where Wix shines. The thousands of templates, the intuitive editor, the industry-leading designs that cater to a variety of specific fields and use cases — all these facets represent a platform that excels at facilitating easy web design for the non-tech-savvy user. Go to full review »
| Money Back Guarantee | Disk Space | Domain Name | Setup Time |
| --- | --- | --- | --- |
| 14-day FREE trial | 2 GB – Unlimited | FREE (1 year) | 4 minutes |
Wix supplies users with industry-leading designs that can fit any field or use case. Whether you're a beginner or an experienced website owner, Wix makes website creation a breeze and gives users the tools and customization options to create stand-out storefronts or stylish blogs. Wix may not have the most powerful hosting performance, but it does have one of the best site builders and designs on the market for no-code tools.
What is WordPress Hosting?
WordPress is the only CMS with its own hosting subcategory, displaying its power and popularity among website owners and high-profile companies. WordPress powers more than 43% of the web, meaning 2 out of every 5 websites leverage WordPress for user experience. But what exactly is WordPress hosting?
Unlike other hosting plans, WordPress hosting doesn't have its own specific server infrastructure. Instead, web hosting providers can use servers they already have and optimize them for WordPress software. These optimizations can include WordPress-specific caching technology, one-click WordPress installation, and other WordPress acceleration plugins.
Web hosts typically use shared or VPS servers to support their WordPress hosting environments, depending on the capabilities and power users want. By purchasing a WordPress plan, users can also leave their WordPress updates and maintenance in their hosting provider's hands. Many companies, including WP Engine and WPX Hosting, offer managed WordPress hosting packages that include all the essential features in addition to free site migration, malware removal, and other management duties.
WordPress hosting truly caters to the needs of the CMS software and its users. It's a top choice for a WordPress website and helps simplify the journey for many users. If you're looking for a tailored environment with all the bells and whistles, WordPress hosting can be an excellent fit for you as a WordPress user.
What is Uptime?
Uptime and downtime exist to inform users of the reliability of their web host. Uptime serves as a measurement to monitor the amount of time that servers hosting user websites are up and running. Downtime, on the other hand, communicates the amount of time a website isn't available on the web.
Most hosting providers, including Bluehost, offer the industry standard of a 99.9% uptime guarantee for their hosting services. But that doesn't necessarily mean that your website will be available at all times. Instead, a 99.9% uptime guarantee ensures that users will receive compensation from their web host if their uptime is below the stated percentage, meaning downtime is bound to happen.
Although downtime is inevitable, not all downtime is the same. Scheduled server maintenance, security threats, server overloads, power outages, and hardware issues can all contribute to downtime. But seeing which one happens most often can help you determine the viability of your host's server performance. Constant server overloads will carry more of a negative impact than scheduled overnight server maintenance. That is why choosing a reliable web host and server type that meets your performance needs will always be necessary.
What is Bluehost Best Used For?
Bluehost is a popular web hosting service among WordPress users because of its beginner-friendly plans and tailored environment. Bluehost goes above and beyond for WordPress users with in-house WordPress experts ready to help and multiple tailored features and plugins for users to leverage. The WordPress community also recognized Bluehost as one of the best web hosting providers for WordPress hosting. Other than WordPress hosting, Bluehost is ideal for beginner website owners starting their web journey and needing a starter plan that isn't difficult to manage.
Bluehost's easy-to-use interface and comprehensive plans give users all they need to create a web presence, from domain name registration and a free SSL certificate to CDN and unlimited bandwidth. It also offers managed WordPress hosting. Users can leverage Bluehost for a variety of use cases, including eCommerce and personal blogs. Bluehost's server performance, however, is limited in a few ways. Its server environment is built for smaller projects and may not meet the service needs of users who have more scalable traffic growth in mind.
Bluehost does offer some great features that make it a viable choice for its target audience. Its competitively priced plans provide SSD storage, free domain names, and 24/7 live customer support. With 20 years of experience in the hosting field, the Bluehost team definitely knows a thing or two to help you jump-start your website journey. Check out our Bluehost review below for more details on the web host and how it can help you power your WordPress website.
Cheap shared hosting from a trusted provider
Ideal for hosting a WordPress website
FREE Weebly website builder and Cloudflare CDN
Unlimited traffic and 24/7 live chat support
Get 70% off today with our Bluehost coupon
CHEAP
RATING 4.8 ★★★★★ Our Review
Bluehost: Our Expert's Review
Ryan Frankel (HostingAdvice.com): Bluehost pricing is about as competitive as the industry offers. Sign up for a shared hosting plan for as little as $2.95 per month, and WordPress hosting packages are consistently priced; a VPS plan starts at around $19.99 per month; and the dedicated hosting rates are as little as $79.99 per month. Go to full review »
| Money Back Guarantee | Disk Space | Domain Name | Setup Time |
| --- | --- | --- | --- |
| 30 days | 10 GB SSD – 100 GB SSD | FREE (1 year) | 5 minutes |
Which Hosting Provider Is the Cheapest?
The most budget-friendly host on our list is also the most beginner-friendly. Hostinger offers affordable hosting plans for every server type, from shared to cloud networks, that are easy to use and manage with an intuitive control panel, hPanel. With plans starting at $1.99, Hostinger has some of the lowest-priced hosting packages on the market but doesn't fall short on the value side. Users can save while receiving all the essentials they need to get started with their websites and online goals.
Hostinger's premium plans, which are only a couple of dollars extra than its base plan, also provide users with a lot of free perks that they don't have to purchase as add-ons. Premium plans allow users to host up to 100 websites on one account with unlimited bandwidth, free email, and one free domain name. Another upside is that users can migrate their site for free on any plan, with the Hostinger team handling the process for them. Hostinger also prioritizes security by delivering a malware scanner and a Cloudflare DNS firewall that together protect its nameservers from DDoS attacks.
With datacenters on four continents, Hostinger offers excellent accessibility and 24/7 customer service for its users across the globe. Users can also appreciate its 30-day money-back guarantee, giving them leeway if they find its hosting plans aren't the right fit.
Unlimited everything, from storage to databases
FREE site builder & WP performance upgrades
FREE daily or weekly backups
Custom control panel and auto-installation scripts
SSH access & unlimited FREE SSL certificates
CHEAP
RATING 4.8 ★★★★★ Our Review
Hostinger: Our Expert's Review
Laura Bernheim (HostingAdvice.com): As the shared hosting market becomes increasingly saturated, unlimited storage, bandwidth, and email accounts have become surprisingly average. Hostinger, however, extends the routine, expected metrics to greater lengths — the number of websites, databases, FTP users, subdomains, and parked domains are all unrestricted for most customers. Go to full review »
| Money Back Guarantee | Disk Space | Domain Name | Setup Time |
| --- | --- | --- | --- |
| 30 days | 50 GB SSD – 200 GB SSD | FREE (1 year) | 3 minutes |
Which Hosting Provider Is the Fastest?
A website without speed can be a frustrating experience, not only for the visitors but also for the website owner. Every website owner wants their online presence to be accessible and pleasant to navigate, no matter the use case. Whether you're selling seashells or writing short stories for a small audience base, your website performance will dictate the success of your overall experience and Google ranking. If you don't want your visitors waiting too long to upload your content, subscribing to a hosting plan prioritizing high performance will be your best move.
InMotion Hosting takes pride in delivering high-performing and reliable hosting, starting with the foundation of its server infrastructure. InMotion doesn't skip out on a server refresh and ensures users receive the best server capabilities it can manage. Over the last year, the InMotion team has incorporated NVMe SSD storage into its plans to give users better loading speeds from its WordPress and shared hosting to VPS hosting and dedicated server offerings. InMotion has also built its hardware with UltraStack caching and total data redundancy for extra speed.
A2 Hosting is another notable hosting provider that delivers high-performance servers and power. Its plans are a bit more expensive than InMotion Hosting but can fit into most users' budgets. Like InMotion Hosting, A2 Hosting also provides NVMe SSD storage packaged with its unique Turbo server technology. The hosting company provides Turbo plans that offer 40% faster CPU output and Litespeed Turbo Caching for site optimization, allowing websites to handle more traffic with better reliability.
FREE Cloudflare CDN and SSD speed boost
Optimized caching and 1-click installs
Unlimited email, domains, and databases
Advanced security and FREE HackScan
24/7 support via phone, chat & tickets
CHEAP
RATING 4.6 ★★★★★ Our Review
A2 Hosting: Our Expert's Review
Alexandra Anderson (HostingAdvice.com): There are plenty of excellent cPanel shared hosting providers out there, so what sets A2 Hosting apart from the rest. Not only does the company offer a ton of features, but it has custom-built its packages for enhanced performance, speed, and security — putting your priorities above pricing. Go to full review »
| Money Back Guarantee | Disk Space | Domain Name | Setup Time |
| --- | --- | --- | --- |
| 30 days | 100 GB SSD – Unlimited SSD | New or Transfer | 4 minutes |
Can I Get Web Hosting for Free?
Free website hosting sounds great at first, but the price, more often than not, is always the silver lining. There are many hosts out there offering free hosting plans with shared server resources, but that doesn't mean they are the best fit for everyone. If you have big goals for your website, free hosting won't benefit you for long.
Free web hosts are a great starting point for users who want a demo period with their website management. They offer just the right amount of resources and value to help you either test out an online project or determine your trajectory with website creation. But beyond that, they can be tricky to handle as they often clip on advertisements to websites and deliver limited performance for most users.
Instead of opting for a free hosting package, we recommend you try out a web host through a free trial. Many top-name hosting companies provide 14-to-30-day free trials for users to leverage and check out their hosting services. It's a fantastic way to grasp website management and determine what you like in web hosting with no strings attached. Free trials allow you to experience everything a host has to offer without the paying part.
But affordable quality hosting isn't too difficult to find either. Paying a couple of dollars a month can be worth it, especially if you're betting on ROI. Budget hosts offer outstanding performance and customer service to help users get up and running in no time.
Which Is the Best Bluehost Alternative?
Now that you've seen our top five Bluehost alternatives, it's your turn to weigh your options. When determining your choice, we recommend focusing on your goals and seeing which hosting type will help you accomplish them. You may prioritize performance or need a budget-friendly plan. Knowing your needs will help lead you to a web host and server type choice. The good thing is that every host is different and has unique value, which means you will find one that meets your individual goals.
Choose a host that will work for your website in the long term. The best Bluehost alternative will be the one that equips you with all you need and a customer support team that can assist you along the way.
Maybe the web host you need isn't on this list, which is reasonable. But you don't have to look any further because we also have a list of our best web hosting companies this year. Check out the link below to learn more about other top hosts in the market and their value propositions.
Get Deals on the Best Hosts in 2023 >>
See Our Full Review of SiteGround
Whatever type of hosting plan you're looking for, SiteGround is a solid choice no matter the scale. Our reviewer Alexandra Anderson recently took SiteGround for a spin, and rated the popular host a 4.9 in the WordPress Hosting category out of a perfect score of 5.0. Here's what Alexandra had to say about SiteGround:
With a reputation for reliable customer support and the leading-edge tech innovations, SiteGround needs to be near the top of your list of potential hosting providers. The premium host enables site owners and WordPress users to operate with performance and reliability in fluidly scalable cloud-powered environments.
Before signing up for SiteGround, it's a good idea to read through Alexandra's full review to learn about all the features SiteGround offers. You can also compare it to other web hosts to ensure you're getting the best deal possible:
If you decide SiteGround is the right choice, keep in mind that it takes just minutes to deploy your SiteGround server space. And at $2.99 per month, it's a bargain considering the many great features that come in any SiteGround plan.
Advertiser Disclosure
HostingAdvice.com is a free online resource that offers valuable content and comparison services to users. To keep this resource 100% free, we receive compensation from many of the offers listed on the site. Along with key review factors, this compensation may impact how and where products appear across the site (including, for example, the order in which they appear). HostingAdvice.com does not include the entire universe of available offers. Editorial opinions expressed on the site are strictly our own and are not provided, endorsed, or approved by advertisers.
Our Editorial Review Policy
Our site is committed to publishing independent, accurate content guided by strict editorial guidelines. Before articles and reviews are published on our site, they undergo a thorough review process performed by a team of independent editors and subject-matter experts to ensure the content's accuracy, timeliness, and impartiality. Our editorial team is separate and independent of our site's advertisers, and the opinions they express on our site are their own. To read more about our team members and their editorial backgrounds, please visit our site's About page.