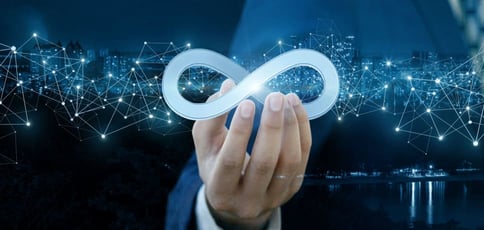 In the world of web hosting, finding the best host with unlimited inodes can make all the difference in your website's success. Whether you have an eCommerce website, a blog, or anything in between, considering the number of inodes the web hosting company offers is crucial.
While storage, speed, and security are equally important, inodes play a vital role in your website's performance. For context, studies have shown that most internet users will leave a website due to poor performance. We have reviewed some of the best web hosts that provide unlimited inodes for their clients because the problem of insufficient inodes is just one reason some web applications or commands do not function as they should.
1. DreamHost
Founded in 1996, DreamHost is one of the most affordable web hosting companies today. The Los Angeles-based web host offers unlimited inodes and web hosting packages for as low as $2.59 a month if you choose the three-year subscription.
Automated malware scans
Unlimited domain hosting
Unlimited email accounts with POP/IMAP/SMTP
FREE eCommerce store tools and PCI compliance
Streamlined proprietary control panel
CHEAP
RATING 4.3 ★★★★★ Our Review
DreamHost: Our Expert's Review
Laura Bernheim (HostingAdvice.com): While DreamHost's price might be a little steep compared to other high-value hosting providers, the company gives customers ample time and reasons to get hooked and stick around. The company, which started in the founders' dorm room in 1997, offers an industry-leading 97-day money-back guarantee. Go to full review »
| Money Back Guarantee | Disk Space | Domain Name | Setup Time |
| --- | --- | --- | --- |
| 97 days | Unlimited | FREE (1 year) | 4 minutes |
Besides the unlimited inodes, DreamHost also boasts fast Solid-State Drive (SSD) storage for improved speed and performance. In addition, each hosting plan comes with a free domain, unmetered bandwidth, and a free Secure Sockets Layer (SSL) certificate for security.
Key Features:
SSDs for better speed and performance
Unlimited emails for select packages, such as DreamPress and VPS
24/7 customer support
Free, automated WordPress website migrations
Unlimited disk storage
Unlimited hosting for websites (for select packages only)
Of course, DreamHost is not a perfect unlimited web hosting service, but it is worth the money. The only downside is that you will need to pay extra for professional emails if you choose the shared starter plan. But given the unlimited inodes, paying an additional low price for a professional email is not a big deal for most users.
Check out our full review of DreamHost >>
2. WP Engine
WP Engine describes its hosting service as "a smart way to WordPress." It makes hosting and managing WordPress websites easier by doing all the heavy lifting for their users. As the name suggests, this hosting service works great for websites hosted on WordPress.
Enterprise-level WordPress hosting
Built-in caching and staging
Unlimited data transfer
Daily backups and 1-click restore
33% discount for HostingAdvice users (was $30/month)
BEST OVERALL
RATING 4.5 ★★★★★ Our Review
WP Engine: Our Expert's Review
Ryan Frankel (HostingAdvice.com): We absolutely adore WP Engine as a hosting company, but there's one huge reason we can't recommend it to everyone: It's exclusively built for WordPress users. If you are a WordPress fan, then read on. Go to full review »
| Money Back Guarantee | Disk Space | Domain Name | Setup Time |
| --- | --- | --- | --- |
| 60 days | 10 GB – 50 GB | New or Transfer | 4 minutes |
Let's take a quick look at some of WP Engine's most popular features.
Key Features:
Automated PHP and WordPress updates
Up to 40% increase in speed and performance after migration
Customized workflow tools and controls
Availability of custom hosting plans to suit user's unique needs
Improved security with data encryption, SSL certificates, proactive threat protection, and more.
Although WP Engine offers numerous benefits, including unlimited inodes, the web host has some drawbacks. First, you will need to purchase a domain elsewhere. Secondly, they do not include email services in their hosting packages.
Overall, WP Engine is perfect for small businesses looking for a powerful and smart WordPress web host. Thanks to the hosting solutions specifically designed for WordPress websites, it almost eliminates the need for a WordPress management service.
Check out our full review of WP Engine >>
3. Kinsta
Kinsta takes WordPress hosting and management to a different level thanks to its high performance and unique services tailored for WordPress websites. In addition, the web host offers "managed" WordPress hosting services, meaning it takes care of all the hosting and server-side setup processes for you.
Here are some key features you will love about this web hosting service.
Key Features:
High performance and better speed, thanks to its high-end servers powered by Google
Application Performance Monitoring (APM) tool for one-click troubleshooting
More than 35 datacenters for maximum speeds
Daily server backups and routine uptime checks every two minutes
Automatic scaling to handle high website traffic without compromising performance
Automated caching system that eliminates the need for caching plugins and add-ons and improves website performance
Kinsta combines power and speed to offer one of the fastest web hosting services today. With an average load time of 1.2 seconds, this is one web host that understands the importance of high performance, given that 47% of users leave websites that take longer than two seconds to load.
On the downside, though, Kinsta is more expensive than DreamHost and WP Engine combined. For context, DreamHost's cheapest plan costs around $1.67 a month, while Kinsta's cheapest is $35 a month.
That is one way to look at it. The other way is that Kinsta costs just a fraction of what WordPress VIP costs but offers many benefits and better control over your website.

WordPress VIP is a fully managed WordPress hosting service designed to meet the needs of large-scale enterprises and high-traffic websites. It is a premium service provided by Automattic, the owner of WordPress.com.
This hosting service offers a range of features and services that help enterprises easily manage their WordPress sites and ensure high levels of performance, security, and scalability. These include but are not limited to enterprise-grade security features, 24/7 support, automatic updates, custom development, integration with third-party services, and the ability to handle large amounts of traffic while maintaining high-performance levels.
In terms of pricing, WordPress VIP costs about $5,000 a month and comes with a minimum $5,000 setup fee. As a result, it is not a popular option for many WordPress users due to the expensive costs involved. Despite the high fees, WordPress VIP still requires users to manually perform certain tasks, such as reviewing plugins and themes to ensure they meet WordPress VIP standards, opening support tickets if they run into issues since they do not have access to the back end, etc.

On the other hand, Kinsta allows users to update, maintain, and troubleshoot their websites directly from the MyKinsta dashboard. In addition, you can view your website visits, disk usage, activity log, and more from the dashboard.
It is worth mentioning that the dashboard is available in 10 languages: Italian, French, Portuguese, German, Spanish, Swedish, Dutch, Danish, English, and Japanese. So, unlike WordPress VIP, Kinsta gives you control over your website's front and back end at a fraction of the price of WordPress VIP.
Cheap Hosting Providers with a High Inode Limit
If unlimited inode hosting is out of your budget, consider a more affordable hosting option from one of the plans below. These shared hosting packages deliver plenty of inodes for small to midsize sites so you won't overpay for unused resources.
Unlimited everything, from storage to databases
FREE site builder & WP performance upgrades
FREE daily or weekly backups
Custom control panel and auto-installation scripts
SSH access & unlimited FREE SSL certificates
CHEAP
RATING 4.9 ★★★★★ Our Review
Hostinger: Our Expert's Review
Laura Bernheim (HostingAdvice.com): As the shared hosting market becomes increasingly saturated, unlimited storage, bandwidth, and email accounts have become surprisingly average. Hostinger, however, extends the routine, expected metrics to greater lengths — the number of websites, databases, FTP users, subdomains, and parked domains are all unrestricted for most customers. Go to full review »
| Money Back Guarantee | Disk Space | Domain Name | Setup Time |
| --- | --- | --- | --- |
| 30 days | 50 GB SSD – 200 GB SSD | FREE (1 year) | 3 minutes |
Hostinger is one of the cheapest web hosts with high inode limits. For just $1.99 a month, you will have unlimited free SSL, weekly backups, 100 gigabytes of bandwidth, 50 gigabytes of storage, and one email account, among other features.
FREE Cloudflare CDN and SSD speed boost
Optimized caching and 1-click installs
Unlimited email, domains, and databases
Advanced security and FREE HackScan
24/7 support via phone, chat & tickets
CHEAP
RATING 4.6 ★★★★★ Our Review
A2 Hosting: Our Expert's Review
Alexandra Anderson (HostingAdvice.com): There are plenty of excellent cPanel shared hosting providers out there, so what sets A2 Hosting apart from the rest. Not only does the company offer a ton of features, but it has custom-built its packages for enhanced performance, speed, and security — putting your priorities above pricing. Go to full review »
| Money Back Guarantee | Disk Space | Domain Name | Setup Time |
| --- | --- | --- | --- |
| 30 days | 100 GB SSD – Unlimited SSD | New or Transfer | 4 minutes |
A2 Hosting is also an excellent option for personal websites and businesses looking for speed, excellent customer support, and performance. They offer different hosting plans, including shared hosting (the cheapest), managed WordPress hosting, VPS hosting, and dedicated server hosting, and reseller hosting, and other benefits.
FREE website transfer service to get started
99.9% uptime guarantee and unlimited traffic
User-friendly WordPress installation
24/7 support featuring custom systems
4 caching options plus staging and Git
CHEAP
RATING 4.6 ★★★★★ Our Review
SiteGround: Our Expert's Review
Alexandra Anderson (HostingAdvice.com): Providing hosting with the perfect balance of technological innovation and superior customer support, SiteGround offers a range of affordable hosting services to meet your needs. In addition to the expected cheap web hosting perks — a free website builder and unlimited bandwidth — the company specializes in custom-built tools to deliver strong and positive user experiences. Go to full review »
| Money Back Guarantee | Disk Space | Domain Name | Setup Time |
| --- | --- | --- | --- |
| 30 days | 10 GB SSD – 40 GB SSD | New or Transfer | 6 minutes |
SiteGround is yet another affordable option with excellent features, most of which are free. For example, their basic plan, StartUp, features free WordPress migration, email accounts, SSL certificates, daily backups, 10 GB web space, unmetered traffic, and a 30-day money-back guarantee.
If you're still unsure about which hosting provider is right for you, take a look at our reviews of the most popular web hosting providers. Whether you're looking for shared, VPS, dedicated, or cloud hosting, you're sure to find a plan that suits your needs and budget.
What Is an Inode?
An inode, or index node, is a data structure used to store information about a file or directory on a web server. Each inode stores metadata about a file or directory, including its owner, file size, permissions, creation and modification times, and location.
The inode keeps track of the file's attributes and location. So, when a user wants to access or modify the file, the operating system uses the inode to locate the file's data on the storage device.
The Difference Between an Inode and Storage Space
It's worth mentioning that an inode is not the same as storage space. An inode stores information about a file or directory, while storage space refers to the amount of space available on a disk or other storage device for storing files and data.

The amount of storage space available depends on the capacity of the disk or device, and how much of that capacity is already used by existing files and data. So, while file systems use inodes to manage and organize files and directories, storage space refers to the physical capacity of a storage device to hold data. While a web host may offer unlimited disk space (storage), that doesn't mean it also offers unlimited inodes.
The Difference Between Unlimited Bandwidth and Unlimited Inodes
Unlimited bandwidth and unlimited inodes are two different concepts related to web hosting. Unlimited bandwidth means no limit on the amount of data transferred between the website and its visitors within a certain time frame, typically a month. This means that the website can receive unlimited traffic without incurring additional charges or experiencing a slowdown in performance due to bandwidth limitations.

On the other hand, unlimited inodes refer to the number of files and folders a web server can store. Each file and folder on the server is assigned an inode number, and web hosting providers often limit the number of inodes a website can have. As a result, the website may become slow or experience other issues if it exceeds the limit. But with unlimited inodes, there is no such limit, and the website can store as many files and folders as needed.
How to Check the Number of Inodes in Your Hosting Account
Most web hosts have straightforward processes for users to check the number of inodes in their hosting accounts. You can typically find this information in your web host's control panel under the statistics area (or a similar phrase). In some web hosts, you will find information about available inodes under the file usage area. Keep in mind that the file usage section is not the same as disk usage. Rather, file usage refers to inodes available, while disk usage refers to storage space.
Choosing an Unlimited Inode Hosting Plan
When choosing an unlimited inode hosting package, you should compare plans and pricing to find the one that offers the best value for your money. Also, consider the features of each plan, such as:
Available inodes
Storage space
Bandwidth
Support
Always consider your website's size, complexity, and potential growth when choosing a web hosting provider. Importantly, ensure the plan can accommodate your website's needs now and in the future. Also important are additional features that add value to the plan and help you get the most out of your hosting service. Those include automatic backups, security measures, and site optimization tools, among others.
Further Reading: "6 Best: Hosting With Unlimited Inodes (June 2023)"
Hopefully, our recommendation of DreamHost fulfills all your web hosting needs. Starting at just $2.59 per month and rated 4.3 overall, DreamHost gives users plenty of bang for the buck. Among our favorite features:
Automated malware scans
Unlimited domain hosting
Unlimited email accounts with POP/IMAP/SMTP
FREE eCommerce store tools and PCI compliance
Streamlined proprietary control panel
If you'd like recommendations similar to DreamHost and others in 6 Best: Hosting With Unlimited Inodes (June 2023), check out these popular guides. You'll find comparisons of DreamHost to other hosts on pricing, features, support and more:
And of course, if DreamHost is your top choice, you can get started now at just $2.59/month. DreamHost is easy to set up and scale, no matter the size of your next project.
Advertiser Disclosure
HostingAdvice.com is a free online resource that offers valuable content and comparison services to users. To keep this resource 100% free, we receive compensation from many of the offers listed on the site. Along with key review factors, this compensation may impact how and where products appear across the site (including, for example, the order in which they appear). HostingAdvice.com does not include the entire universe of available offers. Editorial opinions expressed on the site are strictly our own and are not provided, endorsed, or approved by advertisers.
Our Editorial Review Policy
Our site is committed to publishing independent, accurate content guided by strict editorial guidelines. Before articles and reviews are published on our site, they undergo a thorough review process performed by a team of independent editors and subject-matter experts to ensure the content's accuracy, timeliness, and impartiality. Our editorial team is separate and independent of our site's advertisers, and the opinions they express on our site are their own. To read more about our team members and their editorial backgrounds, please visit our site's About page.