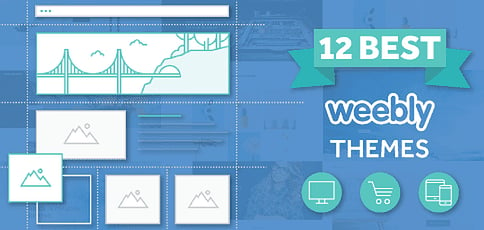 Inspired by the belief that anyone should have the tools to take their business from idea to launch to growth, Weebly themes are designed to give entrepreneurs a stunning and professional online presence with minimal stress and effort.
The website builder platform was born in 2007 and now powers more than 50 million sites around the world. Whether you're starting an online business from scratch, building a professional portfolio, or looking to refresh your existing organization's online presence, Weebly supplies the design tools and customizations to get you there.
Whatever your needs, we've got you covered. Here's our curated list of the top 12 themes for ecommerce, education, restaurants, photography, and other industries. Don't forget to keep an eye out for the free options!
Best "Free" Weebly Themes
For more than a decade, Weebly has allowed more than 40 million people to easily set up business and personal sites online. The web builder provides a wide array of compelling themes for its users, and the good news is most of them are offered for free as part of Weebly's basic plans.
All-in-one hosting and drag-and-drop builder
Start designing for FREE, upgrade whenever
Easily build a blog, personal site, or online store
100s of FREE templates for websites
$100 credit toward Google advertising
CHEAP
RATING 4.6 ★★★★★ Our Review
Weebly: Our Expert's Review
Alexandra Leslie (HostingAdvice.com): Weebly is a well-known name in the cheap shared hosting space — not necessarily due to competitive pricing but because several of the web's leading low-cost hosting providers have opted to include Weebly software for free, adding value to their existing offerings. It's worth noting Weebly does offer a free plan, but websites are found on a Weebly subdomain and display Weebly advertising. Go to full review »
| Money Back Guarantee | Disk Space | Domain Name | Setup Time |
| --- | --- | --- | --- |
| 30 days | 500 MB - Unlimited | FREE (w/ paid plans) | 3 minutes |
Site owners have a lot to choose from when looking to set up a Weebly site. There are free designs to complement pretty much any subject area. Template.net recently highlighted the many features included in a number of Weebly's free themes, giving a pretty good view into what Weebly has to offer.
Our aim is to break down some of the best features of what we found to be the top three free themes. Don't let the cost fool you — these designs are stunning and provide you with complete control over your content.
1. Haberdasher: Best "Ecommerce" Weebly Theme
If you're looking to start an ecommerce site with a bit of flair, Haberdasher might be the theme for you. Haberdasher sites are easily navigable so your customers can browse through merchandise or directly search for specific products.
Carrying a black and gold palette, Haberdasher brings a refined look to your storefront. No matter what you're selling, the theme gives shoppers a glimpse into your merchandise through large, full-width header graphics, sleek product galleries, and effective sidebar descriptors.
Haberdasher Features
Responsive
CSS Buttons
Vector Social Icons
Full-Width Header Image
Top Navigation
Color Palletes
Haberdasher is mobile responsive and has top search and navigational bars. The theme also includes vector social icons, allowing users to further the reach of their site on all the popular social media platforms.
2. Slick: Best "Mobile Responsive" Weebly Theme
Weebly's Slick theme lives up to its name, providing a stylized layout that lends itself to large imagery and bold text. Slick accomplishes what every site owner wants — good first impressions through professional design.
This theme is versatile and allows users to customize the feel depending on how they want visitors to approach content. Some sites, like Chicks and Cheese, employ Slick for a blog-type layout. Others, such as The Priest Movie, use Slick's backdrop to house a large background image and overlay content on top to focus the viewer's eye.
Slick Features
Responsive
CSS Buttons
Vector Social Icons
Full-Width Header Image
Collapsible Navigation
Color Palletes
Slick is easily navigable and includes a fluid scrolling functionality to keep visitors' eyes on the content you want them to absorb. The theme has beautiful color palettes and is fully responsive.
A good match for online businesses, CleanLines provides a universal theme with classic appeal. Another aptly named theme, CleanLines presents visual elements with precision.
The theme's full-width headers and minimalistic body give your site a sophisticated look to create an impact on visitors. CleanLines is fully customizable and offers entrepreneurs a blank slate on which to build their branding.
CleanLines Features
Responsive
CSS Buttons
Vector Social Icons
Top Navigation
Collapsible Navigation
CleanLines gives site owners three separate sets of black and white palettes to design sites their way. Like all the new Weebly themes, CleanLines is mobile responsive and can be tailored to fit your content.
Best "Premium" Weebly Themes
While Weebly's free themes provide site owners with compelling, professionally designed templates, there are themes built through Weebly's developer tools that some web designers offer at a premium.
These themes are not housed on Weebly but are distributed by the developers as zipped files to users who can then incorporate them into their sites. Baamboo Studio and Luminous Themes are two of the top design houses specializing in providing Weebly users with these custom themes. Let's take a look at some of their best work.
Baamboo Studio's Infiniti theme gives users the ability to set up their sites exactly as they envision them. The theme comes complete with four customizable menu styles, flexible color options, and 11 different page layouts.
Infiniti's slide-out search bar gives users a unique way to navigate sites. The theme's hover styling artfully displays thumbnail captions, lightboxes, and other content on hover. And, with one-click installation, it's easy to get up and running.
Infiniti Features
Responsive
Slide-Out Search Bar
Vector Social Icons
Hover Styling
1-Click Installation
$40 Premium
Infiniti will set you back $40, but, when you look at what you'd be saving on add-ons and other features, it could be worth the extra cash. The menu styles and page layouts that come with Infiniti normally run in the $80 neighborhood.
Another marriage of art and professionalism, Baamboo Studio's Craft theme provides an effective design for businesses to showcase their message and products. The theme is bold, giving site owners the ability to display full-screen, high-resolution imagery.
Like other Weebly themes, there is no coding knowledge required to get going with Craft. With a drag-and-drop environment, the theme is easily customizable. The Baamboo Studio team also provides fast customer support, so users running into snags can quickly get the help they need to keep their site design process running smoothly.
Craft Features
Responsive
High-Resolution Imagery
Vector Social Icons
Customizable
$33 Premium
Craft runs $33 — a seemingly reasonable price to pay for a theme designed to keep visitors engaged with your content.
Luminous Themes created Weebly's overall best-selling theme in Ethereal, a breathtaking, minimalistic design. This multi-purpose theme employs features, such as parallax effects, gorgeous design, and specialty pages, that provide unique visitor experiences.
The theme is high-quality, retina-enabled, and mobile responsive. Both beautiful and powerful, the theme includes regular updates in terms of design and functionality, essentially future-proofing your site. With the $39 purchase of Ethereal, Luminous Themes gives detailed instructions on editing its contents, making setup easy and quick.
Ethereal Features
Responsive
Retina-Enabled
Vector Social Icons
Parallax Effects
Color Palletes
$39 Premium
Designed to create a modern feel, Ethereal puts your content, products, or portfolio front and center. The theme also gives the ability to add video backgrounds to any header without the need to code.
Best "Custom" Weebly Themes for Business
One reason so many people are turning to Weebly to build their sites is the versatility of its themes. For those wanting to set up online stores, Weebly's ecommerce themes provide seamless customer experiences that drive conversions. If you're a photographer looking to showcase your portfolio, Weebly's photography-based themes offer effective galleries to display your work.
From blogs to restaurants, there's a Weebly theme customizable to any industry. Whether it's for business or pleasure, Weebly's themes can get your message out in a way that meets your specific needs.
With the launch of Unite in 2015, the company announced all Weebly themes would be responsive going forward, which would create consistent experiences for visitors using any device. True to its name, Unite blends classic web design with a contemporary feature set.
Lifestyle, blog, and ecommerce site owners all find Unite's gallery hover an effective means by which to present content. The top of each page offers fixed navigation, making it easy for visitors to find what they're looking for.
Unite Features
Responsive
CSS Buttons
Vector Social Icons
Full-Width Header Image
Side Navigation
Boxed Header
With an integrated storefront, blog options, and versatile pages, site owners can customize Unite in a number of ways. If you're looking for other Weebly responsive themes, there is no shortage. Website Builder Insider recently released a list of Weebly's top responsive templates.
8. Cento: A Cool Weebly Theme for Photography
Website creation can be stressful for photographers. Not only do they need to present professionally designed sites for their clients, but they also have to showcase their work in a way that complements their art. This can be a tall order for those with little to no coding experience.
Thankfully, Weebly provides a number of photography-based themes, and Cento tops the list. Cento provides a sparse backdrop that pushes your portfolio into the foreground. This allows your work to shine so clients can view it without distraction.
Cento Features
Responsive
CSS Buttons
Vector Social Icons
Boxed Header
Top Navigation
Boxed Width
The theme gives the option to remove sidebars from blog pages, which centers and highlights content. With a responsive design, boxed header, and fixed navigation, Cento is a great fit for creatives wanting to broadcast their art to the world.
9. Birdseye 2: A Cool Weebly Theme for Restaurants
When looking for restaurant information online, diners usually want to know the specifics — what's on the menu, when it's open, and what the food looks like. Weebly's Birdseye 2 theme delivers on all of these items.
Restaurateurs can highlight their star dish with a large editorial photo splashed across their homepage. As visitors scroll a Birdseye-themed site, navigation elements follow them down the page, making it easy to dive into the site's different sections.
Birdseye 2 Features
Responsive
CSS Buttons
Vector Social Icons
Full-Width Header Image
Top Navigation
Animation
The site's blog layout lends itself nicely to compelling menu creation, allowing the addition of photos to entice diners to your establishment. With buttons giving visitors the ability to make reservations and animation capabilities to bring your dishes to life, Birdseye will have your visitors' mouths watering in anticipation of their upcoming culinary experience.
10. Paper: A Cool Weebly Theme for Bloggers
Creative bloggers who want to blast their content to the masses can put their ideas down on Paper — one of Weebly's top blogging themes. The layout is reminiscent of black and white typography and follows an aesthetic akin to popular consumer publications.
Paper provides light and dark color palettes allowing site owners to incorporate the right feel on the right pages. If you're selling products in addition to blogging, Paper's ecommerce functionalities offer seamless navigation through products.
Paper Features
Responsive
CSS Buttons
Vector Social Icons
Full-Width Header Image
Fixed & Collapsible Navigation
Light & Dark Palettes
Also included are CSS buttons, full-width header images, and fixed and collapsible navigational capabilities. And the hover effect included in Paper's product galleries work to make your merchandise stand out.
11. Squared 2: A Cool Weebly Theme for Online Stores
If you want to sell merchandise on your Weebly site, you should probably switch to its Squared 2 theme if you're not already employing it. The theme is styled in a way that makes an immediate impression on shoppers with large featured images and compelling product galleries.
Squared puts product images front and center in a storefront that gives them space to breathe. With side navigation and the ability to quickly add buttons that lead to specific pages, your customers will easily find the products they're looking for.
Squared 2 Features
Responsive
CSS Buttons
Vector Social Icons
Side Navigation
Color Palletes
Squared's flexible color palettes give site owners the ability to customize their site according to their brands. And, its responsive design lets customers shop wherever they are.
12. Journey: A Cool Weebly Theme for Portfolios and Résumés
For job hunters or entrepreneurs looking to make an impression on prospective employers or clients, Weebly's Journey theme provides a minimalistic canvas with sophisticated appeal. Journey's design is sleek and presents content in a way that moves the eye across the important information on the page.
The fixed and top navigation functionalities on Journey help site visitors access the content from wherever they are on the site. This works especially well for sites with numerous pages.
Journey Features
Responsive
CSS Buttons
Vector Social Icons
Full-Width Header Image
Top & Fixed Navigation
Color Palletes
Weebly's drag-and-drop environment makes it simple to create portfolio galleries on Journey. These galleries and the theme's blog pages carry an aesthetic that's sure to impress visitors.
Weebly vs. Wix and Other Alternatives
We've culled our 12 favorite designs, but of course, you can quickly find thousands of more options out there — and that's just for Weebly. Drag-and-drop website builders are a competitive industry, with several incredible platforms each offering fresh new takes on website design and navigation.
Weebly's chief competitor is Wix, the industry leader behind more than 150 million websites worldwide. Wix is especially known for hundreds of templates customized to specific industries, along with high-tech — yet still intuitive and easy-to-use — features that improve the functionality of online stores, restaurant reservations, music catalogs, and other specialized markets.
Beyond the two heavy-hitters of website builders, we're including a few other fresh-faced alternatives for you to consider. HostGator recently crafted its own modern, custom-built platform for designers, and BoldGrid gives beginners a much easier experience creating a site with WordPress, the world's most popular content management system. Check out our reviews below:
No coding skills needed with drag-and-drop builder
100s of templates with niche-specific designs
Add features via the App Market and Wix Events
Easily create ecommerce functionality easily
Great way to build small sites on a budget
WEBSITE BUILDER
RATING 4.9 ★★★★★ Our Review
Alexandra Leslie (HostingAdvice.com): Website building is where Wix shines. The thousands of templates, the intuitive editor, the industry-leading designs that cater to a variety of specific fields and use cases — all these facets represent a platform that excels at facilitating easy web design for the non-tech-savvy user. Go to full review »
| Money Back Guarantee | Disk Space | Domain Name | Setup Time |
| --- | --- | --- | --- |
| 14 days | 500 MB - 20 GB | Transfer | 4 minutes |
Drag-and-drop design with the Gator™ site builder
Hundreds of mobile-friendly templates
FREE hosting, domain name, and SSL certificate
Easily add a blog, store, and social media
Analytics portal helps gauge site performance
WEBSITE BUILDER
RATING 4.9 ★★★★★ Our Review
HostGator: Our Expert's Review
Ryan Frankel (HostingAdvice.com): Setting itself apart from the scores of competitors that rely on white-labeled website builder solutions, HostGator spent the time to painstakingly craft its own platform. Gator provides a frustration-free experience that pairs the simplicity of drag-and-drop design with the company's powerful and respected web hosting services. Go to full review »
| Money Back Guarantee | Disk Space | Domain Name | Setup Time |
| --- | --- | --- | --- |
| 45 days | Unlimited | FREE (1 year) | 4 minutes |
Fotolia and Flickr image databases
Pre-built and customizable content with GridBlocks
Responsive themes with tablet and mobile editing
Generates clean, efficient, and compliant HTML
SEO, gallery, and forms plugins
WEBSITE BUILDER
RATING 4.8 ★★★★★ Our Review
BoldGrid: Our Expert's Review
Laura Bernheim (HostingAdvice.com): After taking the BoldGrid suite of plugins for a test drive, we experienced how the company makes WordPress more accessible for beginners and much more efficient for professional developers. Because BoldGrid requires a separate hosting account and WordPress installation, it is a little more challenging for wide-eyed beginners to get started than it is for other website builders. Go to full review »
| Money Back Guarantee | Disk Space | Domain Name | Setup Time |
| --- | --- | --- | --- |
| 90 days | 40 GB SSD - 120 GB SD | FREE (1 year) | 5 minutes |
See more top website builders »
Whichever Template You Choose, Make Your Weebly Site Your Own
No matter the theme you decide on, Weebly makes it easy for you to customize your site based on your unique mission. Watch your site transform as you add your own content and brand imaging, all while still hanging onto the stellar design layout that attracted you to the theme in the first place.
Using the Weebly interface, users can quickly adjust colors, fonts, and other information with just a few clicks of the mouse. Whether you're seeking to expand your nonprofit organization, promoting your restaurant, or showcasing photography, Weebly has a theme that's right for you.
Advertiser Disclosure
HostingAdvice.com is a free online resource that offers valuable content and comparison services to users. To keep this resource 100% free, we receive compensation from many of the offers listed on the site. Along with key review factors, this compensation may impact how and where products appear across the site (including, for example, the order in which they appear). HostingAdvice.com does not include the entire universe of available offers. Editorial opinions expressed on the site are strictly our own and are not provided, endorsed, or approved by advertisers.
Our Editorial Review Policy
Our site is committed to publishing independent, accurate content guided by strict editorial guidelines. Before articles and reviews are published on our site, they undergo a thorough review process performed by a team of independent editors and subject-matter experts to ensure the content's accuracy, timeliness, and impartiality. Our editorial team is separate and independent of our site's advertisers, and the opinions they express on our site are their own. To read more about our team members and their editorial backgrounds, please visit our site's About page.