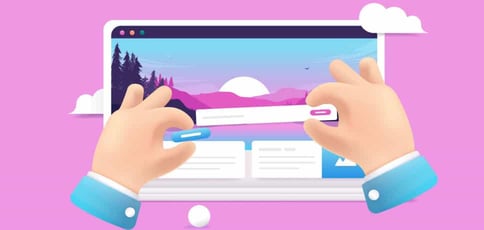 Website builders have helped make designing a web presence more accessible than ever. Users no longer need to rely on web agencies or learn how to code to create personalized and customized websites. And users can have a beautiful website designed within minutes without spending much money, which is one of the many benefits web builders deliver.
Among the top web builders available online, Squarespace has become a frontrunner for its stylish templates, easy-to-use editor, assortment of features, and excellent customer support. Users can build websites quickly and easily with its drag-and-drop editor and leverage hosting plans that fit various needs. It's no wonder Squarespace is one of the best in the market, as it offers a comprehensive suite of features, including domain registration, eCommerce, and analytics tools.
But Squarespace isn't the best website-building tool for everyone. Where it excels in straightforward DIY web building, it lacks in feature and functionality customization. It won't be easy to add your own touch as Squarespace offers few extensions for enhancing functionality and customized web experiences, such as adding personalized toggle buttons or modules.
Fortunately, there are tons of Squarespace alternatives to explore that offer their own unique qualities and tailored environments. Below, we go through the best Squarespace alternatives for building a custom web presence with functionality and feature customization.
1. Wix: Best Overall
When you think of top web-building tools, Wix is usually one of the first on the list. Known for its flexibility and affordability, Wix delivers a variety of versatile tools and design components in all its packages, from free to premium plans. Wix shows why it's a design giant with its drag-and-drop editor and various responsive template and theme collection. Wix makes web building simple and offers a fast gateway to getting started on your beautiful website journey.
Being an industry leader in web building, Wix delivers templates and plans that fit almost any industry or niche out there. Setup is free and quick, allowing users to dive right into developing their web presence without much effort. Its comprehensive platform and built-in features equip users with all the tools and design elements they need, including SEO and marketing tools, eCommerce functionality, and more than 800 designer-made templates for your choosing. Wix offers a specialized environment for multiple use cases, whether showcasing a personal blog, professional portfolio, or retail catalog.
Wix may not provide the top-notch customer support of traditional web hosting companies, but it does offer the hosting essentials. Users can expect SSL security, domain registration, cloud storage, 24/7 website monitoring, and secure web hosting from Wix plans. With Wix, users don't have to worry about building anything from scratch. It even offers Wix ADI, an AI solution for website creation, to streamline the process further. Its easy-to-navigate, code-free interface allows you to develop, design, and market everything all in one place.
No coding skills needed with drag-and-drop builder
100s of templates with niche-specific designs
Add features via the App Market and Wix Events
Easily create ecommerce functionality easily
Great way to build small sites on a budget
WEBSITE BUILDER
RATING 4.9 ★★★★★ Our Review
Alexandra Anderson (HostingAdvice.com): Website building is where Wix shines. The thousands of templates, the intuitive editor, the industry-leading designs that cater to a variety of specific fields and use cases — all these facets represent a platform that excels at facilitating easy web design for the non-tech-savvy user. Go to full review »
| Money Back Guarantee | Disk Space | Domain Name | Setup Time |
| --- | --- | --- | --- |
| 14-day FREE trial | 2 GB – Unlimited | FREE (1 year) | 4 minutes |
2. GoDaddy: Best for Domains
GoDaddy is a leading web host that offers customization and holistic features at every turn. More than 21 million users leverage its platform to build and host their websites. GoDaddy is not only an excellent website-building resource but also a champion within the domain services market. World-renowned as the #1 domain registrar, GoDaddy is committed to delivering the best domain services in the industry and has a dedicated space and support team for its domain offerings.
GoDaddy's user-friendly platform allows users to build websites effortlessly, no matter their background. And its reliable hosting performance ensures a stable web presence throughout the year. The GoDaddy website builder gives users all the capabilities they need to manage their marketing and website needs. Users can manage their orders, domains, social, and content from one dashboard, giving them a full vantage point to scale efficiently. Its free plan includes email and social media marketing, an SSL certificate, 24/7 customer support, and branded content creation with GoDaddy Studio.
Users can start their website journey by registering a domain through GoDaddy's personalized domain registration, which includes a vast collection of TLDs and domain extensions within its registry. It's no wonder that GoDaddy is a leading provider of domain services, as it offers everything from domain name transfers to WHOIS privacy and domain value appraisals. Overall, the GoDaddy website builder makes for a great introductory point for beginners to the hosting world and equips users with one of the best domain registration services on the planet.
Get started for FREE, no credit-card required
Easy-to-use interface with tons of customization
GoDaddy InSight™ provides tailored action plans
99.9% uptime with an award-winning support team
Built-in marketing tools and expertise
WEBSITE BUILDER
RATING 4.8 ★★★★★ Our Review
GoDaddy: Our Expert's Review
Ryan Frankel (HostingAdvice.com): GoDaddy uses a custom website builder and easy access to dozens of content management systems to offer a user-friendly site-building solution to customers. Most of GoDaddy's hosting plans include these options at no additional cost. Go to full review »
| Money Back Guarantee | Disk Space | Domain Name | Setup Time |
| --- | --- | --- | --- |
| 30 days | Unlimited | New or Transfer | 5 minutes |
3. Shopify: Best for eCommerce
Shopify is a fantastic Squarespace alternative that delivers on all things eCommerce. Small business owners can appreciate its all-in-one commerce platform filled with tools, analytics, and eCommerce features to help them build a successful online storefront. Since the Shopify experience is dedicated to eCommerce, users will receive a tailored environment suited to their business needs. Shopify also has experts on standby to help users with their obstacles 24/7.
Shopify created its platform with small business owners in mind and tailored its hosting packages to meet their needs. With Shopify, users can launch an online presence without much effort and track their operations with its point of sale system and payment gateway service. Business owners can also easily build an online store with its site builder and can add further customization with Shopify API. Shopify allows users to complete many tasks on its dashboard, including processing credit card payments, selling on multiple sales channels, managing inventory, and executing marketing campaigns.
What makes Shopify stand out is its dedication and commitment to providing a comprehensive platform for eCommerce website users. It makes managing an online marketplace simple and offers tons of advanced features to set users up for success. Entrepreneurs looking to grow or start an online store can surely trust Shopify's capabilities to help them do just that.
Plans include a website builder with tons of Shopify themes
Get help with your name, logo, and online presence
Sell unlimited items via social media, a button, or POS
Developers can easily build on the platform via the API
Shopify experts available 24/7 to assist you
WEBSITE BUILDER
RATING 4.5 ★★★★★ Our Review
Shopify: Our Expert's Review
Toby Sembower (HostingAdvice.com): Shopify is a fully hosted web building platform that specifically serves the ecommerce niche. All plans include a free site builder tool and you can browse the Shopify theme store for a design that most closely matches your brand. Go to full review »
| Money Back Guarantee | Disk Space | Domain Name | Setup Time |
| --- | --- | --- | --- |
| 3-Day FREE Trial | Unlimited | FREE Subdomain | 5 minutes |
4. WordPress: Best for Blogging
WordPress is the most popular blogging platform for users around the world. Its content management system allows users to customize while web building and create blogs with Google Analytics and SEO built in. Many big names, including The New York Times, leverage its CMS software to develop content spaces tailored to their brands. But it's easy to confuse the two sites that carry the WordPress name for website building. Although users can utilize both for their website goals, WordPress.com and WordPress.org deliver different solutions.
WordPress.com is a fully hosted website that allows users to develop and design their website at no charge, while WordPress.org houses the WordPress CMS software. WordPress.org is where users download the WordPress software to pair with a hosting provider's plan. Now that you understand the difference between the two sites, let's dive deeper into their offerings and use cases.
WordPress.com
WordPress.com serves as a great option for beginner website owners because of its ease of use and free plans. Users can start designing as soon as they sign up and won't have difficulty navigating the dashboard and editor. With its free plan, users will get a fully hosted website with a subdomain and 3GB storage. However, a few downfalls come with using WordPress.com, making it not ideal for users looking to scale their web presence.
Although it offers basic functionality, WordPress.com lacks many features, including various theme designs, customer support, and an ample amount of hosting specs. WordPress.com provides limited theme support and customization. Its free plans don't have much storage or additional hosting resources. WordPress.com also displays ads on all websites that belong to free plan users.
Ultimately, WordPress.com is best for novices trying out website management and don't want to commit just yet. Although users can upgrade to its premium plans, the tradeoff is not the best since you can find better value and resources for a lower price at a third-party hosting provider.
WordPress.org
Users can leverage WordPress.org in conjunction with a web host to create and launch a website. A hosting package with WordPress pre-installed can come with many more benefits than choosing a WordPress.com plan. Users can enjoy plans that include unlimited storage, quality performance, a free domain name, and 24/7 customer support by spending a little more on third-party WordPress hosting.
Leveraging the software of WordPress.org makes website creation more successful and personalized. WordPress hosting plans have tons of plugins, which can significantly improve and extend your website's functionality. Its packages also have more eCommerce features and template designs for creating a creative brandable website. If you want further customization, self-hosted WordPress allows you to edit the HTML and CSS of your website.
Most web hosting companies offer plans tailored to WordPress users, so finding a web host with pre-installed software won't be challenging. For example, InMotion Hosting delivers affordable and high-performing WordPress hosting packages with stellar customer support and built-in security. Users can count on its guaranteed 12x faster speeds to power their websites, a free drag-and-drop WP page editor for a simple design journey, and premium themes and plugin subscriptions.
Build a complete modern website in an hour
Choose from 200+ industry-specific templates
Get a head start with starter text and images
Pre-installed WordPress with easy SEO tools
FREE website maker with any WordPress hosting
WORDPRESS WEBSITE BUILDER
RATING 4.9 ★★★★★ Our Review
InMotion: Our Expert's Review
PJ Fancher (HostingAdvice.com): InMotion Hosting, long known for affordable and high-performance shared hosting options, entered the WordPress space with a solid option built upon the company's reputation for great support and reliability. Build on an all-SSD infrastructure, InMotion's inherently quick speeds make the infrastructure a perfect fit for delivering rapid WordPress page loads. Go to full review »
| Money Back Guarantee | Disk Space | Domain Name | Setup Time |
| --- | --- | --- | --- |
| 90 days | 100 GB – Unlimited NVMe SSD | FREE (1 year) | 5 minutes |
5. Webflow: Best for Customizations
Webflow takes customization to the next level with its easy-to-use web builder and hosting environment. Usually, to get the most out of a site, you need to know how to code and edit the HTML and CSS. Webflow simplifies this process by eliminating the need for dev time and coding expertise. The Webflow platform allows users to leverage the power of HTML, CSS, and JavaScript without coding.
The Webflow Designer offers a visual approach to fundamental web elements, helping users understand the building blocks of development. Its visual canvas gives users complete control over their online projects and makes navigating the web-building journey easy, whether launching an eCommerce store or a restaurant display. Users can develop content-driven designs and craft immersive user experiences with the Webflow platform.
More than 850,000 users leverage the flexibility and customizability that Webflow offers to build websites that include whatever they like on the frontend. Users are no longer limited to the basic functionality of traditional DIY web builders but can make personalized websites that go beyond the bounds of pre-packaged templates and themes. Webflow also takes the pain out of web hosting and gives users everything they need right out of the box, whether that's CDN services, bandwidth, or custom domains. This way, users can scale their websites without worrying about hosting challenges or design limitations.
What is a Website Builder?
Website builders have helped democratize the web in more ways than one. Before it, users needed a coding background and extensive web design knowledge to create a simple website, which made it more difficult for users to obtain a web presence. Now, with web builders, users can create a well-designed website in no time without editing code or relying on a web design agency. And that is what a web builder is. It is a tool that allows users to develop and create websites with no coding needed.

Website builder software makes web design simple. Most web builders have a drag-and-drop editor with tons of customizable templates and themes for users to add their personalized touch and brand vision without much effort. Although some sites specialize in web building, many web hosting companies also provide web-building tools within their hosting plans for free.
A website builder can help website owners build a variety of sites, including portfolios, restaurant menus, and retail catalogs. It is a great way to launch an online presence filled with functionality and design capabilities that creates a smooth user experience. Overall, website builders have made owning a website accessible to more people by providing a cost-effective solution that simplifies everything web design.
What Should I Look for In a Website Builder?
When looking for the right website builder, you should consider a feature set that will help your web presence succeed. Although there are essentials that every web builder should have, seeking one that is tailored to your needs will be ideal. Above, we reviewed the best Squarespace alternative for each use case. By prioritizing the use case of your online project, you will find it easier to narrow down and decide on the right web builder.
Below, we share the essential traits that every web builder should have:
Before publishing a successful web presence, you must add and optimize multiple features so that your end users find everything they need when navigating your site. Create a website that reflects both your brand vision and meets your end-user needs. Some tools and features are more specific to some use cases than others, such as eCommerce and marketing tools, social share features, and other customization options. For example, an online store may need an inventory management feature and payment gateway service, while a user with a foodie blog may prioritize advanced SEO features and email marketing. Web builders with plugins can also come in handy for many users, as they can extend the functionality of a website by a vast margin without any coding effort.
Can I Build a Website for Free?
The short answer is yes. There are tons of free site builders on the market, with some even including hosting services. For example, IM Creator is an intuitive website-building provider offering free plans with various themes, eCommerce features, and hosting to students, artists, and nonprofits.
However, free site builders don't come without tradeoffs. Many are limited in resourcefulness, require ad display, and may not always have the best user experience or customization options. That said, free builders are typically a better option for beginners and users who don't want to make too much of a commitment.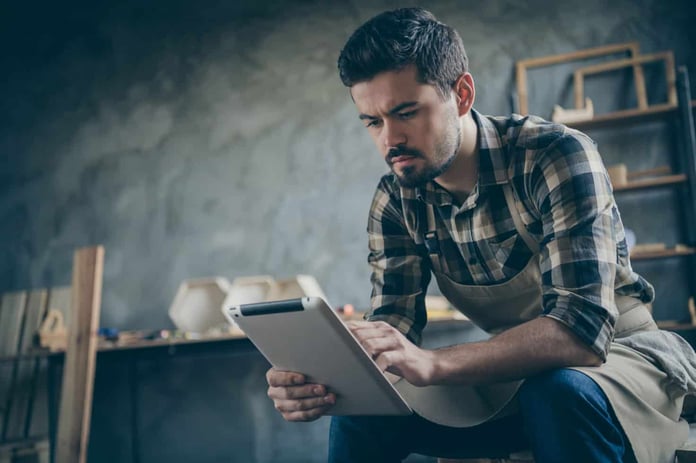 If you're looking for a feature galore with a hosting performance to match, you may be better off choosing a paid or premium plan. Use cases requiring greater functionality, such as online businesses, will need a plan to deliver on web needs and enhance brand display and operational output.
Here are a few providers that offer a free plan with web building included:
Choosing the Right Web Builder for You
Website builder software has helped reshape the web landscape and provide tons of benefits to users that were otherwise nonexistent a decade ago. With them, users can save time and money on website creation while relieving the pain points of web design and development. Because they stay up to date, website owners will always find the tools and features they need to maintain their web presence. But, having so many website builders on the market can make it tricky to choose the right one.
When choosing a web builder, go with one that delivers on your core needs and caters to your use case, whether an eCommerce website or blogging platform. Always lean toward a web-building tool with a user-friendly interface and editor with all the essentials, including customizable templates and SEO tools. If you do your homework, you will surely find a provider with a reputable service to meet your needs and help you achieve your web-building goals.
Further Reading: "5 Best Squarespace Alternatives (June 2023) - $0 to $29"
Hopefully, our recommendation of Wix fulfills all your web hosting needs. Starting at just $0.00 per month and rated 4.9 overall, Wix gives users plenty of bang for the buck. Among our favorite features:
If you'd like recommendations similar to Wix and others in 5 Best Squarespace Alternatives (June 2023) – $0 to $29, check out these popular guides. You'll find comparisons of Wix to other hosts on pricing, features, support and more:
And of course, if Wix is your top choice, you can get started now at just $0.00/month. Wix is easy to set up and scale, no matter the size of your next project.
Advertiser Disclosure
HostingAdvice.com is a free online resource that offers valuable content and comparison services to users. To keep this resource 100% free, we receive compensation from many of the offers listed on the site. Along with key review factors, this compensation may impact how and where products appear across the site (including, for example, the order in which they appear). HostingAdvice.com does not include the entire universe of available offers. Editorial opinions expressed on the site are strictly our own and are not provided, endorsed, or approved by advertisers.
Our Editorial Review Policy
Our site is committed to publishing independent, accurate content guided by strict editorial guidelines. Before articles and reviews are published on our site, they undergo a thorough review process performed by a team of independent editors and subject-matter experts to ensure the content's accuracy, timeliness, and impartiality. Our editorial team is separate and independent of our site's advertisers, and the opinions they express on our site are their own. To read more about our team members and their editorial backgrounds, please visit our site's About page.