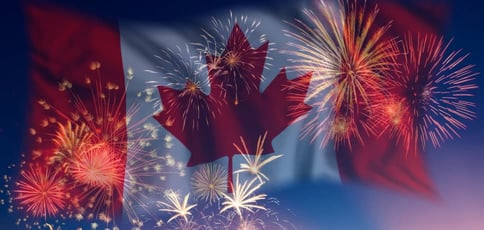 You may be familiar with these hosts for the best web hosting for Canada. Many of the top web hosting companies you see online or on TV offer a global network of distributed servers to reach a large audience of users, including server networks throughout Canada. It's essential to have a web host with datacenters near you so your web project won't suffer latency and performance issues. Web hosting providers also tend to have a global customer support staff that can communicate with users on their local timing and native language.
Below, we will go through our top nine web hosting companies for Canada. We reviewed each of these hosts personally and will give an unbiased assessment of their features and server performance to help you choose the best web hosting for your needs.
Bluehost: Best Overall
Bluehost offers an all-in-one hosting experience that tackles every hosting need, including email hosting, domain registration, and website building. But what makes it stand out is its user-friendly interface and reliable service. Known as a WordPress host, Bluehost has fantastic plans dedicated to optimizing the WordPress website, helping many users launch their sites successfully. Its 24/7 customer support also includes assistance from WordPress experts and can help users with everything from setup to troubleshooting.
Users receive tons of free perks alongside affordable hosting plans packed with essential resources. Bluehost provides a free CDN, SSL certificates, and domain names to boost user web presence and allows users to test its services with a 30-day money-back guarantee. As for server types, Bluehost's hosting plans range from shared to dedicated server hosting that customers can use to create their own online stores, personal blogs, etc. With automated security updates and backups, users can have peace of mind while running a professional website with all the bells and whistles.
Cheap shared hosting from a trusted provider
Ideal for hosting a WordPress website
FREE Weebly website builder and Cloudflare CDN
Unlimited traffic and 24/7 live chat support
Get 70% off today with our Bluehost coupon
CHEAP
RATING 4.7 ★★★★★ Our Review
Bluehost: Our Expert's Review
Ryan Frankel (HostingAdvice.com): Bluehost pricing is about as competitive as the industry offers. Sign up for a shared hosting plan for as little as $2.95 per month, and WordPress hosting packages are consistently priced; a VPS plan starts at around $19.99 per month; and the dedicated hosting rates are as little as $79.99 per month. Go to full review »
| Money Back Guarantee | Disk Space | Domain Name | Setup Time |
| --- | --- | --- | --- |
| 30 days | 10 GB SSD – 100 GB SSD | FREE (1 year) | 5 minutes |
Hostinger: Best for Beginners
If you're a beginner website owner, finding a web host with an easy-to-use hosting environment will definitely make your journey less daunting. Thankfully, Hostinger offers a simple and holistic approach to hosting for users who need less complexity. Although its platform is simple to use, Hostinger still prioritizes top-notch performance and reliability backed by a complex infrastructure. Users don't have to sacrifice high-quality hardware and server performance for usability. Thousands of customers leverage Hostinger to power their websites and online projects.
Another highlight of Hostinger's services is its affordability. Its base shared hosting plan is less than $2 and offers the same powerful features as other budget hosts. But its higher plans come with more unlimited goodness, with unrestricted consumption for bandwidth, number of websites, SSL encryption, databases, and FTP accounts. Users can leverage its intuitive hPanel, which is localized in 15 languages, to carry out their hosting management tasks and check on the metrics of its LiteSpeed-powered server performance for their websites.
Unlimited everything, from storage to databases
FREE site builder & WP performance upgrades
FREE daily or weekly backups
Custom control panel and auto-installation scripts
SSH access & unlimited FREE SSL certificates
CHEAP
RATING 4.9 ★★★★★ Our Review
Hostinger: Our Expert's Review
Laura Bernheim (HostingAdvice.com): As the shared hosting market becomes increasingly saturated, unlimited storage, bandwidth, and email accounts have become surprisingly average. Hostinger, however, extends the routine, expected metrics to greater lengths — the number of websites, databases, FTP users, subdomains, and parked domains are all unrestricted for most customers. Go to full review »
| Money Back Guarantee | Disk Space | Domain Name | Setup Time |
| --- | --- | --- | --- |
| 30 days | 50 GB SSD – 200 GB SSD | FREE (1 year) | 3 minutes |
A2 Hosting: Best Uptime
A2 Hosting prides itself on providing blazing-fast speeds and unmatched performance. Starting as a web host dedicated to developer needs, A2 Hosting has maintained its developer-friendly shared servers while shifting its focus to performance. A2 Hosting serves more than 110,000 customers in 223 countries, with a global support team ready to help users with anything they need.
The web hosting company also ensures top performance for users, no matter where they are. Its unique turbo hosting plans deliver upgraded server hardware, advanced caching, optimized configuration, and limited occupancy for a smooth and performant user experience.
With A2 Hosting's optimizations, users can rest assured that their websites will have quick loading speeds and a smooth end-user experience. Users can also select from VPS, shared, WordPress, and dedicated hosting for their hosting environment. These plans include NVMe SSD storage, site migration, automatic backups, A2 SiteBuilder, unlimited email, and a cPanel integration, among other essential features. A2 Hosting gives users everything they need to start a web presence and reliable customer support to boost their success.
FREE Cloudflare CDN and SSD speed boost
Optimized caching and 1-click installs
Unlimited email, domains, and databases
Advanced security and FREE HackScan
24/7 support via phone, chat & tickets
CHEAP
RATING 4.5 ★★★★★ Our Review
A2 Hosting: Our Expert's Review
Alexandra Anderson (HostingAdvice.com): There are plenty of excellent cPanel shared hosting providers out there, so what sets A2 Hosting apart from the rest. Not only does the company offer a ton of features, but it has custom-built its packages for enhanced performance, speed, and security — putting your priorities above pricing. Go to full review »
| Money Back Guarantee | Disk Space | Domain Name | Setup Time |
| --- | --- | --- | --- |
| 30 days | 100 GB SSD – Unlimited SSD | New or Transfer | 4 minutes |
HostGator: Best to Grow With
Launching in 2002, HostGator has a long-standing reputation in the hosting industry. It has proved to be a reliable and battle-tested website hosting service with a loyal customer base. These qualities make it an ideal choice for users to grow with over time. HostGator also designs its tools and hosting plans to scale with users. The web hosting provider hosts more than 2 million websites and assists pros and novices with hosting needs. Users can choose from shared hosting, VPS hosting, dedicated server, and optimized WordPress hosting packages from HostGator.
Every HostGator plan comes with unlimited bandwidth, SSL certificates, site migration, and free domain registration. With these resources, users can build secure and reliable connections for their end users while quickly setting up their web presence. HostGator also arranges its hosting plans for users to scale easily. If your website grows and needs more resources, users can purchase the next tier or migrate to another server type for better performance tailored to their needs.
Host up to unlimited websites on a single plan
FREE SSL certificate included on all plans
Unlimited bandwidth & email addresses
1-click WordPress installs & FREE blog tools
Get 67% OFF by buying 36 months upfront
CHEAP
RATING 4.6 ★★★★★ Our Review
HostGator: Our Expert's Review
Ryan Frankel (HostingAdvice.com): HostGator is a great compromise between performance and price. The company offers unlimited emails, MySQL databases, disk space, and bandwidth, plus one-click installs of popular open-source projects, in addition to a 99. Go to full review »
| Money Back Guarantee | Disk Space | Domain Name | Setup Time |
| --- | --- | --- | --- |
| 30 days | Unlimited | FREE (1 year) | 4 minutes |
iPage: Best for Business
These days, it seems every small business has a website, whether for marketing purposes or even a restaurant menu. For a company to make it online, it needs a reliable web hosting service, eCommerce functionality, and a site builder. iPage delivers all this and more with budget-friendly pricing. Businesses can use iPage's services to build websites, monitor site traffic reporting, and personalize email communications. iPage gives users everything they need to get started with their online business experience while providing stability and room for growth.
iPage's shared hosting plans start at less than $2 a month and include unlimited websites and storage, free SSL, email, and a complimentary domain name for a year. As for additional tools and features, iPage offers one-click WordPress installation, a website builder with customizable layouts, PayPal integration, and email marketing, among other benefits. Users also don't have to worry about uptime or security issues, as iPage has redundant power systems and 24/7 network monitoring, which helps your business remain available around the clock.
Easy setup and superb reliability since 1998
FREE domain and Google marketing included
Unlimited bandwidth, storage, and emails
FREE site builder and shopping cart
Get more than 38% off today (was $7.99/month)
CHEAP
RATING 4.7 ★★★★★ Our Review
iPage: Our Expert's Review
PJ Fancher (HostingAdvice.com): Whether you're a first-time website owner or a web veteran, iPage's excellent hosting services and a fantastic list of extras make the brand one of the best values in web hosting. Unlimited disk space, scalable bandwidth, and emails are just a part of what makes iPage's shared hosting plan a great deal. Go to full review »
| Money Back Guarantee | Disk Space | Domain Name | Setup Time |
| --- | --- | --- | --- |
| 30 days | Unlimited | FREE (1 year) | 5 minutes |
Kamatera: Best Cloud Hosting
Cloud hosting has grown exponentially over the past decade, with most mainstream hosts providing the server type within their platforms. The cloud is flexible, agile, and scalable. With its resources, users can grow without limitations and tackle large online projects. Most cloud networks are also global and accessible for optimal performance no matter where you are in the world. Kamatera specializes in cutting-edge cloud technology and offers various cloud-based solutions. The Kamatera team also goes the extra mile to explain every one of its solutions and their use cases, so users can rest assured they're making the right choice. Users can always sign up for its 30-day free trial if unsure.
With a datacenter located in Toronto, Canada, Kamatera ensures maximum performance and accessibility for users in Canada. Its instant scaling is also set on a flexible pricing model allowing users to pay for only the resources they need. Every new cloud server account comes with 1000GB of storage and traffic. Users can also configure their servers and choose their datacenter, OS, CPU, RAM, and other system preferences. Besides its top server speeds and flexibility, users can also leverage Kamatera's 24/7 customer support for technical assistance.
Ultimate scalability with limitless customizations
Create and deploy servers in 60 seconds
Easily add load balancers and firewalls
Stellar 99.95% uptime guarantee
Sign up today for a 30-day FREE trial
CLOUD
RATING 4.9 ★★★★★ Our Review
Kamatera: Our Expert's Review
Laura Bernheim (HostingAdvice.com): Starting with more than 60 operating system images to choose from, Kamatera is a strong option for developers who know exactly what environment works best for their project. Customize your cloud server as needed and deploy in less than a minute. Go to full review »
| Setup Time | Disk Space | CPU | RAM |
| --- | --- | --- | --- |
| 5 minutes | 20 GB SSD – 4 TB SSD | 1 – 104 cores | 1 GB – 525 GB |
SiteGround: Best Customer Support
Customer support is essential when starting a website journey and even more so down the line. Bumps in the hosting road can appear out of nowhere, showing why a reliable and capable hosting team is imperative. SiteGround excels in customer service and is dedicated to delivering top-notch and responsive assistance to its customers. SiteGround offers 24/7 support and responds to customer questions via phone and chat without wait times. The team uses its year of expertise to provide premier service and helps users with tickets by distributing them to agents based on their skill and experience.
Other than its specialized customer support, SiteGround provides an excellent hosting environment primed with free CDN, SSL, and daily backups. The WordPress community also recommends the web host for its optimized WordPress hosting plans and features. SiteGround leverages Google Cloud infrastructure to power its server environment, which means users get top page loading speeds, reliability, and security. With 19 years in the industry, SiteGround has shown itself as a trustworthy and reputable web hosting provider for thousands of customers, big and small.
FREE website transfer service to get started
99.9% uptime guarantee and unlimited traffic
User-friendly WordPress installation
24/7 support featuring custom systems
4 caching options plus staging and Git
CHEAP
RATING 4.6 ★★★★★ Our Review
SiteGround: Our Expert's Review
Alexandra Anderson (HostingAdvice.com): Providing hosting with the perfect balance of technological innovation and superior customer support, SiteGround offers a range of affordable hosting services to meet your needs. In addition to the expected cheap web hosting perks — a free website builder and unlimited bandwidth — the company specializes in custom-built tools to deliver strong and positive user experiences. Go to full review »
| Money Back Guarantee | Disk Space | Domain Name | Setup Time |
| --- | --- | --- | --- |
| 30 days | 10 GB SSD – 40 GB SSD | New or Transfer | 6 minutes |
Liquid Web: Best Premium VPS
If you're looking for high-performing VPS services, Liquid Web is your host. Liquid Web builds its server infrastructure with best-in-class technology that delivers lightning speeds and stability. VPS users leverage these servers for their customizability and scalability, and Liquid Web doesn't fail to provide these two significant indicators of success. Users receive full root access to complete their configurations and modifications. Customers also don't have to worry about reliability issues, as Liquid Web has a 100% uptime guarantee and SLAs.
Liquid Web offers both fully managed and unmanaged VPS hosting packages. With its plans, users receive free range and control over their hosting environment. And since its plans are in a cloud VPS setting, Liquid Web can allow users to scale with the same flexibility of the cloud. Liquid Web's VPS hosting includes off-server backups, multilevel DDoS protection, speedy SSD storage, and a choice between Plesk and cPanel control panels. With an integrated firewall and Cloudflare CDN, Liquid Web delivers a fast and secure server infrastructure for every user.
High-speed hosting that's faster than AWS, Rackspace, and Digital Ocean
FREE backups, CDN, and DDoS protection
Up to 16 processors with all-SSD storage
Choice between cPanel, Plesk, or InterWorx
Real-time monitoring and 100% uptime guarantee
VPS
RATING 4.5 ★★★★★ Our Review
Liquid Web: Our Expert's Review
Alexandra Anderson (HostingAdvice.com): It's no secret by now that Liquid Web is known for best-in-class technology and reliability that exceeds expectations. The company's cloud VPS environments embody that reputation to its fullest — including managed WordPress and WooCommerce products. Go to full review »
| Setup Time | Disk Space | CPU | RAM |
| --- | --- | --- | --- |
| 7 minutes | 40 GB SSD – 200 GB SSD | 2 – 8 cores | 2 GB – 16 GB |
HostPapa: Best Canadian Web Host
Headquartered in Burlington, Ontario, HostPapa is a Canadian web hosting company that offers everything from shared and managed WordPress hosting to email hosting and domain services. Users based in Canada can enjoy proximity to its servers for optimal performance and high availability.
HostPapa is fantastic for small business owners who need all their hosting essentials under one roof for better organization and a seamless experience. Users can find the perfect domain name, build their site, leverage marketing tools, and create custom domain-based email addresses for their online business web presence.
HostPapa ensures secure and fast-loading web connections by leveraging high-performing Supermicro servers combined with Cloudflare CDN and Protection Power malware scanning. HostPapa's base shared hosting plans include 100GB of storage, free domain registration, a website builder, and a cPanel control panel. Its team also does free site migrations that avoid downtime. HostPapa makes it easy for users to scale and switch between server types. With HostPapa's premier customer support and easy-to-use interface, users can complete tasks and receive assistance when needed.
FREE drag-and-drop HostPapa website builder
Host unlimited WordPress sites on one account
24/7 support via phone, email, and live chat
FREE domain registration and email accounts
99.9% uptime guarantee and unlimited bandwidth
CHEAP
RATING 4.4 ★★★★★ Our Review
HostPapa: Our Expert's Review
Laura Bernheim (HostingAdvice.com): Where HostPapa shines is with shared hosting, which offers affordable and feature-rich plans geared toward helping both website and small business owners grow their online presence. HostPapa wants to be more than just a web host, according to CEO Jamie Opalchuck, who told us that the company aims to be a 1-stop shop for small businesses looking for a seamless and simple experience to help them grow. Go to full review »
| Money Back Guarantee | Disk Space | Domain Name | Setup Time |
| --- | --- | --- | --- |
| 30 days | 100 GB SSD – Unlimited SSD | FREE (1 year) | 5 minutes |
Web Hosting Definitions
Web hosting is crucial to the internet because it is how companies make website content accessible online to users. Web hosting providers deliver this internet service by renting out or selling server space to users to store their web files and other content. Once a user subscribes to a web hosting plan, they can build a website and launch it on the internet for visitors to see.
If you're in the process of choosing a web host, you will need to know the standard definitions of web hosting to decipher which plan is best for your web goals. By understanding the basics of web hosting, you can choose the right server type and know which web hosting providers offer reliable and performant packages by their hosting specifications. Below, we list the top hosting terms for web hosting shopping done right.
What Is Shared Web Hosting?
Shared hosting is one of the most popular forms of server plans, especially for beginner website owners. It gives users just the right amount of resources to get them started with launching a website. Most users also find it easy to use and understand, making for smooth hosting and website management. Shared web hosting is also the cheapest, and that's because of its infrastructure makeup.

Web hosts can leverage the resources of a single server to power multiple websites with shared servers. Shared hosting's resource distribution doesn't have much separation, which means users don't exactly get dedicated resources. Instead, they share them and can feel the effects of "noisy neighbor syndrome." When this syndrome happens, one user's website could be draining a lot of resources for other users because they may be experiencing a traffic spike.
What Is VPS Hosting?
VPS hosting doesn't share many similarities with shared hosting, but it does have one in common — they both use one server to accommodate multiple users. VPS hosting, however, takes this concept to the next level. Virtual private servers, or VPSes, leverage virtualization technology to divide and distribute server space to users. This means users get dedicated resource allocation and separation from other users' website usage.

VPS hosting offers users benefits they won't get from shared hosting. Its servers are more customizable and flexible than shared servers, making it an ideal choice for developers and more experienced users. VPS customers get full control over their hosting environment through root access and can make modifications to their liking. Users can also scale their resources, as they receive more space to do so than shared hosting. Because it is cheaper than dedicated hosting and has more resources than shared hosting, it is like the happy middle of shared and dedicated servers.
What Is Dedicated Server Hosting?
Dedicated server hosting provides the highest level of speed, reliability, and stability than other types of server hosting, and the reason is right in its name. When users purchase a dedicated hosting plan, they receive an entire server to themselves to host their websites and web files. With its dedicated environment, users receive high performance and security ensured because there are no other users to siphon resources. Performance is consistent, and users can configure the server to fit their needs.
But users have to purchase dedicated hosting at a premium. Getting an entire server comes at a price. If you opt for a managed dedicated server plan, you will have to pay extra since you are leaving your hosting management in your web hosting provider's hands.
What is Cloud Hosting?
Cloud hosting had a massive surge in recent years, especially among major enterprises. It serves as the hosting infrastructure for many industries because of its flexibility, affordability, and performance. With cloud hosting, users can reach more people, configure and customize to their needs, and power large online projects and applications.

Cloud computing involves a network of servers that work together to store and make web files available on the internet. Its redundant nature allows for more security and uptime, since another server can take over if one fails. It also enables unlimited scalability. Users can scale their resources and customize their plans to pay only for the resources they need. Cloud hosting gives users high performance and agility, with the power of a global network to back them up.
What Is Bandwidth?
The term bandwidth refers to the amount of data that can be transferred from a server to a user within a specific time period. The more bandwidth you have, the faster your website data can reach a user. Most web hosts offer unlimited bandwidth with their hosting plans.
More bandwidth can also allow website owners to display more content, making the user experience more appealing and personalized to their visitors. Users can check their bandwidth usage through the control panel of their hosting environment. Bandwidth is usually measured in Gigabytes (GB).
What Is SSD storage?
SSD storage plays a significant role in server performance and operations. SSD stands for solid state disk drive and is a storage device that stores a website's files and uses a memory chip to record data. These drives replaced hard disk drives, or HDDs, which were less expensive but had more operational pain points. Unlike HDDs, SSD storage has no moving parts and is faster, leaner, and more reliable.

A web server has SSD storage built into its structure. SSD storage enables websites to load pages with speed. The SSD tracks data and finds requested data within nanoseconds. Web hosts offer both SATA SSDs and NVMe SSDs. NVMe SSDs are a newer, more efficient, and more expensive version of SSD storage. Depending on the web host, they may offer NVMe with all its hosting plans or only with a couple of server types.
What Is a Domain Name?
A domain name is the string of text users type into a browser window to visit a particular website. The domain name is essentially the name of a website and what DNS uses to map IP addresses. Computers use IP addresses to communicate and send information to one another. Since IP addresses aren't the most user-friendly or memorable, people leverage domain names to replace these IP addresses when searching for a website.
Examples of domain names include google.com or healthcare.gov. Domain names are not to be confused with URLs. A URL, or uniform resource locator, consists of the domain name but also has the protocol and path attached to it. HTTPS is the protocol, and the text that comes after the domain name is the path.
What Is an SSL certificate?
SSL encryption, which stands for Secure Socket Layer encryption, is crucial to the security and credibility of a website. An SSL certificate is a digital certificate that authenticates a website's identity and secures the connection between a web server and a web browser. Users leverage SSL to protect transactions and keep customer data private and secure when transferring between their two systems.

SSL encryption is a standard in the hosting industry. If you see a padlock next to a URL, the site is secured by SSL encryption. The 's' in HTTPS also displays that a site has an SSL certificate. Most web hosting companies provide a free SSL certificate with their plans. So it won't be difficult to acquire one.
The best web hosting services have many more essential features than the ones listed above. Looking for a website hosting provider with security, excellent uptime, and other optimization features would be best. Customer service is a crucial factor to consider too. Having a web host that values support and offers multiple points of contact, including live chat and ticketing, is imperative when you need help overcoming hosting hurdles.
Why It's Important to Have a Web Host Near You?
The proximity between your servers and your end users is essential to the success of your websites. Users don't want to wait more than seconds for a website to load. These days, if a website takes more than a few seconds to display its content, a user will navigate away and to another competitor. And a server's physical location can directly impact a website's performance and data transfer speed.

Data travels fast across the internet through fiber-optic cables. But the wider the distance, the longer it will take for data to reach another server or computer. This is why web hosts have multiple datacenter locations and why many people leverage cloud hosting. Cloud providers, including Google Cloud, have great accessibility because cloud hosting uses a global network of servers to host website files. If you need another hosting form other than the cloud, you can find a host based in your home country for the best performance.
Web hosting providers, such as Hawk Host and Web Hosting Canada, have Canadian server locations. Hawk Host has multiple datacenters, and users from Canada can use its Toronto location to host their websites for fewer latency issues. Web Hosting Canada provides a specialized and localized hosting service tailored to the Canadian user experience, with support and environments in both of Canada's official languages.
Choosing the Best Canadian Web Hosting
Finding the best web host for your needs won't be challenging, whether you want a managed WordPress hosting plan or a dedicated Canadian server. There are tons of choices out there that have the accessibility and the performance quality to meet visitor expectations. Canadian-based users can look to the global web hosts we've listed above for something more niche within their home country.
The best web host will have all the tools you need to create a successful web presence, from domain registration and a free SSL certificate to SSD storage and an uptime guarantee. Reliable customer support is also essential. Search for a web host that has live chat, ticketing, phone, and email contact options. Learning more about the reliability of a web hosting company can lead you in the right direction when choosing the right host.
See Our Full Review of Bluehost
Whatever type of hosting plan you're looking for, Bluehost is a solid choice no matter the scale. Our reviewer Ryan Frankel recently took Bluehost for a spin, and rated the popular host a 4.7 in the Cheap Hosting category out of a perfect score of 5.0. Here's what Ryan had to say about Bluehost:
Bluehost has a rock-solid reputation in the shared and WordPress hosting communities, and the host is a long-time favorite of mine. Today, Bluehost powers more than 2 million websites, and the team touts years of experience. With well-maintained servers, competitive pricing, and excellent customer support, Bluehost is hardly a pick you'll regret.
Before signing up for Bluehost, it's a good idea to read through Ryan's full review to learn about all the features Bluehost offers. You can also compare it to other web hosts to ensure you're getting the best deal possible:
If you decide Bluehost is the right choice, keep in mind that it takes just minutes to deploy your Bluehost server space. And at $2.95 per month, it's a bargain considering the many great features that come in any Bluehost plan.
Advertiser Disclosure
HostingAdvice.com is a free online resource that offers valuable content and comparison services to users. To keep this resource 100% free, we receive compensation from many of the offers listed on the site. Along with key review factors, this compensation may impact how and where products appear across the site (including, for example, the order in which they appear). HostingAdvice.com does not include the entire universe of available offers. Editorial opinions expressed on the site are strictly our own and are not provided, endorsed, or approved by advertisers.
Our Editorial Review Policy
Our site is committed to publishing independent, accurate content guided by strict editorial guidelines. Before articles and reviews are published on our site, they undergo a thorough review process performed by a team of independent editors and subject-matter experts to ensure the content's accuracy, timeliness, and impartiality. Our editorial team is separate and independent of our site's advertisers, and the opinions they express on our site are their own. To read more about our team members and their editorial backgrounds, please visit our site's About page.