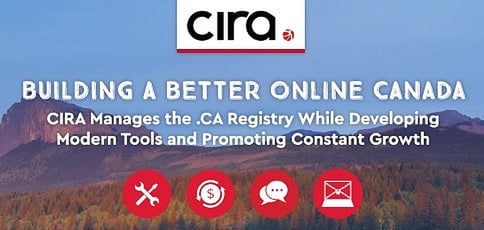 TL; DR: Beyond promoting and managing Canada's country code top-level domain, or ccTLD, the Canadian Internet Registration Authority (CIRA) uses nearly two decades of expertise to strengthen the country's online networks and provide the tools to help global registries operate with modern technologies. CIRA has weathered the explosion and maturation of the domain industry by instilling a sense of Canadian pride in the .CA domain. By overhauling its registry infrastructure and making the platform available to registries around the world, CIRA ensures a secure and reliable internet for users and organizations worldwide.
With so much of Canada's telecommunications and internet routing to hubs in the United States, Canadians' web traffic, emails, and private data often travels across international borders during transmission — even if the two parties are located mere blocks apart.
When tracking information contained in data packets, for example, University of Toronto researchers discovered that applications for student loans that originated in Ontario and were being submitted to the Ontario government were electronically passing through the US — making students' most private, sensitive information instantly subject to the PATRIOT Act.
In addition to educating Canadians about the nuances of the country's internet connections, the not-for-profit Canadian Internet Registration Authority, or CIRA, plays a central role in improving Canadian connectivity and online prosperity.
"One of the things we see is that Canadians prefer to do business with other Canadians," said Senior Manager of Communications Tanya O'Callaghan. "The .CA domain name immediately identifies a site as Canadian, which brings clear benefits. Sometimes there is a bit of this patriotic feeling, and sometimes it's very tangible in that visitors are shopping in Canadian dollars."
Adjusting to the Growth and Maturation of the Domain Name Industry
CIRA, which was established in 1999, took over the management of the .CA domain registry a year later. The rapidly expanding industry experienced explosive growth rates for roughly the first decade. As registrations slowed, the Internet Corporation for Assigned Names and Numbers (ICANN) approved roughly 1,200 new top-level domains — a massive jump from about 20 generic TLDs, or gTLDs, and 200-some country code TLDs (ccTLDs).
"They essentially deregulated the market," Tanya said. "We have faced a double challenge as an industry over the last few years. The maturing market means significantly lower growth rates, and, all of the sudden, the floodgates of competition were flung wide open."
To adapt, Tanya said, CIRA re-examined and updated the organization's strategic directions. As CIRA's growth rate slowed, the organization revamped communications and marketing efforts.
"We commonly say that we're rejecting the curve," she said. "We reject the notion that the domain industry is slowing."
Particularly in Europe, according to Tanya, many ccTLDs have experienced quarters of zero growth. With CIRA, however, the .CA domain experienced its second-best year in 2016 in terms of new registrations.
"We're seeing the fruits of those efforts," she said. "Our growth rates are bucking the trend elsewhere in the market."
CIRA Assists Other Registries by Providing Modern Platforms
Another prong to CIRA's approach was to diversify the types of services the organization offered.
"As a domain registry, we're a one-trick pony," Tanya said. "As you can imagine in a rapidly changing industry, that carries a high risk."
Looking to create products that benefited CIRA operations and that could later bring value to other organizations, the nonprofit's engineers set out to update CIRA's 10-year-old registry platform.
"First, we looked at what a next-generation registry platform could look like for ourselves," Tanya said. "Then, we decided that if we were going to make this significant investment, let's make something that can also be used by other registries."
The result, CIRA's Fury Registry Platform, integrates the registry database itself with common business operations that have emerged as the domain industry has evolved.
"Fifteen to 20 years ago, it was an industry that didn't have to market or advertise, and now there are things like premium pricing and promotions, for example," Tanya said. "All of that functionality to support the changing business is now built into the new registry platform, rather than making it these onerous processes."
2 Ways CIRA Promotes Internet Expansion in Canada
In addition to maintaining the .CA registry, CIRA carries a mandate to "build a better online Canada," meaning support for the development of internet technologies and online communities.
"That's really where CIRA is able to play a more central role, given our expertise and who we are beyond just the domain registry," Tanya said. "We talk about the state of sovereignty, or of keeping Canadian data in Canada."
1. Increasing the Number of Internet Exchange Points
Being a large country with a fairly small population "living next door to" an extremely influential country, Canada faces unique challenges that CIRA's peers in Europe do not experience.
For instance, Canada hosts very few internet exchange points, or the infrastructure through which internet service providers and content delivery networks exchange content.
"If I'm in Ottawa and I want to send an email to someone across town, it's very likely that my email will first go down to somewhere in the US and back up to Canada, even though we might be local customers in the same geographic area," Tanya said.
A few years ago, Canada had only two exchange points; now, according to Tanya, the number has soared to around a dozen.
"There are multiple benefits to internet exchange points," she said. "In some cases, there may be better feeds or better-quality connections, and, then, of course, in an environment with things like privacy concerns, more internet exchange points maintain that traffic within Canadian borders."
2. Funding a Community Investment Program
Since 2014, CIRA has reinvested a portion of its revenue in various programs and projects to build a stronger, safer, and more accessible internet experience for Canadians.
Tanya estimated that CIRA has provided about $1 million per year to academics or community-based organizations to accomplish everything from building out new infrastructure, increasing residents' digital literacy, and addressing emerging issues.
For example, funded projects have delivered high-bandwidth internet to remote northern communities, taught children about online safety, and shown elderly people how iPads can help them stay connected to their families.
"The breadth of programs is pretty broad," Tanya said. "A lot of technology companies have corporate social responsibility programs, but the difference here is that our investment program is at the core of who we are as an organization. It's not an auxiliary program, it's one of the foundational blocks. Giving back to our community is actually our reason for being."
CIRA Combines a Love of Technology and Nonprofit Work
With a background in the nonprofit sector, Tanya, a self-described geek, said she was excited to join CIRA and combine her two passions.
"It's not often in the not-for-profit area that you get to be involved at the forefront of technology," she said. "Those two things don't usually go hand in hand."
Although CIRA's mission has always been to build a better online Canada, Tanya said she's noticed a renewed push in recent years behind the organization's latest strategic plan.
"When you ask people here what draws them in, what makes them come into work in the morning, it's that idea," she said. "What's amazing is that resonates with people regardless of what their favorite interest or skill set might be. As a geeky technology person, I have hands-on involvement with maintaining the safety and security of the internet in Canada, which is, of course, a highly noble purpose given the central role the internet plays in our social, economic, and cultural lives."