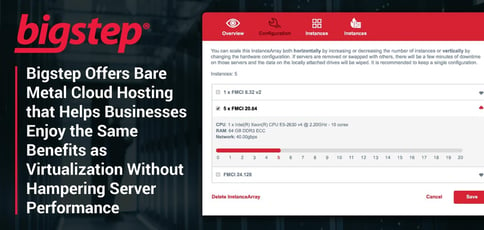 TL; DR: Cloud services provider Bigstep offers customers high-performance, low-latency solutions that improve on virtualization. Bigstep's primary product, the Metal Cloud, was built to run big data workloads on bare metal servers and has since been adapted for general-purpose cloud infrastructure. The company, founded in 2013 in London, continues to stick with its single-tenant physical server philosophy — as opposed to shared virtualized servers. Bigstep is also growing its footprint worldwide and aims to provide the ultimate in cost-performance efficiency through innovation and automation.
In an era when cloud-based virtualized servers are trending, it is refreshing to find a hosting provider like Bigstep that bases its value proposition on the solid foundation of bare metal servers. That type of client-server computing was first popularized in the 1990s and is making a comeback thanks to its efficiency in processing big data.
Hosting technology was pretty straightforward in the 1990s. A typical PC server was dedicated to a workgroup — or an individual — with all onboard computing power assigned to a limited number of jobs. Resource sharing was strictly localized. Users accessed the same files, via the same copy of the application, and likely not even segmented from each other — let alone virtualized.
Given the power available from servers in 2019, that way of working may sound like a resource-intensive solution. Yet, the logic of running big data and other massive workloads on non-virtualized, hybrid platforms is compelling. According to Bigstep President John Martis, the approach means nothing sits between application data and the innermost workings of the dedicated server hardware.
"There was a rush to the cloud back when it became the thing to do. But, more recently, people have started to realize that the conventional virtualized cloud model is not the be-all, end-all. Virtualization makes sense for certain workloads, but not for every workload — as many organizations are finding out," John said.
The bare metal cloud approach may sound like a bit of a throwback; however, analyst MarketWatch expects the market to grow to $7.73 billion by 2023, at a compound annual growth rate (CAGR) of 31.12% during the forecast period.
And that prospect does not come as a surprise to John.
"Before I joined Bigstep, I spent years working in managed services, and every week we helped customers get off of their cloud and onto bare metal," he said.
Losing the Hypervisor Can Win Performance Gains
John was attracted to Bigstep because of its idea to develop bare-metal services with cloud-like functionality — without the 'overhead' of a hypervisor.
"Having worked in the hosting sector for a long time, I'd not seen much — if any — innovation in the industry for 10 years. So what CEO Lucas Roh set out to build at Bigstep was, from my perspective, one of the few innovative things that was happening in hosting," John said.
The solution effectively provided customers with bare metal servers on demand. That gave them access to the raw power of bare metal without a hypervisor. The approach also allowed server provisioning to scale horizontally using a simple drag-and-drop interface.
Bigstep doesn't take an anti-hypervisor stance, though. The company believes that such middleware can inhibit certain kinds of workloads.
"Hypervisors have their place, but organizations realize that they are not always best suited to many kinds of workloads — especially those that require minimal latency," John said.
In those types of use cases, application and data must be as close to the compute power as the hardware allows. The absence of virtualization can bring up to five times the speed gains at no extra cost, according to Bigstep.
"We broadened the scope, broadened the appeal, and took the Bigstep proposition out into the market as a standard bare metal infrastructure solution, and that's where we are now. I think that we can carve out a pretty nice niche while also being somewhat platform-agnostic," John said.
Bare Metal Cloud Facilitates Easier Migration and Scaling
The bare metal approach has several additional benefits, according to John.
"One thing that many organizations don't consider — until they experience it — is the impact of upgrading their servers. I've seen these migrations take months," he said.
If a company has to upgrade 10 servers, it must ensure that everything works correctly from one infrastructure to the next as vital data and applications transition between old and new systems. That type of meticulous attention to detail can leave businesses in no rush to make the switch.
That can result in critical delays before businesses feel the benefits of the new system.
"Typically, companies get 45 days to complete migrations. But at Bigstep it takes five minutes to upgrade your hardware. Customers can go into the control panel and delete their current servers, select some new servers, and then reboot. All of their data is still there, and now it is running on new, improved hardware. That is a completely different way of thinking about things, and it solves a lot of problems."
Performance is also a critical component of Bigstep's value proposition.
"Our Metal Cloud nodes feature 4x10Gbps links-per-node, which can be bonded together for more throughput. And our high capacity L2 Networking, with cut-through switching and no virtual switching or overlay networking, enables higher throughput. And after our dedication to performance comes our commitment to flexibility and scalability."
Offering Affordable Performance Boosts for Customer Surges
Running big data workloads in the cloud is no longer just a niche requirement — many companies across diverse vertical sectors now rely on it. This trend has caused Bigstep's potential customer base to widen significantly.
"Bigstep's typical customer is in the mid-market, requires between five and 10 servers, and needs the ability to scale on demand."
Another growing requirement for the ecommerce sector is accommodation for special sales events — including Black Friday. Websites must have the flexibility to cope with a surge in website activity for a relatively short period.
"To have a solution like ours, that allows customers to bypass all that pain, it's a dream come true. We are the best-kept secret out there." — John Martis, President of Bigstep
"In our European customer base, we serve most of the big online retailers. With these big ecommerce shops come sales events like Black Friday, and those businesses need to scale horizontally to two or three times the processing capacity they carry the rest of the year."
These sales surge events have become critical to many digital retailers. For instance, Black Friday in November 2018 produced $6.22 billion in online sales — up 23.6% compared to 2017 and shattering the old record, according to Adobe Analytics.
"Buying that performance surge would be very expensive on conventional public cloud, so that is the perfect requirement for Bigstep to meet," said John. "To have a solution like ours, that allows customers to bypass all that pain, it's a dream come true. We are the best-kept secret out there."
Company Strategies Shaped by Customer Feedback
John describes Bigstep as 100% customer-driven and said that it relies on that feedback to inform its innovations and help the company learn how people use its services. And Bigstep puts in just as much effort getting the bare metal message across to new companies and developers.
"People don't always understand the bare metal technological model — or how it can work that way — until they get in there and try it," John said. "And all the things that attract them to the cloud — spinning costs and services up and down at will, expanding CPU power, and adding disk storage on demand — are enhanced with Bigstep's products. And all of that hypervisor middleware is eliminated."
Meanwhile, the company is also innovating more ways to commercialize its Metal Cloud platform. First, it is looking at the centralized interface that it built for its own purposes and offering that functionality for use outside of its datacenters.
"We call it Bigstep Extend. Basically, we will allow customers to use our software to control their devices at the edge. So they could create a software-defined datacenter from their own hardware and run big data projects on-premises, and in the cloud, under a single 'pane of glass.'"
The company aims to bring even more flexibility to businesses and plans to solidify its Bigstep Extend product for full release in early 2020.
Bigstep: Poised to Thrive in a Competitive Market
Bigstep is winning customers in a highly competitive market by focusing on performance and throughput, not the prevalent virtualization trend. And many companies that rely on big data, including online retailers that need real-time data analytics, recognize the power of bare metal and support its adoption.
And Bigstep is focused on the needs of its customers, as evidenced by its services and product portfolio.
Another prime advantage for Bigstep customers is the speed of bare metal and the ability to quickly scale server usage during peak traffic times. Bare metal servers also appeal to enterprises in which operational interruptions due to prolonged IT upgrade schedules are deemed outdated business disruptions.
The company's next challenge is to bring its services and value proposition to the U.S. hosting market. But Bigstep believes its message is straightforward and businesses will see the clear benefits it can bring to their bottom lines.
"It sounds ambitious, but we do consider Bigstep in competition with the big-name hyperscalers. In fact, we have quite a few advantages over what they're doing. They have certainly got scale. But, as far as slinging bare-metal servers without the typical overhead, we can be much more cost-effective for our customers," said John.
Advertiser Disclosure
HostingAdvice.com is a free online resource that offers valuable content and comparison services to users. To keep this resource 100% free, we receive compensation from many of the offers listed on the site. Along with key review factors, this compensation may impact how and where products appear across the site (including, for example, the order in which they appear). HostingAdvice.com does not include the entire universe of available offers. Editorial opinions expressed on the site are strictly our own and are not provided, endorsed, or approved by advertisers.
Our Editorial Review Policy
Our site is committed to publishing independent, accurate content guided by strict editorial guidelines. Before articles and reviews are published on our site, they undergo a thorough review process performed by a team of independent editors and subject-matter experts to ensure the content's accuracy, timeliness, and impartiality. Our editorial team is separate and independent of our site's advertisers, and the opinions they express on our site are their own. To read more about our team members and their editorial backgrounds, please visit our site's About page.