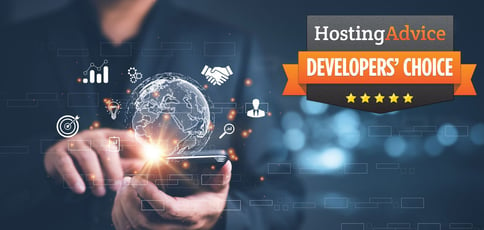 Each quarter, HostingAdvice conducts a roundup of the best software, hardware, and cutting-edge technology in the cloud hosting and datacenter industry. For the new year, we have identified the market leaders in software development tools, DevOps utilities, and web server optimization solutions. The companies below won our Q1 2022 Developers' Choice Awards.
As businesses continue to adapt to COVID, remote work and online collaboration tools are becoming global standards. Gartner reports that 2022 is a year of cloud ubiquity when business organizations will spend more on cloud solutions than on traditional IT products for the first time. This cloud shift includes software, apps, business process services, and infrastructure.
Our Developers' Choice Award winners assist business organizations to become cloud-native through better platform integration, support for Agile programming teams, and adoption of composable architecture. These software solutions will accelerate your cloud transformation.
Control Panel Auto-Installer: Softaculous
Softaculous is our top choice as the market leader for open-source script installation on cPanel hosting platforms. The auto-installer utility currently supports 382 web development solutions for publishers. You can browse through a library of application scripts categorized into solutions for blogs, portals, CMS, ecommerce, forums, image galleries, wikis, polls, and social networks.


Softaculous founder and lead developer Pulkit Gupta, in an interview with HostingAdvice, stated that his company was working heavily on new solutions in automation and virtualization.
"We've tried to give more features before our competitors, and we keep the pricing of our products very economical," Pulkit said when discussing the Virtualizer platform. "We've also developed our own website builder, which we're turning into a one-click solution for companies."
Softaculous' product line also includes Webuzo, SitePad, and Pagelayer. Softaculous integrates with cPanel, Plesk, Direct Admin, and other control panels to make app installation easier for web developers. Small business publishers can deploy free open-source solutions in minutes on MySQL and PHP using Softaculous on shared hosting plans to jump-start new websites.
Data Loss Prevention (DLP): DigitalGuardian
DigitalGuardian has been recognized by Gartner and Forrester as an industry leader in Data Loss Prevention (DLP) for cloud networks. Digital Guardian's universal Data Loss Prevention (DLP) platform is designed to mitigate internal and external threats across corporate networks, endpoints, and cloud applications. The SaaS solution runs on AWS with contextual analysis applied to data transfers to protect users on Windows, macOS, and Linux desktops or mobile.

"The analyst community, but more importantly, prospects and buyers, give us a lot of credit for our capabilities with contextual data classification that enables them to protect IP and trade secrets," said Connie Stack, Chief Strategy Officer at Digital Guardian, in a previous interview with HostingAdvice. "Our competitors really haven't caught up with us."
DLP solutions implement contextual analysis to protect data across websites, email, and instant messaging applications. Digital Guardian provides content, user, and context-based data discovery with classification for improved security. Managed detection and response solutions provide full coverage at the endpoint, on the network, and in the cloud for your business teams.
Database Management and Support: Percona
The Percona Platform offers professional programming teams a unified experience to monitor, manage, secure, and optimize database environments. Percona Server for MySQL is designed to work on-premises and in the cloud for complete database management. The solution assists users to optimize web applications and database servers for enterprise traffic requirements.


"Percona Server for MySQL took a lot of those features that you have to pay MySQL for and brought them into the open-source space," Matt Yonkovit, Chief Experience Officer at Percona, told HostingAdvice. "Over the years, we grew to include multiple database solutions, including distributions for MongoDB and PostgreSQL. It made sense to serve a broader user base."
The Percona Platform delivers database software management and distribution solutions with monitoring tools for apps running in Kubernetes containers. The company offers flexible, managed database services with a mission to help people and teams increase efficiencies when working in remote groups. Percona software is always 100% free to use and open-source.
Data Management for the Cloud: NetApp
NetApp is a global industry leader in cloud data management with FAS (Fabric-Attached Storage), AFF (All-Flash FAS), and ASA (All SAN Array) storage systems. NetApp's ONTAP data management operating system is used in cloud data centers for RAID storage drive management with data mirroring, load-balancing, integrated caching, and synchronization.


NetApp data management solutions are used on the N4 Cloud platform. This cloud system was designed by Node4 using Cisco hardware, VMware vSphere hypervisors, and NetApp storage.
"Cloud-led digital transformation is at the core of what we do," Paul Bryce, Chief Commercial Officer of Node4, told HostingAdvice. "We stand out through a heavy focus on the customer experience. We want to make exceptional service the standard within our company."
Node4 runs Tier 3 datacenters in the English cities of Derby, Leeds, and Northampton. The company supports high-level disaster recovery strategies with green data center specifications. Each data center also supports a large number of server racks with NetApp data management. NetApp leads cloud transformation with 27 years of industry experience in NAS solutions.
DBaaS (Multicloud): DataStax
DataStax was founded in 2010 by Jonathan Ellis and Matt Pfeil based on their development experience with the Apache Cassandra community. DataStax adopted an initial open-source business model for services, support, and training that has allowed it to grow as a leading Database-as-a-Service (DBaaS) provider for multicloud solutions worldwide.


Apache Cassandra is an advanced cloud-native NoSQL database solution. "It's probably the most popular database in terms of scalability," Patrick McFadin, VP of Developer Relations at DataStax, told HostingAdvice. "It's used in the world's largest workloads at places like Apple and Huawei. If you use a smartphone, you're probably using Cassandra every day."
DataStax Enterprise is a proprietary distribution of the Apache Cassandra database with an improved management system designed for big data in complex organizations. DataStax offers Apache Cassandra, OpenStack, and Kubernetes management software for multicloud data centers with Astra and Luna. DataStax DBaaS products support event-driven architecture.
Developer Tools and PaaS: Syncfusion
Syncfusion is a UI component suite that is used for building web, desktop, and mobile apps with frameworks like ASP.NET, Xamarin, Flutter, Angular, Vue, and React. Syncfusion operates a repository with more than 1,700 components and controls for cloud application development. In 2021, HostingAdvice interviewed Daniel Jebaraj, CEO of Syncfusion, about cloud trends.


"Syncfusion is unique in that it changes how you are building your product, and we want to influence the entire life cycle. Our goal is to ensure customers are satisfied with the service that they're getting — not only through the evaluation process but also for many years as we support the product and help them to navigate the challenges within their market."
Essential Studio from Syncfusion is used by IBM, Apple, Intel, and Visa for Agile software development requirements. The Community License offers a free subscription to Syncfusion Essential Studio for companies and individuals with less than $1 million USD in annual gross revenue and five or fewer developers. Claim your free license for access to the platform.
Digital Security and Compliance: CyberMDX
CyberMDX is a leader in network security for the Internet of Medical Things (IoMT). The CyberMDX Core Software Platform is a cloud-based solution for inventory management, risk assessment, HIPAA compliance, customer relations, and workflow operations in healthcare organizations. HostingAdvice interviewed Ido Geffen, CyberMDX VP of Customer Experience:


"Organizations may have an overwhelming amount of security issues at first, but we engage and work with our customers in a unique way. Our differentiators revolve around two major questions: Where should I start and what should I do? We work to identify and prioritize vulnerabilities on each device… less than 50% have a real exploitation out in the wild."
The CyberMDX platform is specifically designed to protect the security issues facing users of medical devices and IoT products in clinical networks. In February of 2022, CyberMDX was acquired by Forescout Technologies. The companies intend to continue to offer comprehensive solutions to secure the healthcare industry against increasing cybersecurity threats and risks.
Enterprise Database: Couchbase
In June 2020, Couchbase Cloud was launched on AWS as a fully managed version of Couchbase Server with integrated SDKs for Java, .NET, Scala, Go, JavaScript, and Python. In January of 2021, Couchbase announced that the service would also be deployed on Microsoft Azure. Couchbase is available on the public cloud as a fully-managed DBaaS solution.


HostingAdvice interviewed Jeff Morris, VP of Product and Solutions at Couchbase, about the launch: "Most recently, we released our own fully managed Database-as-a-Service (DBaaS) that supports the majority of our capabilities. We're delivering full service immediately as a 30-day trial, which runs inside the customer's cloud account. This allows them to fall in love with all the virtues of Couchbase as a developer before they build their next project."
The distributed NoSQL Couchbase Capella platform provides edge database facilities with scalability, performance, and versatility for high-availability cloud software applications. Enjoy single-panel management of public, private, and hybrid cloud resources in production. You can choose your favorite programming language, cloud runtime environment, and software stack.
HIPAA-Compliant Infrastructure Services: Cloudticity
Cloudticity continues the trend of innovation in data center solutions for healthcare organizations. Oxygen automates HITRUST, HIPAA, and NIST 800-53 controls to house data in residential storage for compliance with health records privacy laws. The service also offers support for NIST, FTC, ISO/IEC 27000, FEDRAMP, SOC 2, GDPR, and PCI-DSS requirements.


Managed cloud solutions with Oxygen run on AWS and Microsoft Azure hardware. Healthcare IT admins get 1,000+ continuous compliance checks for network activity governed by AI-assisted scans on real-time traffic. Hardened security features deliver data records compliance with inherited HITRUST controls for institutional software used in healthcare facility operations.
Cloudticity has never had a data breach on its platform since the company was founded in 2011. Public health partners include the Veteran's Administration on GovCloud, the New York State Department of Health (NYS DOH), and the Michigan Health Information Network (MiHIN). For cloud software development in healthcare, Cloudticity is the top choice for compliance solutions.
IoT and Industrial Automation: Inductive Automation
Inductive Automation offers the Ignition platform as an integrated development environment (IDE) for IoT and robotics software programming teams. Factory automation can be built with everything required for industrial software application programming on SCADA, IIoT, HMI, and MES devices, including alarm systems, notifications, and database-driven industrial reports.

HostingAdvice interviewed Don Pearson, Chief Strategy Officer at Inductive Automation, who said: "There's a huge demand for the acquisition, consumption, and utilization of data, but if you want to have big data analytics, artificial intelligence, machine learning, everything that the cloud has been empowering, you have to get at the operational data. Getting access to that data and building out an enterprise that connects from sensor to cloud continues to be a massive trend."
Inductive Automation is leading cloud transformation through the Ignition Edge IIoT platform. Industrial Internet of Things (IIoT) developers can use a Message Queuing Telemetry Transport-enabled edge gateway to optimize their software in the cloud. For businesses with IoT devices or complex factory machine automation requirements, start with Inductive Automation to build custom software and data storage solutions that are cloud-native.
Multiuser Control Panel: Webuzo
Webuzo is a popular control panel solution that is found on VPS and dedicated server plans in the hosting industry. Webuzo is installed on Ubuntu, AlmaLinux, and CentOS hardware to manage a web server in production. Whether you need Apache, NGINX, Tomcat, or another web server framework, you can complete the customization using GUI utilities from Webuzo.

Webuzo specializes in full-stack management on virtual and dedicated hardware. The platform simplifies the installation of programming language and database extensions like cPanel or Softaculous. Scroll through the software archive to install different elements on a server with automated update reminders for security rather than using the command line for administration.
Webuzo is available on Cloud VPS platforms from major web hosting brands as a free, bundled control panel solution. You can also use the admin panel for Amazon Web Services (AWS), Google Cloud, Microsoft Azure, Linode, and Digital Ocean plans. Webuzo provides the simplest method to configure web server runtime environments for software development teams.
Ransomware Protection and Data Exfiltration Mitigation: BlackFog
BlackFog provides next-generation data security services for ransomware protection, anti-data exfiltration, and user privacy. BlackFog security includes outbound data-loss protection shields for network users against data collection and identity profiling. The company software is 100% GDPR-compliant to ensure that private information stays protected across cloud networks.


HostingAdvice interviewed Darren Williams, founder and CEO at BlackFog, about their security platform's preventative technology features. He specified that "what we do is prevent data loss using behavioral analytics at the endpoint, because that's where the action is. As data moves off the network, we use analysis and AI to see what is going on and whether it should be stopped. Unlike antivirus technology, we don't wait for you to be infected and then offer a solution."
BlackFog security subscriptions range from $4 to $15 per month. There are Personal, Enterprise, Provider, and vCISO plans available. BlackFog security includes ransomware prevention, data privacy, network protection, geofencing, anti-phishing, and dark web monitoring for passwords, credentials, or data loss. BlackFog keeps clients up-to-date on the latest trends in cloud security, anti-virus, and ransomware protection.
Time Series Database: TimescaleDB
TimescaleDB is breaking ground as open-source relational database options proliferate in the data center landscape. A time series database (TSDB) framework includes timestamps with value data that is optimized for charts, analytics, and metrics. TimescaleDB is available from the developers as a fully-managed or self-hosted solution with PostgreSQL as the foundation.

With TimescaleDB, developers can rely on accelerated performance with 10-100x faster queries than PostgreSQL, InfluxDB, or MongoDB. The database framework is optimized for "big data" requirements on public cloud hardware. TimescaleDB delivers write capabilities of millions of data points per second across each node. Scale horizontally to support petabytes of data.
TimescaleDB is designed to integrate with custom software applications that govern observability and metrics across large networks in real time. The database can be used for Internet of Things (IoT) device management or in processing financial data for quant trading and historical analytics. Track time-series data using standard SQL commands to generate custom charts, graphs, and data analytics for applications like Prometheus, InfluxDB, or Tableau.
Web Services Hub: FMS, Inc.
FMS Inc. is celebrating its 35th anniversary of Microsoft support service operations. The company has developed a wide suite of developer tools for Microsoft Access, SQL Server, Visual Studio, and ASP.NET. Improve Microsoft Access database management with free tools and utilities for administrators. There are solutions for the web server, desktop, and code editor. Install FMS utilities to step up your professional service range for Microsoft Access support.

FMS Inc. offers a Total Visual Developer Suite for Microsoft Access, Office, VBA, and Visual Basic 6 (VB6) that is a must-have for Windows programmers. Total Visual CodeTools are designed to help programmers work more efficiently with error handling, variable naming conventions, standardized indentations, and formatting. Use Code Delivery to add line numbers.
FMS Inc. provides important utilities for Visual Basic and Microsoft Access programming that help developers to test and correct code. Rely on experience in Microsoft enterprise software development with Total Visual Agent, CodeTools, SourceBook, and Statistics. FMS delivers the most popular professional source code library for Microsoft Access, Office, and Visual Basic 6.
HostingAdvice Developers' Choice: Cloud-Native Innovation
Our Q1 Developers' Choice Award winners all share the common characteristic of boosting cloud-native innovation in software development, data center management, and web hosting. Small business owners can adopt Softaculous and Webuzo as solutions on Cloud VPS plans for custom software development with open source scripts. Enterprise organizations can consider DataStax and CouchbaseDB when evaluating event-driven architecture solutions.
The scale of managing data center operations with real-time metrics and analytics is one of the most challenging problems for solutions providers. NetApp is a premier data storage management option for web hosting service providers and enterprise data centers. Digital Guardian works across all levels of multicloud architecture to protect user data in transit. BlackFog is another enterprise data security solution with multicloud network protection.
Cloud software development teams can consider PerconaDB for superior MySQL management, SyncFusion for JavaScript mobile app development acceleration, and FMS utilities for Windows platform support across Agile programming teams. CyberMDX and Cloudticity deliver network security, data management, and compliance solutions for large healthcare organizations.
Inductive Automation solves developer integration problems for factory owners working with robotics and IoT producers with proprietary firmware. TimescaleDB and DataStax are both designed for the specific requirements of "big data" in complex organizations introducing cloud-native innovation through real-time analytics, search, and metrics at enterprise scale.