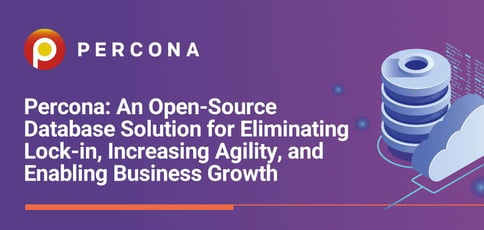 TL; DR: Percona delivers consulting, managed services, software, and training for a wide range of open-source databases stored on-premises, in cloud servers, or in hybrid environments. Open-source projects include Percona Server for MySQL, a relational database management system that serves as a free and compatible replacement for Oracle MySQL. Ultimately, Percona is on a mission to preserve the integrity of the open-source movement by eliminating vendor lock-in in the database software space.
The open-source movement has come under threat in recent years as the line between open and proprietary solutions becomes increasingly blurred.
Many open-source projects now generate revenue by creating enterprise versions of the original product featuring support, maintenance, and added functionality. This model is a perfectly acceptable way to support open-source projects. But the strategy becomes problematic when used to strip the original product of its worth or force vendor lock-in.
In addition, concerns over whether investors will prioritize shareholders instead of the open-source community are growing as venture capitalists pour money into the open-source space.
On the flip side of the equation, companies that have achieved success building businesses around open-source software — such as proprietary cloud vendors — are beginning to support open-source projects. Whether these actions will sway open-source developers and projects is yet to be seen.
"It's a dangerous time right now for open-source in that the markets are crossing wires," said Matt Yonkovit, Chief Experience Officer at Percona. "Open-source vendors are becoming less open, and proprietary cloud vendors are becoming more open to counteract licensing tension. It's a strange space."
Percona is working to keep open-source technology just that — open — through software and expertise centered on MySQL, MariaDB, MongoDB, PostgreSQL, among other open-source databases.
The company's database software is free and open-source, offering a scalable, secure, efficient, and resilient solution that breaks the chains of vendor lock-in. In combination with its support, consulting, and managed database services, Percona's tools help facilitate rapid growth and app development.
Database Services and Software Born from the Open-Source Movement
Percona Co-Founders Peter Zaitsev and Vadim Tkachenko became concerned about the state of the open-source movement as employees at MySQL AB. The Swedish software company created MySQL, an open-source relational database management system, in 1995. It was later acquired by Sun Microsystems in 2008, which was in turn acquired by Oracle Corporation in 2010.
"Peter was your typical open-source contributor — someone who believed in the open-source movement," Matt said. "Long before the acquisitions, MySQL started changing its mission, which was originally focused on building out the best database for the community, helping people get the most out of those open-source databases, and preventing that Oracle-type lock-in."
In 2001, MySQL AB began seeking funding rounds from venture capitalists and other investors — an action that troubled Peter deeply.
"When they started seeking outside funding, the focus switched to shareholders first," Matt said. "Peter wanted to maintain that open community, to help people first. And then, if they find value, allow them to come and pay for things that they couldn't do on their own. So he founded Percona as an alternative to MySQL AB to keep them honest and open about what they were doing in the market."
As MySQL began locking components of the software behind an enterprise paywall, Percona developed Percona Server for MySQL. The solution, designed to work on-premises and in the cloud, empowers users to optimize their web applications and database server without limitations.
"Percona Server for MySQL took a lot of those features that you have to pay MySQL for and brought them into the open-source space," Matt said. "Over the years, we grew to include multiple database solutions, including distributions for MongoDB and PostgreSQL. It made sense to serve a broader user base."
Streamline Developer Workflows and Increase Database Performance
Today, Percona offers everything from database software and backup and distribution solutions to monitoring and management tools solutions for Kubernetes operators. The company also provides flexible, managed database services for a fee. Uniting all of these offerings is a mission to help people and teams increase efficiencies while preserving an open environment.
"Let's be honest — databases are uncool," Matt said. "No developer wants to think about a database. But unfortunately, when the database goes down the drain, so does the whole application. So what we want to do is elevate developers and operational teams."
All of Percona's software solutions are 100% free, and Matt said they will remain that way.
"We have a hundred times more people who use our software and advice for free than we have paying customers, and that's OK," he said. "We're all about making the open-source pie bigger for everyone so we can all benefit."
There's no doubt that users benefit from Percona's solutions. Applications perform better if databases perform better. And streamlined workflows make for less stress and higher productivity.
Security is another piece of the puzzle.
"There are issues around security for databases that often go overlooked or ignored. For example, one ransomware group found approximately 87,000 MySQL databases and encrypted them, then made them available on the dark web via eBay-style auctions where people bid on other people's data," Matt said. "That's one group of people, and it's horrible to see, but it is still just one group. Now look at all the other types and versions of databases that exist, and the problem is a massive and scary one. But it can be solved if we get the basics right – pay attention, update to the latest versions, and make sure you have to authenticate in order to get access to the database in the first place."
Matt told us that, in many cases, cloud providers offering Database-as-a-Service (DBaaS) solutions take care of only basic concerns, and the internal developers who use them within a business often don't understand the underlying database.
"They don't know how to wield the database, so they make all kinds of mistakes," he said. "They leave them open; they don't secure them. They start scaling by credit card to the next instance size. They end up with leaky data, a massive AWS bill, and a boss who is unhappy that the company's application crashed."
Percona's managed services, on the other hand, employ best practices and performance strategies to ensure your critical business processes are always available. The company also provides reliable, monitored database backup and recovery tools to ensure data remains data safe in an emergency.
A Multifaceted Value Proposition: Performance, Scalability, Cost Savings
Percona's managed services can be implemented regardless of whether environments are deployed on-premises, in a colocation facility, with an Infrastructure-as-a-Service provider, or as a service from a DBaaS vendor.
The company partners with major cloud providers, including AWS, Google Cloud, and Microsoft Azure. Percona's experts have extensive experience with cloud deployments and can help users manage, monitor, and optimize their infrastructure.
"Cloud providers often bring us in to save accounts," Matt said. "Some of these unicorn companies out there start to scale, and they're like, 'Our hosting bill was $1 million a year — now it's $50 million a year, and it's all database related.' Percona can help with that, delivering significant cost reductions."
Matt said Percona has influenced the infrastructure of many of today's tech giants, including Facebook, Twitter, and Amazon.
"I remember going to a certain social media company back in the day because they had some scalability issues, and we were able to reduce their hosting costs by half by doing something really simple," he said. "They made a choice to key everything by email address, but that's inefficient from a database perspective — it bloats everything, and you end up with three times the storage costs and double the CPU requirements."
Between cost savings, security, scalability, and performance, the return on investment businesses receive comes from all angles.
Continued Work to Eliminate Vendor Lock-In
Percona's next goal is to revolutionize the DBaaS space by building a new, open-source DBaaS platform.
"The database side of open-source has been riddled with vendor lock-in, and we've built our reputation on unlocking resources," Matt said. "Right now, we're building what we call our Percona Enterprise Platform, really working on the Kubernetes side to bring people a DBaaS experience in the open-source space."
The idea is to create a point-and-click experience in an open-source package that enables developers to move faster and choose between different open source databases.
"We think that will provide immense value to the community and the users as a whole," Matt said. "And then that will help us call BS on these DBaaS vendors."
Advertiser Disclosure
HostingAdvice.com is a free online resource that offers valuable content and comparison services to users. To keep this resource 100% free, we receive compensation from many of the offers listed on the site. Along with key review factors, this compensation may impact how and where products appear across the site (including, for example, the order in which they appear). HostingAdvice.com does not include the entire universe of available offers. Editorial opinions expressed on the site are strictly our own and are not provided, endorsed, or approved by advertisers.
Our Editorial Review Policy
Our site is committed to publishing independent, accurate content guided by strict editorial guidelines. Before articles and reviews are published on our site, they undergo a thorough review process performed by a team of independent editors and subject-matter experts to ensure the content's accuracy, timeliness, and impartiality. Our editorial team is separate and independent of our site's advertisers, and the opinions they express on our site are their own. To read more about our team members and their editorial backgrounds, please visit our site's About page.