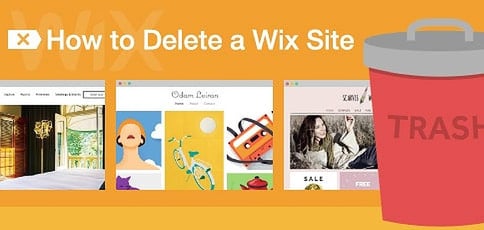 Learning how to delete a Wix site is not nearly as complicated as you probably fear. That being said, there are lots of components you may not have thought of.
Even though Wix is our top pick for a drag-and-drop website builder with a wide range of templates and niche-specific designs, website builders aren't one-size-fits-all solutions. If you choose to move on from Wix, you have lots of great options. Some of the top web hosts in the world include site-building tools in their plans, along with free domain name registration or transfer.
In the meantime, we'll give you an overview of our favorite website builders not named Wix, as well as how to securely cancel payments, delete your website content, and transfer your domain name to your new web hosting home.
The 5 Best Wix Alternatives
Assuming you're fed up with Wix, we're sure you'll want to find your next site builder relatively soon. Because Wix is a closed and proprietary system, you can't transfer your site to a new hosting provider or design platform.
By signing up with a web hosting provider that offers a selection of free website builders and design options, you'll have a greater chance of finding a solution that fits your needs much better. Plus, if you opt for a content management system and customizable theme, like those found with WordPress, you'll be able to transfer to new hosts with ease.
Take a look at our top options for website hosting with a site builder:
Choice of Weebly or WebsiteBuilder by iPage
Mobile-optimized options and easy-to-use setup wizards
100s of professionally designed, customizable themes
FREE online store, shopping cart, and blogging platform
Get +75% off your first month
iPage: Our Expert's Review
Setup time: 4 minutes
Go to full review

»
Do you want your website built today? If you answered "yes," you should look no further than iPage. In fact, it's possible for you to be online before you even finish reading this article. Thanks to iPage's user-friendly interface, instant provisioning, and...
| Money Back Guarantee | Disk Space | Domain Name | Website Builder Hosting Plans |
| --- | --- | --- | --- |
| 30 days | Unlimited | FREE (1 year) | www.ipage.com/site-builder |
Integration with Fotolia and Flickr image databases
Pre-built and customizable content with GridBlocks
Responsive themes with tablet and mobile editing views
Generates clean, efficient, and compliant HTML
SEO, gallery, and forms plugins
BoldGrid: Our Expert's Review
Setup time: 5 minutes
Go to full review

»
After taking the BoldGrid suite of plugins for a test drive, we experienced how the company makes WordPress more accessible for beginners and much more efficient for professional developers.Because BoldGrid requires a separate hosting account and WordPress...
Drag-and-drop design with the Gator™ website builder
Hundreds of mobile-friendly, industry-specific templates
FREE hosting, domain name, and SSL certificate
Easily add a blog, ecommerce, and social media marketing
Analytics portal helps you gauge your site's performance
HostGator: Our Expert's Review
Setup time: 4 minutes
Go to full review

»
Setting itself apart from the scores of competitors that rely on white-labeled website builder solutions, HostGator spent the time to painstakingly craft its own platform. Gator provides a frustration-free experience that pairs the simplicity of drag-and-drop...
Weebly or goMobi site builder
FREE domain name registration
Automatic daily, weekly, and monthly backups
Gain exposure with $200 in FREE advertising credits
Optional professional services help design, build and market your site
Bluehost: Our Expert's Review
Setup time: 5 minutes
Go to full review

»
With Bluehost, new site owners have the drag-and-drop simplicity of the Weebly website builder and goMobi mobile site builder at their fingertips. This makes launching a new online brand, store, or personal site from scratch relatively painless. Sure, site...
| Money Back Guarantee | Disk Space | Domain Name | Website Builder Hosting Plans |
| --- | --- | --- | --- |
| 30 days | 50 GB SSD - Unlimited | FREE (1 year) | www.bluehost.com/site-builder |
FREE Weebly site builder or WordPress setup wizard
Worry-free, automated webiste migrations
User-friendly cPanel interface and staging area
Custom ticket and chat systems for immediate support
SuperCacher with static and dynamic caching options
SiteGround: Our Expert's Review
Setup time: 5 minutes
Go to full review

»
Do you know you need to build a website but don't know where to begin? Well, SiteGround will give you not one, but two extremely popular and user-friendly options to create the online presence of your dream.Plus, customers start off with unlimited email...
See other top website builders »
1. Cancel Any Premium Plans, Subscriptions, & Autopayments
Whether you're tired of your Wix website URL being de-indexed by Google and disappearing from search results, or you're just ready for more customization options and opportunities for growth, removing your Wix site from the Web can be done in a couple of steps. Firstly, you'll want to cancel any existing premium plans. To avoid getting charged for the next term, you'll need to do so at least three days before the scheduled renewal date.
1. Click "Billing & Payments"
Log into your account. In the upper right-hand corner of the screen, you'll see your username and avatar. Hover over the avatar to activate the drop-down menu. Select "Billing & Payments."
2. Click "Manage" Under "Package Subscriptions"
Scroll down to "Package Subscriptions," and choose the option on the far right: Manage.
3. Click "Cancel Payments"
Within the Payment section, you'll see "Next Payment" with a date listed next to it. To the right of that, you'll see "Cancel Payments." Click.
Follow the steps that are prompted to you via pop-up windows. You should receive a confirmation email when it's all said and done. The status of your plan under "Package Subscriptions" should now appear as "Canceled."
2. Delete Your Wix Site(s)
Secondly, you'll need to delete any sites associated with your Wix account.
1. Open Your Site's Dashboard & Click "Popular Shortcuts"
Log into your Wix.com dashboard and click the Popular Shortcuts option.
2. Click "Delete Site" & "Delete Site" AGAIN
Click "Delete Site." You'll be prompted to do this twice. Note that clicking "Delete" within the site editor itself will only delete selected elements of your site, not your site in its entirety or your account as a whole.
3. Transfer Any Domains Associated with your Wix Account
Finally, you'll want to disassociate any domains that you have connected to your Wix account. This would be your opportunity to transfer your domain to a different web host. We'd recommend transferring to a web host like iPage and taking advantage of their free site builder.
1. Click "Domains" Under the Subscriptions Tab in the Dashboard
Log into your Wix account and find the tab at the top of the dashboard labelled "Subscriptions." Select "Domains" in the drop-down menu.
2. Select the Advanced Settings & Click "Transfer Away from Wix"
You should now see a list of all the domains you have registered with your Wix account. Hover over the one(s) you wish to remove and click the Advanced tab. Wix gives the following options:
Transfer to a Different Wix Account
Transfer Away from Wix
Choose the option that applies to you. We'd recommend transferring to a web host with one of the best website builder packages. Many of the best options include a free site transfer, drag-and-drop site builders and/or 1-click WordPress installations, and free domain name registration.
Final Word on Deleting a Wix Site
You should now be completely disassociated from the Wix brand and any accompanying frustrations due to the recent search engine de-indexing issues. Remember, if you still want a website, but you're ready for more features and customization at a great value, we'd recommend these top site-building services.