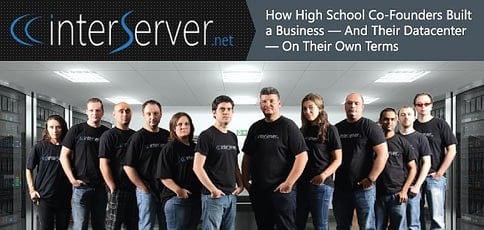 TL; DR: Mike Lavrik and John Quaglieri didn't know how to run a business, but they knew how they wanted a hosting company to treat their clients. Fed up with their own hosting providers at the time, the pair of teenagers struck out on their own 17 years ago to start InterServer while still in high school. They eschewed college and steadfastly built a hosting company — and their own datacenter — all while staying committed to customer support, security, reliability, and technical expertise.
Mike Lavrik was a difficult child — but not how you'd expect.
As a tech-savvy 14-year-old in the days of dial-up Internet, he was constantly using the phone line to connect to America Online to run his website. He didn't want to go to school, either — but only because he wanted to devote more time to the successful business he had started with a friend.
His mother had no idea what Mike was up to and wanted him to study so he could go to college. Then, his aunt stepped in and gave his parents money to put a second phone line in the house.
"He was really doing something," said Stacey Talieres, a childhood friend. "He was a good kid, and he wasn't on the streets. She wanted to keep the line going."
Stacey watched as Mike reached out online to another high schooler, John Quaglieri, and eventually started a hosting company called InterServer. Mike struggled to convince his parents that he didn't need to go to college — he already had a successful business, what more did he need to learn?
Over the next 16 years, Stacey watched Mike and John painstakingly build InterServer's technology and business components by hand — and with a healthy dose of trial and error. John, the older of the two, dropped out of college to work on InterServer around the clock.
Through focus, hard work, and steadfast determination to do everything on their own, Mike and John grew InterServer to offer a variety of hosting packages to everyone from freelancers to Fortune 500 companies.
"This is their life and their legacy," Stacey said. "Imagine that everything you've done in your life is invested in this one thing. The sum of their experiences in life is this company."
Teen Competitors Form InterServer and Earn a Real-World Education
As teenagers in 1999, John and Mike ran competing websites about AOL. They routinely chatted about how awful their hosting providers were before deciding to merge their efforts and create their own hosting company.
InterServer began with the purchase of a domain name and a virtual hosting reseller account. The pair, who met online, lived in different states and didn't even meet in person until InterServer was a few months old.
Mike was a freshman in high school and John was a senior who left for college soon after. Mike managed the business after school, getting rides to and from the datacenter in New Jersey and returning home between 9 and 11 p.m.
"These are two guys who had to trust each other from the get-go and didn't know each other very well," Stacey said. "They had a lot less face-time than most partners would normally have, but they both had the same vision and knew there was opportunity here."
InterServer originally started hosting out of a datacenter in New Jersey and focused on offering affordable prices while maintaining a high level of service and support.
Co-Founders Skip College to Get to Work
John, who would travel to New Jersey from Rhode Island to work with Mike on the weekends, dropped out of college when Mike graduated from high school. InterServer had grown into a sizeable, well-oiled machine worth investing their futures in full-time.
Although the decision to leave college was a difficult one for John, Mike never considered higher education as part of his future, according to Stacey.
"From the moment I met him in high school, he knew he was going to build this company," she said. "He had already established a business that was thriving and would continue to grow if he could invest more time in it."
Mike's parents insisted on him at least finishing high school, otherwise he might have left school even earlier, she said.
Self-Taught Leaders Learn to Build Their Own Datacenter
From the code to the infrastructure, InterServer is built completely on John and Mike's ability to teach themselves how to run a company.
"As they were growing, they saw the constraints in the market and the limitations to hosting with someone else," Stacey said.
InterServer took over a New Jersey datacenter in 2003 and never looked back. Three years later, Mike designed and built out an 8,000 square-foot facility that boasts a 6,500-square-foot datacenter and 1,500 square feet of office space for company headquarters.
"He didn't have a textbook next to him. There was no handbook on how to build out a datacenter," Stacey said. "He just invested the time in learning it. You get what you put into it, and that's been a true story of their life's work."
Partnership Fosters Vision for a Company That Cares for Customers
Their determination to maintain their independence by running their own datacenters and not taking investments means Mike and John can put their full trust in each other instead of a stranger or separate company.
"They both know what they're really good at and they just do it," Stacey said. "There's not a formality of, 'You do this and I'll do that.' They're both generalists in the entire business, and they each have their specialty that they focus on."
As Co-Founder and Director of Business Development, Mike manages datacenter and network operations in addition to creating strategic partnerships and securing contracts with vendors. John, as Co-Founder and Chief Technology Officer, oversees InterServer's support team and manages all aspects of the network.
"We're not owned by a company that has a ton of shareholders," Stacey said. "There are two guys that have put their entire lives toward this."
InterServer Offers 24/7 Support Since the Start
Mike and John hired a developer and then turned their focus to adding people for customer support. Because they founded InterServer out of frustration with their hosting providers, Mike and John know how valuable customer support can be. Since the beginning, InterServer has offered 24/7 support for free.
Customers can get support through a 1-800 number, live chat, or a ticket, "which John will probably respond to in about 20 minutes and beat everyone else to it," Stacey said, laughing. "I'm not kidding. John micromanages it to the point where it's probably a borderline obsession."
Locking in Customers at One Price for Life
Not only does InterServer offer competitive prices on hosting, they don't believe in bait-and-switch pricing that skyrockets every time a customer renews.
InterServer features a price-lock guarantee — the price you sign up at is the lifetime price of the account, unless you add or upgrade services. Just like there are no annual rate increases, InterServer also refuses to force customers to commit to a certain amount of time or a contract.
"They don't want to ever do that because they remember how they felt when they started the company," Stacey said of the Co-Founders. "We want to help people sustainably stay in business. The mentality has always been: as the customer grows, we grow along with them."
Looking Forward: New Focus on Branding and Marketing
Stacey credits InterServer's growth through the years to Mike's understanding of how to position the company to penetrate particular market segments and adapt to change.
Saying that the hosting industry has changed "five times over," Stacey admires how Mike and John worked so diligently to adjust without interrupting service for their customers.
"What we were doing back then and we're doing now, it's almost night and day," she said. "They were able to come out of each cycle of change ahead, and that's not easy to do."
After 17 years of growth, InterServer is now focusing on their branding and marketing. After unofficially helping InterServer from the sidelines for years, Stacey officially ran onto the field as Director of Marketing almost a year ago.
"At a certain point, you have to go back and realize that even though we have a legacy, we need to work on sharing it a bit better," Stacey said. Instead of growing through advertising, InterServer has found success organically and through referrals.
Before joining InterServer, Stacey had built an entirely different career in senior management at Neiman Marcus and at Nordstrom. That experience introduced more of a corporate influence to InterServer's offices.
"I've been able to apply a lot of my core fundamental skills from my other jobs into this," she said. "My perspective is different because I worked for major companies and I worked with a ton of different people at different levels and capacities. I kind of sprinkle that mindset where it applies."
Extra Phone Line is a Big Part of InterServer's Success
Looking back on InterServer's 17-year journey, Mike's mother still jokes that she can't believe she almost canceled his extra phone line for AOL.
"Their parents look at it today and are just kind of amazed at what it turned into," Stacey said. "I don't think they fully understood back then what their sons were doing, but they look at it today and have a high sense of pride knowing their kids followed their dreams."