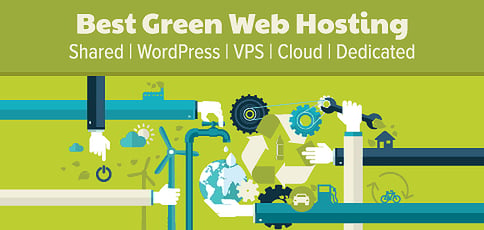 For those worried about the environment, the best green web hosting services are doing their part to reduce the industry's impact on the world around us.
Think of how much heat your laptop emits after just a few minutes. Now, imagine the heat pushed out by a server that houses hundreds of websites — one of the thousands arranged in racks across a datacenter, which is just one of the thousands of such web host facilities worldwide.
That generated heat is a byproduct of energy consumption, and the web hosting industry uses an enormous amount. According to the Web Neutral Project, the internet accounts for roughly 10% of the world's electricity consumption and produces about as much CO2 emissions as the aviation industry.
Fortunately, many green web hosting companies recognize the dangers of the current trends and are improving the industry's relationship with the environment. The top hosts offer green hosting services, from designing energy-efficient datacenters to purchasing renewable energy credits. Read on to find out which providers go beyond a green energy certificate to provide the best green hosting for your website.
According to the Web Neutral Project, an average website is responsible for about 4,700 pounds of carbon dioxide yearly. Using the Environmental Protection Agency's greenhouse gas equivalencies calculator, each of the 330 million active websites emits as much greenhouse gasses as driving an average passenger vehicle 5,225 miles.
With the right hosting provider, however, your site can make a positive impact. GreenGeeks, our top pick for green web hosting, returns three times as much renewable energy to the grid as it consumes. In addition to holding a renewable energy certificate, the EPA has recognized the company as a Green Power Partner since 2009. It works with environmental foundations to purchase wind energy credits.
The green web hosting company doesn't sacrifice service, support, security, or performance when delivering eco-friendly web hosting. The GreenGeeks platform provides ample computing resources, integration with Cloudflare's content delivery network, and proprietary caching tools. It comes with free migration assistance, free domain name registration, and 24/7 customer support through phone, chat, or email. Not only does this provider pack its plans with eco web hosting features, but it offsets more than 100% of the energy it uses by purchasing renewable energy credits. Learn more about how GreenGeeks balances a top-notch green web hosting solution with responsible energy usage by reading our review below:
Contrary to your expectations, website owners don't have to shell out any extra money to align with a host that provides green hosting services. Green web hosting providers often rely on energy or systems powered by wind, solar, or water to reduce their electricity consumption — and lower their utility bills.
Despite the initial investments in new equipment or retrofitting facilities, a green host may benefit from reduced operating costs and a more loyal customer base when moving to more environmentally friendly infrastructure. According to the US Department of Energy, companies would save roughly $2 billion if US datacenters were 20% more efficient.
Many green hosting providers funnel some of those savings to customers and provide powerful hosting experiences for less than $5 per month, with bonus features including unlimited storage, free domain name, and one-click software installations. The three hosts listed below offer some of the biggest bargains in the industry, pairing affordability with solid hardware and knowledgeable support. Even better, each emphasizes environmentally sustainable business practices.

For instance, all iPage datacenters and servers are completely powered by wind energy. As an EPA Green Power Partner, the company offsets each kilowatt-hour with 200% renewable energy credits. These efforts mean iPage prevents more than 1,100 tons of carbon dioxide from going into the atmosphere — the equivalent of planting 244 acres of trees or taking 224 cars off the road.
InMotion Hosting is another green hosting company investing resources in eco web hosting practices. This web host turned its focus to sustainability in 2010 by introducing efforts in its offices to reduce waste, increase recycling, and stop using paper products when possible. While this web host has not yet invested in renewable energy, it's created a new process for cooling its datacenters that uses advanced Outside Air Cooling technology, which cuts cooling costs by nearly 70% and reduces carbon output by more than 2,000 tons per year. InMotion's shared hosting plans are a budget-friendly choice for customers wanting a green web host for small to midsize sites.
Rounding out our list of most affordable green web hosting providers, HostPapa was one of the earliest hosts to power its datacenters and offices with renewable energy. HostPapa audits its energy usage yearly and purchases enough renewable energy credits to match the energy consumed by its VPS and shared hosting packages. HostPapa appeals to small businesses looking to grow their brand and online presence with a green hosting plan.
Read more about these companies' efforts by clicking on our reviews below:
See more top-rated cheap hosts »
Interestingly, our three most recommended eco-friendly WordPress hosting providers all hail from company headquarters in California — the state where the ultra-popular content management system was born and continues to operate. Among the more progressive states regarding sustainability and energy efficiency, California installed more solar power in one year than the rest of the country added in more than 40 years.
As one of only three WordPress hosting providers endorsed by the WP core team, DreamHost takes a two-pronged approach to green energy efficiency. The company's offices are LEED Platinum and EnergyStar certified and feature advanced lighting controls, optimized HVAC systems, and low-flow water fixtures. DreamHost datacenters maximize efficiency with water and air cooling systems; the former supplement municipal water supplies with reclaimed water. In addition to modern, power-efficient hardware, DreamHost supports statewide clean wind programs and uses a power grid that obtains renewable energy from wind farms, solar panels, and hydroelectric plants.
GreenGeeks makes a second appearance in our article by excelling in both sustainability and managed WordPress hosting. We've detailed the company's environmentally friendly credentials above, so check out some of the impressive upgrades GreenGeeks provides to WordPress users: enhanced security, automatic updates, scalable computing resources, proactive monitoring, and optimized servers.
Learn more about the trio of Golden State web hosts and their WordPress hosting below:
See more top-rated WordPress hosts »
Because cloud hosting relies on many servers and hardware to support the high-availability, redundant, and scalable resources, you might think the infrastructure configuration would be among the most difficult to operate sustainably. However, cloud hosting networks can dramatically reduce an organization's energy usage and carbon emission by up to 90% compared with running applications and hardware on-premises.
Cloud computing improves an organization's resource consumption in several ways, according to a report from Microsoft: reducing excess (read: unused) capacity, flattening peak loads, introducing large-scale virtualization, and improving overall datacenter design. Cloud computing represents mass transit or carpooling rather than deploying individual servers and environments.

Regarding cloud computing, our three highest recommended eco hosting providers magnify those efficiencies. For example, HostGator switched more than 1.3 million websites to wind power in 2008 by purchasing renewable energy certificates that offset 130% of the electricity used to power and cool its servers. The move equates to removing 444 cars from the road or protecting 551 acres of forest for a year.
German web hosting company 1&1 IONOS holds an EPA Green Power Partnership for its datacenter in Lenexa, Kansas. The company purchases enough renewable energy to power at least 300 homes annually. Plus, it extends eco-friendly behaviors into other parts of the company, including paperless billing practices, community recycling programs, and reusable kitchen items for its offices.
Google Cloud prides itself on giving cloud users a green web hosting solution. This web host boasts smarter, more efficient datacenters that achieve twice the operational efficiency of traditional datacenters. Google Cloud also uses 100% renewable energy to power its cloud hosting and offers users Carbon Sense to help them estimate their site's cloud emissions and take action to reduce their carbon footprint. But Google's green initiatives don't end here; its goal is to run on carbon-free energy, 24/7, at all of its datacenters by 2030.
See how your cloud hosting service can reduce carbon emissions by reading our reviews below:
See more top-rated cloud hosts »
As you read in the previous section, server virtualization can help optimize an organization's energy consumption and overall datacenter efficiency. By consolidating workloads and virtualizing one physical server into several smaller virtual machines, companies can use less equipment — which has an exponential effect on cooling costs. According to ENERGY STAR, one watt-hour of energy savings at the server level results in roughly twice as much savings at the facility level.
Our top two recommended hosts for green VPS hosting have long excelled at the optimized hardware configurations. Both InMotion Hosting and A2 Hosting emphasize performance and managed services with their SSD-powered virtual environments.
On the green energy and sustainability side of things, InMotion Hosting has spent several years working to reduce energy consumption rather than simply offsetting it. The company opened the first green datacenter in Los Angeles, using outside air cooling technology to cut costs by nearly 70% and reduce its carbon output by more than 2,000 tons yearly. InMotion Hosting has also established green initiatives, for example, its partnership with Trees for the Future, which aims to plant 5,000 trees worldwide.
Michigan-based green web hosting provider, A2 Hosting, draws its eco-friendly approach to web services from its home base nicknamed Tree Town. The company has partnered with Carbonfund.org to fully offset A2 Hosting's carbon footprint. Employees typically work remotely from their homes, eliminating unnecessary CO2 emissions from daily commutes, and the company reuses old servers internally instead of sending them to landfills. Occasionally, A2 Hosting will run promotions, including planting three trees for every green hosting plan sold monthly.
By reading our reviews below, we can learn more about the VPS offerings of InMotion Hosting and A2 Hosting, along with HostGator. Don't be afraid to click around to discover additional information:
See more top-rated VPS hosts »
Dedicated hosting, when a site owner or hosting customer leases an entire server, represents the most significant drain on a datacenter's energy resources. Electricity accounts for between 25% and 40% of a datacenter's operational costs, and the cost just to power a server often exceeds the initial price of the acquisition. But, more often than not, customers only use 10% of a server's resources.
However, a dedicated server may make the most sense for large organizations needing lots of computing power. If that's the case, be sure to check out the options from hosts, including InMotion Hosting, HostGator, and A2 Hosting, that maximize energy efficiency and sustainability as much as possible.
InMotion Hosting's custom dedicated servers promise 20-times faster performance, security patches, DDoS protection, and impressive network uptime. Meanwhile, HostGator offers operating system flexibility with both Linux and Windows options. The company also includes proactive monitoring, offsite backups, data migrations, and managed server optimizations. A2 Hosting rounds out our top three dedicated hosting providers by giving customers full access to its ultra-optimized SwiftServer platform. Managed services from A2 Hosting include a proprietary monitoring and notification system, priority support, and 30-minute hardware deployments.
Read our reviews below for more information on these eco-hosting companies:
See more top-rated dedicated server hosts »
Reseller hosting, which reverts to the virtualized server configurations and energy savings mentioned in the cloud and VPS hosting sections, enables entrepreneurs to start their own web hosting company and sell portions of their servers to other site owners.
According to a recent study from Unilever, a third of consumers choose to buy products and services from companies based on their social and environmental impacts. More than 20% said they would actively purchase from companies that mention their sustainability practices, and 70% of consumers are willing to pay more for something from a company known for supporting the environment.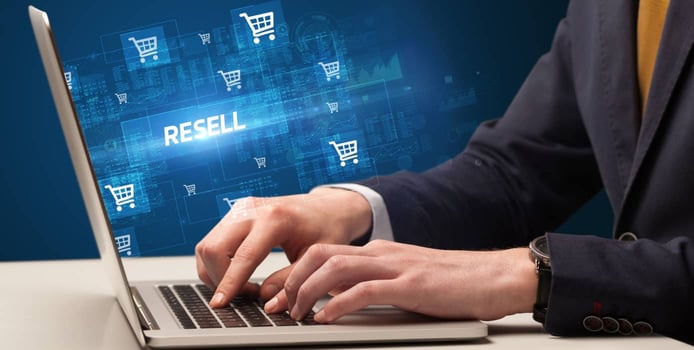 Because energy efficiency and environmental friendliness can boost business success, look for a reseller web hosting partner that enables you to market your new company's green hosting services. InMotion Hosting, for instance, pairs an eco-friendly datacenter with free transfers and guarantees to build customer confidence, while HostGator's white-label services enable you to place your branding on more than 500 tutorial videos and nearly 700 articles to help your clients learn how to use the various services you'll offer.
Our next green host, GreenGeeks, automates much of the hosting and billing management by including a free license of WHMCS with its reseller plans. With the company's industry-leading approach to green web hosting and protecting the environment, GreenGeeks affords entrepreneurs a unique opportunity to tell potential customers about having a positive environmental impact when choosing your services with a downloadable green tag.
Explore the various reseller hosting opportunities by reading our reviews:
See more top-rated reseller hosts »
Web hosting aside, the internet's most trafficked sites can have an even grander environmental impact. By processing upward of 3.5 billion daily searches, Google likely accounts for 40% of the internet's carbon footprint. Essentially, using Google for one month equates to driving a car for a mile. The 2.1 billion people using Facebook every month contribute to the company's footprint of 38,000 metric tons of CO2 equivalents — a 94% decrease compared to Facebook's baseline levels in 2017.
As the web hosting industry continues its rapid expansion — growing more than 400% each year, according to some — it will only continue to consume more and more electricity. While building an energy-efficient datacenter is likely out of the question, you can still do your part to save the world by hosting your website, online business, or application with a web hosting provider that considers its business's global impact on the environment. "By our powers combined…," as the inimitable Captain Planet would say, the hosting industry may be able to save the world.
Whatever type of hosting plan you're looking for, GreenGeeks is a solid choice no matter the scale. Our reviewer Laura Bernheim recently took GreenGeeks for a spin, and rated the popular host a 4.0 in the Cheap Hosting category out of a perfect score of 5.0. Here's what Laura had to say about GreenGeeks:
A full-service host with an eco-friendly twist, GreenGeeks provides high-performance and redundant SSD storage, while a bevy of bonus features further help customers thrive. By replacing three times the amount of energy used by servers and datacenters, GreenGeeks proves that environmentally sound hosting claims are more than just hot air.
Before signing up for GreenGeeks, it's a good idea to read through Laura's full review to learn about all the features GreenGeeks offers. You can also compare it to other web hosts to ensure you're getting the best deal possible:
If you decide GreenGeeks is the right choice, keep in mind that it takes just minutes to deploy your GreenGeeks server space. And at $2.95 per month, it's a bargain considering the many great features that come in any GreenGeeks plan.
Advertiser Disclosure
HostingAdvice.com is a free online resource that offers valuable content and comparison services to users. To keep this resource 100% free, we receive compensation from many of the offers listed on the site. Along with key review factors, this compensation may impact how and where products appear across the site (including, for example, the order in which they appear). HostingAdvice.com does not include the entire universe of available offers. Editorial opinions expressed on the site are strictly our own and are not provided, endorsed, or approved by advertisers.
Our Editorial Review Policy
Our site is committed to publishing independent, accurate content guided by strict editorial guidelines. Before articles and reviews are published on our site, they undergo a thorough review process performed by a team of independent editors and subject-matter experts to ensure the content's accuracy, timeliness, and impartiality. Our editorial team is separate and independent of our site's advertisers, and the opinions they express on our site are their own. To read more about our team members and their editorial backgrounds, please visit our site's About page.