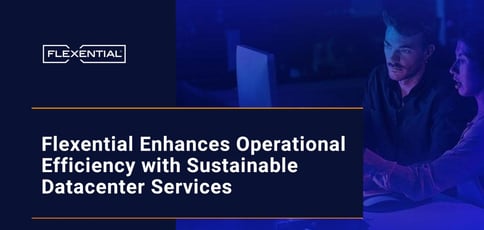 TL; DR: Flexential provides companies with the hybrid IT solutions to scale and grow their business through any phase. The company factors in digital transformation and unique customer needs to deliver a customizable platform that can adapt to an ever-changing IT landscape. Customers can access high-performing colocation infrastructure, disaster recovery, consultations, and managed services, all backed by a green and climate-friendly framework. In December 2021, Flexential completed $2.1 billion in securitization financing to support its sustainable infrastructure development.
Climate change has forever altered the landscape of our society and, more importantly, our planet. And its permanent effects will only continue to increase unless we put green initiatives in place to combat its rise.
The dangers of climate change have put every industry on high alert. Weather disasters have become a viable threat to IT infrastructure, and these unexpected disruptions can leave many businesses vulnerable to security attacks. Companies need to integrate climate readiness now more than ever.
But every effect has a cause. The IT industry can no longer ignore its environmental impact and must rally together to do more. Fortunately, avenues for operational change are not few and far between. Companies can start to move in the right direction for a brighter future by choosing tech providers with green frameworks in place.

"As of late, green-savvy organizations are demanding more ESG reporting transparency from their providers and better tools to operate sustainably. In fact, carbon emissions of cloud services will play a major role in purchasing by 2025," said Patrick Doherty, Chief Revenue Officer at Flexential.
Flexential is committed to delivering datacenter services rooted in sustainability. With 38 datacenters across 19 markets, Flexential provides a wide range of services from colocation and cloud to disaster recovery and data protection. By deploying Flexential offerings, companies can simultaneously fulfill their environmental goals and receive professional-grade IT care.
Flexential also takes a unique approach to solution delivery. The company partners with its customers and delivers customized tools that will help them as they grow in any environment.
"We truly put our customers first. We stay abreast of IT trends and keep open conversations with our customers to ensure we're providing products that are current, effective, and purpose-built," said Doherty.
Responding to Climate Change with Sustainable Infrastructure
Climate-friendly operations have become a crucial decision-making factor for stakeholders, especially customers. Integrating sustainable practices will be essential to reducing environmental damage and maintaining customer retention in the long haul. Flexential orchestrates its climate response by leading with an optimized infrastructure approach.
"Our team takes our customer requests seriously, so in turn, we have recently taken significant steps to design, build and maintain our datacenters with the environment top of mind. In December, we tied our multi-billion-dollar investment directly with sustainability," said Doherty.
Flexential completed $2.1 billion in securitization financing, the largest-ever datacenter and green bond ABS issuance, to back its Green Finance Framework. The company's Green Finance Framework demonstrates its commitment to aligning business growth and sustainability.

"All new datacenter projects supported through the Framework must demonstrate a power usage effectiveness (PUE) of 1.4 or below, as well as zero water usage, to qualify for funding," said Doherty.
These guidelines allow Flexential to track and meet its climate goals while promoting financial transparency and leadership in sustainability. And the company has more in the works.
"We have highly sustainable datacenters under construction in Denver, Dallas, Atlanta, Portland, and Raleigh. We also plan to add 33MW of new sustainable datacenter development projects, which more than doubles the rate of Flexential expansion compared to 2021," said Doherty.
Delivering Customizable Blueprints to Accelerate Scalability
Customer satisfaction is at the core of Flexential's vision and operations. Its priority is to help users remain competitive amid the rapid digital transformation, which also gives them peace of mind. Flexential achieves this mission and maintains value by keeping open communication with its customers to ensure it meets their current needs.
One way Flexential prioritizes customer needs is by responding during adversity. Patrick told us that — more than ever before — the pandemic triggered a need for faster deployment of critical infrastructure. Flexential managed this problem by going directly to the customer to understand the extent of that need from their perspective.
"Given this, Flexential collected extensive customer feedback from hundreds of real-life deployments to create preconfigured, yet customizable, blueprints that will help customers better scale digital business," said Doherty.
Flexential understands that every customer varies in mission and operational output and that one-size-fits-all isn't always efficient. So it created customizable FlexAnywhere blueprints that align unique company needs with specific solutions. These blueprints allow CIOs to tackle day-to-day challenges with a comforting level of direction.
"Our FlexAnywhereTM platform gives customers access to best practices for accelerating the deployment of hybrid IT solutions, improving infrastructure performance, and reducing latency to public clouds," said Doherty.
The FlexAnywhere platform consists of hybrid IT solutions that cover everything from colocation services with high-density power capabilities and geographic proximity to consultations on security and compliance challenges.
Flexential equips its users with the infrastructure solutions to increase scalability and agility while helping them reimagine their operational processes. The company empowers clients with strategies that will succeed today and adapt for the future.
ROI: Reducing Application Downtime by 90% and Infrastructure Spending by 10%
Flexential has succeeded in producing massive ROI gains, according to Forrester Consulting. A Total Economic Impact (TEI) study conducted by the research firm examined the potential return investment enterprises may realize through their engagement with Flexential. Study results revealed how Flexential solutions reshape operational standards and drive efficiency.
"Flexential hybrid IT solutions improve a wide range of efficiencies by delivering a modern environment that allows organizations to scale space, power, cooling, and bandwidth seamlessly," said Doherty.
Flexential delivers quantifiable impact in various aspects. The company improves infrastructure management efficiency by 50% and reduces infrastructure spending by 10%. As for the operations, companies can reap the benefits of reduced application downtime by 90%, accelerated datacenter exit by 56%, and increased operational efficiency by 50% by year three. Flexential also increases customer retention by 2% in year three.
A paramount example of Flexential's effectiveness is its customer relationship with AutoNation. Flexential migrated AutoNation's disaster recovery environment to a datacenter and replicated its production platform to protect the company's data. This way, AutoNation can still access its data even during an outage, while Flexential's leading-edge power and cooling can sustain its core operations.
It is evident that Flexential's unwavering commitment to providing value to customers has many layers. Patrick sums up its vision the best.
"Flexential helps companies remain competitive in a digital business landscape by finding opportunities to promote growth, control, and improve efficiencies. We are incredibly excited for the year ahead and to bring sustainable infrastructure and options to the datacenter industry, and our customers in particular," said Doherty.