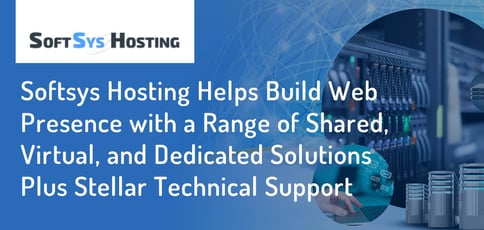 TL; DR: Softsys Hosting is on a mission to help companies worldwide fulfill their IT requirements so they can focus on their core business competencies. The company provides a comprehensive suite of enterprise-grade hosting services, including shared, virtual, and dedicated servers plus domain name registration and security products. Throughout its 15-year history, Softsys Hosting's commitment to honesty, transparency, and partnership has brought a personal touch to the IT industry, and the company plans to maintain those ideals for years to come.
Today, free hosting sites for students who want to build an online presence or learn to code are fairly common — allowing educators with notoriously tight budgets to get learners up and running online without breaking the bank.
But back in 2006, when Ruchir Shastri started Softsys Hosting, that certainly wasn't the case.
"The goal at that time was to provide students a web-based hosting environment for free," Ruchir told us. "The market back then was extremely limited in terms of services, and with very few providers around, the pricing was also on the higher side."
As the company evolved and expanded, it maintained that same needs-based approach to serving customers. The company's staff always keeps one question in mind: What can we do to solve the business needs of our customers?
This people-first mentality serves as a critical differentiating factor for Softsys Hosting, which has now served the industry for 15 years. The company's primary goal is to help customers manage their IT needs, improving performance, security, compliance, and ROI so their business can flourish at an affordable price.
Softsys Hosting provides a comprehensive catalog of hosting solutions, from cloud and VPS hosting to WordPress solutions and managed services. And with multiple SSAE 16 SOC 2 Type 2 certified datacenter locations around the world, the company is prepared to provide low latency and fast access regardless of customer location.
Throughout its history, Softsys Hosting has used a commitment to honesty, transparency, and partnership to bring a personal touch to the IT industry, and the company plans to maintain those ideals for years to come.
Adapting to Shifts in the Industry over 15 Years
Given the company's vast industry experience, Softsys has witnessed quite a few shifts over the years in the hosting space and is constantly adapting to stay one step ahead of the game.
"The biggest change was the move to virtualization, which brought many options for customers in terms of enhanced services, high availability, portability, etc.," Ruchir said. "Considering the recent trends — with many businesses migrating entirely to the cloud — data security and disaster recovery for cloud services will be in high demand."
Ruchir said that, for businesses that fail to realize the importance of protecting business-critical data, it's only a matter of time before malicious actors start exploiting whatever loopholes they can to bring their systems down.
"Our team is constantly evolving in this regard," he said. "We are keeping customers updated with the latest trends by analyzing challenges and working to create solutions around them that make their businesses more secure and profitable."
Softsys Hosting's enterprise-grade setup doesn't hurt. The company owns all of its equipment, which provides the team with the ultimate control in terms of setup and maintenance. The system is truly redundant, with multiple backbone connections, power distribution units, cooling units, and 10Gbps uplinks, plus onsite spare components for immediate replacement.
The company's infrastructure also features an around-the-clock monitoring solution through PRTG Network Monitor. In addition to the latest equipment, Softsys Hosting's ability to offer customized services is a major part of its value proposition. Fully managed services are also available, allowing customers to cast away worries about the maintenance and management of servers.
"Our personalized approach of working with our customers, irrespective of their services with us, understanding their requirements and challenges to create a solution specific to their needs and budget, is something that attracts our customers to us," Ruchir said.
Helping Customers Protect Data On-Premises and in the Cloud
From a broad perspective, Softsys delivers a number of benefits to businesses, namely dollars saved, hours saved, and high-performance rates.
"We offer competitive prices, and we perform most of the cloud service tasks for our customers — saving them and their team hours," Ruchir said. "We have never compromised on high performance and uptime rates and have achieved near 100% uptime over the last several years, which makes ROI much higher for the businesses that work with us."
In terms of internal development, Softsys often adds new features and expands its product suite through customer-focused techniques.
"We work with customers to understand how they are utilizing our services," Ruchir said. "This helps us to build solutions that help them run their business more smoothly, with less effort, and at a more affordable cost. Once we have identified ideas, we communicate them with a few customers and thereafter, roll out these ideas into production for all customers."
Softsys Hosting's next big push is to provide a wide range of services centered on helping customers protect their data regardless of the device or location — mobile, desktop, on-premises, in the cloud — or, as Ruchir put it, "just about anywhere."
"In addition, we are also offering unique replicated cloud VMs which are auto-replicated across multiple hypervisors," he said. "This specifically helps businesses achieve 100% uptime through built-in business continuity along with data protection, as four copies of their data will be stored."
Softsys Hosting's Disaster-Recovery-as-a-Service(DRaaS) and Enterprise Data Protection Backup Service (BaaS) offerings stand as the first line of defense in the case of a power outage, bug, or simple human error, minimizing the well-known financial hazards of downtime. (Gartner estimates that 60 seconds of downtime costs the average business roughly $5,600. Depending on the industry and operational model, downtime can cost as much as $540,000 an hour.
Dedicated to Honesty, Transparency, and Partnership
Softsys Hosting takes pride in its three ideologies — honesty, transparency, and partnership. "These are our foundation, and we strive to ensure that we never compromise with any of them," Ruchir told us.
This underlying philosophy significantly influences the company's approach to support. Softsys has staff available 24/7 to assist customers via multiple channels, including a ticketing system, email support, live chat, and emergency phone support. The company vows never to outsource support services.
These customer-focused techs are certified engineers in Microsoft, RedHat, and other technologies. They work closely with customers during the initial installation and setup and follow-up via ongoing support with flexible server and network management plans.
Ruchir told us he's proud of the company culture and office dynamics that have taken root at Softsys Hosting.
"Our team is unique, and I wake up every morning thanking each of them for the wonderful work that they put in," he said. "All of our team members understand and implement our ideologies and are always available at any time of day to help customers. They know most of our customers by name, and that shows the level of personal touch that we bring to the table."