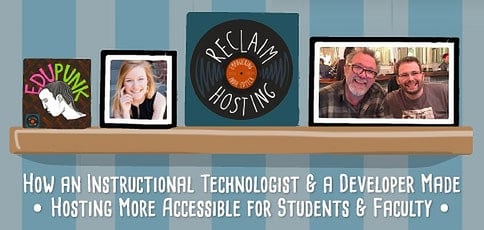 TL; DR: Getting started building a website can be daunting. The combination of hardware and software, the terms and technology, and the never ending stream of bad information on the Internet leaves a lot of folks scratching their head and giving up on their dreams of a digital identity. Tim Owens and Jim Groom envision a world where hosting is simple, shared, and available to anyone that has a desire to claim it. Together they're turning that dream into reality with easily accessible hosting for everyone — including a product for students and staff to get free hosting through their university.
Tim Owens was just a self-proclaimed "geek at heart" with a technical career in higher education until the day he and a few members of his Twitter network devised a plan. Tired of forking over 10 to 20 bucks a month to secure a domain of their own and host it on a shared server, they formed a sort of "server co-op," i.e., sharing space on a private virtual server rather than each paying over 100 bucks annually on shared server hosting.
Meanwhile, another technologist in the higher-ed sector, Jim Groom had launched ds106: an online and open-to-all course in digital storytelling. By providing students with daily challenges to think and design outside the box, the "non-course course" has fostered a community of creative thinkers on a quest to building their digital identity.
The class is free to take, provided you already own or have access to a computer, Internet, web hosting, and a domain name, and the community has grown to include hundreds of active imagine-eers, so to speak. Five years ago, standing out among 500 or so, was Tim.
Jim Groom & Tim Owens Discuss the Road to Serving 1,000s of Students
Jim sought out Tim and together they joined forces, striking out to empower the ed tech world with hosting ideas that would expand the scope of what could be done on the Web for students, educators, and their institutions. Today, Jim describes ds106 as "an epicenter of the work we wanted to do" — and it's the flicker of passion in his voice that mandated we talk with these two educators turned hosting evangelists.
Digital Storytelling with ds106 & the "Server Co-Op" That Inspired Hippie Hosting
Jim's free online course in digital storytelling (ds106) evolved from an "open experiment" to a web of over 50,000 contributor posts. The course is an amoeba advocating creative virtual expression and exploration. By 2013, the class had gained so much traction that it inspired a spin-off project: Headless ds106, in which there is no instructor (no Jim?!); students self-administer the syllabus tasks at their own will. Meanwhile, Tim's "server co-op" grew from "just a group of friends sharing a server" to a full-fledged web host: Hippie Hosting — the precursor to Reclaim Hosting.
Those of you who entered the Internet in its early stages may remember the days when you had a tilde account, FTP access, and a miniscule amount of disk space to work with. Maybe you'll recall "FTP-ing" around and calling it "hosting." While you probably learned a lot, you probably ripped out more than a few of your hairs as well. Both ds106 and Hippie Hosting (and later, Reclaim Hosting) stemmed from the belief that hosting and creating on the Web in general could be easier — and that both should be accessible.
Giving Every Interested Student, Teacher, or Faculty Member A Domain of One's Own
They instated a mission: "We want to be an independent ed tech company that provides faculty and students a very affordable space where they can control their digital identity," Jim elaborated. Phase I was a plan that Jim had been dreaming of since '08 — a plan to equip any student or faculty member that wanted one with a domain name and a space to host it online. They called it: A Domain of One's Own.
They began at University of Mary Washington (UMW), where Jim and Tim were both employed at the time. With the help of Martha Burtis, who Jim told us had been an invaluable contributor to the success of ds106 as well, Jim and Tim pioneered the movement to give every UMW student and staff member access to practical hosting. They selected the server, installed the software, managed operations, and secured the licensing for the control panel, putting the institution members in control.
Domain of One's Own Project: Where Universities Can Become Web Hosts
The Domain of One's Own project is now used by thousands of students associated with a range of educational institutions. The package allows colleges and universities to offer a self-branded web hosting experience that's all their own to their students and faculty members. "We build out a portal for each of our institutions and it's branded for them," Tim said (e.g., domains.byu.edu for Brigham Young University).
Custom Branding for Clubs, Colleges, or University-Wide Use By Individuals
Today, Domain of One's Own (DoOO) users are never actually interacting with the project's parent company, Reclaim Hosting (founded by Jim and Tim in 2013); instead they experience a seamless hosting experience provided by their organization. DoOO is used in both academic settings, e.g., in conjunction with the curriculum in the writing program at Emory University, and for students' and staff members' personal use. "It's flexible, so any school can do whatever they want with it, and we've seen a huge variety of use cases," Tim shared.
He threw out a few examples, including individual student use, club organizers wanting a web presence for their society, and faculty members using it for their portfolio or course information. "I love that NYU is using it and they're just calling it straight-up web hosting," Jim added, chuckling. "Their library is running it as a web hosting server and they're saying, "Here's hosting for whoever wants it," and I just love that."
Integration with the School's Single Sign-On for a Seamless Experience
To the end-user, their school is just providing them with a shared server hosting experience. Jim had high praise to give towards his partner for engineering the ability to integrate their hosting with the school's single sign-on. "Tim can sell it, Tim can build it, Tim can imagine it — he's the full package," Jim said. "We basically packaged the hosting as an iFrame using WordPress as a container. Then we integrated cPanel into a WordPress interface to make the experience simple through WordPress plugins, but it also made the experience absolutely seamless for the student or faculty user." The student or staff member can log in with their university login, select a domain, and voila: cPanel appears.
"We want to be an independent ed tech company that provides faculty and students a very affordable space where they can control their digital identity."

– Jim Groom, Reclaim Hosting Co-Founder
"I think it's a quantum leap from what we were doing with hosting even five years ago," Jim added. Schools pick up the cost of the hosting, and the institution has control over which features are available. For example, an organization can choose to turn off eCommerce features or certain security settings in cPanel. Students can even log in via SSH, but the school determines whether or not this is an option as well. For those that do allow SSH access, the project uses CloudLinux to ensure that no one student can inadvertently eat up all of the CPU allowance for the month. In similar fashion, they use MySQL Governor to contain MySQL processes.
Sharing Hippie Hosting With Anyone — The Rise of Reclaim Hosting
By Summer of 2013, Jim and Tim had asked themselves the question: What if we took the concept of Tim's server co-op (Hippie Hosting) and offered it to anyone who was interested? Responding with fervor, they registered their idea as a company and called it Reclaim Hosting.
Collaborating with MIT Hackers To Kick Off The Movement
Just before they got started with Reclaim Hosting in 2013, Jim attended a Hackathon hosted by MIT, where he was introduced to Audrey Waters, a sustainable and ethical ed tech community enthusiast, and Kin Lane, an API evangelist. "We came from a principle of empowering students and faculty from the beginning, but we teamed up, to some degree, with Audrey and Kin to think more broadly about what this would mean as a movement with ed tech," Jim shared.
Explosive Growth for an Empowering Team
Reclaim Hosting began as an entirely bootstrapped operation. "For the entire first year we ran the company at-cost," Jim said. "We told folks that we couldn't afford to buy the domains for them, but if they would pay 12 dollars for their domain, we would cover their entire hosting costs for the entire year." From July of 2013 through the Summer of 2014, they operated like that. Tim told us he remembers saying and thinking, "We're not sure if this is going to work — if this is a startup that's going to take off, or if this is just something fun that we're going to do for a year."
Within a year, about 1,400 people had signed up.
Humbly in awe of their success, the team adjusted their pricing model to acknowledge the fact that what they were offering was clearly legit and taking off. "I don't think Tim and I expected us to have the success that we endured in the first year, but that was fun," Jim chuckled. Tim was able to move full-time to the Reclaim Hosting project in January of 2015 and Jim followed suite a few months later. All the while, they've kept the costs "doable for educators," the gentlemen agreed.
The Reclaim Hosting Duo Review: Building Your Digital Identity #4life
While retracing their steps to engineering empowerment for the ed tech community, Jim and Tim never showed signs of their ardor for making the Web an accessible and awesome space for student development wavering. Without a doubt, this team has adopted the "for life" mentality that's featured in Jim's ds106 course with the hashtag: #4life. Jim told us at one point, "ds106 changed my life — and I say that jokingly, because it's a joke-y class, but ds106 was the litmus test for Domain of One's Own." It was the "canary in the coal mine" that determined whether or not this idea of giving every interested student and educator a platform to discover and build their digital identity would work. To say it was a success would be an understatement.
Domain of One's Own is now used by 35 schools, serving nearly 10,000 students, and with the evolution of Hippie Hosting that grew into Reclaim Hosting, Jim and Tim have offered up the opportunity for a "server co-op" to everyone. Today, the Reclaim Hosting team consists of Jim, Tim, and their Operations Manager and recent UMW graduate Lauren Brumfield, and even as they've grown rapidly, they've never taken on any outside funding. As Jim said, they're about "making a modest cost proposition while gradually growing over time." The two halves of this dynamic duo seem to share a vision for where their wheelhouse is, how to improve while staying within it, and what a sustainable, long-term plan for empowering their niche community looks like. The HostingAdvice team can't wait to see where the #4life path takes them next!
Photo Sources: Alan Levine (https://www.flickr.com/photos/cogdog/), Mark Snyder (http://marklsnyder.com/), Bryan M. Mathers (http://bryanmmathers.com/)
Advertiser Disclosure
HostingAdvice.com is a free online resource that offers valuable content and comparison services to users. To keep this resource 100% free, we receive compensation from many of the offers listed on the site. Along with key review factors, this compensation may impact how and where products appear across the site (including, for example, the order in which they appear). HostingAdvice.com does not include the entire universe of available offers. Editorial opinions expressed on the site are strictly our own and are not provided, endorsed, or approved by advertisers.
Our Editorial Review Policy
Our site is committed to publishing independent, accurate content guided by strict editorial guidelines. Before articles and reviews are published on our site, they undergo a thorough review process performed by a team of independent editors and subject-matter experts to ensure the content's accuracy, timeliness, and impartiality. Our editorial team is separate and independent of our site's advertisers, and the opinions they express on our site are their own. To read more about our team members and their editorial backgrounds, please visit our site's About page.