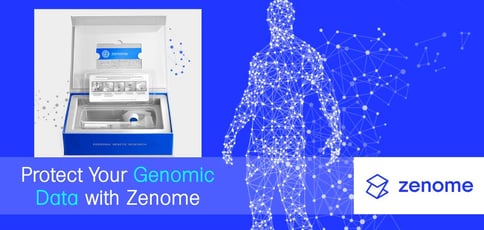 TL; DR: Zenome plans to construct a blockchain-based ecosystem for genomic data provided by network participants and monetized through cryptocurrency. The distributed, peer-to-peer database of genomic and health data will promote personal ownership of genetic information while benefiting individuals, data consumers, and service providers. By building partnerships with genetics and pharmaceutical companies, Zenome ultimately hopes to advance the future of medicine.
In recent years, DNA-testing services have come under fire for selling anonymized genetic profiles of consumers to third-party companies and universities. Last July, GlaxoSmithKline purchased a $300 million stake in 23andMe intended to accelerate drug development through human genetics.
The partnership includes a 50-50 agreement in which both organizations will split the costs and profits related to the collaboration. Those who provide the potentially money-making data — consumers who paid to have their saliva tested to learn about their family trees — receive absolutely nothing in return.
And because privacy considerations are laid out in fine print, many consumers aren't aware that they're essentially handing over data to drug companies.
"With companies like 23andMe, you lose the opportunity to protect the privacy of your genetic data, and you don't get any benefits for participating in scientific research or commercial R&D," said Vadim Pushkarev, Legal Advisor at Zenome.
Zenome, a blockchain-based ecosystem for genomic data, is being built to fix that. Founder Alex Gorbachev is developing the decentralized, community-owned database as a way for consumers to exchange personal information for cryptocurrency tokens. "We want to provide an opportunity for users to monetize genomic data," Vadim said.
The peer-to-peer market for genomic and health information will promote personal data ownership while benefiting individuals, data consumers, and service providers alike. Eventually, through partnerships with third-party genetics and pharmaceutical companies, Zenome hopes to revolutionize the future of medicine while empowering consumers to earn their fair share of the associated profits.
A Blockchain-Based Market for Genomic and Health Data
Zenome was conceptualized in June 2017 and took off quickly. Its founders raised $100,000 in funding from private investors by August of that year before its official incorporation on September 19, 2017.
Today, Zenome is preparing to release its first edition with full functionality. The scalable network will be suitable for storing and processing genetic data via distributed technology involving many nodes. The platform will contain intertwined genomic, personal, and financial data, which will be stored in different ways to safeguard each type of information.
To ensure that users can make conscious decisions regarding their data, Zenome affords each participant individual ownership of genomic information, the freedom to choose how that information is used, and the right to share the information with a third party.
The platform's private data encryption makes it impossible to access information without permission, and its distributed database provides high availability and fault tolerance.
Four distinct entities will interact within the Zenome ecosystem: Nodes, Persons, Analysts, and Service Providers. Nodes, for example, will provide storage and CPU power in exchange for an award, and Persons will upload their genetic data to the platform in hopes of making a sale. On the data consumer side, Analysts will purchase genetic data for scientific purposes, and Service Providers will do so for business gains.
All data transactions will be facilitated through smart contracts that allow users to make agreements without the need for third-party governance. A new utility token, Zenome DNA (ZNA), will be used to power economic interactions on the platform. In October 2017, Zenome collected $200,000 in presales of ZNA tokens. The company held its first official token sale between February and April of 2018, during which it raised $362,000.
Promoting Personal Ownership of Genetic Information
Zenome empowers users to perform their own genetic research and discover facts about themselves that go far beyond the family tree. In addition to ancestry information, the company's comprehensive genetic report provides detailed information on hereditary diseases, susceptibility to oncological diseases, and common responses to medicine.
A diet and metabolism overview will help users choose an optimal eating plan for ideal weight and nutritional balance, while a cosmetology report will offer input on which cosmetic products may be best suited to specific skin and hair types.
The process is easy: Users simply purchase a Zenome genetic kit (available via preorder), provide a saliva sample, and mail in the materials. The company will then decode the user's DNA through next-generation sequencing, analyze the raw genetic data using a bioinformatic approach, and provide a monetizable genetic report.
Of course, because Zenome's priority is to maintain the privacy of users' genetic data, all information will be stored using blockchain technology, and explicit permission will be required to transfer data.
Vadim said that Zenome was the first to market with a blockchain-based genomics project. Since the company published its first white paper, others have followed suit. But, according to Zenome, most of these companies either lack technical documentation or have a vague understanding of how their claims will be realized.
"Our advantage is in the fact that we are moving ahead of competitors, we were the first to develop a new network protocol, and are preparing to launch the working network," Alex said in an article on Medium. "In addition, our development team is located in Moscow, where the cost of development is six to seven times less than in Silicon Valley."
Benefiting Individuals, Data Consumers, and Service Providers
Aside from privacy concerns, the modern genomics market has a significant diversity problem partly attributable to cost. According to "The Zenome Project: Whitepaper," DNA microarray services that offer 0.033% of the full genome (such as 23andMe, AncestryDNA, and DNAfit) typically range from $100 to $500.
Gene panels, offering 0.001-1% of the full genome, cost anywhere from $100 to $2,000. Exome sequencing services, which provide about 2% of the full genome, range from $250 to $3,000. Whole genome sequencing, the Cadillac of genetic testing, offers up to 98% of the genome but costs anywhere from $600 to $10,000.
Overall, the price of genomic analysis remains high enough that gathering genetic data from the general public is difficult, especially in developing countries. To collect the widest possible range of genotypic and phenotypic data — and thus stimulate the development of the genomic big data market — these demographics cannot be ignored.
To that end, Zenome is currently working on financial models that will allow for free genetic testing in exchange for permission to use data in scientific or commercial research. "Free testing options will eliminate any cost barriers and provide a more comprehensive dataset," Vadim said.
Pursuing Partnerships to Advance the Future of Medicine
Blockchain is often referred to as the technology of the future, and advancements in medicine are undoubtedly tied to genetic research. By marrying the two together, Zenome is poised to make a significant impact.
Moving forward, the company is looking to partner with various genomic testing organizations, pharmaceutical companies, and consumer research groups to build a robust genomic dataset.
"We welcome everyone who wants to participate," Vadim said. "The more involvement we have, the better. Everyone wins when we can build a better genomic dataset — and build it in a protective way."