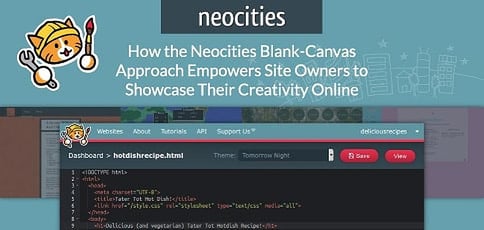 TL; DR: Founded in 2013 by Kyle Drake with a mission to bring creativity back to the web, Neocities is enabling developers, online entrepreneurs, and anyone with a digital vision to make their online dreams come true. With a philosophy centered on open-source software and giving back to the web development community, Kyle and Neocities are looking to change the hosting space by delivering a cost-, ad-, and template-free approach aimed at cultivating individuality on the internet. By combining the boundless creative environment sparked by early internet pioneers with today's powerful web-building tools, Neocities is changing the way people express themselves online.
In November 1994, one of the first free blog hosting sites — GeoCities — was launched. Founded in the early years of the web, the service was met with great success, securing millions of users during its 15-year run. The appeal of carving out a personal space on the internet attracted enough attention to make GeoCities the third-most visited site in 1999.
Although the service is now largely defunct (with the exception of a version available only in Japan), the creativity it granted users would come to inspire many similar products down the line — including its modern spiritual successor, Neocities.
Neocities was founded in 2013, four years after the closing of GeoCities. Its Founder, Kyle Drake, envisioned a service that adopted the best qualities of GeoCities, while leaving behind the less appealing elements of the 1990s hosting scene.
"I don't necessarily miss bad web design, but I was interested in people putting together really useful information portals and some very creative sites," Kyle said. "People had a very personal perspective on things in a very substantial way."
The original appeal of free hosting was the ease with which anyone could create a site given the right knowledge and resources.
Neocities has acquired upward of 100,000 users in its relatively short lifespan, which is a testament to its focus on creative web design and its offer of cost-free hosting without host-branded ads — a service that's the exception rather than the rule in the industry. By embracing ingenuity and a templateless-approach, the organization has effectively picked up where early hosts have left off — with a crucial difference. Neocities provides the modern tools, such as an in-browser HTML editor and a command line prompt, among other features, that make web development a bit more accessible to today's crop of web visionaries.
Restoring the Web to a Landscape of Flowing Information and Meaning
The core goal of Neocities is evident in its name — a portmanteau of "neo," meaning "new," and GeoCities. In the mid-1990s, the web was still very young and yet to see the explosion of social media. The most efficient way to express oneself online was to create a free blog with one of the main hosts of the time, including GeoCities, Lycos, Angelfire, or other similar platforms.
"The web has taken a lot of that creativity and sort of replaced it with a blogging engine," Kyle said. "As a result, people have less of an ability to express themselves, and many are starting to feel disenfranchised with the internet."
The rise of blogging elements in social media throughout the 2000s led to a decline in the use of traditional blog platforms. As photo galleries and personality quiz results replaced the wordy weekly posts of yesteryear, self expression became more simplified and saturated with the decline of customization options and the imposition of character and post limits.
"These blogging engines just let you post a couple of sentences here and there," Kyle said. "We have a lot of these centralized services, such as Facebook, that are sort of eating our time and are harder to do something meaningful with."
Kyle's vision to bring traditional blogging back to the forefront was expedited by his frustrations with modern hosting and social platforms.
"I grew up with the notion that the internet was going to be this great institution of knowledge and learning, liquefying information in a way that everyone would have access to it, and everyone could express themselves," he said. "I launched Neocities as part of my frustration with compartmentalizing people on the modern web. Luckily, it went super viral."
Kyle cites inspiration from the Edward Snowden case and the surrounding NSA controversies, reiterating that the internet's initial purpose and far-reaching appeal was that it was to become a bastion of human knowledge and free expression.
A Template-Free Approach That Makes Web Design a Creative Outlet
One reason why early websites were often unique is that they were typically self-coded. In the years since the web's explosion of popularity, many hosts have adopted the use of pre-designed templates. While these make blogging more accessible to those with limited technical knowledge, their overuse led to a decline in creativity, with many blog sites looking indistinguishable from one another. Despite the visually unappealing elements of the early web and bare-bones HTML scripting, the most interesting sites of this bygone era were crafted using more complex, custom code.
Provided with a blank canvas, webmasters are not only encouraged to learn about web design, but are pushed to exercise their own creativity in lieu of copying the design of pre-existing sites. With no pre-loaded templates to work with, bloggers must become their own experts on web design, creating a product that is 100% their own invention.
"I realize one of the reasons things went wrong was because there are less people creating sites these days," Kyle said. "One good thing about the old web was the ability to take HTML and write whatever you want. It forced you to think about design."
Despite its lack of a simplified blogging platform, Neocities offers powerful tools and services for building a web presence. In addition to ad-free space, Neocities offers other features not commonly seen with free hosts — including reliable uptime and fast site performance.
Helping Webmasters Overcome the Challenges of a Shifting Industry
Despite the wide variety of hosts available to businesses, a select few house the majority of large websites due to their popularity. This poses a potentially devastating problem in the case of downtime — if one datacenter goes down, thousands or even millions of sites would cease to operate, including sites for financial institutions, social media, and ecommerce.
"One of the biggest trends we're seeing now is the web moving from this decentralized model to a more hyper-centralized model where a few very big players have most of the control over the traffic," Kyle said. "One of the things I want to preserve is the concept of data autonomy."
At its peak, GeoCities housed millions of unique sites, ranging from recipe blogs and story archives to music repositories and virtual libraries. Upon shutting down, the countless links to and from these sites became broken, fragmenting the web. Similarly, Amazon's 2017 AWS outages resulted in numerous sites going down.
"We see a shift from people running their own sites and services to running them on highly centralized platforms. Recently, Amazon S3 went down and took a lot of the internet with it," Kyle said. "Back when one small player shut down, it wasn't likely to break the internet as we know it."
In spite of the continuing trend toward hyper-centralized hosting and copycat blog designs, Kyle is determined to make Neocities a safe haven for self-made webmasters.
Maintaining a No-Ad Policy While Adding New Functionality
As a result of his concerns regarding an overly-centralized web, Kyle plans to implement IPFS (InterPlanetary File System), a protocol designed to decentralize the storage and sharing of files. Before its acquisition by Yahoo!, GeoCities's subdomains were grouped according to content, liking navigation to tourism and exploration.
"One of the interesting things I've been working on in relation to Neocities is this thing called IPFS, a new protocol for the distributed web," Kyle said. "The idea is to create a network in such a way that it uses content addressing to look for information."
With IPFS, the internet can theoretically house content that is always online, as long as one node is actively distributing it.
In addition to IPFS, Kyle plans to add more and more functionality to Neocities as it grows, including a web-based version of the platform. Even as he continues to add to Neocities, Kyle is determined to never let his passion project stray too far from what it was meant to be — a revival of the creativity and passion for knowledge spawned from the old web.
This resurgence combines the positive prospects of the early internet with the security, speed, and clean design of the modern web. The true spiritual successor to GeoCities, Neocities is a modernized, nostalgic hosting solution that offers free hosting to webmasters with tight budgets and big aspirations.
Advertiser Disclosure
HostingAdvice.com is a free online resource that offers valuable content and comparison services to users. To keep this resource 100% free, we receive compensation from many of the offers listed on the site. Along with key review factors, this compensation may impact how and where products appear across the site (including, for example, the order in which they appear). HostingAdvice.com does not include the entire universe of available offers. Editorial opinions expressed on the site are strictly our own and are not provided, endorsed, or approved by advertisers.
Our Editorial Review Policy
Our site is committed to publishing independent, accurate content guided by strict editorial guidelines. Before articles and reviews are published on our site, they undergo a thorough review process performed by a team of independent editors and subject-matter experts to ensure the content's accuracy, timeliness, and impartiality. Our editorial team is separate and independent of our site's advertisers, and the opinions they express on our site are their own. To read more about our team members and their editorial backgrounds, please visit our site's About page.