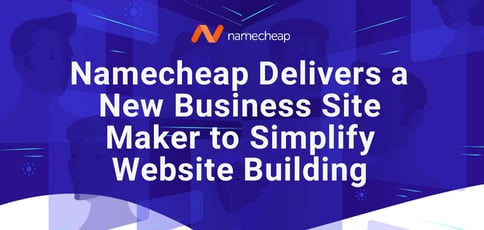 TL; DR: Namecheap recently released a new Business Site Maker to join its list of visual tools, enabling small businesses to create personalized branding and web materials. Its Visual studio consists of a logo maker, a business card maker, and two site makers. With these tools, users can take design into their own hands and build a web presence without coding. Users can also leverage Namecheap's Relate suite to further establish their business with social media management, reviews monitoring, and legal business registration. Namecheap simplifies and protects the user journey with privacy features and brand-building tools.
Entrepreneurship is the heart of many economies, with small businesses driving economic growth across the globe. In the US, small businesses contributed to 44% of all economic activity and created two-thirds of all jobs in 2019. Even now, small to medium-sized companies continue to be a pillar and driver of post-pandemic recovery.
More than 29% of entrepreneurs surveyed say the primary reason for creating their own business is so they can be their own boss. Many small business owners handle most of their business aspects on their lonesome when they're starting off. But this freedom and lack of helping hands can make it challenging for many entrepreneurs to get tasks done efficiently.
The good thing is that business owners can turn to a wide collection of online technology solutions and resources to help streamline their business processes. Namecheap helps entrepreneurs bring their ideas to life with a comprehensive visual studio that includes a logo maker, business card maker, and site maker.

"It's giving an easy-to-use suite of creative tools to people to empower what they're doing to make their business more professional and appealing to customers and the people that they're trying to connect with through their business and branding," said Derek Musso, Head of PR and Communications at Namecheap.
Namecheap is the world's second-largest domain registrar. Since its inception, Namecheap has expanded its offerings to answer a user's overall web needs, from web hosting and domain services to visual tools and other marketing services. Its latest release, the Business Site Maker, allows users to build professional-looking websites with no coding required, which simplifies their web journey.
Providing a DIY Suite of Capabilities for Site Creation and Branding
Derek told us Namecheap's core audience are entrepreneurs and creatives looking to establish themselves online. Supplying its customers with what they need to grow online inspired the launch of its visual tools. Namecheap equips small business owners with DIY capabilities to accelerate their web presence growth. From site creation to branding, users can leverage Namecheap's tools to develop personalized media and web materials. Namecheap also delivers print items for businesses.
"We have another facet called card maker where you can design and have your business card ship almost anywhere in the world for free. We're in around 200 countries right now," said Derek.
Namecheap seeks to simplify the web design and development process with its visual suite. Visual is a separate entity from Namecheap and is utterly dedicated to helping entrepreneurs through their preliminary setup and branding stages. These tools allow users to streamline their tasks and create design elements more quickly.

The Namecheap team initially launched Visual with the Logo Maker and Card Maker, and released Site Maker in 2022. Derek highlighted the Logo Maker as one of his favorite elements because it's free and customizable. Users answer a set of questions, and the Logo Maker returns various design options and ideas from their input to help users create a personalized logo.
"T​​his year, we launched the other part of the Site Maker toolkit in Visual called Business Site Maker. It's more advanced for people who want to create a business site or something more professional than a personal site or a blog," said Derek.
The newest addition, the Business Site Maker, includes custom templates and more robust functionality than its counterpart. With it, customers can build a professionally designed website with all the bells and whistles. Users can also find a host of templates specific to various industries and multiple design options to bring a personalized touch to their websites.
Establishing Businesses with RelateLegal and Other Tools
Namecheap's Visual suite helps users establish their online business branding. But the company also enables users to build their presence on the marketing side. Namecheap recently launched another suite of tools for businesses called Relate. This suite includes RelateSocial, RelateReviews, and RelateLegal.
RelateSocial is a social media management tool that integrates the profile maintenance of major social media platforms, such as Facebook, Instagram, and LinkedIn. Users can access insight reporting, auto-publish posts, and reply to comments through the RelateSocial platform. RelateReviews helps users bolster brand trust by allowing them to monitor customer feedback and showcase reviews on their websites. Derek said RelateLegal has to be his favorite tool out of the bunch.

"The one that's probably the most interesting is the RelateLegal aspect because it's one of the few places where you could go and look up to register a company. You can see if a domain is available and if it's possible to register it as an LLC for people that want to start an S corp," said Derek.
Namecheap partnered with Legalinc to accomplish and create this unique feature opportunity. With RelateLegal, users can save time on complex paperwork and register their brand name as an LLC or CORP with only a quick and simple application. Backed by Namecheap's Relate and Visual suites, entrepreneurs can establish their businesses in no time.
Supporting the User Journey With an Emphasis on Privacy
User privacy has long been a part of Namecheap's DNA. From the start, Namecheap has advocated for the democratization of the web and net neutrality. The team has always seen the internet as an outlet for people to express their creativity and access resources that might not have been available elsewhere. In its mission to make the web fair, free, and accessible to everyone, Namecheap has taken the role of communicating and securing user privacy.
"More consumers have an awareness now that their data is being used. Sometimes, people don't realize that they're most likely the product if something's free. So for us, we want to be transparent about why we're using people's data, what it's used for, and who can and cannot access it," said Derek.
Besides championing awareness and transparency, Namecheap also incorporates user privacy measures into its products. Namecheap offers a shield for public data when registering a domain name with free domain privacy. It's optional, but users can leverage its domain privacy to hide their details from the public WHOIS database and prevent inboxes from being targeted by spam.
Namecheap takes user privacy seriously and supports the user journey by protecting users from unwarranted access to their personal information.
​​"With the Big Data breaches out there, people are more aware that their data is potentially out there for bad actors to get. So for the customer journey, it's about awareness and transparency," said Derek.